📢 Steemit Crypto Academy 125SP Booster 🚀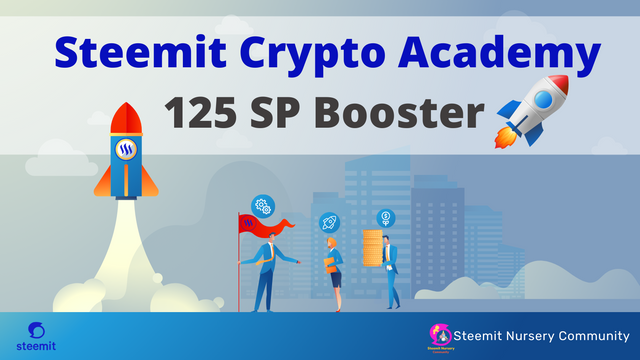 Hello Newcomers!
We have good news for you. We are receiving a situation where a lot of newcomers having not have enough Steem Power to qualify for the Steemit Crypto Academy Beginners' courses.
We now open this program of Steemit Crypto Academy 125SP Booster 🚀 to all newcomers registered into Steemit in 2021 and still have less than 125 Steem Power in all-time earnings including SBD conversion to Steem.
We will be checking your all-time earnings at https://steemworld.org/@your steem account name to check this.
Please make sure that you have completed Newcomers Achievement Program from Achievement 1 to Achievement 4 to be qualified for this.
The purpose of this SP Booster program is for you to get 125 Steem Power faster so you may participate in the Steemit Crypto Academy courses sooner.
We are expecting that you will be powering up all the steem payout you get from this support.
We will stop the support once you have reached 125 SP all-time earning including SBD conversion.
We will give you the badge of 125 SP BOOSTER🚀 and you may publish your good quality post at Steemit Nursery Community to receive the support/upvote from @steemcurator03.
How to apply?
Please leave a comment below "I would like to apply for 125SP Booster" and then the link to your Achievement 1 to Achievement 4 tasks posts.
Accepted into the program. What next?
Once you get accepted into the program, you will be given a badge of 125 SP BOOSTER🚀 and you may start publish your good quality post at Steemit Nursery community. Please put the tag of #booster125sp as one of your post tag and also your country tag from where you are currently residing.
We are hoping that this program will help you get into the beginners' courses at Steemit Crypto Academy sooner so you may learn about cryptocurrency without much issue of not having enough SP to qualify for the courses 😊📚👩‍🏫
Happy learning and have fun!
Steem Greeters Team.
---
---
List of Steemit users under 30 SP Support Program and Application open 📢 we will start looking at the list of the previous 2 months participants of this program and adding new participants soon. Make sure to apply for this program too if you are active Steemit users but not having enough steem power/less than 30SP.