DIGITAL NOTE (XDN) Loves Triangles!!! Target $0.279!!

SUMMARY
Digital Note (XDN) is very interesting because it isn't unique in how it's currently consolidating. The very common a,b,c,d,e triangle is quite apparent from a forward discernment perspective. This indicates that the uniformity of sentiment across Altcoins is quite smooth and lends support to my earlier blog post on Something HUGE is coming to the Cryptosphere. In that blog post, I had discussed that an exponential price explosion was imminent. We are now just seeing the beginning stages of that.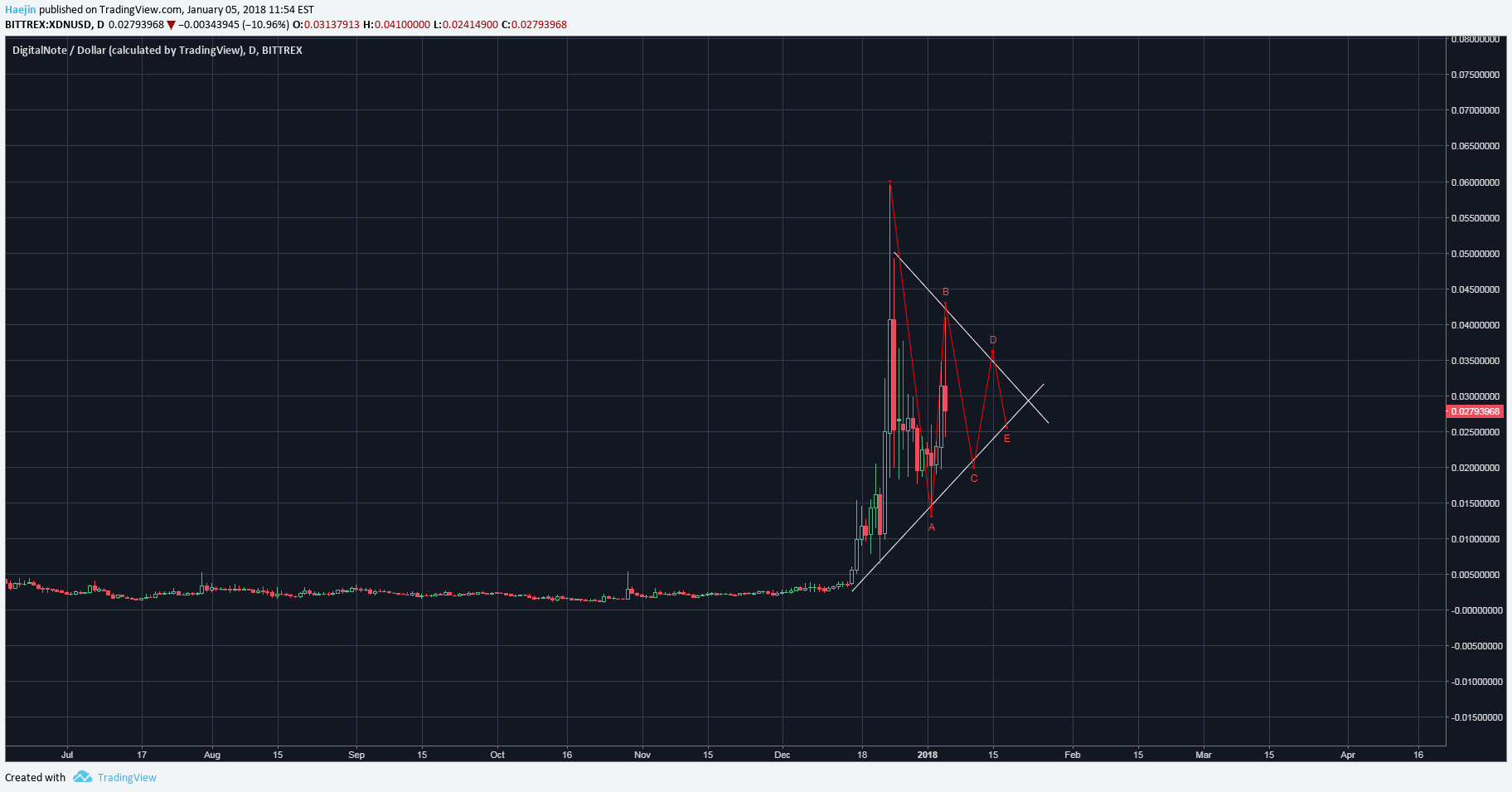 Here is a longer term perspective of XDN/USD. Such a birds eye perspective allows one to discern the forest from the trees. If you're wondering how I place the waves and how high...please consider reviewing my tutorial videos lined at the bottom of this blog. The projected target is $0.279 or higher!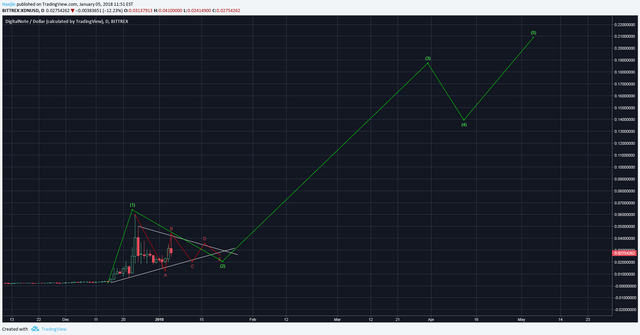 Below is the XDN/BTC. Check out the fractals of downward pointing symmetrical triangles...this is quite bullish! The massive needle like explosion is quite indicative of XDN being ready to make higher highs.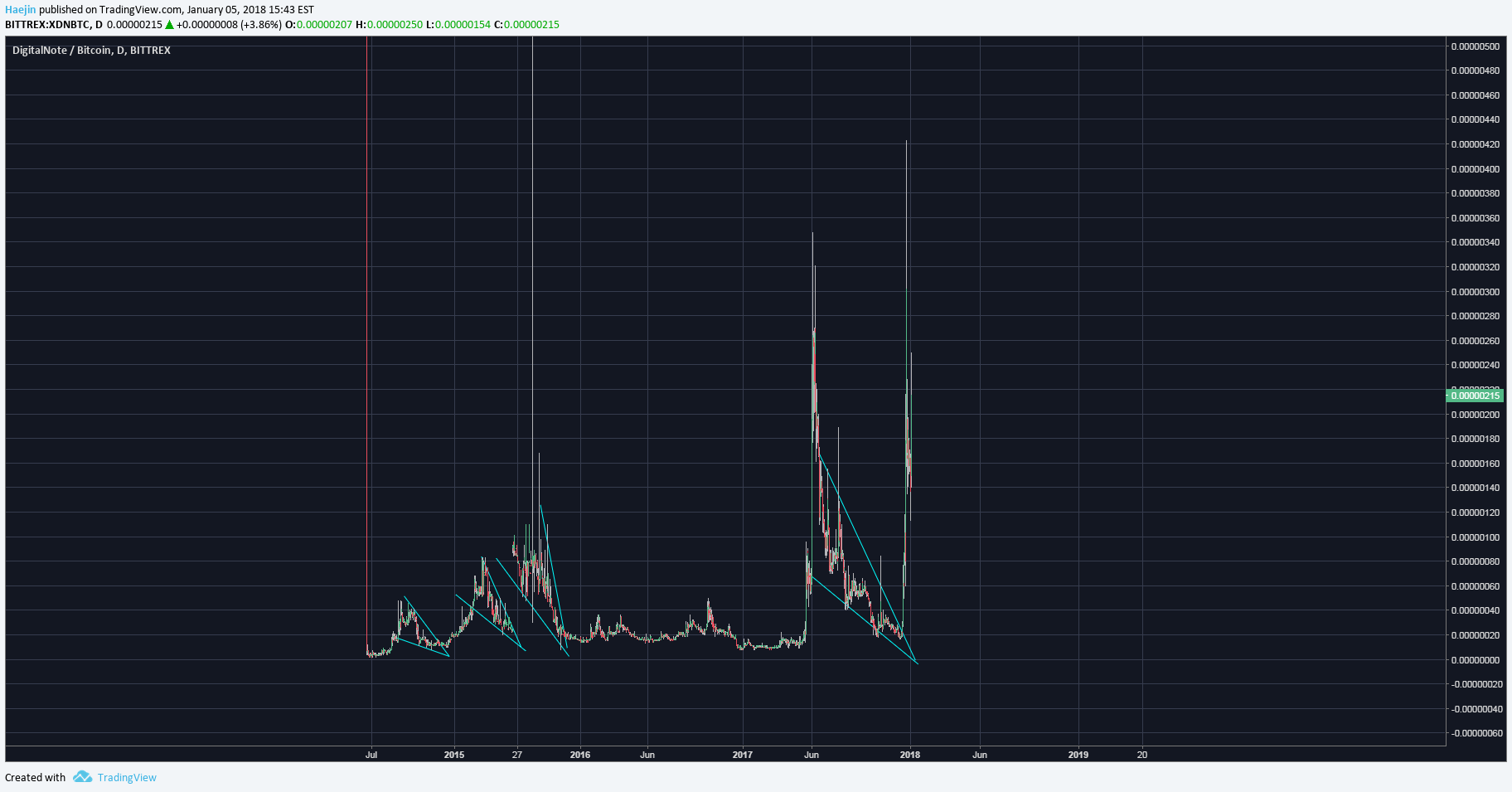 The below is my primary count for how XDN/BTC could traverse the Elliott waves. The Jaws of Wealth barrier has also been drawn to show and delineate the next steps. The target is 939 Satoshi; IF these Elliott Waves are correct.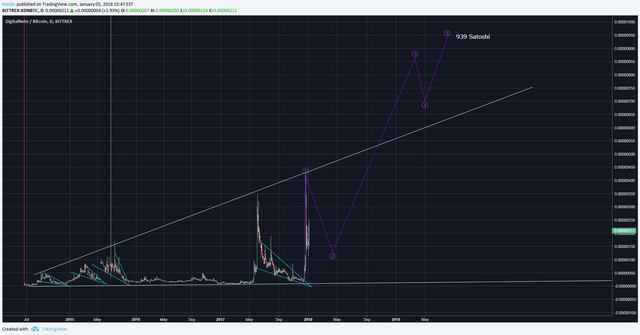 The below is my alternate count for XDN/BTC. The fact that price hit the top of the Jaws of Wealth broadening pattern line, there is likelihood that price could wind downward and first hit the lower line prior to making orgasmic lunges upwards. However, this only speaks to the fact that there are many paths to enlightenment; all with the same destination. You also have to understand that in order for any /BTC pair to increase; it often has to have demand that exceeds the rate of increase for BTC itself. This is often the reason why the /BTC pair lags the /USD pair. Consider this for a moment and I think you might agree. This is also the reason why I don't understand why so many want to trade to the /BTC value so as to gain more BTC. Well, you are doing the same by trading to the BTC; except with a leading indicator. I'll write another blog on this at a later date with more details and examples and actual mathematics to hurt your heads!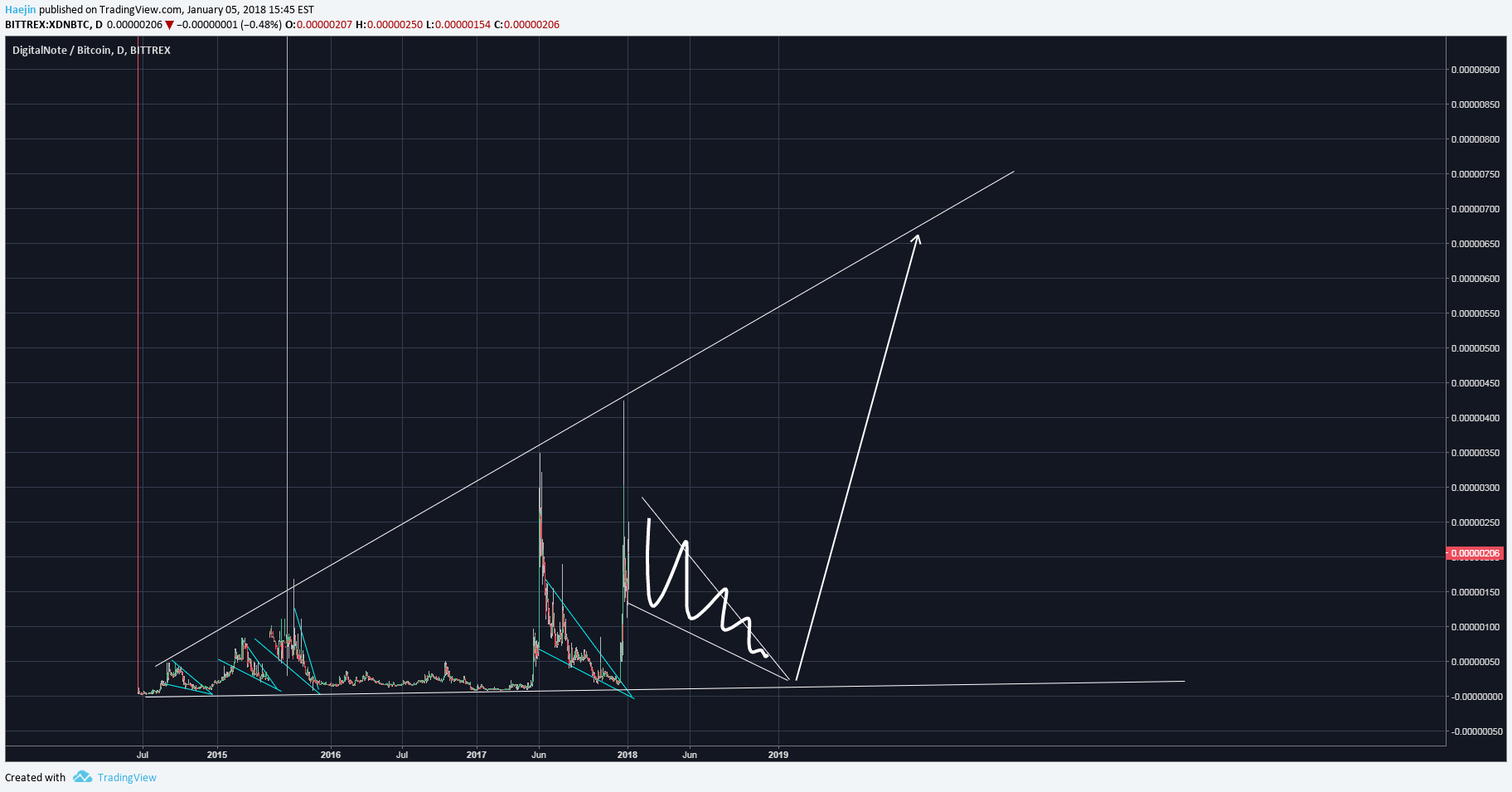 Please consider reviewing these Tutorials on:
Elliott Wave Counting Tutorial #1
Elliott Wave Counting Tutorial #2
Elliott Wave Counting Tutorial #3
Laddering and Buy/Sell Setups.
Laddering Example with EOS
Tutorial on the use of Fibonacci & Elliott Waves
These Technical Analysis Books: Elliott Wave Priniciple & Technical Analysis of Stock Trends are highly recommended
@haejin's Trading Nuggets
Essay: Is Technical Analysis a Quantum Event?
Follow me on Twitter for Real Time Alerts!!
Follow me on StokTwits for UpDates!!
--
--


If this blog post has entertained or helped you to profit, please follow, upvote, resteem and/or consider buying me a beer:
BTS Wallet - haejin1970
BTC Wallet - 1HMFpq4tC7a2acpjD45hCT4WqPNHXcqpof
ETH Wallet - 0x1Ab87962dD59BBfFe33819772C950F0B38554030
LTC Wallet - LecCNCzkt4vjVq2i3bgYiebmr9GbYo6FQf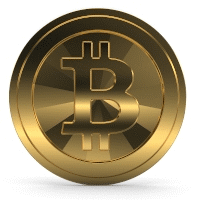 Legal Disclaimer: This is only my opinion, make of it what you wish. What does this mean? It means it's not advice nor recommendation to either buy or sell anything! It's only meant for use as informative or entertainment purposes.**