We had 10 participants and you impressed me again. Fantastic entries!!!!!!!!!! This week we had a great writer @ezzy as a judge. Thank you sooo much!!!!!!! It was great pleasure "to work" with you!!!!!!!!!!!!!!!!!!!!!!!
The task for ARTquest#12 was a surreal painting of the Polish artist Rafal Olbinski.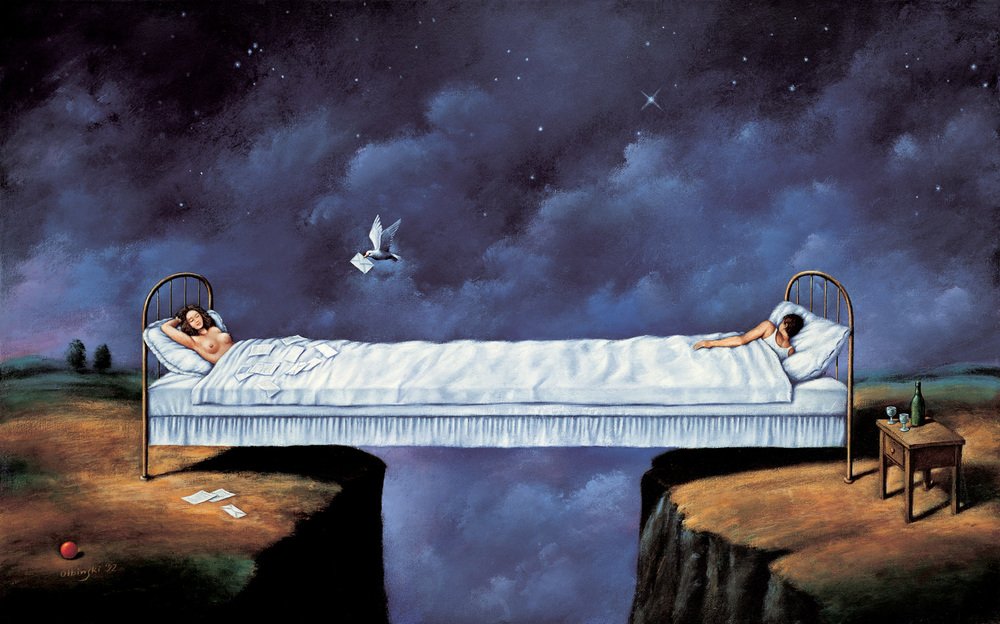 Rafal Olbinski
@ezzy did great job and commented on the Winner's entries!
AND THE WINNERS ARE:
THE THIRD PRIZE (150 TRAIL + 3 STEEM) GOES TO:@sumsum
Lovely little poem expressing what she sees in the painting. A man yearning for the love of his partner/wife. A nice little twist on his perception of what's going on in the picture. That's was good.
love me one day (Entry for ARTchallenge #12)
I am sending you my love every night
love letter after love letter I write
no matter how hard I try
I just can´t come through
so wide and endlessly deep
dreaming of you and asking the stars
praying to mars
you love me one day
the one true way
THE SECOND PRIZE (250 TRAIL + 7 STEEM) GOES TO:@pamanbear
It brings the aspect of "adultery" into the mix which is an interesting spin on things. Plus the fact that they noticed he wore a shirt whereas she is just exposed could signify more distance between each other. I like that point.
Impression for ARTQUEST-TRAIL #12
This picture is cold, cold and betrayal.

Two people who are supposed to be intimate, cuddling or kissing in the
same bed, are separated far away as if a very deep valley in-between
them.

The woman is naked, but the man is not, he is still wearing his under
shirt. And they are not looking at each other. What happened with
them. The woman is beautiful, and she is smiling. She might not know
what really happen. She has been receiving letters, could it be bills?
or the man sends the letters to tell her that he is okay. Right so
that's why she smiles, after reading the letters she thinks everything
is working well.

There is a ball rolling on the floor, i think they have family
together, one kid, maybe two kids.

But the man has been drinking, the woman might not know. The man could
be drinking with someone else, the wine glass looks fancy. Is he
cheating. Is he betraying his beautiful wife and family? Is he going
out with another person?

We cannot see the man's face, he could be hiding it from us, he
doesn't want to be seen.

The bed looks fragile on that cliff, one wrong move and it could split
into two.

Man, get yourself together otherwise your family would collapse and
nothing's left, as if everything will be buried in that deep, deep
valley.
THE FIRST PRIZE (300 TRAIL + 10 STEEM) GOES TO:@goldenroom
Loved it as they pretty much mentioned many of my own thoughts on the painting. Nicely interpreted with some really great details picked up on (such as the drinking glass, the dove and the red ball). This would be my winner for an overall good summation
There's a lot going on here! This seems like a lovers quarrel to me.
There's a rift in intimacy both emotionally and sexually which is
symbolized by the chasm between them. Physically, they still share the
same general space which is represented by the bed and which acts as a
bridge between them. There's still a connection, they are still
committed to each other, although the bond is being stretched thin at
the moment, otherwise the bed would have broken and fallen into the
chasm. The nightstand near the man represents and image of a shared
life between the two. Two glasses and drinking from the same wine
bottle...a representation of life. A time when they were happy and
together. This also goes for the two shrubs on her side, growing
together. But both are two different ideas of the same thing. Maybe
that's what went wrong with these two.

The white dove of peace (as dove's are usually represented as a peace
symbol) carrying letters over to the woman from the man's side of the
bed, are neglected an unopened. An apology? She's pissed, though, and
not ready to forgive. Yet the bed remains unbroken and the clouds are
clearing letting in the night sky which suggests hope for the
situation. The way she's laying suggests she's exposed and vulnerable.
The man might have said something that was very hurtful and
insensitive and is trying to amend the situation. He's sorry for it,
otherwise he wouldn't be sending the dove.

The red ball is a symbol of their passion. Red is usually a symbol of
passion and fire and in this case it's small and dull and off to the
side, away from the bed. The ball is also a symbol of childhood or
more innocent days. It's now on the cold ground away from the bed
laying untouched suggesting that the passion is gone from this couples
union and the fun and playfulness they once shared in the early days
of their relationship seem to be over.
CONGRATULATIONS TO THE WINNERS!!!
THANKS TO EVERYBODY FOR PARTICIPATING!!!
SPECIAL THANKS TO OUR JUDGE @ezzy!!!!!
All the information about TRAIL and how to claim it you can find here.
If you have never dealt with SteemTrail Discord , you can go and check what it is here.

To claim TRAIL you need to open an account. Just go to Open Ledger Account and follow the instructions. Then submit your Open Ledger account info (OL account "my-username" and Steem account "my-username") in the #open-ledger-account-add channel or to me.
If you want to open Streemian account, just go here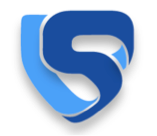 THEME FOR ARTCHALLENGE #13 will be announced tomorrow, the 11th of June.
You can see the previous artchallenges here:
Winners of Artquest#11 9 participants
Winners of Artquest#10 13 participants
Winners of Artquest#9 10 participants
Winners of Artquest#8 10 participants
Winners of Artchallenge#7 6 participants
Winners of Artchallenge#6 7 participants
Winners of Artchallenge#5 8 participants
Winners of Artchallenge#4 9 participants
Winners of Artchallnege#3 11 participants
Winners of Artchallenge#2 6 participants
Winners of ARTchallenge#1 14 participants
EVERYBODY IS WELCOME!
I would like to THANK again those who supported this challenge, all the participants, @steem-trail (STEEM TRAIL Team), our invited judges @looftee, @paolobeneforti, @silviabeneforti, @surpassinggoogle, @ezzy and our sponsors @ogochukwu and @looftee.
Please FOLLOW, VOTE and RESTEEM this post.
I will be also very happy to any support of the artchallenge! If you want to be a judge or a sponsor, you are very welcome!
Join me on a quest to discover the treasures of beautiful artworks!
I will be happy if you check my another contest 3rd ARTstyleART WINNERS! SURREALISM + ADDICTION! 40 STEEM +.... to GIVEAWAY
Sorry for not answering your comments (due to my travelling). But I resteemed and upvoted with my both accounts all your posts.
Always yours, @aksinya.