We had 13 participants and the entries were fantastic! Frankly speaking, I am happy that I didn't need to judge as I couldn't. The entries are just very very good. At the first sight some of them are about the same but they are soooo different indeed. I am very happy that we have our constant participants. I really appreciate your loyalty!)) We have many new people and you are very welcome and I am very happy you joined and I hope you stay with us. We have this contest every week.
Thank you very much!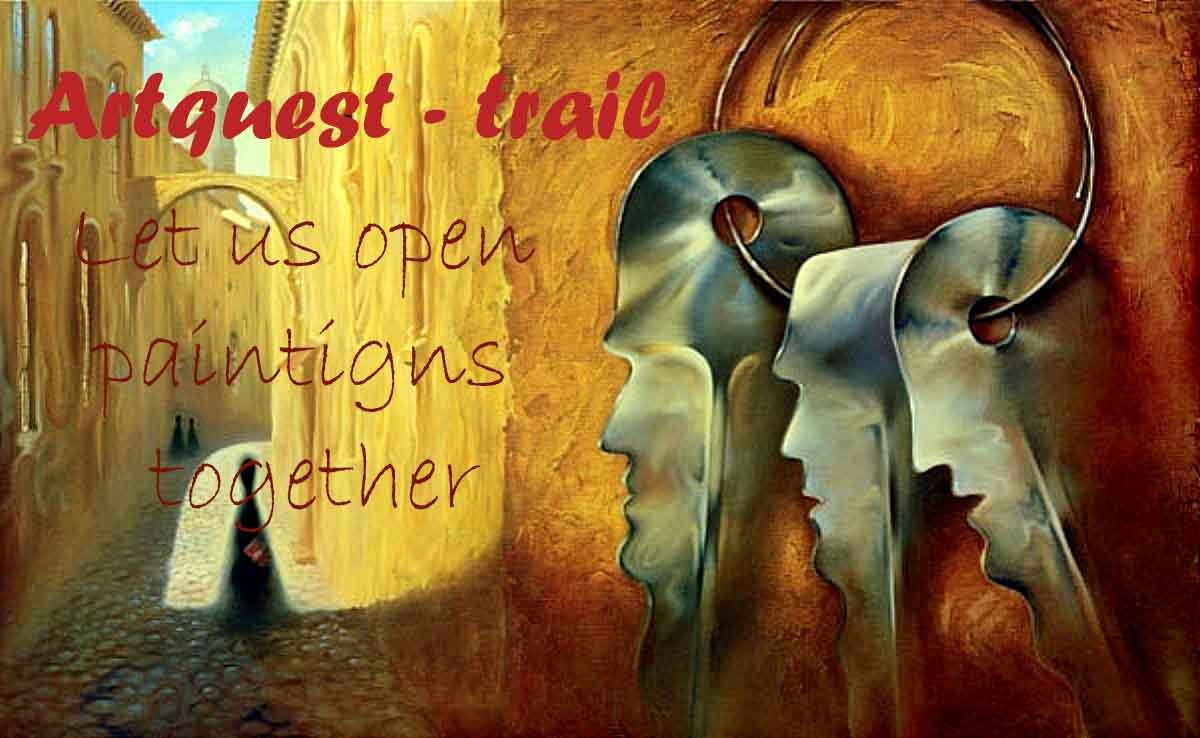 The task for ARTquest#10 was a surreal painting of the Polish artist Igor Morski.
Here I see the guy who is afraid and doesn't want to develop. He has routine job, it is ok-paid. He goes to this work. It is boring but at least it is paid. And every day is the same. He has limits. He is afraid of other people opinions and he hides with his umbrella from it. Dead trees symbolize his inner world. There is no life in him anymore. There is light somewhere far but he even doesn't look at it. Birds symbolize his wishes and dreams and they are flying away as there is no "food" there.
Yesterday I saw nice words on the wall in the beer pub:"We can no longer dream. We are dying."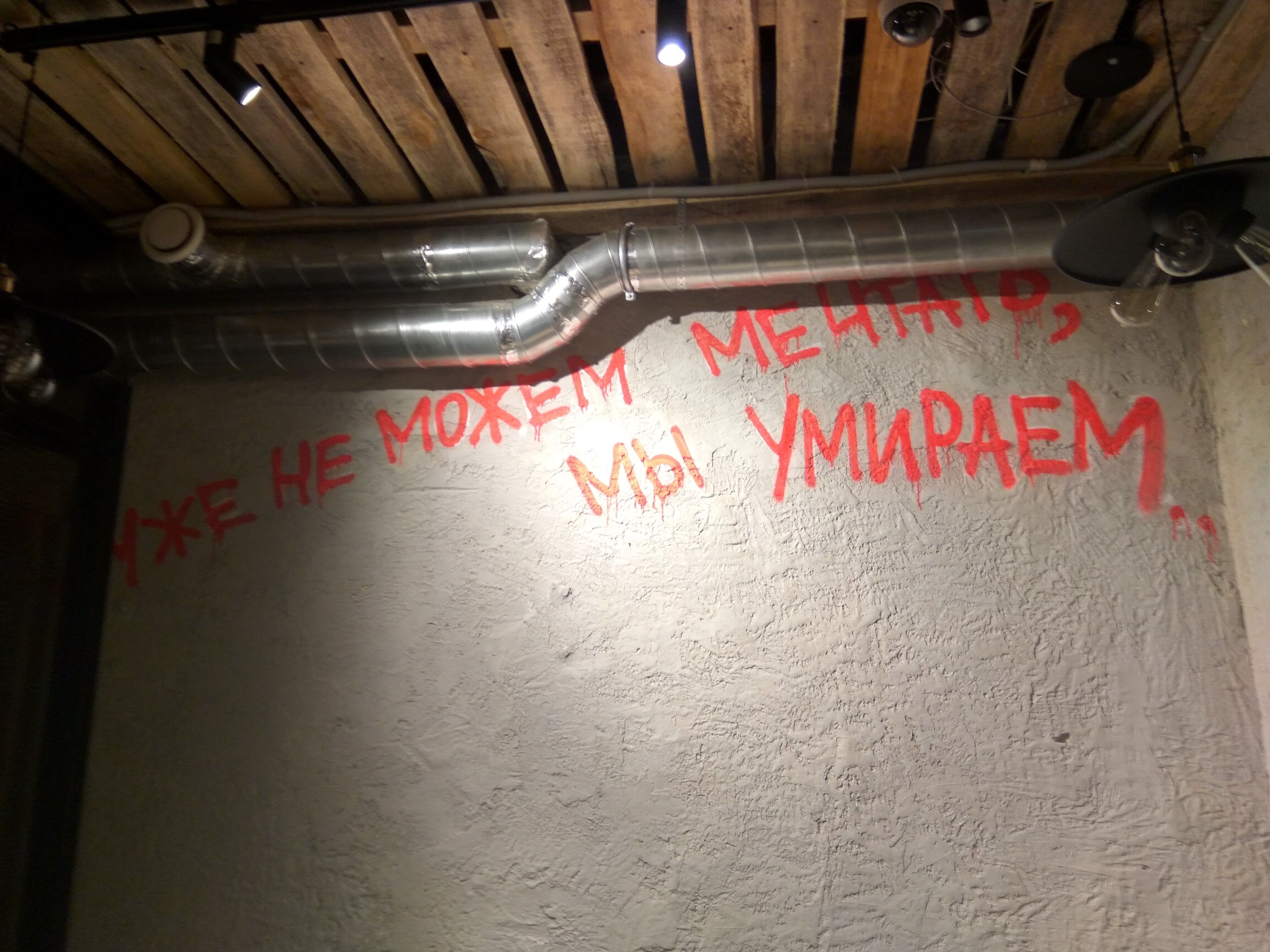 I also liked the phrase from the interpretation of @nenad-ristic
Perhaps, if he put down his umbrella and stopped for a moment, he
would see that he has a choice to walk out of the wheel, and walk on
his own, to see if there is another direction that he could go in to
take him off the blasted plain.
This challenge was judged by the great guy @looftee who constantly supports this challenge
AND THE WINNERS ARE:
THE THIRD PRIZE (150 TRAIL + 10 STEEM) GOES TO:@goldenroom
artchallenge - #10 - interpretation 1
We have a man trudging forward on an endless concrete wheel suggesting
he's stuck in a rut within his personal life yet the wheel moves in a
forward motion with the real world passing by him on the outside. The
outside world is just as desolate and grey as his inside stuck-in-rut
world which I believe represents how he sees his life as well as the
world around him. Very bleak. Very lifeless. Surrounded not by life
but by death or the inability to grow and thrive as represented by the
lifeless trees.
He feels like his only choice is to move forward because what else is there in this world? The only light inside the moving wheel which
he propels is centered around him. Just bright enough to give him hope
or purpose against that which tries to bog him down even further (the
rain).
The birds flying from beyond and through his personal wheel world represent freedom, hope and purpose but going in a direction which
he's not going. If he could only look up and see that he could step
outside of the wheel and follow the birds. Not only that but the birds
look like seagulls or another type of water oriented bird which
suggests that they are flying towards life.
THE SECOND PRIZE (250 TRAIL + 15 STEEM) GOES TO:@aishwarya
My Interpretation on Aksinya's Art Contest ( ARTQUEST-TRAIL#10 )
The first thing that comes to my mind is the wheel of time. As we know, time is cyclic in nature and we as humans go through these
cycles of sunshine and rain countless times.
In the picture, I see the man going through the rainfall stage, i.e. bad times have befallen him and he is struggling to move forward
as we all do from time to time. The lifeless trees, the rain, his
stance and the heavy impression of the wheel on the ground all point
towards this.
Another thing of note is that this wheel of time seems like an endless loop and there is just no escape. All of us, deep within, want
to be free of this cycle which is signified by the birds that seem to
be flying in and out of the wheel, and yet, somehow it seems
impossible.
THE FIRST PRIZE (300 TRAIL + 20 STEEM) GOES TO:@sumsum
Wonders you will see (Poem for ARTCHALLENGE #10)
While the world goes round and round
Sometimes you are upside down
Quite lost, stil wondering
What the next moment might bring

Will crows bring shivers?
Will you see flowing rivers?
Will the sun come out after rain?
Will you be happy again?

While the world keeps up it's ways
Unique are all of your days
Every moment a discovery
Just be and wonders you will see

CONGRATULATIONS TO THE WINNERS!!!
THANKS TO EVERYBODY FOR PARTICIPATING!!!
SPECIAL THANKS TO OUR JUDGE AND CONSTANT SPONSOR @LOOFTEE!!!!!! YOU SAVED ME)))
All the information about TRAIL and how to claim it you can find here.
If you have never dealt with SteemTrail Discord , you can go and check what it is here.

To claim TRAIL you need to open an account. Just go to Open Ledger Account and follow the instructions. Then submit your Open Ledger account info (OL account "my-username" and Steem account "my-username") in the #open-ledger-account-add channel or to me.
If you want to open Streemian account, just go here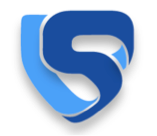 THEME FOR ARTCHALLENGE #11 will be announced tomorrow, the 30th of May and I can say you that there will BE A SURPRISE again.
You can see the previous artchallenges here:
Winners of Artquest#9 10 participants
Winners of Artquest#8 10 participants
Winners of Artchallenge#7 6 participants
Winners of Artchallenge#6 7 participants
Winners of Artchallenge#5 8 participants
Winners of Artchallenge#4 9 participants
Winners of Artchallnege#3 11 participants
Winners of Artchallenge#2 6 participants
Winners of ARTchallenge#1 14 participants
EVERYBODY IS WELCOME!
I would like to THANK again those who supported this challenge, all the participants, @steem-trail (STEEM TRAIL Team) and our sponsors @ogochukwu and @looftee.
Please FOLLOW, VOTE and RESTEEM this post.
I will be also very happy to any support of the artchallenge! If you want to be a judge or a sponsor, you are very welcome!
Join me on a quest to discover the treasures of beautiful artworks!
Always yours, @aksinya.