First of all, I would like to thank all the participants.I am very very impressed how many talented, intelligent and thinking people are around.
The task was to give the interpretation to the surreal photo by Sarolta Ban.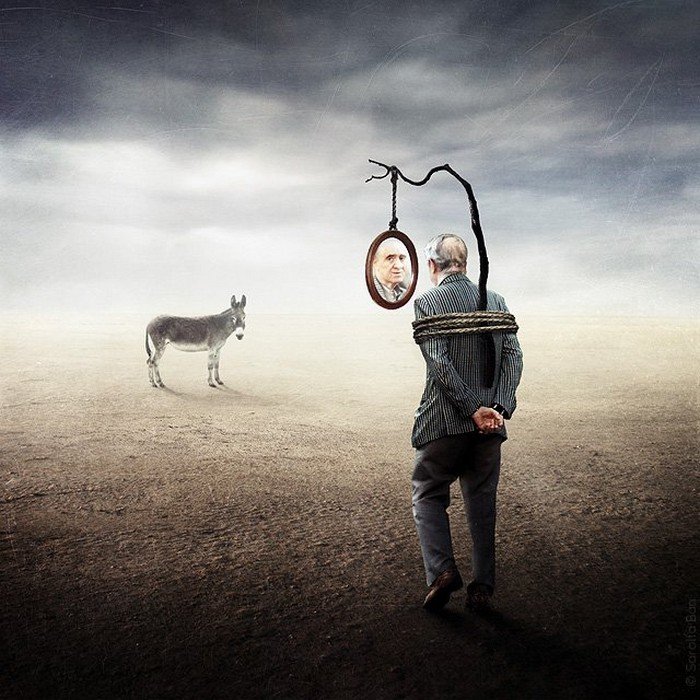 Sarolta Ban
NOW THE WINNERS:
THIRD PRIZE (10 STEEM) GOES TO: @sumsum
https://steemit.com/poetry/@sumsum/prison-of-mind-original-poem
As I wonder around the world I only can see me
My worries my tires, I want to be carefree
Happy and fulfilled is not my state
I hope it's not late
To change my view
To see me AND you
Not to be a donkey old and sad
Not to go mad
Except for love

SECOND PRIZE (20 STEEM) GOES TO: @elementm
The man is old, he has wasted his life and now, nearing the end of it, there is nothing left for him. No friends surround him and he's tied up and helpless. His legs are unbound so he can run but he has nowhere to run to. The mirror is positioned right in front of him to force him to see his own shame. The donkey symbolizes stubbornness and foolishness. It's right in front of him to remind him that he is also stubborn and foolish. But at least the donkey is free. Even in this moment of being presented with his wrongdoing, he doesn't look himself in the eye. He glances back through the canvas at the observer, silently pleading for someone to rescue him from his own mistakes.
THE FIRST PRIZE (30 STEEM) GOES TO: @surpassinggoogle
https://steemit.com/artchallenge/@surpassinggoogle/translating-one-of-sarolta-ban-s-painting-into-real-life-aksinya-s-art-challenge-is-for-every-steemian
CONGRATULATIONS TO THE WINNERS AND THANK ALL THE PARTICIPANTS!
THEME FOR ARTCHALLENGE #3 will be a surreal painting by Vladimir Kush who is called Russian Salvador Dali: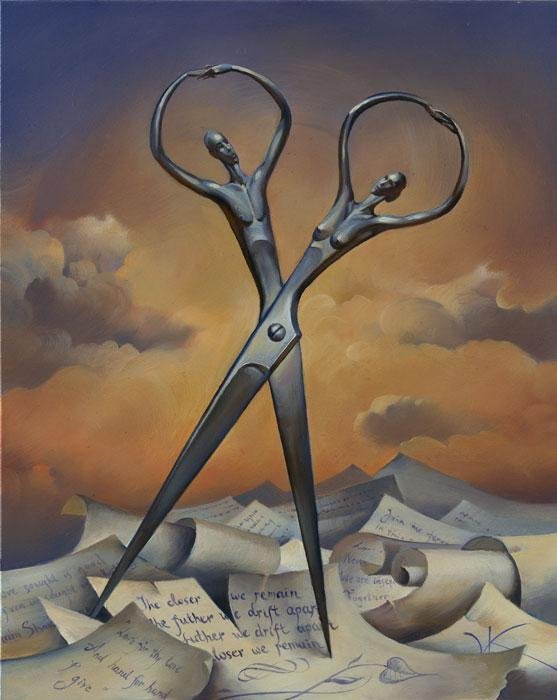 Vladimir Kush
The RULES are very easy.
Write a comment with your interpretation of the photo I posted. I will be very happy if you want to make a separate post with the tag #artchallenge.
You can make up to 3 versions
End of challenge will be Sunday at 12:00 noon (UTC +3).
PRIZES:
Winner - 30 STEEM
Second place - 20 STEEM
Third place - 10 STEEM
EVERYBODY IS WELCOME!
I would like to THANK again those who supported this challenge.
Please VOTE and RESTEEM this post.
I will be also very happy to any support of the artchallenge! If you want to be a judge or a sponsor, you are very welcome!
Thank you in advance for your support! Let us have fun together.
I am taking part in One Month Steemit Power Up Challenge So all my posts are 100% powerup during 30 days. Join the challenge!