Do you want me to be honest? I was afraid to open your posts because I was afraid to see the next masterpiece and thoughts how I would judge haven't left me.
You are extremely talented. I thought surrealism would be kinda difficult but all the entries are just outstanding!!!!!! I could say sincerely that all the submitted artworks are deserved to be the winners. And it is not just words. I MEAN IT!!!!!!!!!!!!!!!!
Thank you, guys!!!!!! You are fantastic.
The task was to make a painting in SURREALISM style and the main idea should be ADDICTION
For those who have not heard of this contest please check my post
3rd ARTstyleART Theme Announcement. Surrealism + Addiction.
And the reward pool was increased by 20 STEEM with the help of the amazing person @henry-gant. Thank you so much for your constant support!!!!!! So, the reward pool for this week is 40 STEEM.
NO! Conception has changed during making this post. I added 10 Steem more...I am a woman)) I have a right to change my mind))).
Reward Pool is 50 STEEM now!
AND NOW THE WINNERS:
1st PRIZE (10 STEEM) - @kryo
Addiction of Man
@richq11 gets 1 Steem for the comment. I am not crazy when somebody says bad words about their exes. But me and my husband were laughing at this one. And by any reason it didn't sound offensive
@richq11 Nice... Reminds me of my first wife!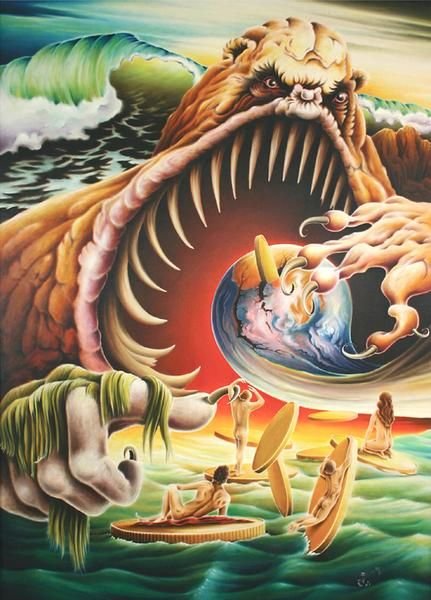 2nd PRIZE (5 STEEM each) Order is random
Called: Fixed. 12x16" Acrylic on canvas. I went pretty literal with
this entry! Painting is the only fix I need, and I'll take it whenever
I can get it.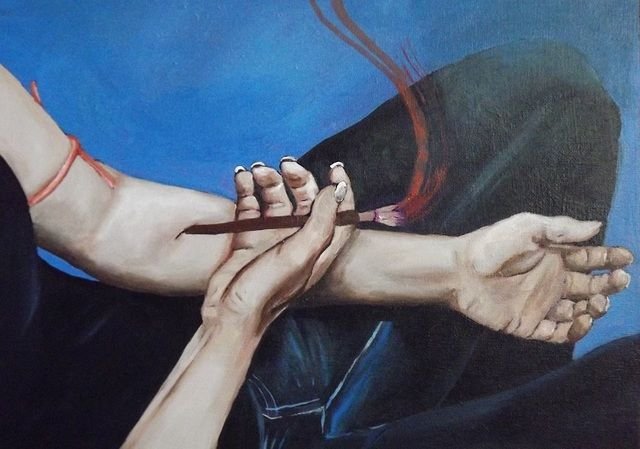 It's fully digital painting I did few weeks ago when I was going
through a rough time with someone close and couldn't stop thinking of
love. How I see it and how much my perception of it has changed
throughout the years. No matter what my idea of it is though I can
never say no to love.

Would you consider a need to be in love and/or to love an addiction?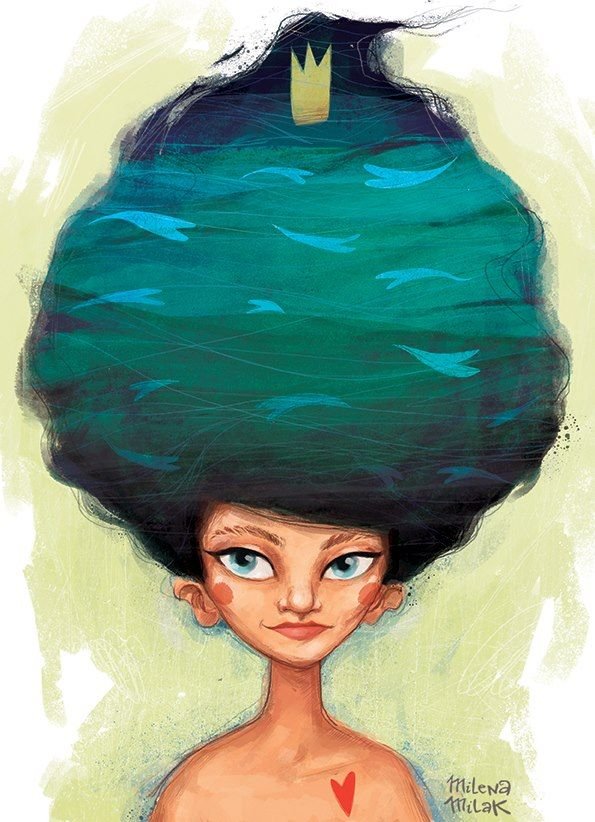 @paolobeneforti Writer, gouache on cardboard, cm 120x90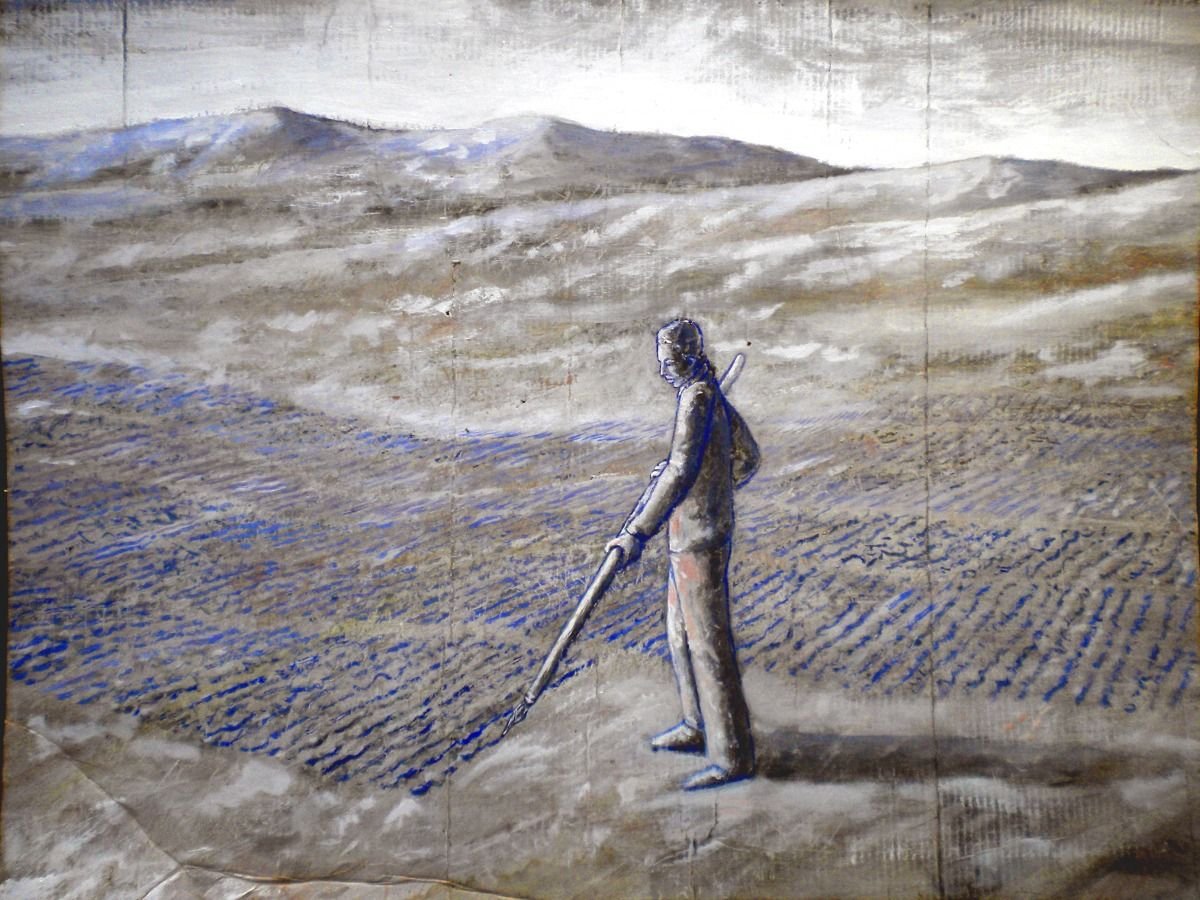 @jameshsmitharts Addiction to drugs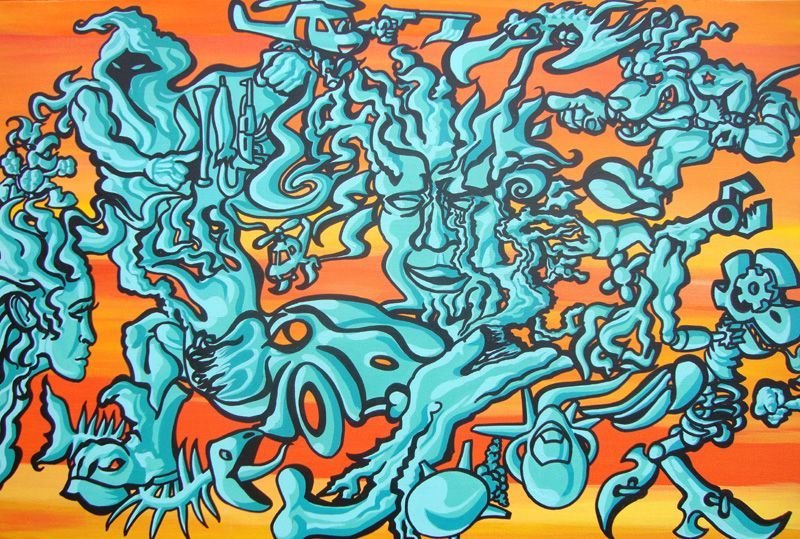 The idea of the piece is how we can become one with our obsessesions
to the point that it changes us.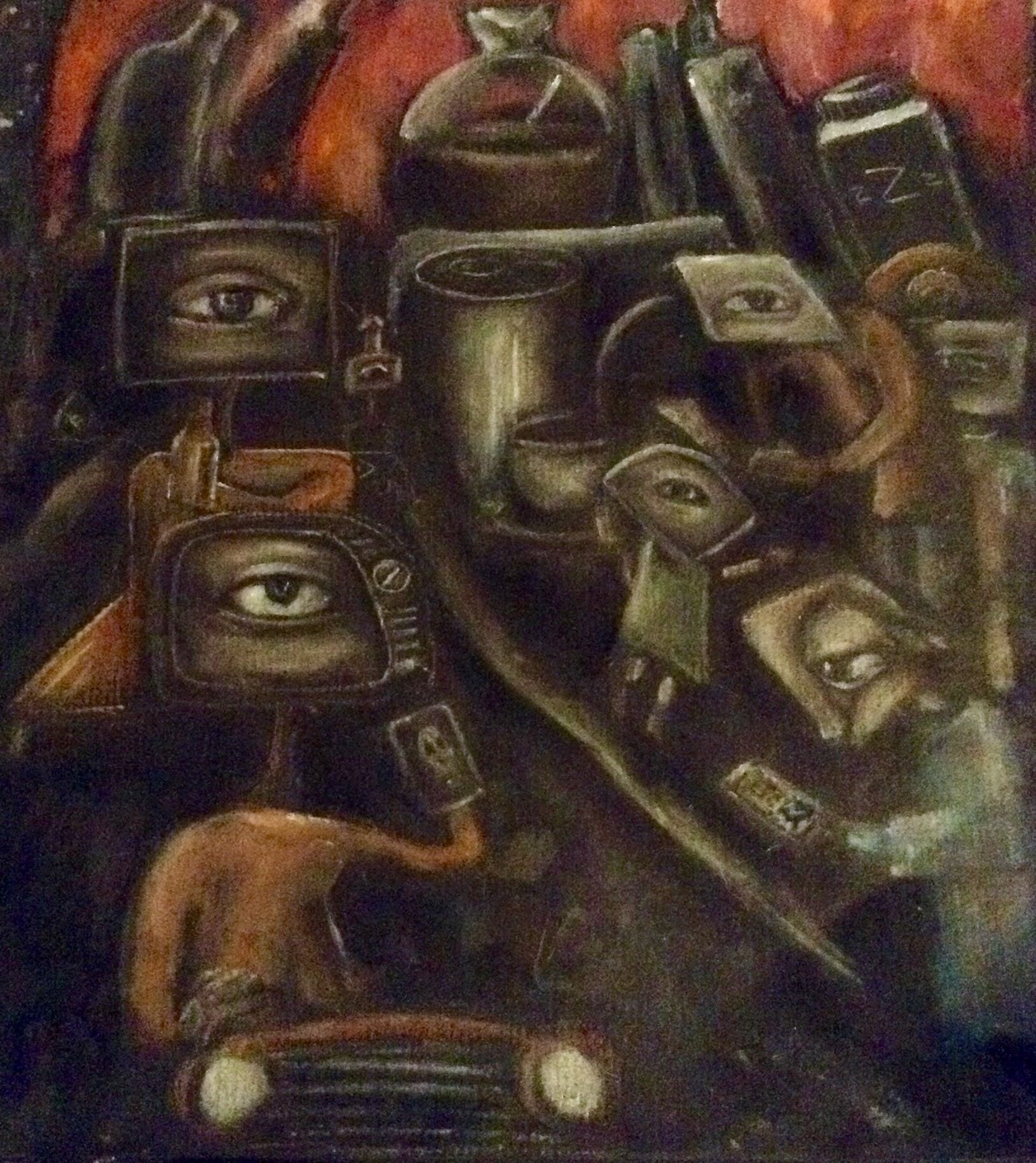 @errymil Addiction to Social Media 16 x 20 inch oil on canvas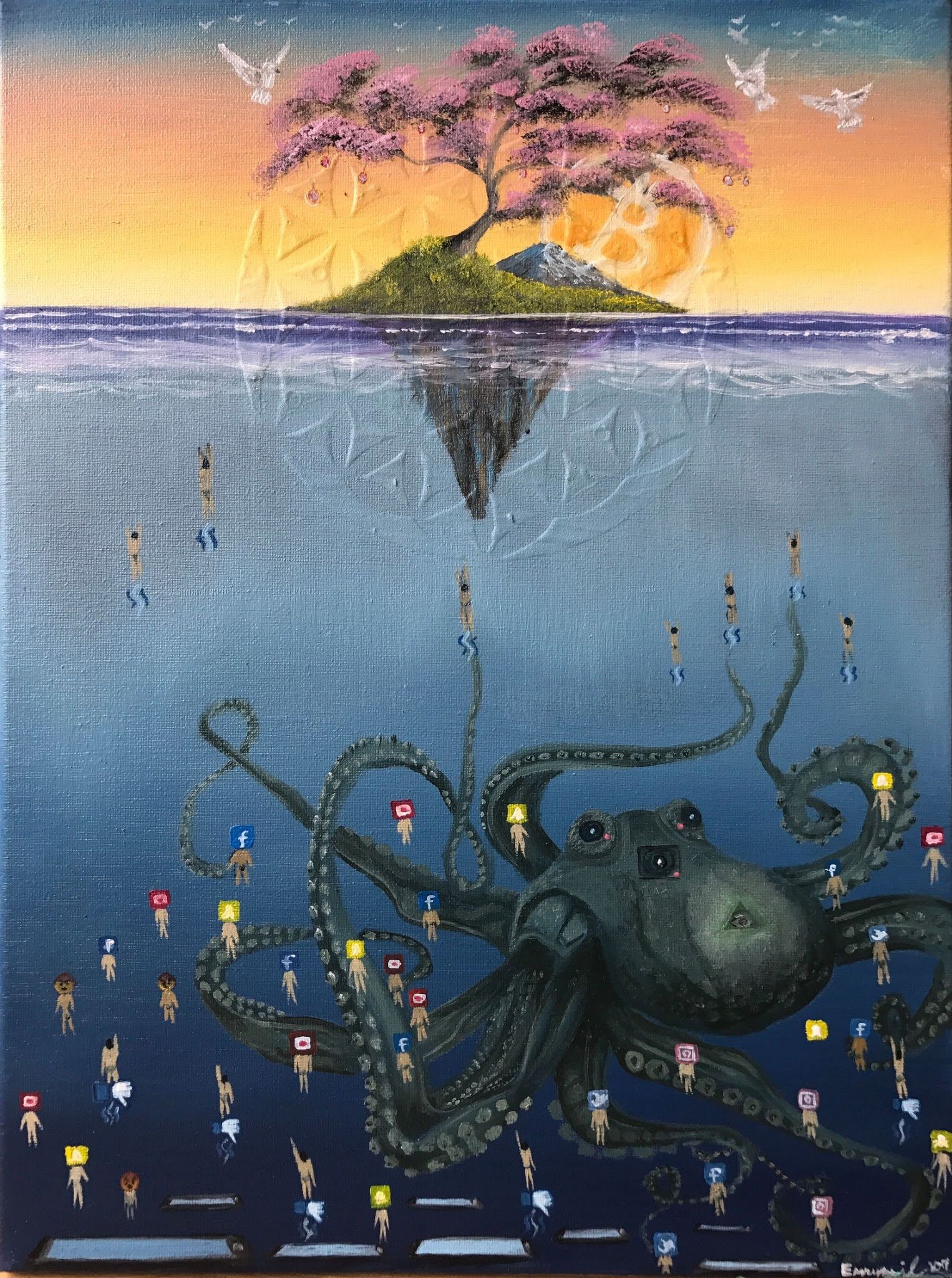 @omwith Cristina Castañeda | "My octopus doesnt have three legs any longer" | Oil and collage on cardboard | 150 x 120cm | 2008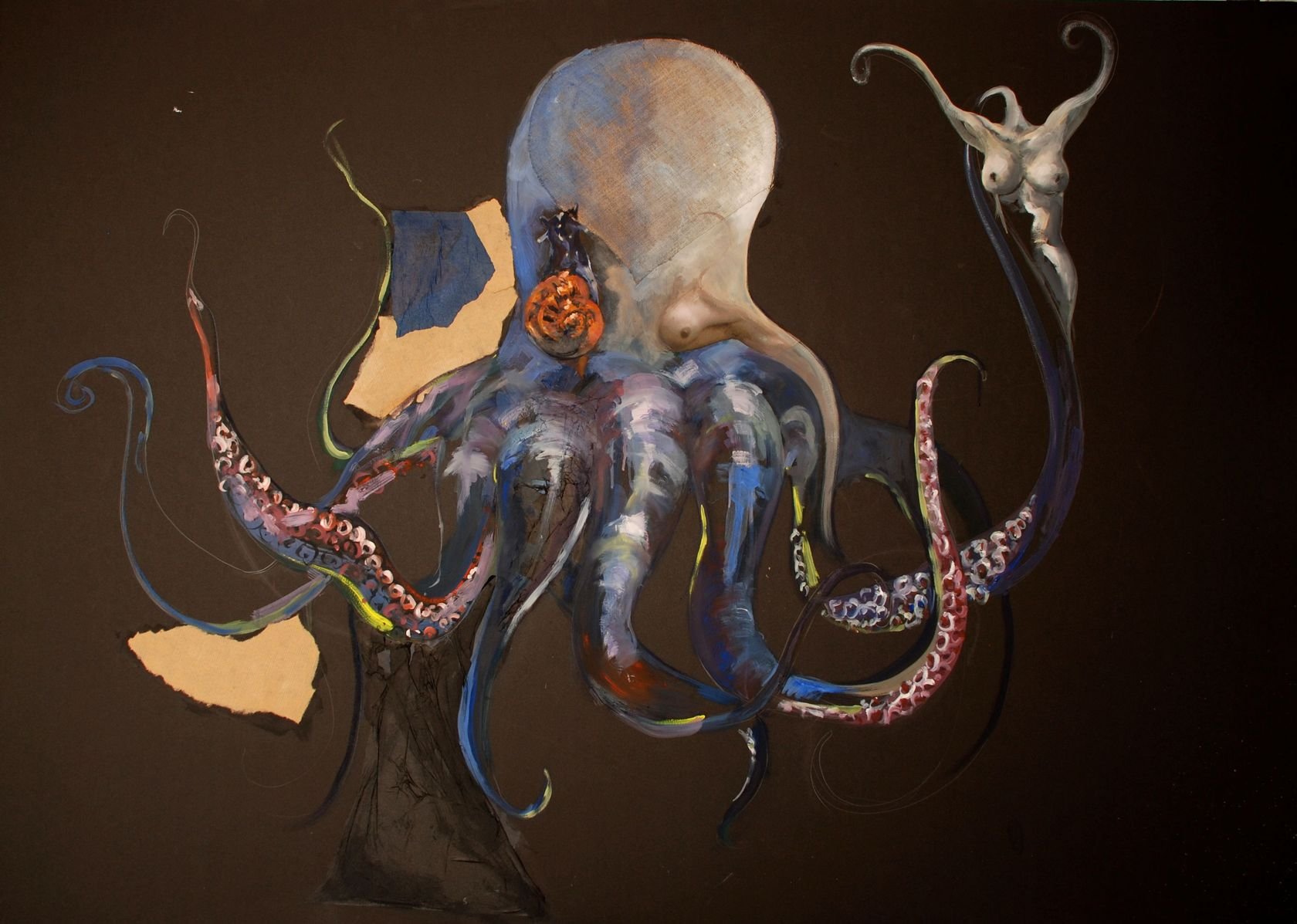 @throughwindows Alice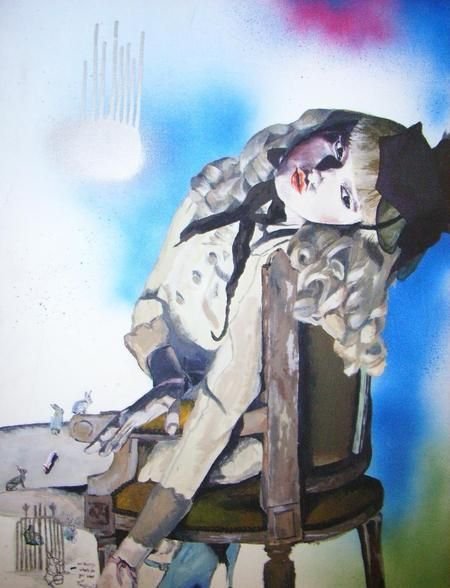 I also want to thank @anonimnotoriu who made a post 3rd ArtStyleArt Contest to promote this contest! 1 thanking steem to you))
IMPORTANT INFORMATION about repayment My dear winners, while I was travelling I converted the wrong amount (I forgot that STEEM is almost on the Moon). So, for now I don't have enough steem for everybody (as almost everything what I have is in sbd). Within 6 days I will get STEEM and I will transfer your rewards. Thank you for your understanding. I feel myself so blondy)))))))))) Or I can transfer reward in sbd who wants. Write me)))))
Tomorrow I will announce the next theme!!!!!!!!!!!!!!!!!!!.
I am very excited about the coming contest. EVERYBODY IS WELCOME!!!!!!!!!!!!!!!!
I am also trying to build a Steemit Artists database. Please let me know if somebody is missing. And I am also sorry if I added somebody by mistake. Let me know and I would remove you from the list. If anybody doesn't want to be in the list, please let me also know. Thank you!
@aishwarya, @aksinya, @anca3drandom, @anandkphoto, @aneblueberry, @andrew0, @andrianna, @allstarrunner, @aniestudio, @artguy, @artwithflo, @art21, @billyjohnsonart, @camilla, @catsmart, @chessmonster, @comealong, @danilamarilu, @drawingsbymilena, @dreemit, @dottie, @edgarsart, @elementm, @elewarne, @elgeko, @elena2017, @em3di, @englishchivry, @errymil, @everlove, @fayehalliday, @flowerpowerart, @fumansiu, @funkit, @giraffeonskates, @girlbeforemirror, @granturismo89, @gric, @harshalachopra, @havok777, @henry-gant, @hhelenbby, @hilarski, @hopehugs, @inber, @indiandigitizer, @jameshsmitharts, @jangaladesigns, @jankasparec, @jessamynorchard, @juanmiguelsalas, @jyezie, @kalemandra, @karmashine, @katharsisdrill, @ken-and-jane, @krizia, @kryo, @lapstjup, @lighteye, @lightsplasher, @littlemozart, @lloyddavis, @louiscpt, @luckyfellow, @mada, @madlenfox, @mariandavp, @meesterboom, @merej99, @michaelmcdermott, @mindfreak, @mikkolyytinen, @milenamilak, @mprgrmmr, @motivator, @mrssignificant, @mystisoul, @naquoya, @natureofbeing, @nature.sauvage, @neonartist, @nicnas, @nikosgyftakis, @nin0000, @nitan, @nonameslefttouse, @oceansoul13, @ocrdu, @omwith, @onlyifisayok, @opheliafu, @paniopan, @paolobeneforti, @pcste, @phoenixmaid, @prakashghai, @prostosun, @pyrowngs, @rachelsvparry, @randolphrope, @reddust, @reneenouveau65, @revostrike, @robyneggs, @rubens9119, @rubenalexander, @sanakumar, @saramiller, @seisges, @sethlinson, @shady, @shortcut, @siloe, @silviabeneforti, @skapaneas, @sofi-m, @soyjosluis, @spaceginger, @splus, @stargarden, @stephenking989, @straydays, @sumsum, @synesthesia, @tasartcraft, @thebatchman, @thedrollyears, @therealpaul, @toonpunk, @throughwindows, @trueart, @twirble, @ubik, @unusualconcept, @urielromeo, @verbal-d, @villainblack, @voodoolizard, @voronoi, @winstonwolfe @yadamaniart, @woman-onthe-wing, @wordsword, @xochicotta, @xtrodinarypilot, @yoganarchista, @yuslindwi.
Please vote, resteem and follow!
I would be very happy to any support of my contest!!!)))))))))))
I also want to thank Mister X who promoted my post My Pastel Cat. Original Drawing. Amazing people at STEEMIT!! You don't stop amazing me. THANK YOU VERY MUCH!!!!!!!! Lots of blessings to you!!!!!