Happy Easter!!!!!!!!!!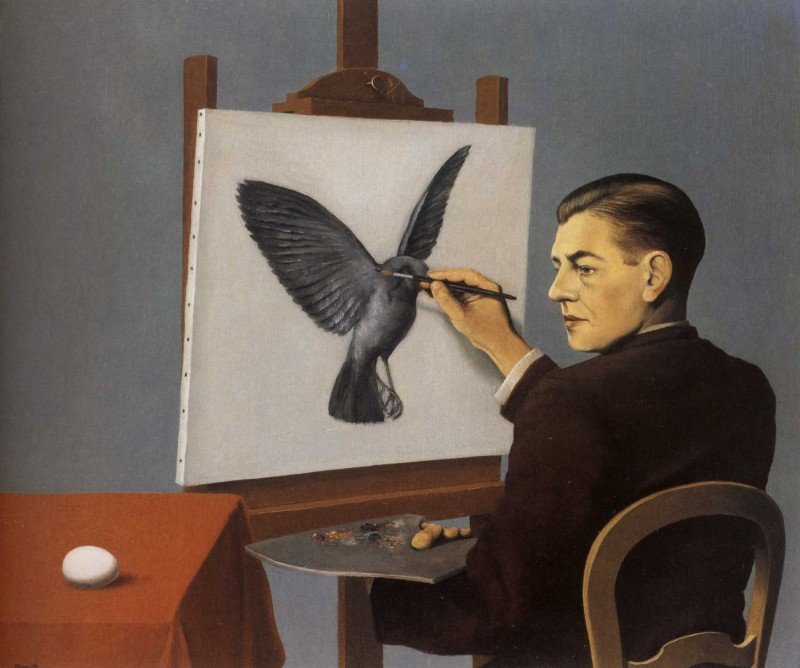 Rene Magritte
I want to thank everybody for participation. I am so happy that I have initiated this challenge as I even couldn't imagine how different and awesome interpretations could be to the same photo.
The task was to give the interpretation to a surreal photo by Igor Morski: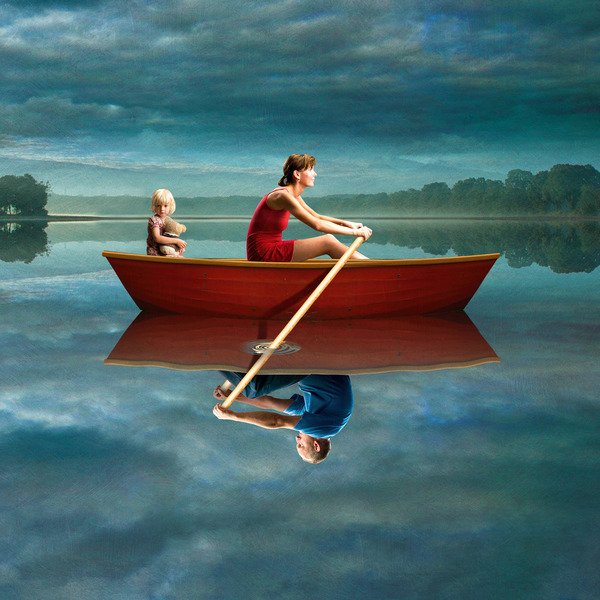 Igor Morski
It is funny but in my mind I had only one version. But I didn't meet that version at the participants. And you impressed me again. So many different versions!!!!!!!!! I really appreciate it!!!!!!!!!
My version: On the photo I have seen the woman who took a role of a man in the family. In many families it happens by many reasons. In some families there is no dad and husband and a woman has to be strong. In some families women are stronger than men and they have to take responsibility for the family. In some families woman who got used to be strong can not relax and keep being a man and rules everything in the family but only wise and strong man can save the family. When mom is being busy with men's duties kids can feel lonely and forgotten. But I like your versions more!!!))))))))))))
NOW THE WINNERS:
This time it was too difficult to choose the winners and the prizes were shared
THIRD PRIZES (5+5 STEEM) GO TO:
https://steemit.com/artchallenge/@kalemandra/artchallenge-4
The little girl says: I miss you daddy! Mom says you moved to another
world, and no way back. I try to imagine that world. Everything is
upside down there, but very similar to our world. Time is also reverse
there. You are turning much younger and younger, you'll be a little
boy, than a baby. Than you'll move into your mom's tummy. Than you'll
born back to our world. Perhaps, you'll be my little son, when I'll be
big. I'm already not so sad now.
https://steemit.com/artchallenge/@torem-di-torem/art-challenge-4-entry-1-on-the-road-of-memory
My interpritation (from the name of the girl)
My mother and I often
visit this place. Here she met my Dad ... And when I grew up, my
parents also took me to this lake. I liked to watch them. When they
were talking to each other, it seemed that the whole world faded and
admired their happy voices. Sometimes they forgot about my presence
and my father tenderly embraced and kissed my mother. She invariably
blushed, pointed at me, said: "My Love, we make our daughter miss."
Dad picked me up and said: "My girls, how happy I am that we have
you!" ... This spring Dad has gone... When the pain becomes especially
unbearable, I take my beloved bear and we go with my mother to our
lake where I still like to watch them...
SECOND PRIZES (10+10 STEEM) GO TO:
https://steemit.com/artchallenge/@sumsum/break-the-circle-original-poem-for-the-artchallenge-4
He was gone one day
what shall I say?
We got by just fine
without the father of mine
Only when my husband left
I knew, father was a theft
He robed me of the ability to trust
I know my daughter must
break the circle

https://steemit.com/artchallenge/@homeartpictures/artchallenge-4-entry-no-1-the-end-of-childhood-das-ende-der-kindheit
For me, this picture represents our current society, a society in the
family is less and less valued. Stress and time pressure drive family
apart and each "rowing" in its own direction. Those who are always
suffering from it are the children who do not understand it yet. To
put it in a formula:
Love + Passion = Child (Family)
Child + little time for the partner + work = stress
(Stress + problem in everyday life) x 2 = separation
THE FIRST PRIZES (15+15 STEEM) GO TO:
https://steemit.com/artchallenge/@wordsword/artchallenge-askinya-surreal-photo-by-igor-morski-poem-wordsword
I made a basic rhyme/poem to put my sad feelings somewhere.

Relationship

Relationship without a captain, rowing but they go nowhere.
She sits there without mirror image, holds on to her teddy bear.
Mommy always busy stirring, has no attention, no love to give.
Daddy is a vague reflection, that can't show her how to live.
She sits there without a peddle, without a compass, without a clue.
In a boat that's going nowhere, without a captain, without crew.
And on the ship with no affection, no destination, no hands on deck.
She is lost, without reflection, no eyes like mirrors that look back.
How will she ever reach the shoreline, when there is no one that can row.
Or teach the lessons of adulthood, on how to learn and love and grow
This was a hard one but here I go: Based on the cloudy skies, it seems
that the parents' parting was unpleasant. Both mother and father are
resolutely focused on where they're going (opposite directions) as if
nothing else matters. The little girl in the back of the boat is the
only one with a broader view of the situation. She hugs the bear for
comfort and watches out into the distance as her father rows away. She
doesn't have the power to pick a direction or make everyone take the
same boat. I think the painting is about her inability to solve a
problem she didn't create.
I liked the below versions too but I didn't know how to add everybody to winners, so for now it is like that and I hope you will take part in the artchallenge again!!!!!!!
Honourable mentions (1 steem each):
https://steemit.com/artchallenge/@ace108/artchallenge-4-the-child-wonders-by-ace108
My Interpretation
Man and woman and later a family is formed together
with an offspring. Such is life. Was man attracted to woman or woman
attracted to man in the first place. It does not matter. Sometimes,
it seems opposite attracts. And, sometimes we find our similarities a
reflection of each other. We are in the same boat mostly. Why is it
we seem to be going opposite directions? Our child wonders.
https://steemit.com/artchallenge/@karenmckersie/art-challenge-4-entry-1-bewildered-child
" BEWILDERED CHILD ... "⛵👪👱⛵
HUSBAND AND WIFE , AT ODDS WITH EACH
OTHER ROWING IN OPPOSIT DIRECTIONS GOING NO WHERE IN A CONSTANT TUG OF
WAR.. COMPLETELY IGNOREING THE CHILDS PAIN WHICH THEY SEEM TO HAVE
LEFT BEHIND THEM IN BEWILDERMENT ...
https://steemit.com/artchallenge/@neduhjr/art-challenge-4-the-guiding-angel
I will title it the guiding angel. Here the mother and the child
embarks on a journey without the husband. However his presence is ever
present with them. Assisting the wife in rowing the boat, while the
child can feel the presence of her father and keeps on looking into
the water hoping to see him.
CONGRATULATIONS TO THE WINNERS AND ALL THE PARTICIPANTS!
THEME FOR ARTCHALLENGE #5 will be again a painting by Rene Magritte:
Because it is Easter week!!!!!!!!!
Happy Easter!!!!!!!!!!!))))))))))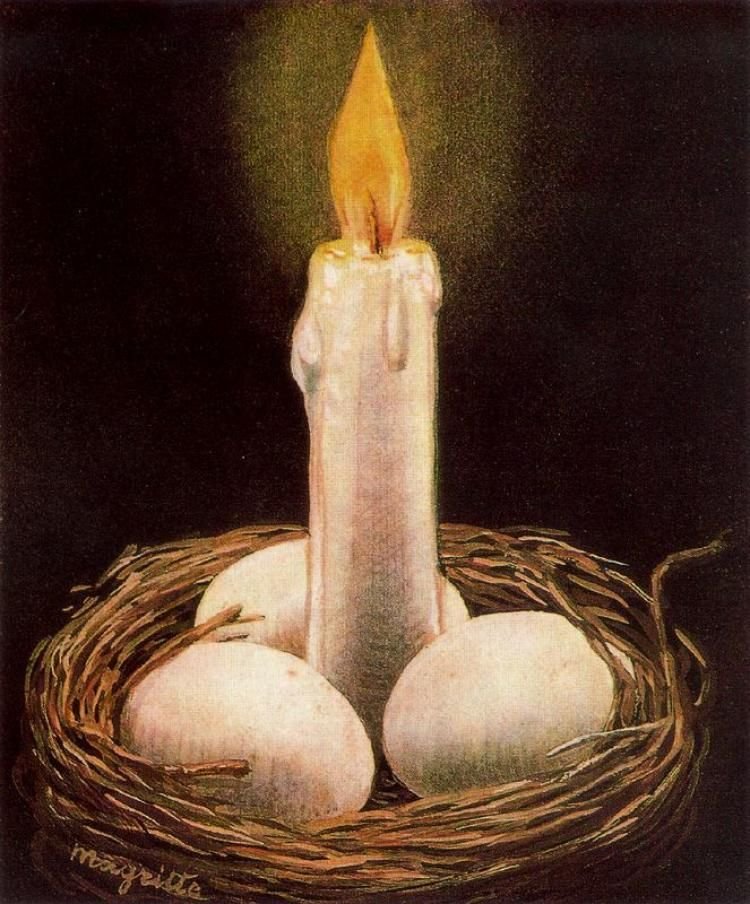 Rene Magritte
The RULES are very easy.
Write a comment with your interpretation of the photo I posted. I will be happy if you make a separate post with the tag #artchallenge. Please don't forget to leave a comment to this post with a link to your post.
You can make up to 3 versions
End of challenge will be Sunday at 12:00 noon (UTC +3).
PRIZES:
Sorry but I had to reduce prizes as like most of us I didn't earn much for last 2 weeks and spent almost all my money))).
Winner - 15 STEEM
Second place - 10 STEEM
Third place - 5 STEEM
EVERYBODY IS WELCOME!
I would like to THANK again those who supported this challenge.
Please VOTE and RESTEEM this post.
I will be also very happy to any support of the artchallenge! If you want to be a judge or a sponsor, you are very welcome!
Thank you in advance for your support! Let us have fun together.