We had 9 participants and the entries were fantastic! I am happy again that I didn't need to judge. This week we had a great guy @surpassinggoogle as a judge. Thank you so much that you agreed and you did great job!!!
Thank you very much!
The task for ARTquest#11 was a surreal painting of the Polish artist Rafal Olbinski.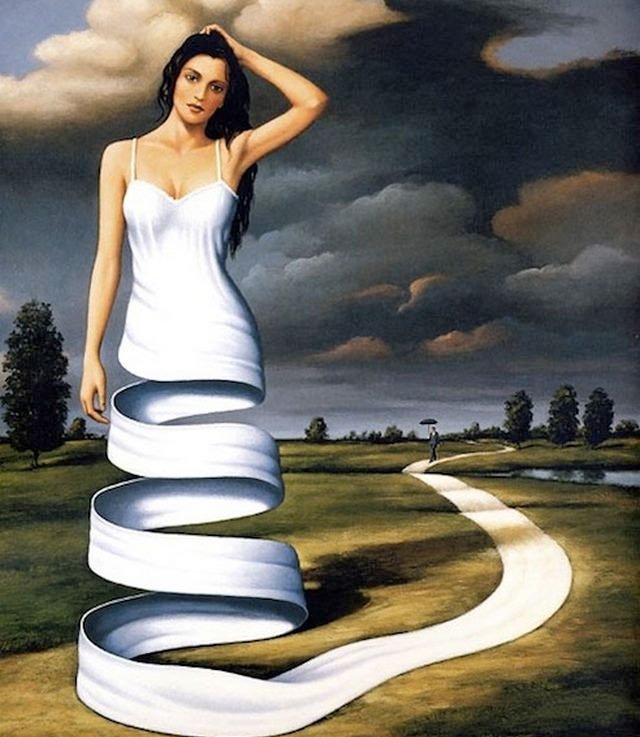 Rafal Olbinski
My experience told me that the more men a woman had the more she lost. I mean she lost herself. The more relations she had the more empty she becomes. And on the painting I see the woman who lost a lot. And if for a man it was just something not serious he would not care about her feelings and just walk over her. And he always has an "umbrella" to protect himself from somebody's "tears".
Our wonderful judge has also made an amazing interpretation:
The woman in the painting can also easily be seen as one independent
proud woman who cares not whether men exists or not and who builds
fantasies in men but never falls in love. She leaves a trail of aroma
wherever she goes and leaves men in stormy situation as they can't
resist her trail and have to deal with the storm of broken marriages
etc and yes even men who are minding their own business and caught by her alluring trail and are met with impending storm. But time starts to catch up with her without her taking note as she is starting to
fade into "thin air of time" but she takes no note. She also so caught up in her youth and vigor, that she has paid more attention to doing hair-flips than the stormy clouds just behind!
Ended Up As Judge So This Is A Fun Yet Heartfelt Participation In @aksinya's #artchallenge Episode 11!
This challenge was judged by the great guy @surpassinggoogle
And he did great job and commented on each entry:
There can be different takes on the photo. So many angles and too many
beautiful entries to choose from that it was hard to choose.
@nenad-ristic looked at it from a beautiful angle
@snooway was also so great but just the reverse as i see the
woman as one self confident woman and not the victim either.
@wordsword had a very special take, but again i see that woman as the
bright one and the look on her face, very much alive.
@errymil had great analogy and he tried to touch on
the entire painting!
@angelstarr entry was valued but let's just say that in the painting, the man never really got to the woman, so that part of the story is in a future painting
@animal-shelter did greatly. Answer was pure and heartfelt
AND THE WINNERS ARE:
THE THIRD PRIZE (150 TRAIL + 3 STEEM) GOES TO:@yakuhi
For trying to touch on most aspects of the painting, like the storm. umbrella etc. He seemed to notice that in this painting, the woman wasn't the victim, she is the bright, youthful and self-confident one!
ARTQUEST TRAIL #11 entry for artchallenge.
Many men follow a woman, eager to win her heart because of what they see on the outside. outer beauty is something that is exciting, captivating and worth chasing after however, half the time, half of that beauty is simply empty space, a result of the garment and how the material is spun. the path they walk is based entirely on what they
see on the outside and may be half the reason why a woman worth chasing after is never caught.
THE SECOND PRIZE (250 TRAIL + 7 STEEM) GOES TO:@jeschunta
For creativity and the not-very-obvious.
Optimism! I could still feel the cool that water brings as it streamed
down my face. Another splash from the faucet should do the trick. I
opened my eyes to stare at the mirror but I didn't exactly see a
reflection of me. Optimism. I know that darkness and loneliness lay
behind me but I'm not out of the storm yet. With garment and parasol
I move on only to thread on the narrow. I will not spread my attention
to the enticing monuments around because the hurt and wasted time have
been piled too high. Optimism. My mind has become as tranquil as an
undulating field sparsely littered with trees. At the forefront sits
my destination! Some of my carnality influenced this image I now
worship but the main directive still paramount all other fancies. Is
it that I'd one day be clean enough for her or that my latter days
will host many a sexual encounter!?
THE FIRST PRIZE (300 TRAIL + 10 STEEM) GOES TO:@sumsum
She sounded like she was writing about herself, her very own story. The woman in the painting tho can also easily be seen as one independent proud woman he cares not whether men exists or not and who builds fantasies in men but never falls in love. She leaves a trail of aroma wherever she goes and leaves men in stormy situation as they can resist her trail and have to deal with the storm of broken marriages etc but of course I liked @sumsum's. It was brief and that takes creativity.
love is to blame (poem for ARTQUEST-TRAIL#11)
I am on my way to get rid of the layers
of insecurity that hold myself back
that see me as a tasty snack
Now I see: I am the way
I can go, I can stay
but I will never be the same
and love is to blame
CONGRATULATIONS TO THE WINNERS!!!
THANKS TO EVERYBODY FOR PARTICIPATING!!!
SPECIAL THANKS TO OUR JUDGE @SURPASSINGGOOGLE!!!!!
All the information about TRAIL and how to claim it you can find here.
If you have never dealt with SteemTrail Discord , you can go and check what it is here.

To claim TRAIL you need to open an account. Just go to Open Ledger Account and follow the instructions. Then submit your Open Ledger account info (OL account "my-username" and Steem account "my-username") in the #open-ledger-account-add channel or to me.
If you want to open Streemian account, just go here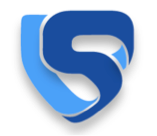 THEME FOR ARTCHALLENGE #12 will be announced tomorrow, the 4th of June.
You can see the previous artchallenges here:
Winners of Artquest#10 13 participants
Winners of Artquest#9 10 participants
Winners of Artquest#8 10 participants
Winners of Artchallenge#7 6 participants
Winners of Artchallenge#6 7 participants
Winners of Artchallenge#5 8 participants
Winners of Artchallenge#4 9 participants
Winners of Artchallnege#3 11 participants
Winners of Artchallenge#2 6 participants
Winners of ARTchallenge#1 14 participants
EVERYBODY IS WELCOME!
I would like to THANK again those who supported this challenge, all the participants, @steem-trail (STEEM TRAIL Team) and our sponsors @ogochukwu and @looftee.
Please FOLLOW, VOTE and RESTEEM this post.
I will be also very happy to any support of the artchallenge! If you want to be a judge or a sponsor, you are very welcome!
Join me on a quest to discover the treasures of beautiful artworks!
Always yours, @aksinya.