TWO DAYS LEFT FOR SUBMISSION!!!!!!!!! THE WINNERS WILL BE ANNOUNCED ON SUNDAY and NEW THEME WILL BE ANNOUNCED ON MONDAY.
Now I am on vacation for 1,5 months at the resort at the river Volga near my native town where I am originally from (Togliatti). If you don't hear from me it means I have bad internet. ))
This week we have an invited judge!!! And I want to tell more about this amazing person. This is @lpfaust.
I am really thankful to this person as he was one of the first who encouraged me here at Steemit in the very beginning. Probably everybody had the situation when you just started your "career" here and nobody even read your posts. I even don't mention earnings. You could spend many hours for writing your posts but there were luckily just few readers and upvotes. When I was ready to give up suddenly I turned out to be in the post of @lpfaust who were making regular posts with hidden gems. It really helped me to stay here. He gave me wings))).
@lpfaust showed me that my posts were being read and even valued. Thank you very much, dear @lpfaust, and such people like you help to build this platform.
I should also mention that @lpfaust is a very intelligent person who makes very interesting posts!
So, I am very happy that he agreed to judge my contest!
THEME FOR ARTCHALLENGE #13 is a surreal painting of a Polish artist Pavel Kuchinski. There was request to choose more optimistic painting and I will try....Actually it could be optimistic to one of the side...or not)). You decide....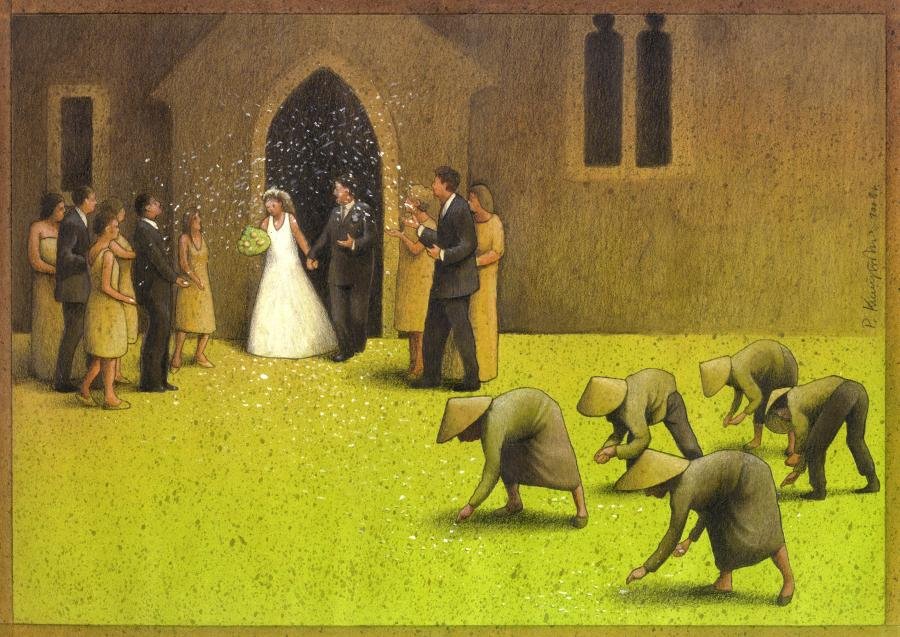 Pavel Kuchinski
The RULES are very easy.
Vote and Resteem this post
Write a comment with your interpretation of the painting I posted. I will be very happy if you want to make a separate post with the tag #artchallenge. Please don't forget to leave a link to your post in the comment to this post. It would be also good if you mention the link to my announcement post
You can make up to 3 versions
End of challenge will be Saturday at 00:00 (UTC +3).
PRIZES:
Winner - 300 TRAIL + 7 SBD
Second place - 250 TRAIL + 5 SBD
Third place - 150 TRAIL + 3 SBD
EVERYBODY IS WELCOME!
You can see the previous artchallenges here:
Winners of Artquest#12 10 participants
Winners of ARTquest#11 9 participants
Winners of Artquest#10 13 participants
Winners of Artquest#9 10 participants
Winners of Artquest#8 10 participants
Winners of Artchallenge#7 6 participants
Winners of Artchallenge#6 7 participants
Winners of Artchallenge#5 8 participants
Winners of Artchallenge#4 9 participants
Winners of Artchallnege#3 11 participants
Winners of Artchallenge#2 6 participants
Winners of ARTchallenge#1 14 participants
Please FOLLOW, VOTE and RESTEEM this post and I am waiting for your entries!
I will be also very happy to any support of the artchallenge! If you want to be a judge or a sponsor, you are very welcome!
I would like to THANK again those who supported this challenge, all the participants, the invited judges @looftee, @surpassinggoogle, @paolobeneforti and @silviabeneforti @ezzy and @lpfaust, @steem-trail (Steem Trail team) and our sponsors @ogochukwu and @looftee.
Join me on a quest to discover the treasures of beautiful artworks!
I would also like to invite you to my new ARTstyleART contest:
4th ARTstyleART Theme Announcement. Surrealism II + Portrait.
There is also awesome contest organized by @paolobeneforti. I planned to take part and even made couple of attempts to paint today but didn't like the results..I will try tomorrow again...))
4 days left to join the 5th Art-Trail Contest - NUDES
Please also check A new channel on Steemit.chat to offer your artworks on sale - Steemarket ! (And a new server on Discord too!)
Always yours, @aksinya.