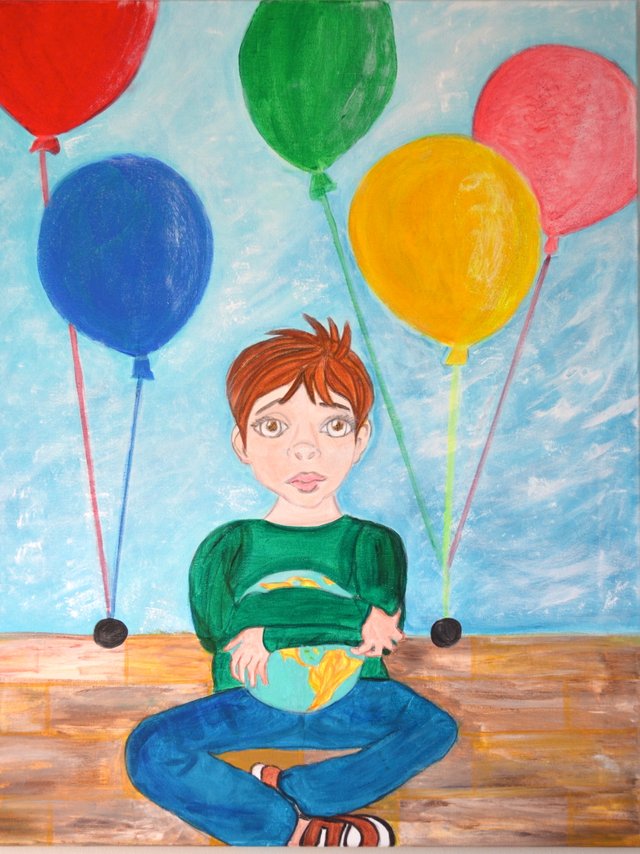 Last month I realized a new painting. It has been a while since my last one. I was happy to get this commission. The client did not know exactly what he wanted. The only clue or prop that I was provided with was a photo of the cartoon character, Richie Rich, meant to inspire me.
Since the artwork was supposed to be hung into a child's bedroom, I had to chose between painting a cute little fury animal or a child.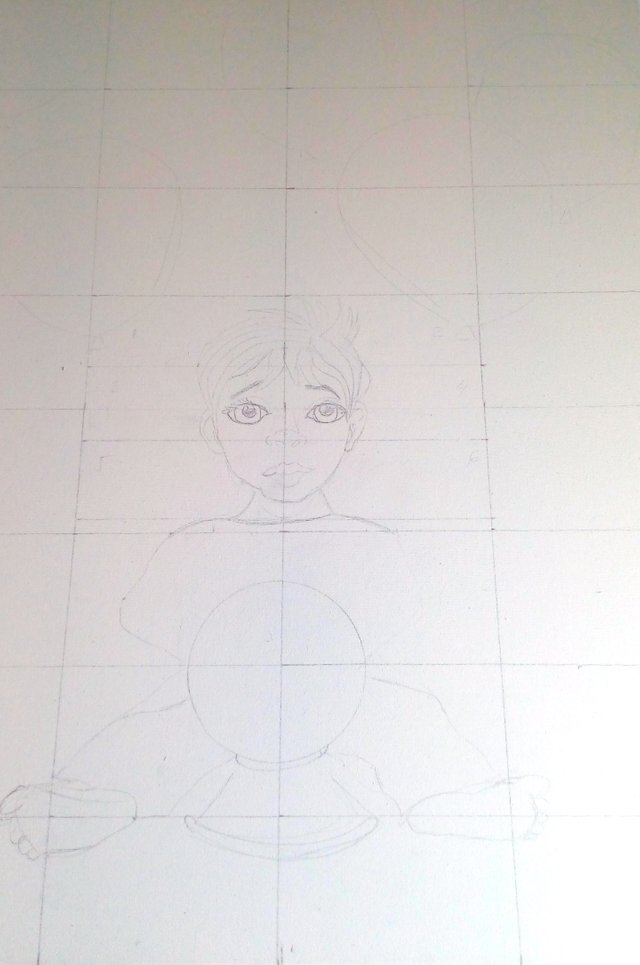 If you have seen my previous art related posts, you would know that most of my artworks are abstract.
I have been painted faces before but only using a palette knife. This was a new challenge for me!
Thus this time I tried something different. I took a new approach, that helped. I started by sketching my painting in pencil on the canvas. As you can see in the photos above, I have divided the canvas into squares, to help me get the correct proportions.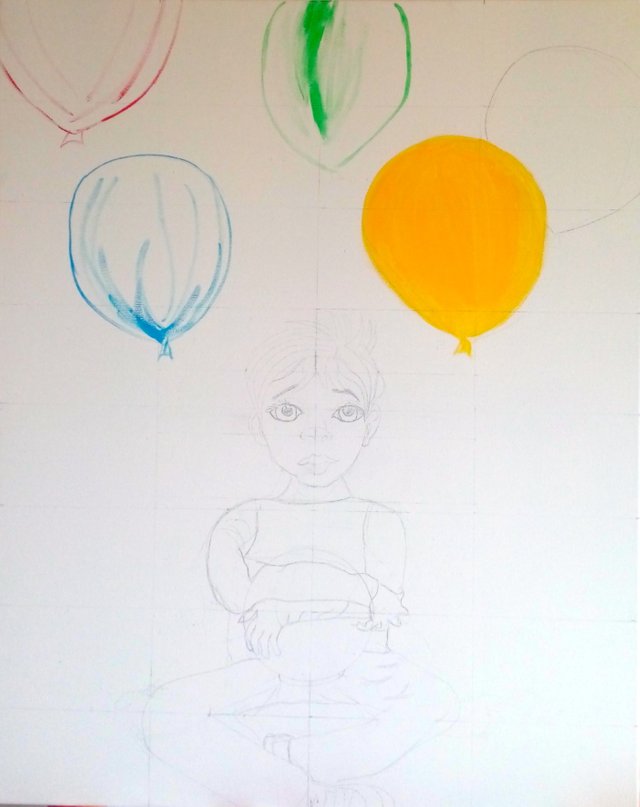 Initially I have drawn a baby's body (see the second photo of this post) but after having a second look at the head, I decided to go with an older child's body.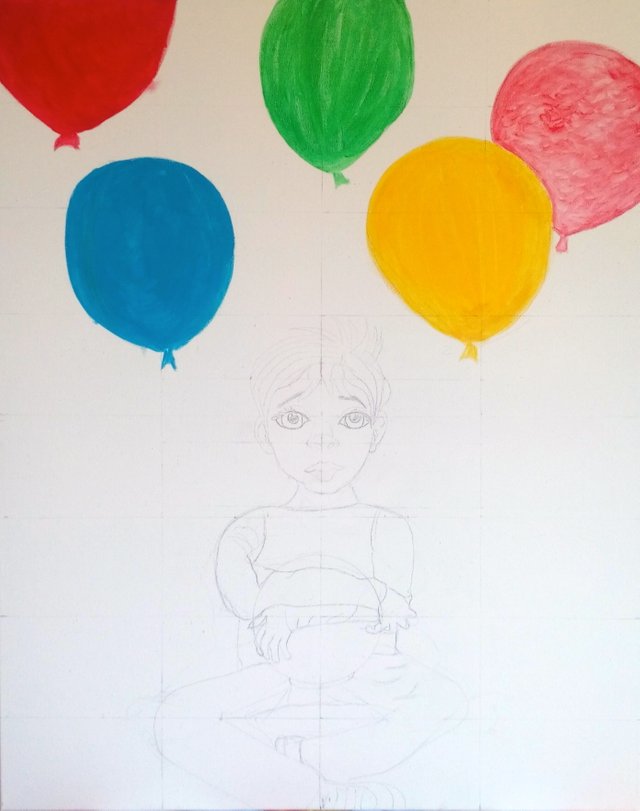 Intentionally I have made the head a big normal than it should be, because I wanted to emphasize his facial expression.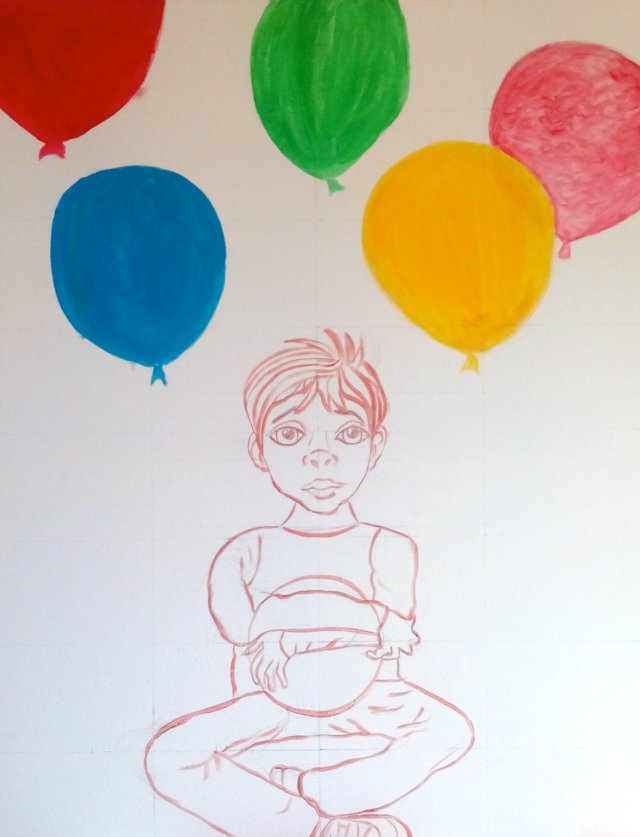 Once my sketch was done, I added some colour, trying to figure out what tones and shades I wanted to use.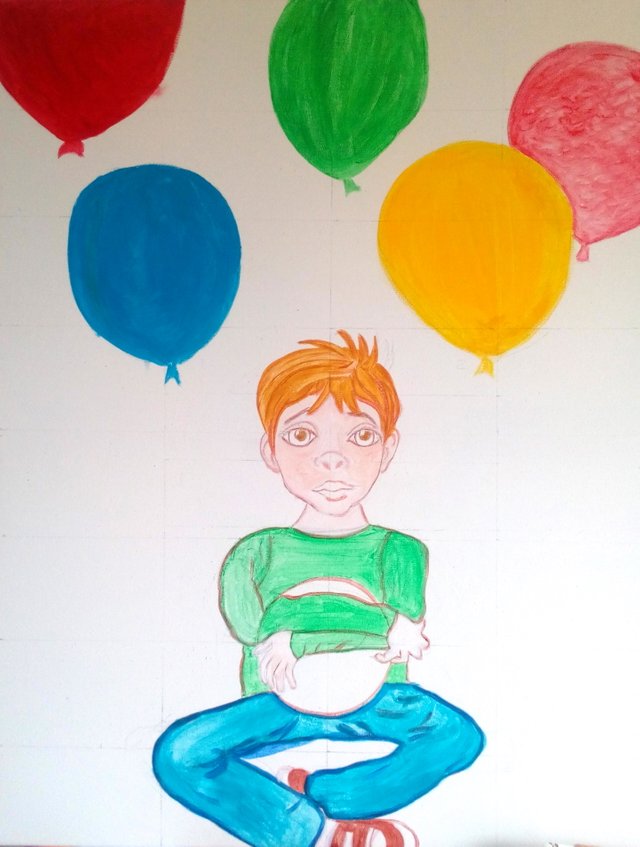 I used burnt sienna for the outlines in order to obtain smoother neutral shades. By mixing it white and yellow I obtained some real nice skin tones.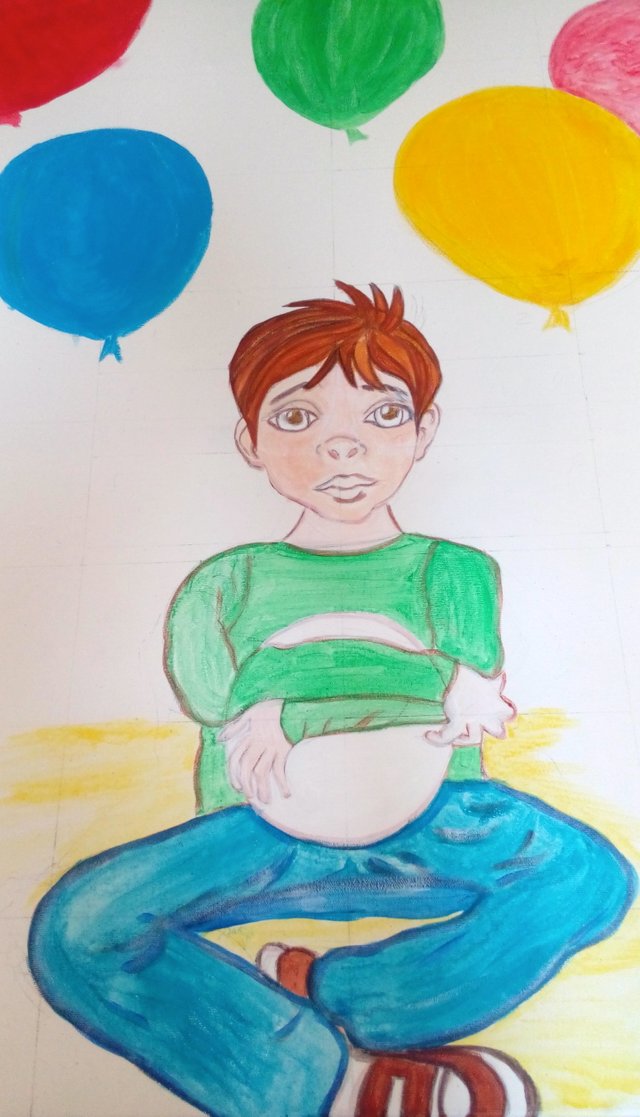 I moved on to adding the first layer of colour for the clothing, then the background. That's when I realized I have forgotten to erase the squares I've sketched in pencil. I had to wait for the acrylic paint to dry and only then go ahead with the eraser, otherwise everything would have got stuck into the paint.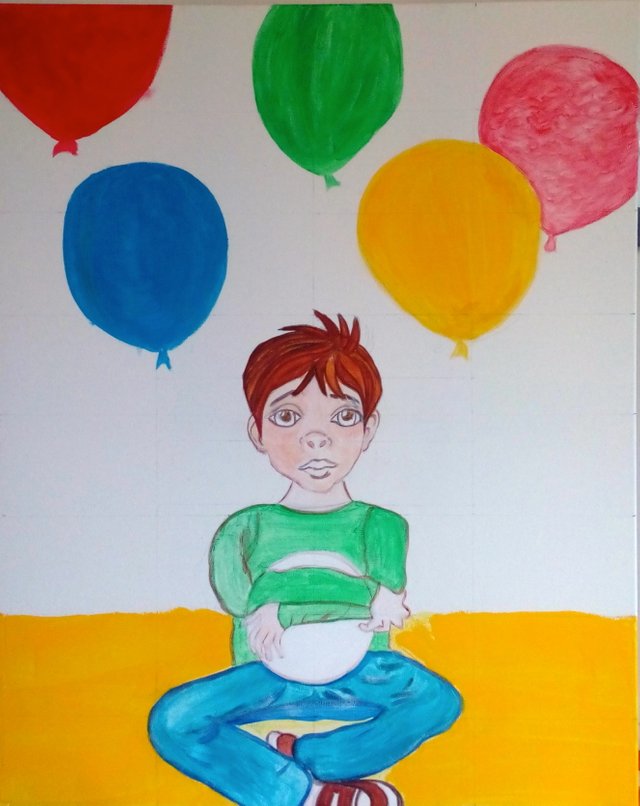 Using a brush I painted the floor in yellow ocre and the sky with cerulean blue mixed with white. For the balloons I used primary colours.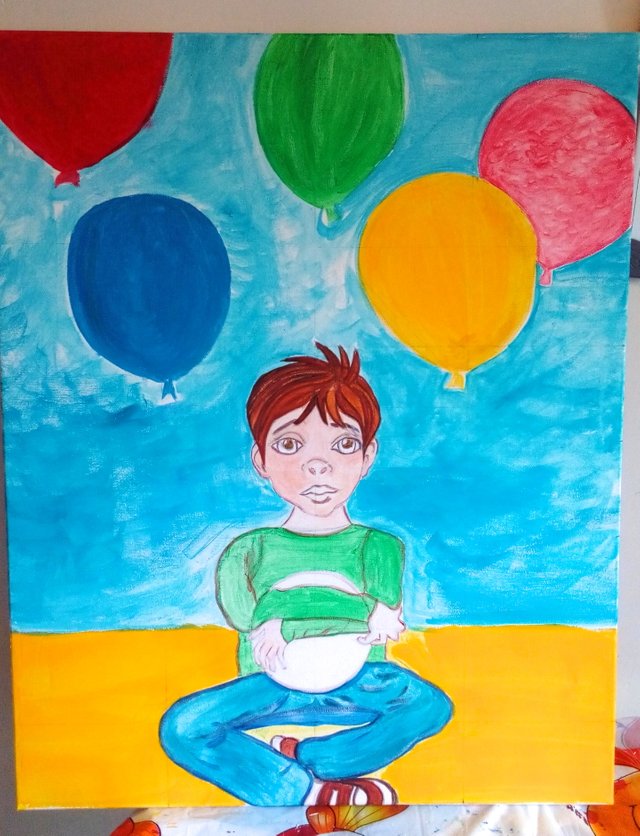 Once the paint dried, I tried to blend in more white and make the sky brighter. I gently dabbed a small round sponge into the titanium white and then slid it down on the canvas to create the rays of light and the idea of air flow.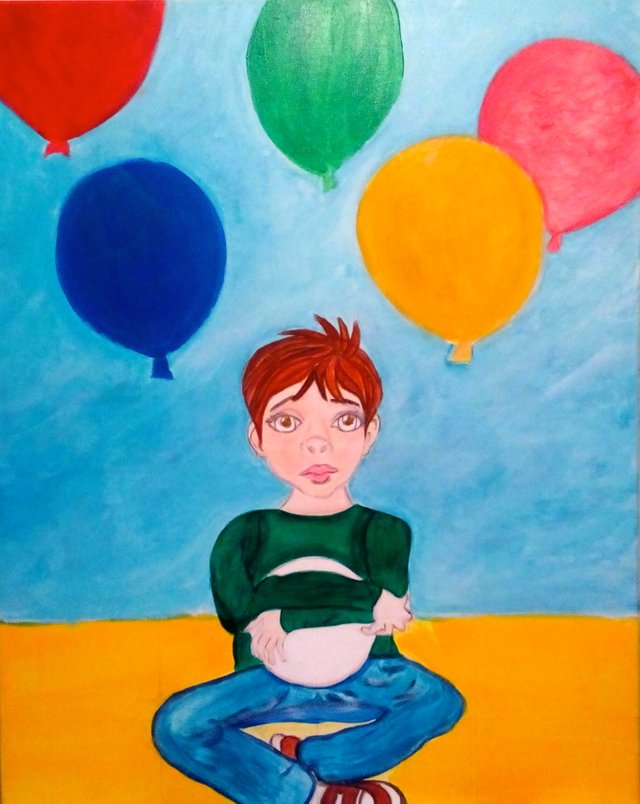 For the floor that the little boy is sitting on, I mixed burnt sienna with titanium white and then added a bit of yellow to get a different shade.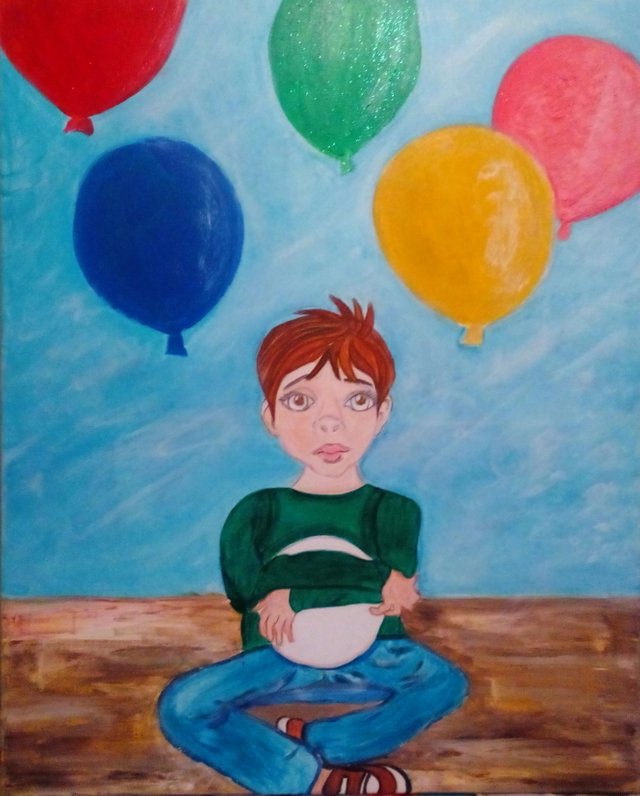 I applied these new shades to canvas using a palette knife. The horizontal lines of the floor contrast with those of the sky which are diagonal. For the balloons, I had to add some glitter. Kids love glitter and they think it's magic.
Thus the five year old birthday boy in my painting had to have some magic too! Who doesn't like sparkly balloons?!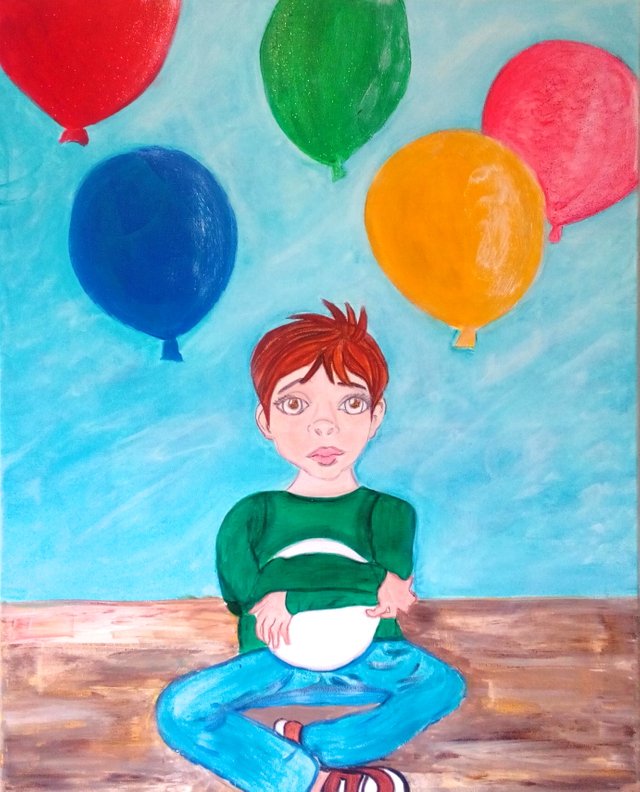 The glitter is not too visible in these photos, but I assure you that when you look at the painting from different angles, it does the trick!
The globe in his hands seems all flat for now, as it is missing the colours. I've painted it in white although the canvas was previously primed.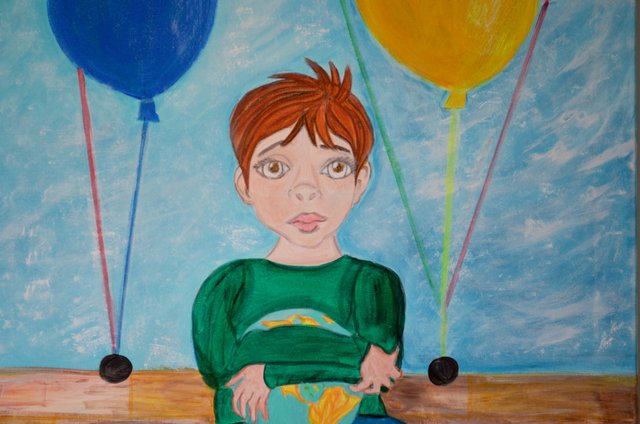 Now the globe looks more like planet Earth and the balloons are having their strings. I also added some details to the floor, making it more similar to a deck.
The green on the shirt was obtained by mixing phytalocianin green with white and then adding a bit of green deep paint with the palette knives. For the boy's pants I have combined three shades of blue: cerulean, cobalt and turquoise.
The only thing missing are two layers of glazed varnish to seal the canvas and protect it from dust.
If you liked the painting above or you want to get a painting commissioned, drop me a comment below!
Thank you for the read and upvote!

Here are some of my art related posts:
DRAGON STEPS, MAKING OF
THE POND - MAKING OF
FLUID ART - WORKING ON COMMISSION DURING MY VACATION
BLAZE - MAKING OF
VANITAS SERIES
LET YOUR INNER CHILD IGNITE YOUR CREATIVITY
UNDER THE BLUE -MAKING OF
DRAGON - MAKING OF
ART THERAPY, WHAT THE HECK IS THAT?
FUN WITH ACRYLICS
MAGICAL UNICORN- MAKING OF
MUSHROOM TABLE- DIY
OTHER PAINTINGS
WHAT SPARKS YOUR CREATIVITY?