WORKING ON COMMISSION DURING MY VACATION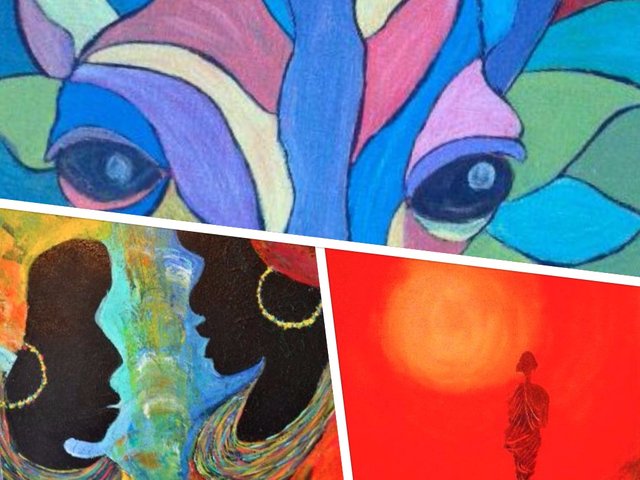 While I was in vacation I was asked by a friend of a friend if I was interested in creating commissioned work as an artist. This request seemed like an ultimate compliment for me because so far, I mostly realized paintings for my friends, family members, acquaintances or myself.
I guess it paid off to have realized couples of paintings for free for my friends and have them exposed in their houses and offices! Not bad to have your own artworks displayed on three continents!
Since my friends have praised my skills, when I met the client, I realized he was under the impression I was a sort of celebrity of sorts. I explained to him that this was not my full time job, or at least not for the moment. During the meeting I asked him what he envisioned and what were the colours he had in mind for the five artworks he needed.
He looked at me, smiled and revealed that he loved anything fluid or that gave the idea of flowing. He showed me some sample colours and that was it, contract signed.
Being allowed to create unrestricted by any constraints was a great feeling. I imagine that it will not always be the case to have someone sharing my vision.
When I sent him a photo of the first painting, he seemed to be happy with it. By the moment I was done with all five, he was thrilled. I got myself a new fan, as he mentioned that he will be interested in having more of my artworks next year. Let's hope he won't change his mind!
Here are the five original acrylic commissioned paintings that I realized for this client:

BLAZE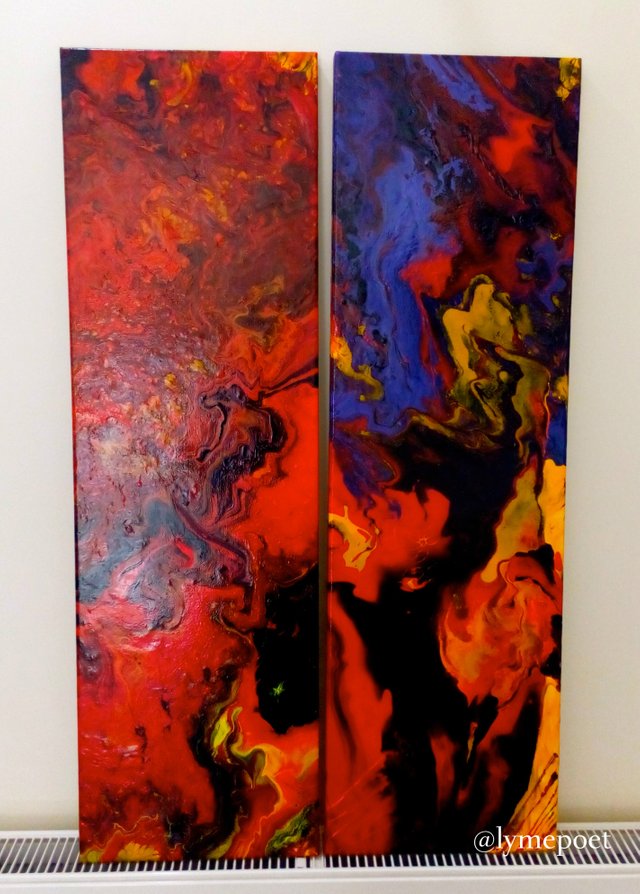 SUBMERGED

TIME FLIES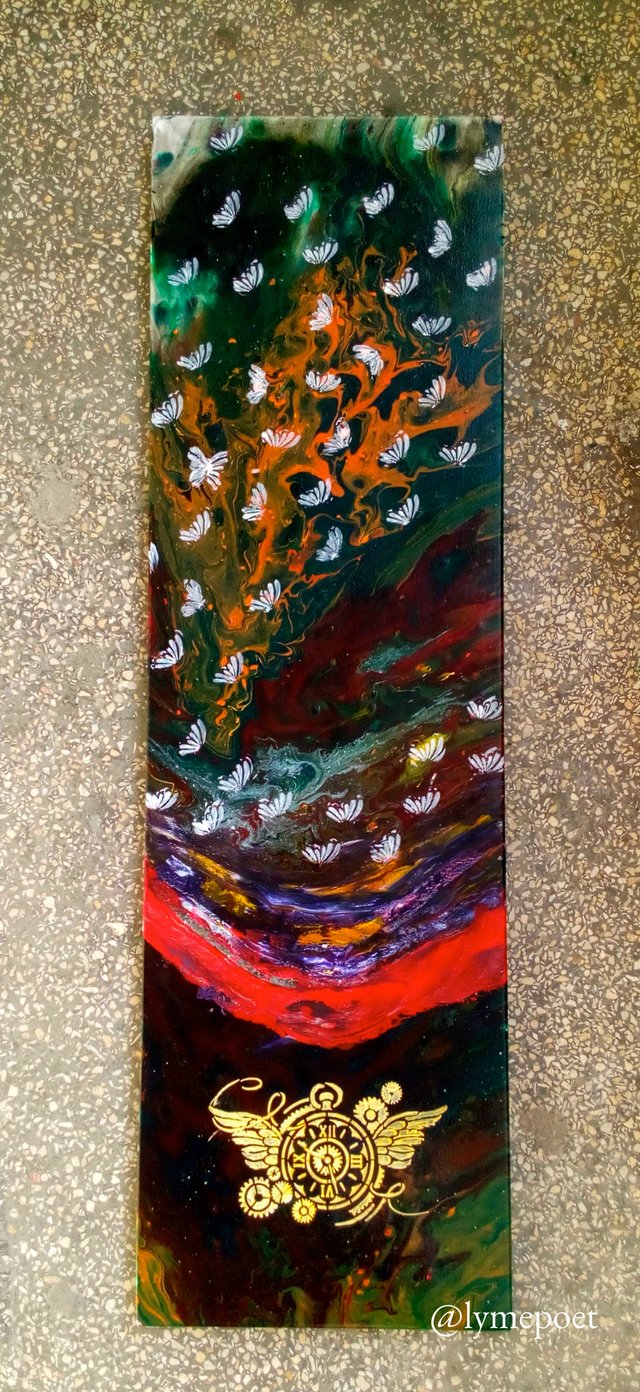 BROKEN WINGS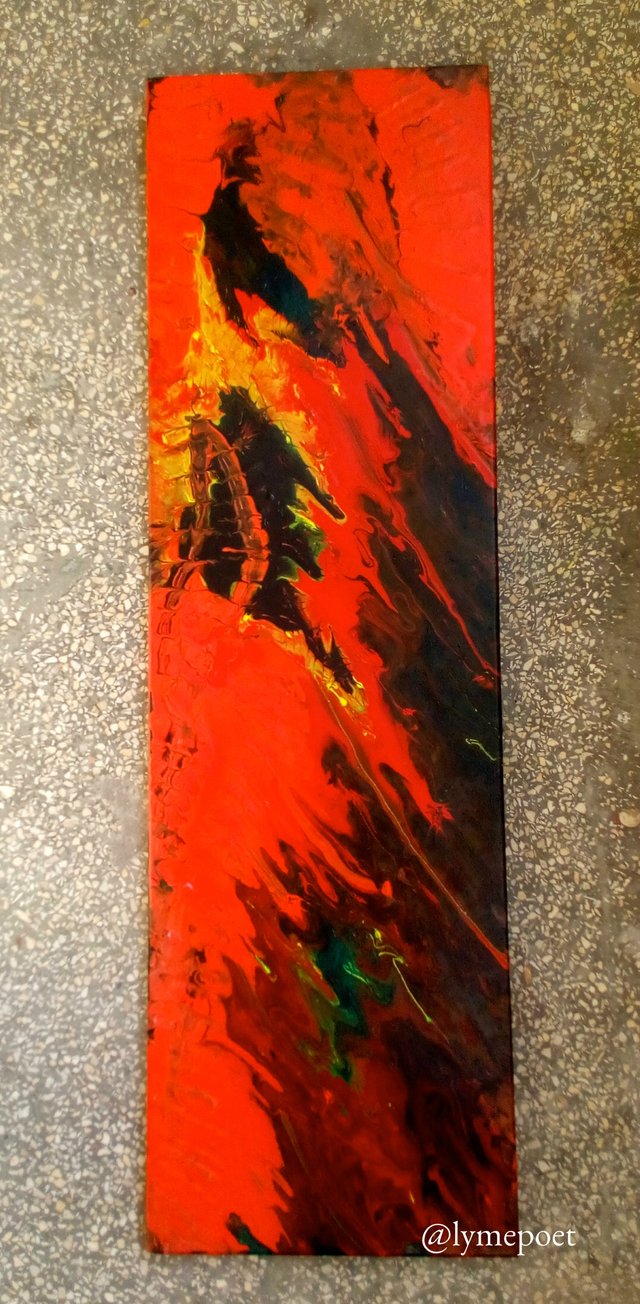 Which one appeals more to you?

Here are some of my art related posts:
BLAZE - MAKING OF
LET YOUR INNER CHILD IGNITE YOUR CREATIVITY
UNDER THE BLUE -MAKING OF
DRAGON - MAKING OF
ART THERAPY, WHAT THE HECK IS THAT?
FUN WITH ACRYLICS
MAGICAL UNICORN- MAKING OF
MUSHROOM TABLE- DIY
WHAT SPARKS YOUR CREATIVITY?

Unless stated otherwise, all photos used in this posts are taken and owned by myself.
If you wish to use any of my images, please contact me!
Thank you for reading, I hope you enjoyed it! Please leave your feedback in the comments,
I would love to hear your thoughts!
@2018 LaviPicu aka The Lyme Poet. All rights reserved.