BLAZE -MAKING OF
Lately I have experimented with liquid acrylic paint. The first two attempts of doing a dirty pour did not come out as expected which determined me to try it once more. The previous failed attempts were not quite a disaster, nor a total waste of acrylic paint. It's just that they turned out differently than what I had in mind when I decided I wanted to give it a try.
Here's my first attempt of doing a dirty pour: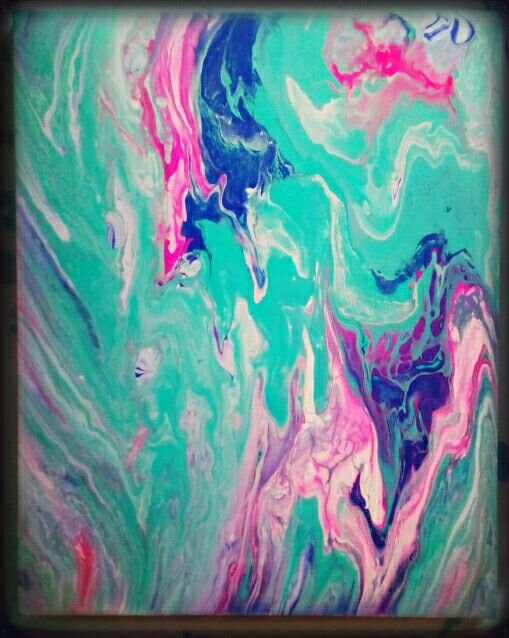 I learnt that I needed to:
add a layer of medium all over the canvas prior to the dirty pour in order to have the paint sliding easily
ensure the paint is liquid and there are no blobs of paint left inside the cups
prepare enough mix of paint and medium to cover the whole surface of the canvas
use good quality acrylic paint which is not older than a few months
cover the working area with a big disposable plastic sheet
be ready to save some paint from the pour and use it on other smaller canvases as a background
add at first colour that I want to see on top of the painting (the colour at the bottom of the container will be the on surface after the pour)
split the mix (paint and medium) in two or more different cups depending on the size of the canvas.
make sure any excess of paint is removed to prevent cracks
have an idea on how and where I want to have the paint flowing
use silicon to obtain the cells
avoid having too many colours merging
ensure all sides of the canvas are covered by paint
have around a lot of tissues around to clean up the drops of paint
Here's the second attempt of a dirty pour: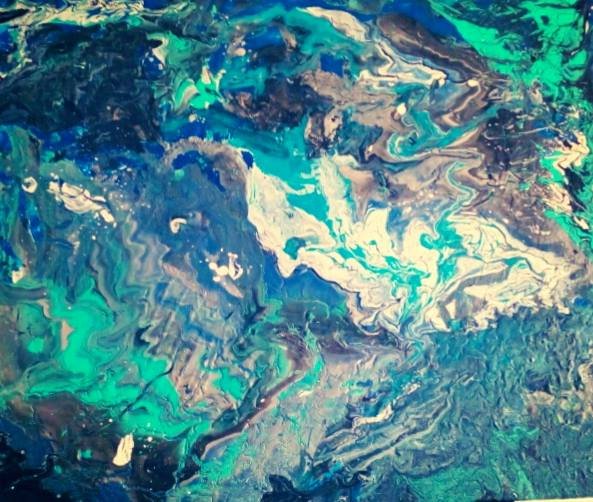 Materials used for the diptych
6-8 small plastic cups
2 plastic bowls to prepare the pour(s)
2 canvases (100cm x 30cm)
2 bottle of Pouring Medium (500ml each)
Acrylic Paint (I used Maimeri brand)
Titanium White
Permanent Violett Reddish
Cadmium Yellow Deep Hue
Crimson Red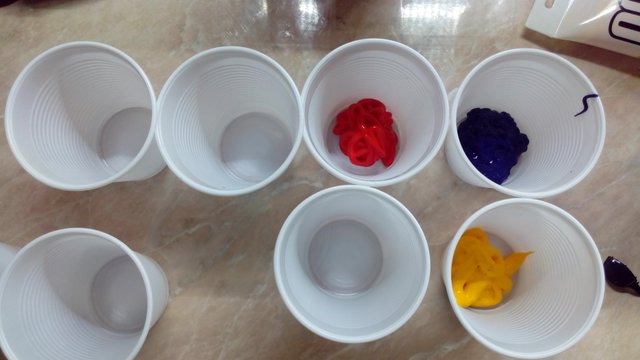 I started by squeezing some colours into the plastic cups and adding small quantities of the pouring medium. I mixed them gently until I obtained a fluid paint.
I also used orange, a lighter shade of violet and two tones of red and yellow by mixing the colours. I did not wish to have only dark colours on the canvas.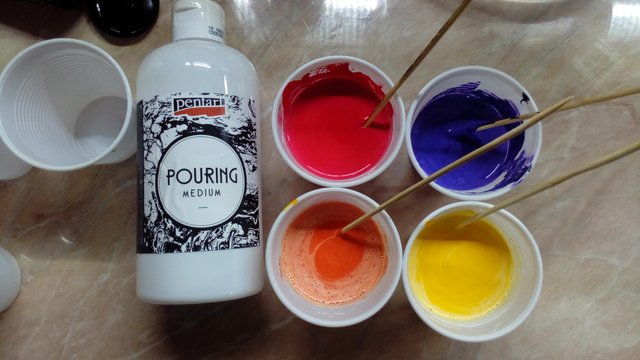 Once I had all the colours prepared in the small plastic cups, I added them one by one into the bigger plastic bowls. Then I flipped them over and placed them on the canvas. I kept them in place for half of minute, allowing the paint to slide off the cup into the canvas, then I removed the cups.
That's where the fun part began. I tried to control the flow of the paint by tilting the canvas gently in different directions until the whole surface was covered in paint. Then I placed the canvas on a small box which allowed the paint to drip off and dry slowly without getting glued or stuck into anything.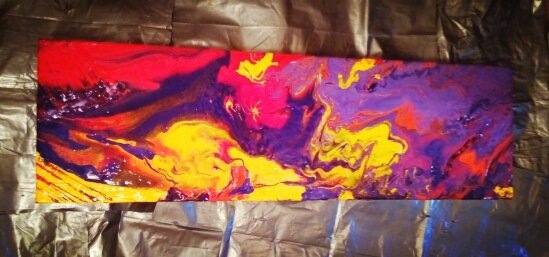 It's a really messy process because you are wasting a lot of paint. Though I can tell you that is totally worth it! I loved how the colours looked like while they were still wet, as they were a bit more intense.
It took about 3-4 days to have the paintings fully dried. Let's have a look at the final result:
BLAZE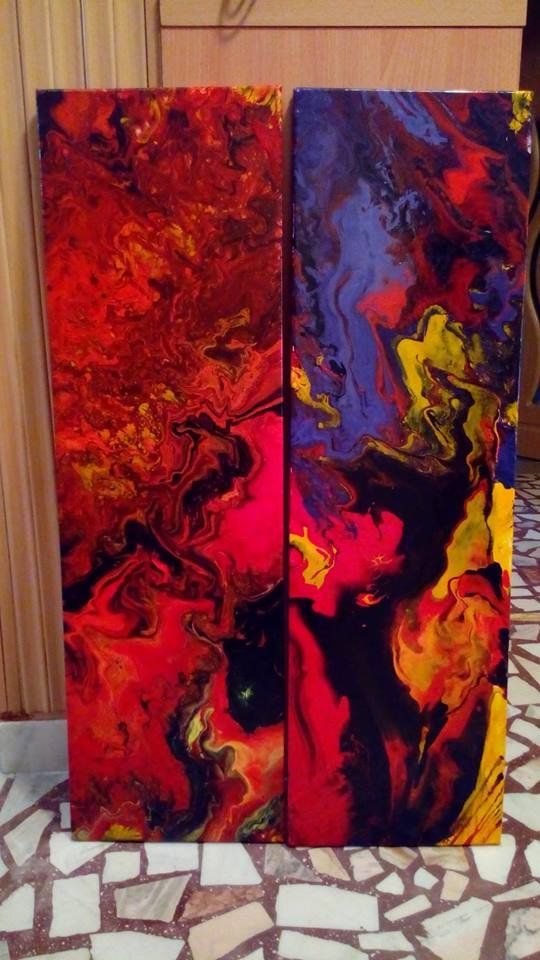 Did you note that the darker shade of violet got closer to black? I was contented I had added a lighter shade, otherwise I would have had too much black on it.
I am happy with the final result and so is its new owner who commissioned me!

Here are some of my art related posts:
UNDER THE BLUE -MAKING OF
DRAGON - MAKING OF
ART THERAPY, WHAT THE HECK IS THAT?
FUN WITH ACRYLICS
MAGICAL UNICORN- MAKING OF
MUSHROOM TABLE- DIY
WHAT SPARKS YOUR CREATIVITY?
LET YOUR INNER CHILD IGNITE YOUR CREATIVITY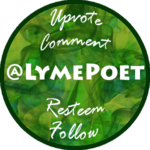 Unless stated otherwise, all photos used in this posts are taken and owned by myself. If you wish to use any of my images, please contact me!
Thank you for reading, I hope you enjoyed it! Please leave your feedback in the comments, I would love to hear your thoughts!
@2018 LaviPicu aka The Lyme Poet. All rights reserved.