DRAGON STEPS - Making of (Original abstract acrylic painting realized by my 4 years old)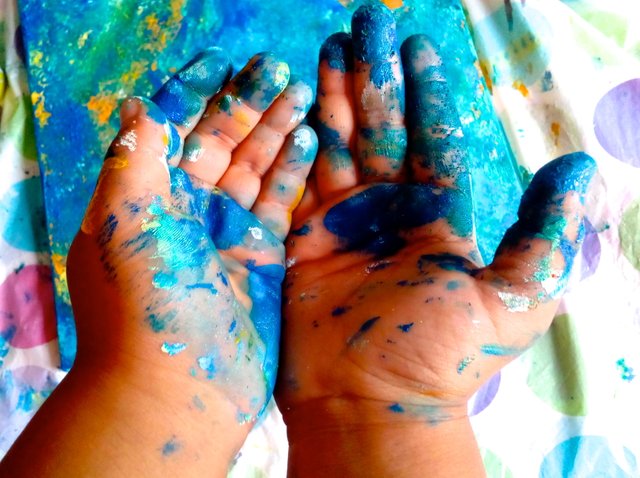 These are the hands of a little artist who worked hard to create a beautiful painting for Auntie Dreemie (@dreemsteem), as promised.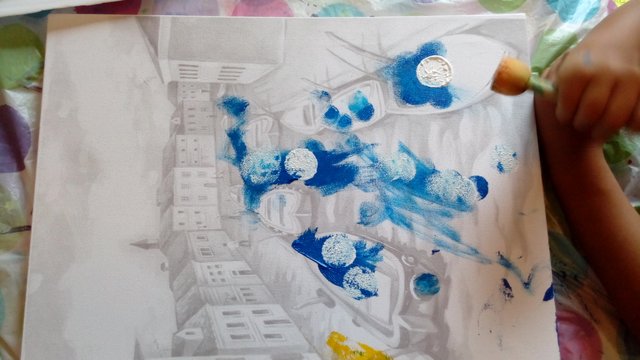 This morning my little Picasso woke up a desire to paint. He rushed through the breakfast, anxious to start his new artwork.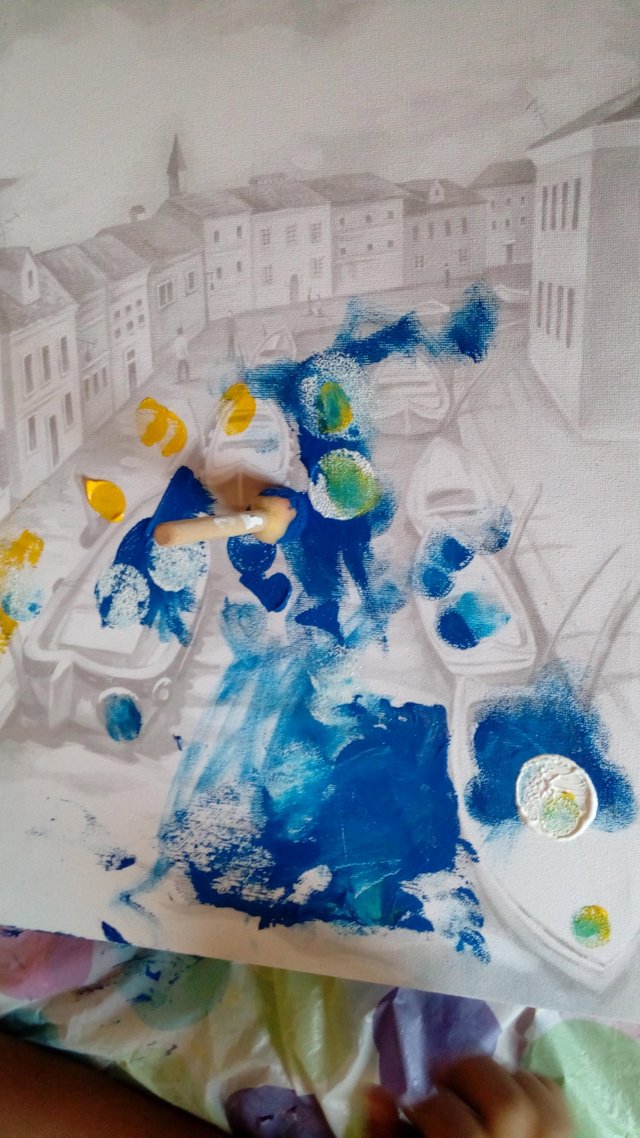 He mentioned that he had dreamed his painting and he wished to create it before forgetting his vision.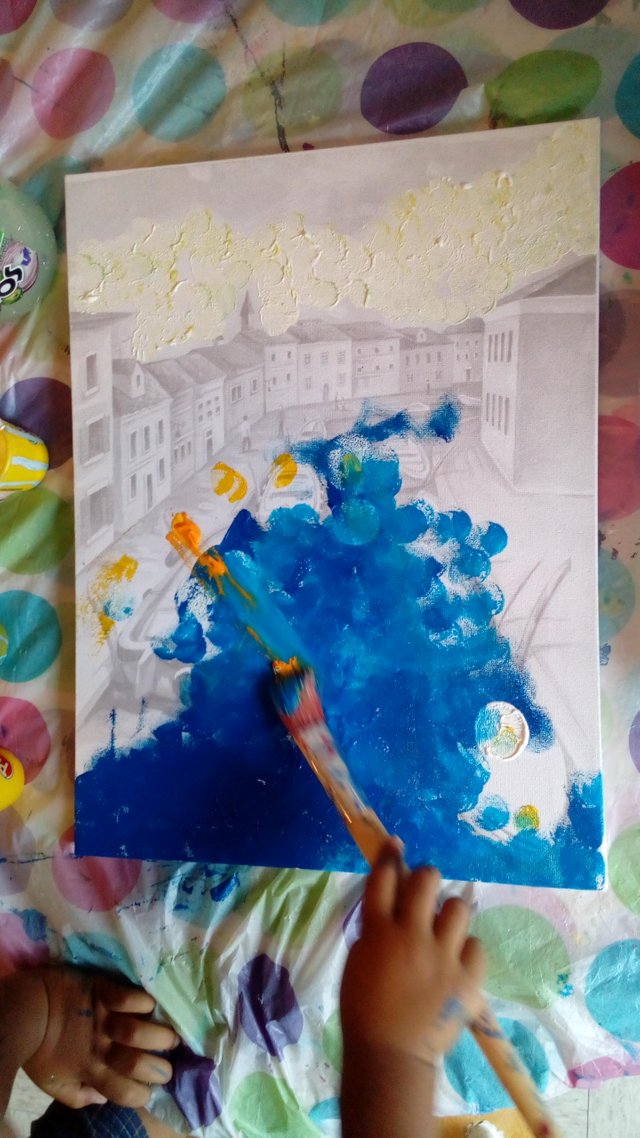 I was amazed to hear those words coming out of his mouth. It was one of those moments when kids sound as grown ups!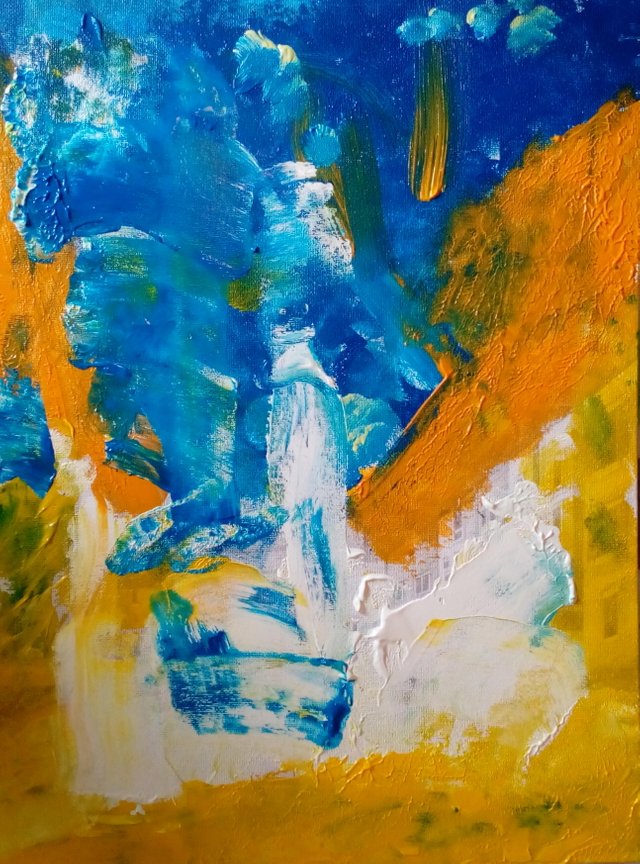 The only new canvas I had left in the house was a pre printed, but he did not seem to care much about it.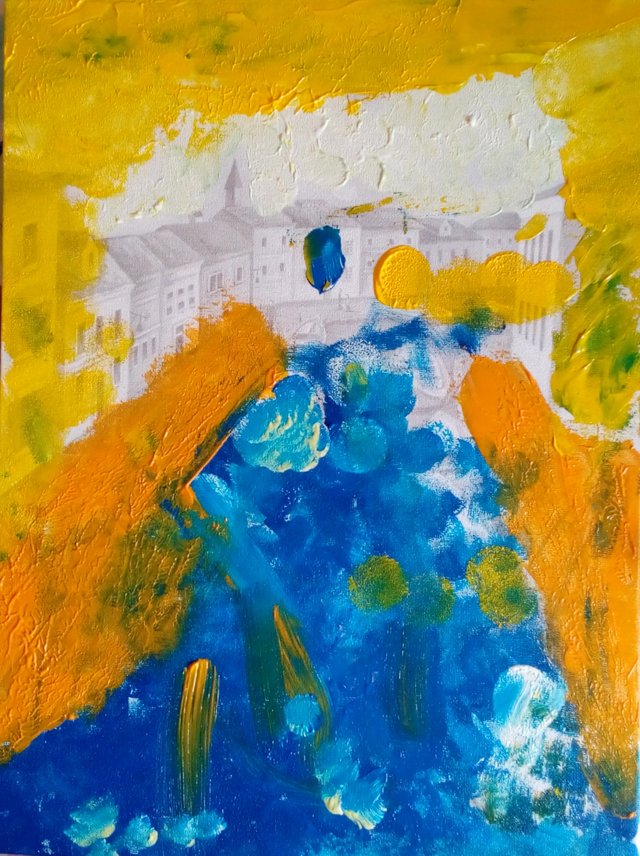 Within a few minutes he covered it with paint and followed his vision.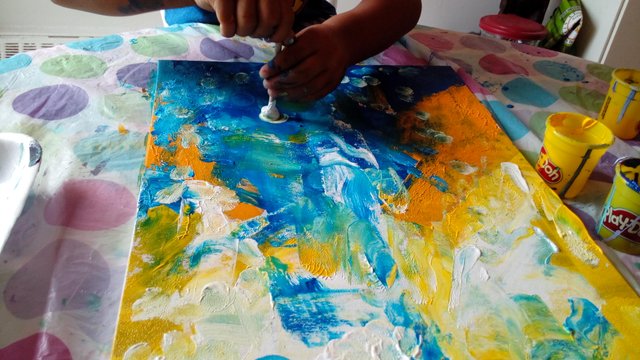 This time we chose only four colours: titanium white, primary cyan, primary yellow and cadmium orange hue from Liquitex. They were all heavy body acrylic paint colours.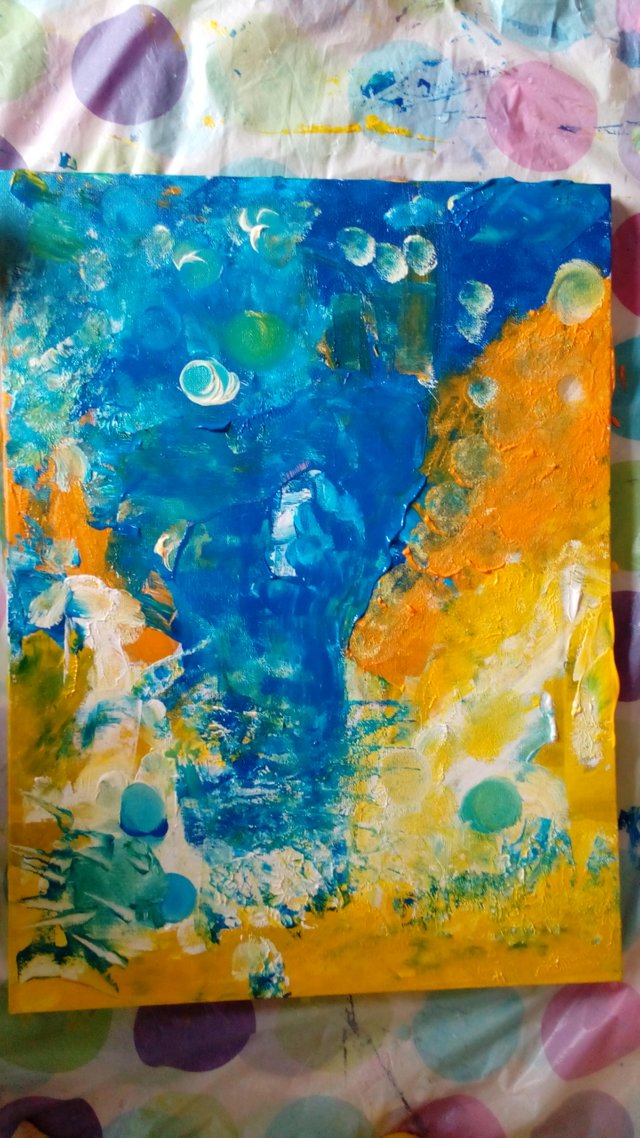 As stools he used different sized brushes, sponges, palette knives, wedges and obviously his little fingers. He likes to feel the paint tickling his fingers.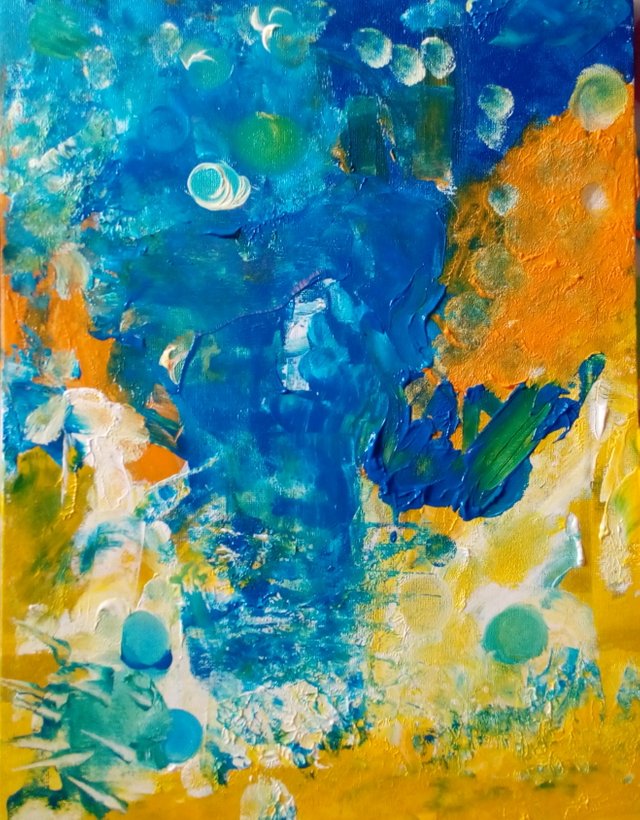 He used the dabbing and sponging techniques in order to realize the scaled pattern which gives more depth to the painting.
By applying gentle pressure with the plastic net on the canvas he created the scaled pattern.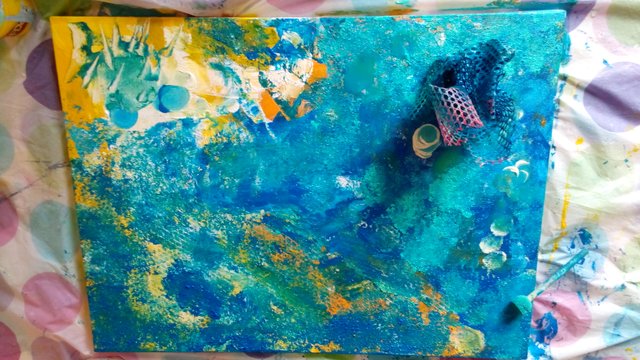 As for stencils, he improvised and created his own one.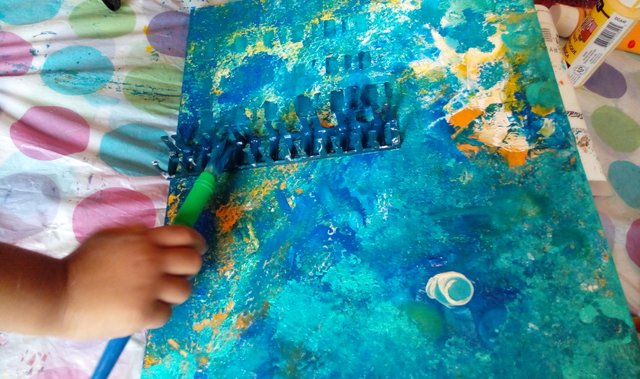 He recycled a plastic piece that the Christmas lights were wrapped on.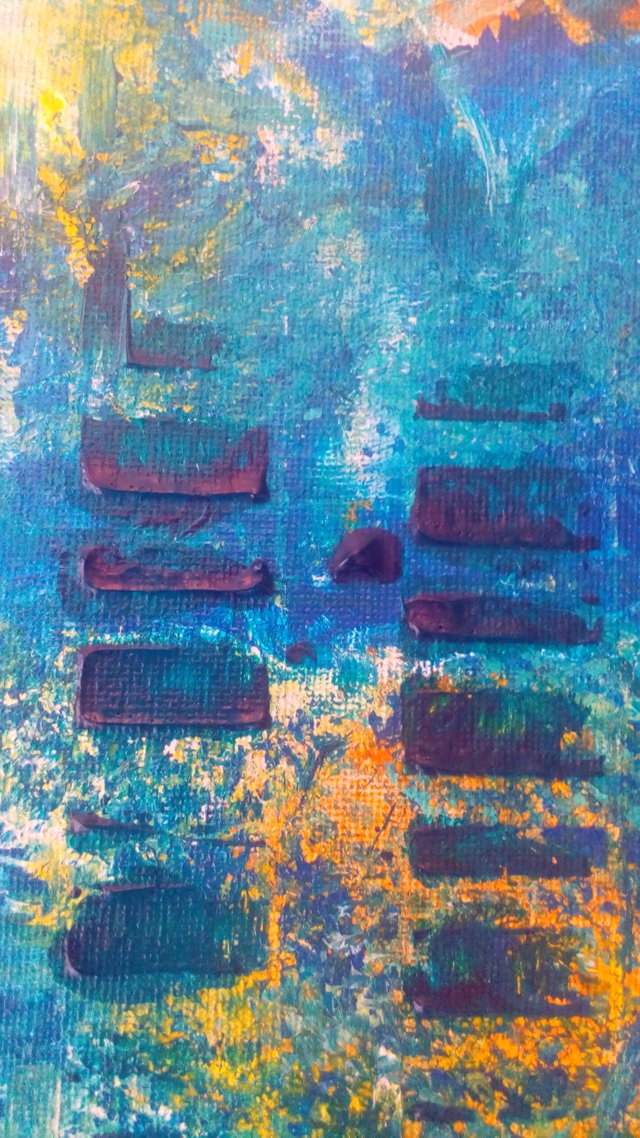 He explained that it was the perfect ladder for his painting.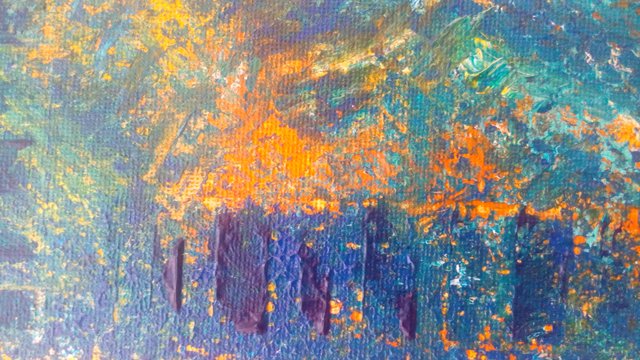 His creativity and innovative spirit are simply mind-blowing!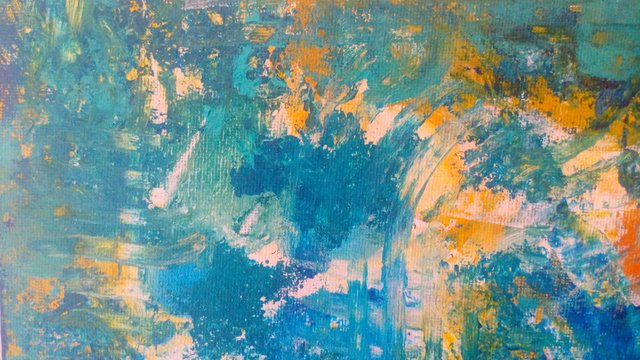 Here are some close ups of his painting, so you can have a better look at it!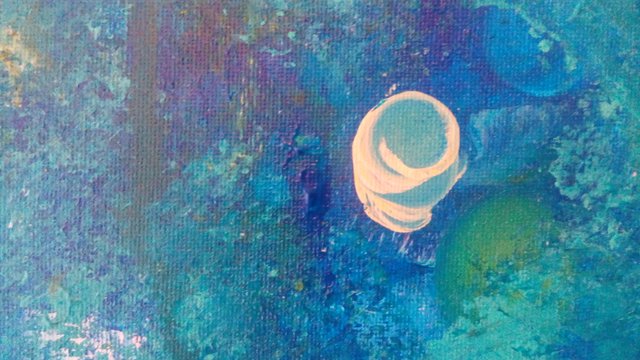 The size of the canvas is 16"x11" or 40cm x 30cm.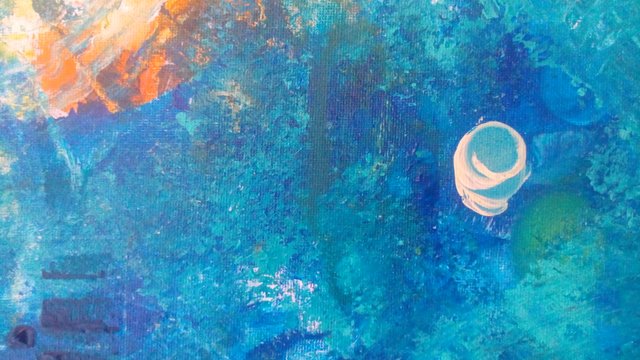 Auntie Dreemie, here's the final result! Now you have two paintings to chose from: Dragon Steps and The Pond. The latter is a bit bigger in size (30"x24" /76cmx61cm).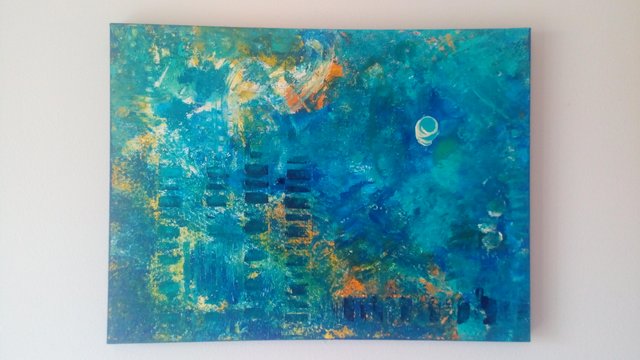 Would you be more interested in seeing more of his paintings? If yes, let me a comment below!

Here are some of my art related posts:
THE POND - MAKING OF
FLUID ART - WORKING ON COMMISSION DURING MY VACATION
BLAZE - MAKING OF
LET YOUR INNER CHILD IGNITE YOUR CREATIVITY
UNDER THE BLUE -MAKING OF
DRAGON - MAKING OF
ART THERAPY, WHAT THE HECK IS THAT?
FUN WITH ACRYLICS
MAGICAL UNICORN- MAKING OF
MUSHROOM TABLE- DIY
WHAT SPARKS YOUR CREATIVITY?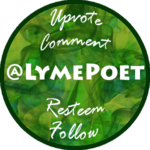 Unless stated otherwise, all photos used in this posts are taken and owned by myself. If you wish to use any of my images, please contact me!
Thank you for reading, I hope you enjoyed it! Please leave your feedback in the comments, I would love to hear your thoughts!
@2018 LaviPicu aka The Lyme Poet. All rights reserved.