VANITAS SERIES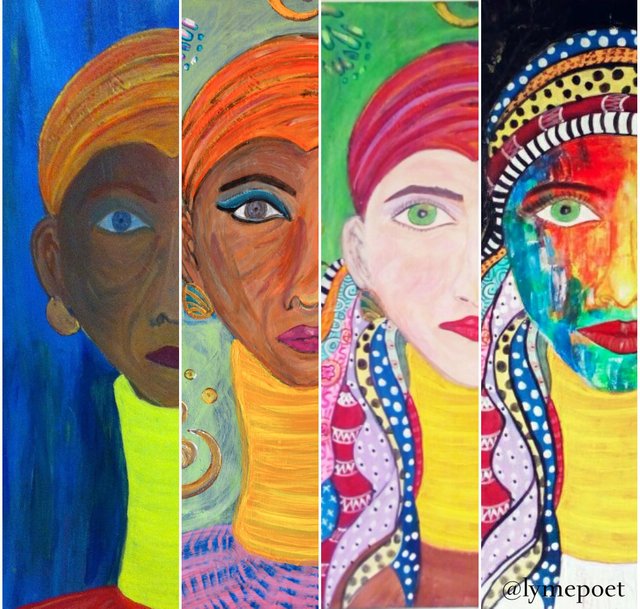 Vanitas (Latin term for vanity) is a series of acrylic paintings I realized this year. I was inspired by the digital vanity trend that shapes not only the younger generations, but almost the entire world.
Each one of the paintings depicts one of the generations affected by this trend: X, Y, Z and Baby boomers. The elongated neck gold rings and the jewellery, symbolizing wealth, beauty and power are a gentle reminder the earthly pleasures.
Which one of the paintings you like the most?

They say vanity stems from pride (one of the deadly sins) and it can take different shapes: concern for the self-appearance and achievement of success.
There is no doubt that we are the most self-absorbed generation in the humankind history. We live in the Age of Vanity, where almost everyone is obsessed with selfies.
Each time I log into any of my social media accounts, it feels like I enter a museum of selfies. One more polished than the other. One filter applied over another.
The digital vanity made us be more aware of our good angles but in the same time turned us into narcissists. Within a short period of time, we became addicted to it.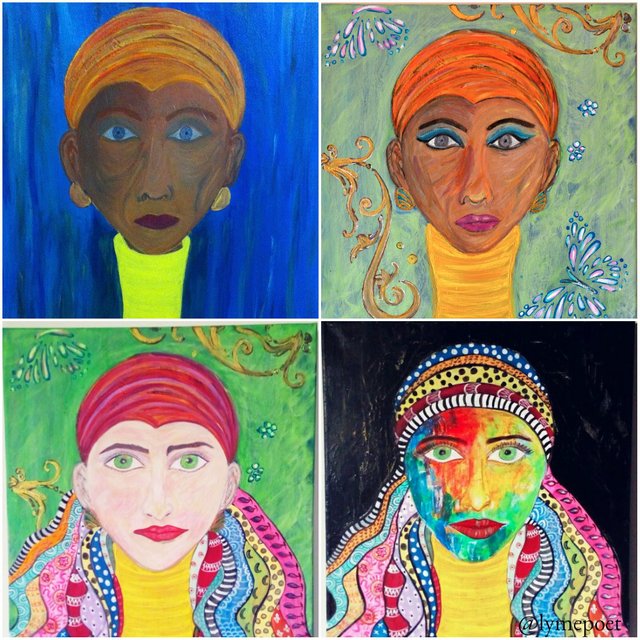 Everyone is posting their perfectly policed selfie and striving to have an impeccable feed. God forbid to tarnish their public profile! That would be disastrous!
The selfie is no longer a record of our life! It actually changes it as we turned into picture editors of our lives. We are curating our own life very heavily on social media!
No wonder generation Y thinks of plastic surgery in terms of Photoshop or that the Millenials are having a heightened self-focused awareness. Even the baby-boomers got touched by it and post selfies!
Is it natural? Is it healthy? Is it superficial? Or is it just an unhealthy form of narcissism?
Some argue that vanity does help develop the self-esteem. As the social media dictates the norms those struggling with low self-esteem tend to go extreme.
Though how do you know when it is too much or where to draw the line? Do you let yourself guided by the cultural norms?
How important is beauty for you? How much you treasure it? To what extend you'd go to preserve it or improve it? Would you go for an obvious plastic surgery or a cosmetic enhancement?
Through unconscious conditioning people associate certain brands to attributes and seek constant validation of their worth. Social comparison is what empties their wallets by purchasing expensive, recognizable brands.
What is your point on this issue? Do you see social media as a cause or a as a tool?

Here are some of my art related posts:
DRAGON STEPS, MAKING OF
THE POND - MAKING OF
FLUID ART - WORKING ON COMMISSION DURING MY VACATION
BLAZE - MAKING OF
LET YOUR INNER CHILD IGNITE YOUR CREATIVITY
UNDER THE BLUE -MAKING OF
DRAGON - MAKING OF
ART THERAPY, WHAT THE HECK IS THAT?
FUN WITH ACRYLICS
MAGICAL UNICORN- MAKING OF
MUSHROOM TABLE- DIY
WHAT SPARKS YOUR CREATIVITY?