Meet Our Steem Witnesses - A weekly show For All Steemians #35 With @crowdwitness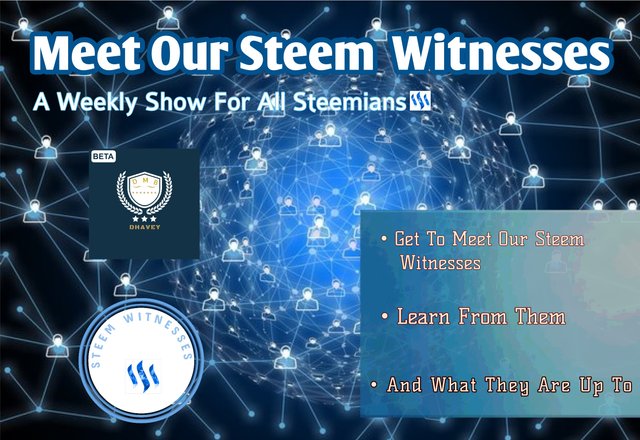 Waoo! It's my pleasure to welcome you to another Meet Our Steem Witnesses - A weekly show For All Steemians.
It's a new week and I hope you all are enjoying the week already? Last week I posted my interview with @timcliff one of the active witness on steem. And it not a new thing to us that we all have 30 votes to cast for any steemit witness of our choice and I will say this is the most important 30 votes you will ever cast on this platform.
Looking at things here, the on going dip as affected the atmosphere here on Steem platform but I hope that the RockDB and SMTs would bring good impact to the Steem project. To those that might have never heard of Meet Our Steem Witnesses before, here is a recap here
For some months now, I have been interviewing some witnesses and it has been an amazing and remarkable experience presenting my chat here for steemians to read and see what they have been up to.
---
Here are the links to my previous interview

You can check and read my previous interview with
reggaemuffin • exyle• adsactly-witness • felixxx • lukestokes • neoxian • abh12345 • good-karma
•liondani
• aggroed • yuriks2000 • jatinhota themarkymark • enginewitty •b0y2k • arcange •timcliff •roelandp •someguy123 •pfunk
•justyy
•yabapmatt •jackmiller •pjau •helpie •guiltyparties •krnel •
prc •fbslo •quochuy •steemstem •c0ff33a •timcliff make sure you follow along with the next episode.

HOW FAR SO FAR, like I said that I will focus on my old interview and now that I'm done with that, it time to update you with my new interview. As from now on any interview here on my blog are fresh and new.
So today, I will be posting my interview with @crowdwitness which is run by @svemirac. Crowdmind is one of Steem big project
https://crowdmind.io


When and How did you discover Steemit?
Back in december 2017, it was actually recommended to me by a colleague, during our usual talks about meaning of life and future a bit joking :) but yeah in a normal conversation.
In s simple term, what is it that witnesses do?
Witnesses secure the blockchain and make sure that steem and all its decentralized apps work.
What is your purpose and aim of joining the Steem Witnesses?
To be present on the chain, well informed and know the infos about the chain from the source, and not from second hands and misleading informations. Also supporting a bit more content producers and empowering crowd wisdom.
How do witnesses get voted?
With a signle click, and active key.
Usually witnesses provide direct steemconnect link for a vote, which is easiest. BUt lots of people don't trust steemconnect,so they use steemit.com/~witnesses. Users who are not sure who to vote for, can always proxy their vote, so some other well informed member of steem community can decide for them.
Why are some witnesses dropping out when STEEM prices is low?
Main reason is always money. It is not profitable.
Servers cost, and rewards are not very high, add price decrese in this and you have people who don't believe in this project easily abandoning this ship.
What are your thoughts on the price of Steem and SBD over the last one month?
It's on the rise, it is good. I still think that STEEM is a bit undervalued. SBD has no point anymore, since it is far away from pegged to $1 value.
What's your opinion on the recent Steemit, Inc.'s Managing Director in person of @elipowell?
I don't agree on some things, but she has a stance and attitude, I appreciate that.
What changes would you like to see more on Steem?
Strategic community development approach. Community is equally important as dapp development
Reputation removed, communities implemented, and a bit more publicity for various excelent contests and crowd calls.
Will SMTs support the building of real life enterprises and business on the blockchain?
What is SMT? Been hearing about since my second day on steemit :)
SMT should make the essence of the blockchain and glue everything together. Not saying for sure everyone will hurl in to start some business, but slowly that could be adopted.
Looking at the atmosphere here on steemit, a lot has changed. Can you tell us what you have been doing to tell non-steemians out there about steemit?
One to one talks which resultet into bringin a group of photographers, artist and few scientists who started with joining @teamserbia community. But also joining all major calls for advertising steem on twitter and facebook; From time to time a just share something out there, maybe someone pay a bit more attention.
There is no gainsaying that the drop in the price of Steem and SBD has affected a lot of steemians and some are not active like people. What do you think should be done to boom the price of steem and even SBD?
SMT. addictive dApps and interesting content for everyone are the core.
Don't scare new people. Established authors from other platforms almost never succeded (to get reasonable rewards) on steemit - make that happen, and let them be advertisement. More sensible advertising.
Can you say more about the Steem project and how it has been helping steemians so far?
One promise at a time. Well, to be honest we have seen projects on steem that helped many children over the world, many cherities, crowdfunding… Inspiring education. Even now steem represents significant amount of money in many countries, and that can change a life and environment.
What do you think the steem community should do to restore people's confidence in this project because looking at this project from my own view a lot have already losing hope in this project?
Well… heck the one with price :) Also, having a 0.5$ for steem is not bad at all, but then again award distribution is just silly.
What are the things you would love to see on steemit and what are those things you would like to remove if you have the power to do so?
uhmmm :) more joyful content! Less rules, some complaining of course, interesting contests that will evolve with time and produce some great stuff. Let the crowd of steem(it) shape the contests value, and value of steem.
Do you think Steem(it) has the chance to overcome its growing pains and become the next big social media site?
We are pretty young, and anything can happen but I don't think we will ever be the big social media with this format - though we have some big dramas, that's a plus.
Why is there fluctuation in the post-payout system?
It's the law. simply put, payout of the posts depend on steem price, and value of steem for post-payout system is determined by mean price in the last 3.5 days.
How do you keep balance between being a witness and other commitments?
It helps having 3 monitors on your desks, and an awesome job, which enables you to do lots of different stuff simultaniously. Of course, I don't do alone everything. There is much more to the witness and the project about it - so my prettier sides take lots of stuff on their shoulders too. As a witness operator I am there to make sure everything runs smoothly, and in these calm seas I am more there just to monitor things and make sure some of the things are always right.
What should steemians expect from you in the future?
Same commitment we had all these 5 months behind us. Wake up the crowd and empower its wisdom, and using principles of crowdsource to its fullest potentials. We have some plans with interesting projects but it will remain secret for now.
We are looking for every crowdsource call and action in order to reward it and try to put our expertise and advices to improve other projects.
P.S. if anyone is interest we are always looking for people to drop some stuff into our discord ;)
Your advice to Steemians in general?
Don't give up! Be moody, but cheer up.
Enjoy! it is meant to be fun stuff and social.
Not everything is in $$$$$ there is something in crypto too (Go STEEM Go)
If you could only vote for one witness (not yourself) who would it be and why?
I can't do that. :) I refuse to pick one…
Maaaybe, it would be @utopian - they have the most complete package to offer… but @curie, @ocd-witness, @gtg, @stem.witness, @drakos and @bobinson.
What would you like to do if you had no responsibilities/societal expectations to fulfill?
I've always been undervalued and ignored in a way… Yet I've accomplished a thing or two - so I guess I don't need to fill up anyones expectations. I guess I need to thank Richard P. Feynman for being an inspiration for these words.
"You have no responsibility to live up to what other people think you ought to accomplish. I have no responsibility to be like they expect me to be. It's their mistake, not my failing."


Thank you all for reading. Like I said before, I feel so amazing to be back again and I promise you all more and interesting episode of this interview. So today i call it the end of this week episode of meet our steem witnesses. Until next time, I love you all.
PS Possibly you have any show, event or project you want me to feature on Meet our Steem Witnesses feel free to drop it in the comment section below. Thank you
PROMOTING AND INTERVIEWING STEEM WITNESS IS ALL I DO

As steemit users we need to do everything in our power to choose witnesses that will represent the community well. Before voting make sure you do some research on the people you are voting for and be informed. Head over to https://steemit.com/~witnesses and click on some of the witnesses names, get to know them a bit better and do your part to make sure this community thrives.
Now that you have read something about @crowdwitness

I strongly recommend you to choose and vote @crowdwitness

as a witness. For now if you want to select it then open it


please vote @crowdwitness to be your witness today!

If you appreciate and value what I do, please consider supporting me by Upvoting, Sharing and Reblogging and kindly follow for more content to come !




Help a soul today so that the world will be a better place for you and for me.

---

---

I remain my humble self @dhavey

---

---

---