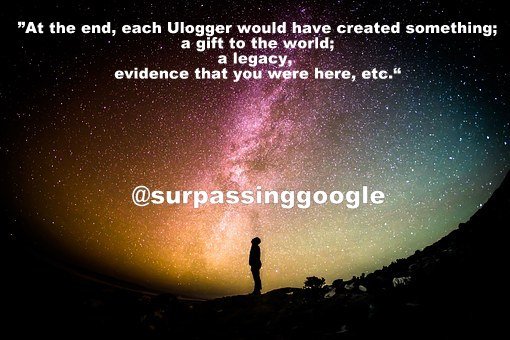 Image from Pixabay
There is no stopping #ulogs from getting hotter and brighter as more stars join us and embrace the #uloggers life. They may not exactly grasp it yet, what a #ulog is, what it exactly means and how to do it but they know deep inside them it's something they want to be a part of. We are true to our promise to break barriers and just welcome and embrace them back, with all their glitter and shine and flaws included. Slowly we will let them understand the essence of #ulogs and watch them as they attempt to polish themselves to show us their shine. We will be awestruck by the beauty in their human and we will celebrate them here as true celebrities.
Ulogs are simply steemit posts containing logs of YOU; whether it be Vlogs, picture-moments, stories, plain-text, write-ups or a combination of all forms of media etc.
Any steemit posts that records your daily activities; celebrating "YOU" and life are "Ulogs" and Ulogs don't have to be perfect! They simple need to be real and utmostly "YOU".
Basically, we will want to infuse more of awesome "YOU" into the entire internet, reshaping it altogether by means of your Ulogs. We want to hear your unique stories each day.
How to Make ULOGS: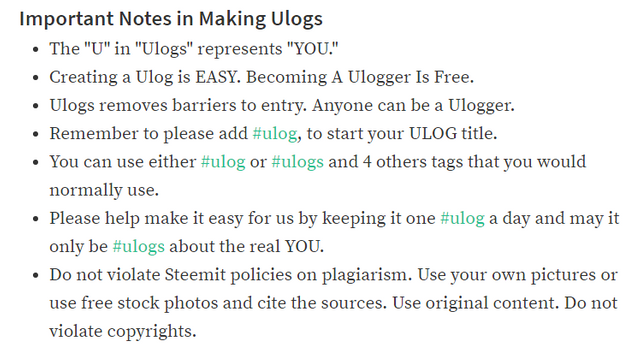 Learn More About ULOGS by Watching The Video of Surpassinggoogle:
SUBSCRIBE TO HIS CHANNEL FOR MORE UPDATES ON THE DIFFERENT PROJECTS HE HAS FOR STEEMIANS HERE: TERRY AJAYI AKA @SURPASSINGOOGLE'S YOUTUBE CHANNEL
JOIN US EVERY SATURDAY MIDNIIGHT (UTC+8) IN DISCORD, WE HAVE A RADIO SHOW WHERE EVERYONE CAN GET TO INTERACT WITH FELLOW #ULOGGERS AND @SURPASSINGGOOGLE (the genius behind #ULOGS). JOIN THE STEEMGIGS DISCORD SERVER HERE.

NEW ULOGGERS AND THEIR FIRST ULOG:
These are the new Steem Humans to watch out for. Please help curate/upvote them and welcome them to #ulogging. Share with them little pokes of Steem and celebrate their beauty. Encourage them in the comments to improve in making their ulogs a true reflection of their raw true beauty. Inspire and shape them to be confident to show their shine, let's make true celebrities out of them and we will be their first true fans.
@mollyadulphus' My first #Ulog post after a while I've been hearing about it.
@chiquikate's #ULOG NO. 1: My Sunday Morning trips a year ago
@lewisfonsi's Ulog: My introductory post(newbie on steemit)
@degarciamare's My First ULOG-Nanny For A Day!
@bharathmp's Ulog #1 my "monday" autobiography
@immatureness' #Ulog no. 1: School
@jakkris' STORY #1 : เรื่องเล่าจาก....คุณย่า
@maimaimaichan's ULOG Entry #1: Celebrating Grandma's 84th Birthday
@tinmiswary's My Ulog #1: Gagal Bermalam di AceHTrend
@ameriza's Tuesday #Ulog 1: Escabeche
@promisenyah's #ULOG DAY 1
@samsolrizal's My first post on #ULOG "Market Globalization" [BILLINGUAL]
@muhammadzaman's My entry ulog vidio motivasion part 1 , thank you surpassinggooe
@alexanderjunior's Ulog 1. A share with my son
@tio's #Ulog 001: Setting up my Ulog with birthday reminiscence
@david9122's My first post
@durud's My First Ulog post!nm!. All Thanks And Love Goes To Sir Terry!!💟💟💟
@saheedadewale's @ulogs day 1: THINKING ABOUT THIS LIFE EXPERIENCE, THANKS TO @SURPASSINGGOOGLE FOR GIVING US @ULOGS
@amayphin's Making scrap into craft? #Ulog 1
@mariarubie's #ULOG DAY 1: I am not alone
@sylviamiller's Ulog - My first try at ulogging!
@ozora17's ulog# 01. my story the first day in ulog for uloggers
@mirnajvs' #ULOG #1: Cooking for all.
@ambarabby' #Ulog 1 ~ Why technology is changing our children's childhood?
@immatureness' #Ulog no. 1: School
@drbristel's #ulog day-one: How i am joined steemit and how steemit change my life.
@nadeurdaneta's Ulog # 1 | Helping my children with their homework
@amartinez321's My first Ulog: My family and I/ Presentation
@stephanieo's Introducing myself.
@amayphin's Making scrap into craft? #Ulog 1
@sdevan's It's my first ulog shankaragatta village tour
@dontador's ULOG #1 "Medical Test Result Error"

Ulogs are many other "beautiful things":
The "U" in "Ulogs" represents "YOU".
With ULOGS, "YOU", is what's pertinent and media formats e.g no-Vlogs, no-cameras, shyness etc should pose no barrier to you extending "YOU" to us and to the world, ever-constantly; "tirelessly".
With ULOGS, "you are celebrity and we your fans".
With Ulogs, you now have at least one steemit post idea daily, that constitutes YOU. "No longer, should there be a day, that the world is starved of your beauty".
With ULOGS, "no longer should a day emptily slip by, without "your shine" in it.
With ULOGS, want you to shine. We want you to lit the steem blockchain and shake it with your beauty.
With your ULOGS, we will create a fresh trend for #ulog/#ulogs on the entire web-space, filling it with the indispensable awesomeness called; "human"; steemhuman; "steemians".
ULOGS: Each day and "YOU" in it; carries it's own freshness. So, not a day aren't we capable of re-shaping the entire internet with a piece of freshness.
By means of our Ulogs, we will be creating historical history by reshaping the internet; surpassing Google in the process.
With ULOGS: "No longer should there be a day, when we can't add value to the steem blockchain". No more will there be a day on the steem blockchain, when you can say, "i don't have a steemit post idea.
With ULOGS; "we will keep us ever-present on the web-space; opening us ever-incessantly to opportunities; "even breakthrough opportunities".
By means of our ULOGS; "our kids and generations yet unborn will read of us and know that we were here each day, evolving in our substance, so that we can leave them legacies behind.
By means of our ULOGS, we will have fun; fly; shine.
The world and its toughness can deaden and relegate "our shine" into remoteness and forgotten-ness; by means of the steem blockchain (OUR ULOGS), we want to use each day, to recover some of "our shine" back.
And if we have lost our shine completely, we will gradually restore it using each ULOG and begin to shine again, like the "true celebrities" that we are: "light in the tunnel".
ULOGS: Learning; especially learning about yourself; is the ultimate earning.
The essence of the #ULOGS movement is to remove "barriers to entry", when it comes to "mining the human", using each content-blog that we create.
You can be Ulogger and "all that's needed is "YOU" and each day and this we will celebrate".
ULOGS: There is nothing as fresh (in terms of content) as "pieces of us". It is dynamic, fresh, unique, rare. And no "two days" are exactly the same, especially with "You" in it, for we accrue experiences, new moments, new adventures etc.
We aspire new resolutions each day and fail and succeed and "succeed overall", by virtue of "the gift of life" and this we will document all these celebratorily on the steem blockchain using our ULOGS.
Helpful links to understand #ulogs more:
@surpassinggoogle's #ulog: Become A ULOGGER Today! Reshaping The Entire Internet With Steemit
@ulogs' The Birth Of Ulogs. "You Are A Celebrity, So Why Not Just Ulog?" No Video Camera; No Problemo.
@ulogs' "The World Needs To Hear From You. Even Steemit Is Calling!" Now, You Can Answer. "Create A ULOG Today". (The "U" in "Ulogs" represents "YOU".)
@ulogs' @ulogs Featured Posts, Curation And The Fundamentals Of Making #ulogs
@ulogs' Daily #Ulog Featured Posts, Curation And A Call For Help To #Uloggers
@ulogs' Daily #Ulog Featured Posts, Curation And The Emphasis On Removing Barriers To Entry
@ulog's Daily #Ulog Featured Posts, Curation And Connecting With Fellow #Uloggers
Dig and understand the essence and principles of this movement.
#ulogs is just one of the many Steemit Projects by @surpassinggoogle in celebrating the Human.
Read about Un(dis)talented here.
Read about Steemgigs.org here.
Read about Teardrops here.
Read about Steemsecrets here.
Join the movement and start making #ulogs and be a #ulogger.
Let millions of Uloggers bloom!
Join the Steemgigs Community in Discord here.

If you want to support an extra witness and you support "steemgigs", it will be really helpful.
To vote for Steemgigs as witness, simply visit https://steemit.com/~witnesses and type in "steemgigs" into the first search box for witnesses or simply click Here to do it on one click!
If you want @surpassinggoogle to make witness voting decisions on your behalf, simply visit https://steemit.com/~witnesses and type in "surpassinggoogle" in the second box for proxy.