India Steem Meetup #4—An AWESOME Meetup In New Delhi—India's Capital and 40+ Attended!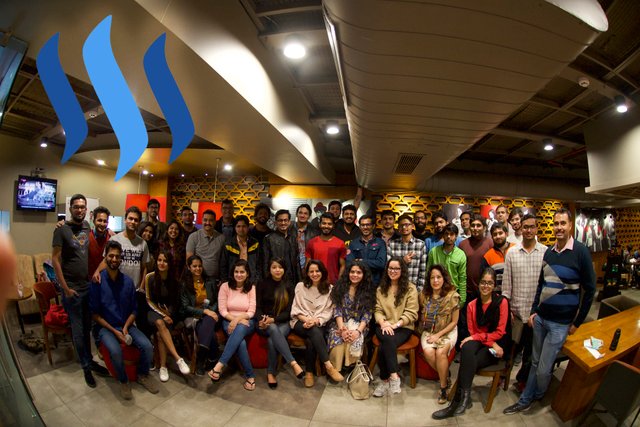 Circa 2009, was when I first visited New Delhi in my adulthood. It was a brief visit part of a motorcycle rally and I saw a few parts of Karol Bagh-a famous part of town where I stayed the first night. It was crazy but I enjoyed the experience and managed not to get my wallet stolen in the madness of the crowd. I ate some amazing local street food and decided that I would come back to live here for a bit.
It took me another 2 years to make that happen and I ended up living about 4 years in all. It was a profound experience and when I left I felt I needed to stay longer but something within me told me I would be come back here with an interesting project. India Steem Meetup #4 was just that!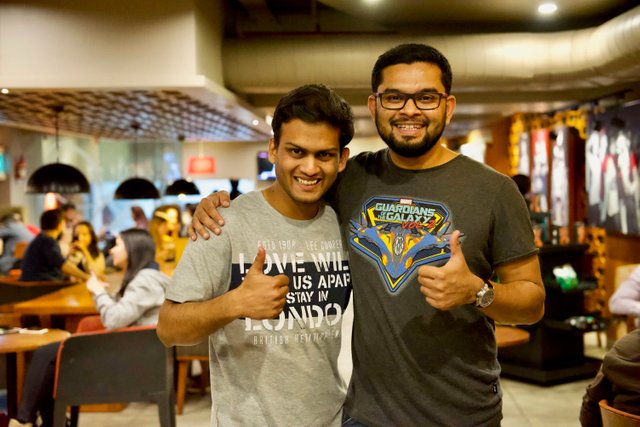 With Saurav Rungta who is another early adopter of Steem from India
The meetup was held on Sunday, 11th February, and it was incredible. Most participants actually showed up on time and we were off to an awesome start. We had a great turnout with over 40 attending the event. I had @shenoy with me doing our video and @varunpinto shooting images as well as handling the camera for the videos we are producing.
A big shout out to @wandereronwheels for assisting me in finding the location and setting it up for the event. It couldn't have been done without you bro! Thanks for all the help with this. This younger biker was also part of my @steemfest firepowercrew at Portugal. :)
It was interesting to note how enthusiastic everyone was about this. People love the idea of these meetups and I've gotten some amazing feedback from people motivating me to carry this forth into many other cities across the country.
People really dig the concept of Steemit and love being rewarded for their content. This enthusiasm is likely to carry through this year as Steemit users continue to grow from India. I enjoyed meeting people who had so much to share about their journey. I've got a few more ideas around these meetups and perhaps in the future I might try and execute these.
There's a lot I could say and bore you but some amazing Steemians have summarized tthe meetup in their posts. Please give them a read below.
@bunnypunia - Link @mehta - Link @thethinker007 - Link @steemflow - Link @thatindianlady - Link @wandereronwheels - Link @hungryhustle - Link @sauravrungta - Link @yesaye - Link @touringdiaries - Link @nimik - Link @ashishkukreja - Link @komal - Link @nehab - Link
One of my goals are to highlight the social networking aspect of Steemit and bring together a vast community of users that we have today. With 4 meetups behind me I feel I'm bringing a lot of people closer than they were ever before. I've made many friends on and off Steemit, because of this platform and I'm sure many Steemians will Delhi will stay in touch with those they truly connect with.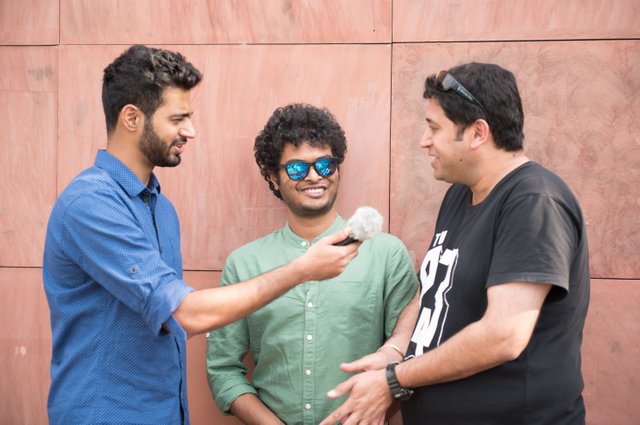 We did run into some trouble with the police who wouldn't allow us to shoot our interviews near the Coffee Day outlet. They gave no reasons other than saying it's not allowed. Same issues in the park. Hosting the meetup in a central location was necessary to make it accessible to everyone in the NCR region but as usual things cannot go without any unnecessary interference in India. Nevertheless, we managed to complete the shoot.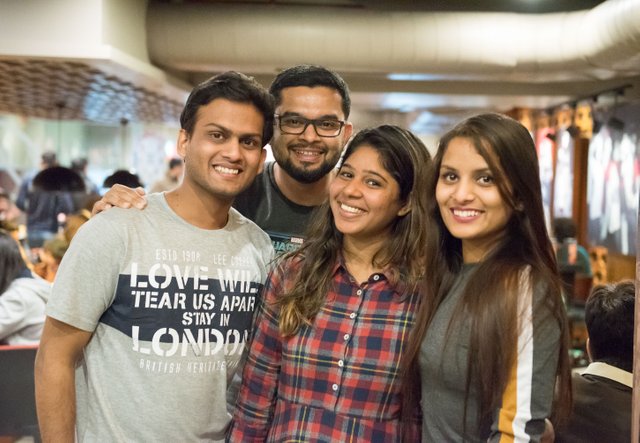 With few notable Steemians from Jaipur who made it all the way from there.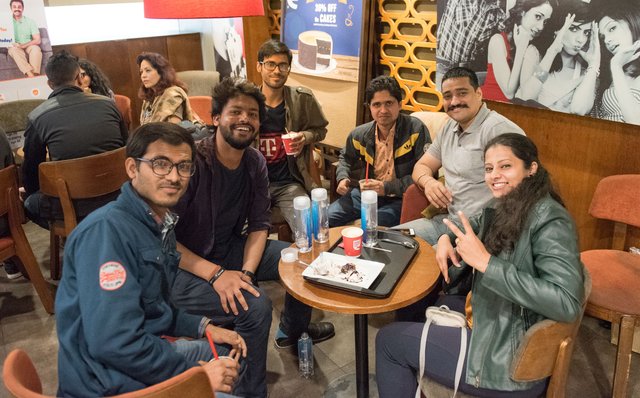 It was a long day for me and it left me exhausted. But it got even more exciting as later in the evening @varunpinto fell sick with a terrible food allergy and needed to be hospitalized and in the rush we lost @nehab's gift to my mother. But, Varun recovered from it after a short stint at the hospital and we were able to continue the rest of our trip and return home yesterday evening.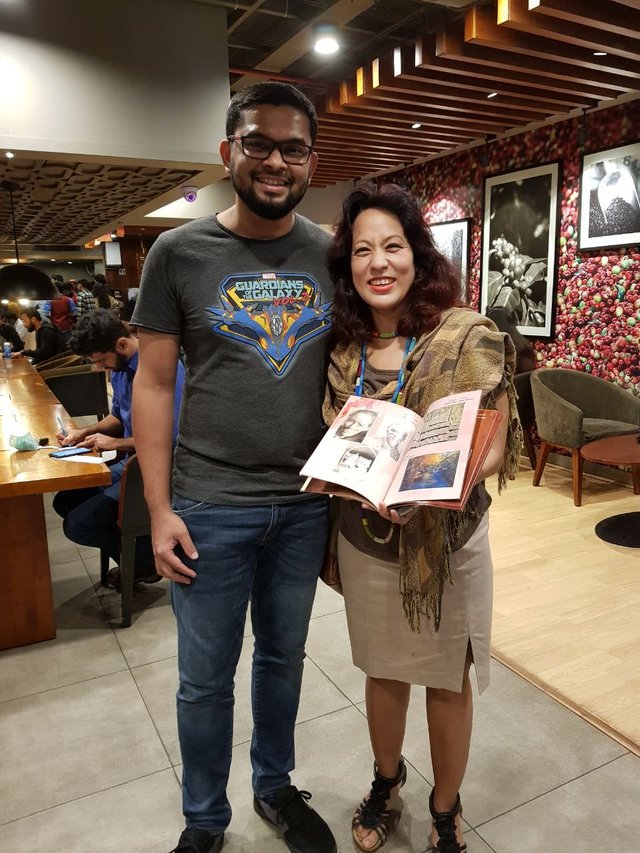 With @nehab holding a book on my grandfather and his art authored by my mother @geetharao
Some of the things we discussed in the meetup are:
Basics of Steemit, Steem blockchain and various apps on top of it.
Why prices fluctuate and how BTC relates to the change in price.
What blockchain technology means and why we are early adoptors to this technology.
How Steemit is helping shape social media slowly but steadily.
Various ways of utilizing the platform.
How to build a following, increase engagement with posts amongs other things.
Some issues related to the platform were also discussed.
How to trade Steem for BTC and BTC for INR was done.
I also informed users on managing their tax burden in this meetup.
Benefits of hodling Steem as SP and active curation on the platform.
I've been requested to write about some of these aforementioned points and I might share a few thoughts on the same soon.
Overall it was a great event and I can't wait to revisit New Delhi again in the future. Given the fact that it is our capital city I expect it to grow sooner than most others. People here are more aware of cryptocurrencies than in another places. I'm sure the next big meetup here will see greater numbers.
I want to thank all of you who made it to the meetup in New Delhi. With 3 days to go I was worried with the low number of confirmations but I'm pleased to say Delhi you surprised me! It was great to onboard a few new people at the location who accompanied some of our existing members from here. I wish Steemit's onboard system would work fast enough to approve people on time.
@wandereronwheels @varunpinto @aishwarya @shenoy @sauravrungta @freebirdkhushboo @komal @yesaye @bunnypunia @neelamgahlyan @thethinker007 @steemflow @amank @knight-fury @swpnl7 @coolbuddy @himshweta @nimik @indiantraveller @prameshtyagi @touringdiaries @xtrememotoadv @free-ion @thatindianlady @abhik1729 @thenomadictales @mehta @ashishkukreja @hungryhustle @rovingman @footlooselatika @nehab @komal Urvashi Borse, Siddharth and his wife, @gkbell46 and his two friends.
I apologise if I've forgotten any usernames here. Let me know if I've missed anyone in the comments below and I will add them to my post.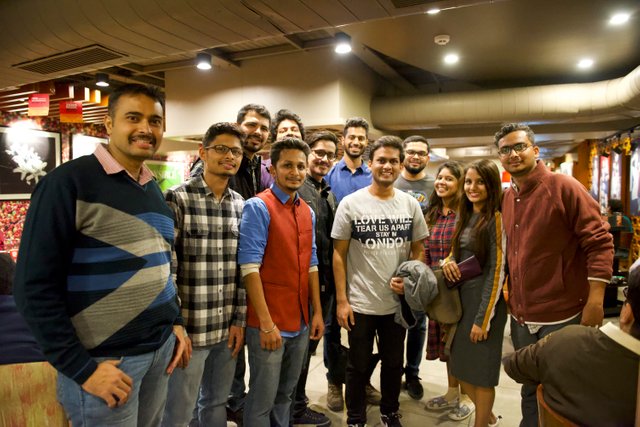 A few who stayed back right till the end!
You can view all the pictures from the meet and download them here!
---
If you like my work kindly resteem it to your friends. You may also continue reading my recent posts which might interest you:
---