SoS Daily News : news about the State of Steem @ 11 February 2019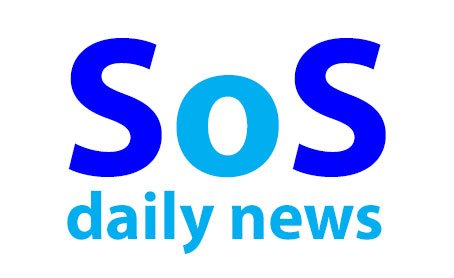 DrugWars has hit the streets of Steem.
@aggroed has relaunched the Business Plan competition.
SteemWallet adds an Embeddable Account Signup Widget.
And Steembay is revamping.
---
---
DrugWars hits the streets of Steem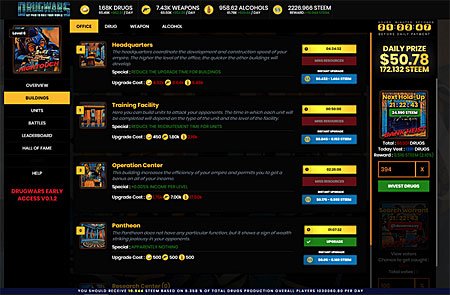 The latest game to be launched on Steem - DrugWars - has got off to a storming start.
It is capturing the imagination, the attention and the STEEM of steemians far and wide.
The game has attracted over 700 players in the first 48 hours, who between them have spent over 10,000 STEEM on the various upgrade options available ingame.
The game has been developed by @hightouch of FutureShock, who also built the steem crowdfunding platform Fundition.io.
DrugWars is comparable to some pretty old games that you may have played on the web. You can upgrade/add buildings in your city and try to steal the DRUGS of your opponents.
One of the most interesting part of DrugWars is probably the rewarding mechanism, each time a player spend some STEEM in game, the fund goes to the dealer, the dealer put 80% of that amount in the bank pool which is the @drugwars account.
Many leading steemians have made positive posts about the game already including @acidyo, @themarkymark and @abh12345 ...
Many others have also posted about DrugWars including @emrebeyler, @exyle, @fbslo, @hauptmann, @lordbutterfly and @niallon11.
---
---
Business Plan competition v2
Top witness @aggroed has relaunched his Business Plan competition, with an increased prize pool of 500 STEEM and 1000 ENG tokens.
What you need to do
Write a post, include the following, and link the URL to the post in the comments below. Depending on the number of submissions there may be a followup round.
Describe the problem
Share your vision for the solution
Tell us the mission of the company or app
What product/service will you sell?
How will it incorporate a steem-engine token?
---
---
Steemwallet's Embeddable Signup Widget
SteemFest organiser, top witness and developer @roelandp has released an Embeddable Signup Widget based on his successful SteemWallet app.
The widget will provide instant Steem account creation to be added on any site.
The widget works by launching a fullscreen overlay to any site where the code is embedded. This launches a foolproof (imho) and straightforward signup process with realtime account validity checking, password validation, optional random password generation and offers a way to download all keys generated, prior to checking out. Then, by submitting card details, the service tries to charge and create the account instantly. Once done, the user has a final chance to save their backup-key file and the account is ready to use.
---
---
Steembay revamps and goes open-source
Steem auction site @steembay has been around for over a year.
It is now undergoing a revamp and relaunch...
---
---
(change on previous day in brackets // n/c = no change)
| | | |
| --- | --- | --- |
| Steem price | US$ 0.288 | 2019-02-12 3.21am UTC |
| SBD price | US$ 0.897 | 2019-02-12 3.21am UTC |
| Market Cap | US$ 90,871,942 | 2019-02-12 3.21am UTC |
| CoinMarketCap Ranking | #47 (n/c) | 2019-02-12 3.21am UTC |
| No. of Whales | 36 (n/c) | 2019-02-10 |
| No. of Orcas | 330 (n/c) | 2019-02-10 |
| No. of Dolphins | 1972 (+1) | 2019-02-10 |
| No. of Minnows | 9164 (+11) | 2019-02-10 |
| Alexa rank (steemit.com) | #4400 (-11) | 2019-02-12 3.21am UTC |
| Unique visitors (steemit.com) | 252,171 / day | 2019-02-12 3.21am UTC |
| Page views (steemit.com) | 771,643 / day | 2019-02-12 3.21am UTC |
Follow @penguinpablo & @steem-data for more statistics.
---
NEWS FROM STEEMIT INC
@steemitblog - Steemit Engineering Update: Cost Reductions, RocksDB/MIRA, Condenser Split
@andrarchy - Twitter CEO Jack Dorsey on Steem?
@elipowell - Post #2: Thank You
---
NEWS FROM THE STEEM ALLIANCE
@steemalliance - Steem Alliance -- Townhall Recording from Sunday February 10, 2019
@steemalliance - Steem Alliance Weekly Update
@steemalliance - Newly Established Community Guidelines For The Steem Alliance Discord Server
---
NEWS FROM THE WITNESSES
#4 @roelandp - Steemwallet's Embeddable Signup Widget - Instant Steem Account Creation On Every Site!
#7 @aggroed - Business Plan competition V2: You must sell a service and you must incorporate a token into the design- 500 Steem and 1000 ENG prize pool
#7 @aggroed - A present from Stars Align: Steem Alliance Stake Holders to consider for your Stake Holders
#13 @themarkymark - Have you tried the Blacklist Notifier?
#37 @blockbrothers - @blockbrothers complete witness vote list Februari 2019 + three upcoming changes
#37 @blockbrothers / @exyle - Thanks for entrusting @blockbrothers with your witness voting proxy!
#51 @netuoso - Need Support For Proposal To Create Steem.StackExchange.Com
#62 @dragosroua - Witness Update - DragosRoua
#70 @steemcommunity / @paulag - Hay Steem Devs we need this on STEEM - A Case for Traffic Analytics
#88 @krnel - KURE Development Update 4 - Browsing Content and Adding to Communities!
#108 @quochuy - Witness Earnings Report - 2019-02-11
To keep up to date with more posts from witnesses follow @witnesspage ...
---
NEWS FROM KEY PLAYERS & INFLUENCERS
@jongolson - Entrepreneurs & Online Gaming...Why DrugWars Is Just The Tip Of The STEEM Iceberg!
@tarazkp - Stake and bake: WPS voting
@taskmaster4450 - Steem: Gaming Is Coming To Steem
---
NEWS FROM EVENTS & MEETUPS
27 FEBRUARY 2019 - UK, LONDON
@redrica - 2nd London Steem Meetup of 2019 | Wed 27th Feb 3pm onwards | High Street Kensington
?? MARCH 2019 - MALAYSIA, PENANG
@bitrocker2020 - Changes in Penang STEEM Bootcamp Schedule
30 MARCH 2019 - USA, MINNEAPOLIS
@ddrfr33k - Let's plan another Minneapolis Meetup!
6 APRIL 2019 - UK, LEICESTER
@steevc - See you in Leicester in April for Steemcamp?
@steemcampuk - Get Your Tickets For SteemCampUK 2
@steemcampuk / @shanibeer - SteemCampUK 2 - Growing an Audience of Smart Investors
17 - 19 MAY 2019 - SPAIN, BARCELONA
@dtube.forum - STATE OF THE PROJECT @dtube.forum 11/02/2019
20 - 23 JUNE 2019 - USA, COLORADO
@thealliance - The 'BLOCK' Party!
1 - 5 DECEMBER 2019 - LIMA, PERU
@steemfiesta - SteemFIESTA 2019 - The First Five Days of DECEMBER - Summer in the South!
You can also view a full list of Steem Meetups & Events Calendar here...
---
NEWS FROM DAPPS, APPS & DEVS
@inertia - Testing RocksDB in Tintoy
@knacksteem.org - Knacksteem: Time to start showcasing your knack!
KURE / @krnel - KURE Development Update 4 - Browsing Content and Adding to Communities!
Meeseeker / @inertia - Meeseeker on Docker
@onelovedtube - OneLoveDTube Uploader Now Supports KeyChain - #OneLoveDTube Community Update
@steembay - BIG NEWS!!! Steembay UI (Beta) goes online + open-source
@steempeak - 3 OPTIONS FOR NEW STEEM ACCOUNT + 5 step steem.ninja process
---
NEWS FROM GAMES
@drugwars - DrugWars.io - Get Paid to Rule your World!
---
If you want to check on progress of development on Steem, check out the GitHub here...
If you want to check on the current list of full API Nodes witness @holger80 provides this via @fullnodeupdate...
---
MEDIA COVERAGE OF STEEM & STEEMIT INC
No new coverage found.
---
EXTERNAL STEEM DATA
---
This is #71 (11 Feb '19) of this daily news service.
Please let me know of any important posts or key data that should be included. Comment below or message me on Discord Pennsif#9921
---