DrugWars.io - Get Paid to Rule your World!
21 Long days.... of development ;)
48 Hours of intense tests!
Here we go with the early access of DrugWars, a free to play rewarding simulation and strategy game over the Steem Blockchain.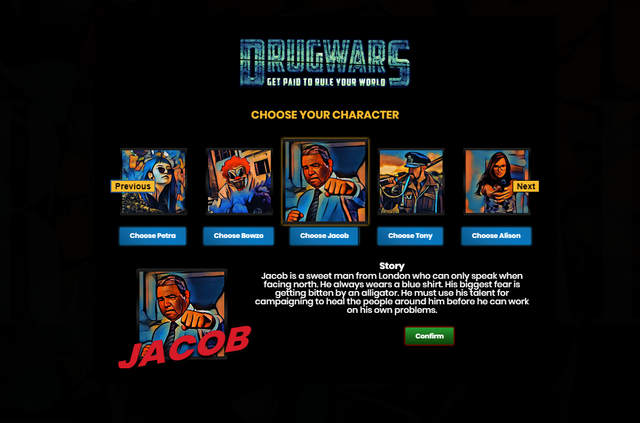 Why DrugWars?
At FutureShock we love building apps and we love to build useful thinks like our queen platform Fundition.io, but we also love games, as you noticed with the beta of Ongame.io, and one more time we wanted to build something amazing on Steem and for its community (beside all crypto/game lovers). Inspired by the original DrugWars game that you may have played 20 years ago this is a new generation browser game based on blockchain, with a social, strategic aspect and many other features.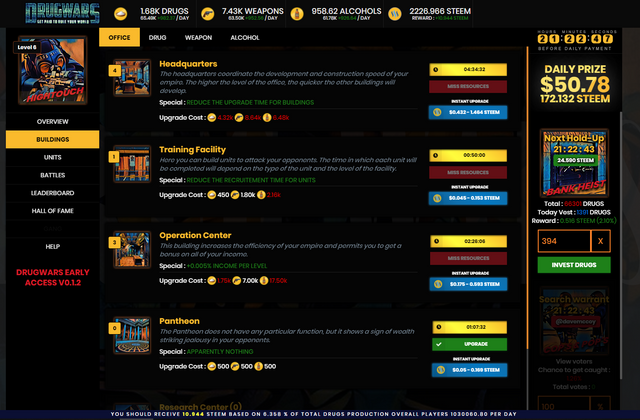 Screenshot
How it works?
DrugWars is comparable to some pretty old games that you may have played on the web. You can upgrade/add buildings in your city and try to steal the DRUGS of your opponents.
One of the most interesting part of DrugWars is probably the rewarding mechanism, each time a player spend some STEEM in game, the fund goes to the dealer, the dealer put 80% of that amount in the bank pool which is the @drugwars account.
Each day at midnight UTC, 8% of the total pool is distributed to players.
7% is delivered to all players depending of their drugs production.
1% is delivered for whom who invested in the next heist.
Free to play?
Yes! DrugWars is totally free to play, everything that you can buy with STEEM currency can be also bought with ingame resources.
Why an early Access?
We started our tests in production environnement, and as everything goes well we don't see the point to wait for a complete release to offer you some moments of fun. Having the early access permit also to keep the team working on the game to improve it and to add new features without the need of exterior investor. No cuts on our benefits means also less cut on the benefits of players, so this is a win win situation for everyone.
Credits
To my Brooklyn FutureShock & Fundition team, to ekitcho and fabien, one more time this would not be possible without their help, to people that are supporting me behind the scene, to all developers on Steem that are working here. I love you all without exception! ok ok a a little more arcange who also inspired me to make this :) and to Steemit Inc. for giving me their trust since few months.
Support Us, Support Steem
It will take some times and some ressources to polish the game and to reach the 1.0 version but we are confident and count on the support of our players to make it one of the best games over all blockchains! We already started to work on the next step of the game in our test environnement and will keep you updated soon as we wake up of a long sleep!
So what are you waiting to join the DrugWars?