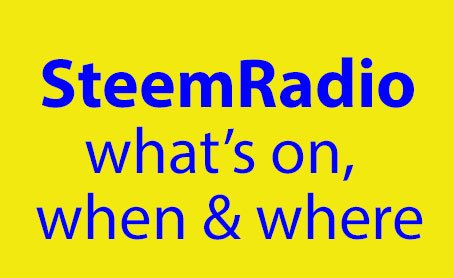 SteemRadio rolls onwards and upwards.

MSP Waves currently has 15 shows in the offing. Many of these should be reaching the airwaves very soon. Check out the MSP Waves website for the full 'coming soon' schedule.

Over on the SteemStar Network @SirCork is setting off on his round the world tour this coming Saturday and is hoping to be broadcasting as he circumnavigates the globe.


---
---
*** STOP PRESS *** STOP PRESS *** STOP PRESS *** STOP PRESS ***
@ma1neevent and @poeticsnake have just announced a new name and a new format for their Wednesday show.
Formerly known as The @Ma1neevent Interview Show, the show is now rebranded as the The Resteem Radio Show with a whole host of new features including a weekly witness feature, The Resteem Game and Welcome a new Steemian as well as some great interviews.
Full details in @ma1neevent's post :
---
---
I am totally enjoying doing the Alternative Lifestyle Show on Fridays. The three researchers who work with me (@awesomehomestead, @ravenruis, @redrica) are doing an excellent job finding guests for the shows
This coming Friday (23 February) we have more great more guests including @goldendawne, @kokibyivana and @llfarms. We will also have @awesomehomestead and @geordieprepper popping on the show.
The following Friday (2 March) we have something new coming up. We will be trying the first of our special 'themed' shows when White Walking Feather @wwf will be returning with his Stewards of Terra Mater. This will be a little experimental with more of a 'round table discussion' type format.
After that show, Friday 9 March will see us returning to the normal format. We are currently looking for more guests for that week if anyone is interested.
The homeschooling contest continues until midnight UTC on Wednesday 21 February 2018.
---
---
This coming Saturday @globocop and I will be stepping back in the time machine on Frequency Waves 432Hz show again as we continue our journey through the 1970s.
Next Saturday's show will focus on 1972.
This will be the last of these shows while @globocop relocates to Panama.
My new show 'My Life in 8 Songs' will then be taking over the Saturday slot (9pm-midnight UTC) on MSP Waves Radio for a few weeks. The show starts on Saturday 3 March and then will run on that slot for a few weeks until @globocop is back up and running again. Then it will move to its own weekday slot.
Full details about this new show can be found in my post :
There will be three guests each week. We already have some terrific steemians booked in for the show but we are still looking for more. Contact me via comments or in Discord @Pennsif#9921 if you are interested.
---
---
I am also well advanced in the planning for a new regular news / magazine style show. I will be recruiting more researchers for that.
If you are interested in current affairs, have good connections on the steem blockchain and would like to be involved in a groundbreaking new show do get in touch with me.
---
---
If you know of any other relevant shows that I haven't included please do put the details in a comment below or DM me on Discord @pennsif#9921 . Also please let me know of any changes to the shows already listed

---
The times for the shows are all shown in Coordinated Universal Time UTC/GMT - which is currently UK time. There are numerous sites on the web for converting UTC to your local time. This one looks particularly useful worldtimebuddy.com.
---
SteemRadio : schedule of shows for week beginning 19 February 2018


---
---
You might also be interested in some of my other posts :
---
---
[ graphic by pennsif ]