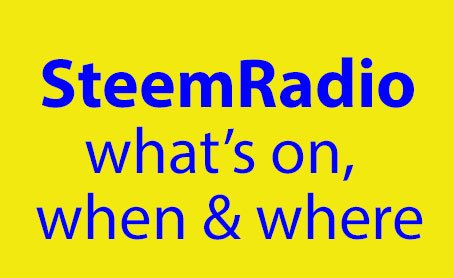 Radio is really booming on the steem blockchain.

MSP Waves has got a whole queue of new progams waiting in the wings to come on air. In fact its prime time slots are almost totally full. Check out the MSP Waves website for the full 'coming soon' schedule.

The SteemStar Network is continuing to build its programming and has this past week expanded on to a dedicated Discourse server for the station.


---
---
On MSP Waves @buckydurddle has rejigged his show. It is now called 'WhatRUat' and is co-hosted by @doghaus :
@buckydurddle, @doghaus and the audience sit in the Shed and have a laugh. They choose Word of the Week, a Place of the Week and several Right Off The Bat topics to laugh about. They make up a few tunes on the spot, read some poems and have a great time in the Shed.
The show airs on Tuesdays 10pm - midnight UTC.
This coming Saturday on MSP Waves will see another special panel format show with @aggroed - this week it will be a Women of Steem Forum. Co-host for this panel will be @crimsonclad. Confirmed guests so far include @stellabelle, @surfermarly and @patrice. Look out for a post from @aggroed with more details during the week.
---
---
Pennsif's Alternative Lifestyle Show is going well. Three shows under my belt and it gets better every week.
We have already got a full line-up of guests booked in for Friday's show (16 February) including @ankapolo, @brimwoodfarm, @pumpkinsandcats, @reko and @ultravioletmag.
The competition to design a logo for the show runs until Friday.
The homeschooling contest continues until midnight UTC on Wednesday 21 February 2018.
---
---
My new show 'My Life in 8 Songs' will be taking over the Saturday slot (9pm-midnight UTC) on MSP Waves Radio for a few weeks while @globocop makes his move on Panama. The show starts on Saturday 3 March and then will run on that slot for a few weeks until @globocop is back up and running again. Then it will move to its own weekday slot.
Full details about this new show can be found in my post :
There will be three guests each week. We already have some terrific steemians booked in for the show but we are still looking for more. Contact me via comments or in Discord @Pennsif#9921 if you are interested.
---
---
This coming Saturday @globocop and I will be stepping back in the time machine on Frequency Waves 432Hz show again as we continun our journey through the 1970s.
Next Saturday's show will focus on 1971 - the year I finally got long trousers. Check out the home movies to see if that is true.
---
If you know of any other relevant shows that I haven't included please do put the details in a comment below or DM me on Discord @pennsif#9921 . Also please let me know of any changes to the shows already listed

---
The times for the shows are all shown in Coordinated Universal Time UTC/GMT - which is currently UK time. There are numerous sites on the web for converting UTC to your local time. This one looks particularly useful worldtimebuddy.com.
---
SteemRadio : schedule of shows for week beginning 12 February 2018


---
---
You might also be interested in some of my other posts :
---
---
[ graphic by pennsif ]