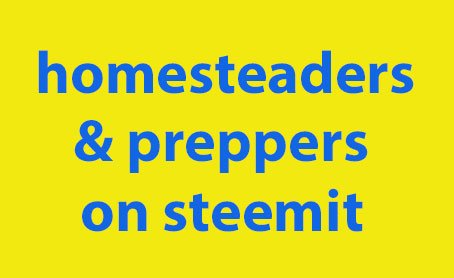 It's time for the next edition of the list of Homesteaders and Preppers on steemit.

The last list smashed through the 300 target to reach 308.

I've been collecting a few more new people since then, but I am sure there are many I have missed.

I wonder if we can reach 350?


So please do let me know, via comment or Discord (@Pennsif#9921) if...
You are a homesteader or prepper that has joined steemit in the last month and I haven't already made contact with you

You know of any homesteaders or preppers that have joined in the past month

You are a homesteader or prepper that joined before last month but are not on the list below

You know of any older homesteaders or preppers that are not on the list.
---
This is the previous edition (v12) of the list :
You will see that the list is now rather long and unwieldy. So I am going to split it into two lists.
I had contemplated splitting it into active and inactive members. But that is too fluid. People come and go.
Particularly in the last couple of months quite a number on the list who had 'gone dark' have reappeared and started actively engaging on the platform again. Excellent news!
So instead I am going to split the list geographically - USA v Rest of the World.
One small question on that split - would it be better to be North America (ie USA and Canada) rather than just USA?
---
I will be compiling version 13 of the list during this week so please do get any responses in as soon as possible.

Thank you.

---
---
You might also be interested in some of my other posts :
---
---
[ graphic by @pennsif ]