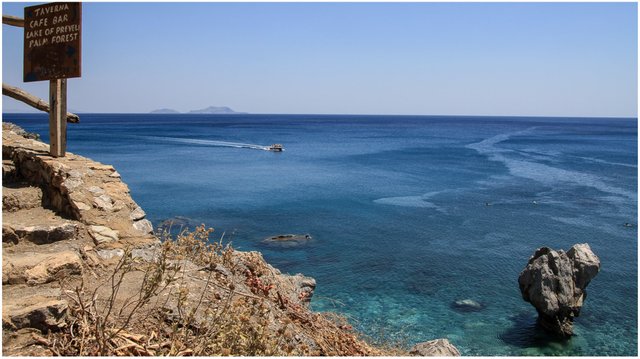 Greetings Steemians!
Welcome back to the palm beach of Préveli!
After the last episode I got a friendly complain that, given it's name, this beach would be a bit short of palms. Well, I gonna fix that with todays post.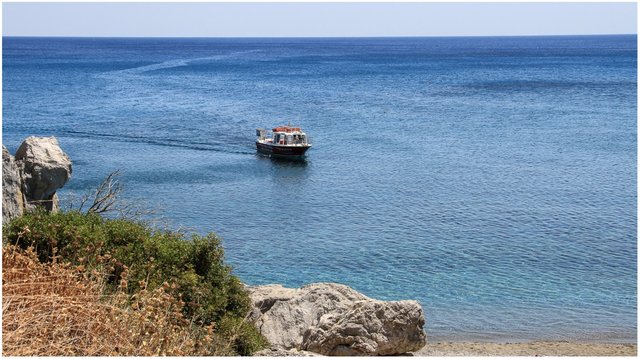 This was the moment I learned that I could have gotten here by boat, too. If I had only known before...
One of the first things that captured my attention when approaching the beach was this peculiar, mushroom-shaped rock, which sticks out of the water in not more than 10 m distance from the shore. I observed several youngsters trying to climp the rock in order to jump into the water. Only one of them finally made it and left the rock with a backflip into the blue.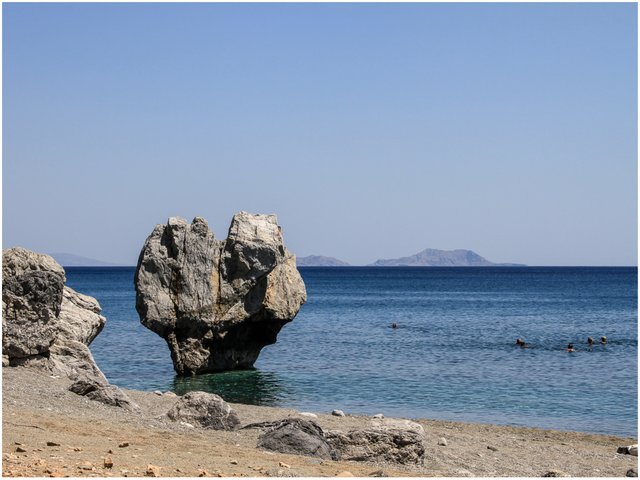 Later I took a swim around that rock, too. Despite it's proximity to the shore the water depth was already an estimated 6-7 meters. So it was indeed safe to jump from the rock - main difficulty though was to climb it in the first place, which, admittedly, I was not able to.
After a refreshing swim I was ready to explore the lagoon and the eponymous palm grove.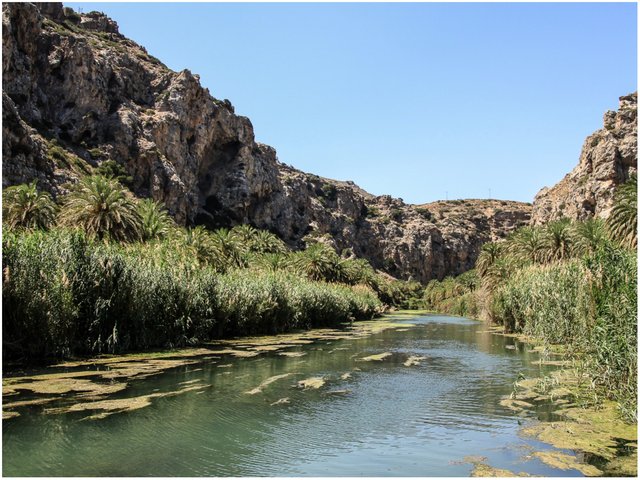 The mountain creek Megalopotamos forms that lagoon lake at the exit of the valley, just behind the beach. The entire area is a precious biotope that meanwhile has been declared as nature sanctuary.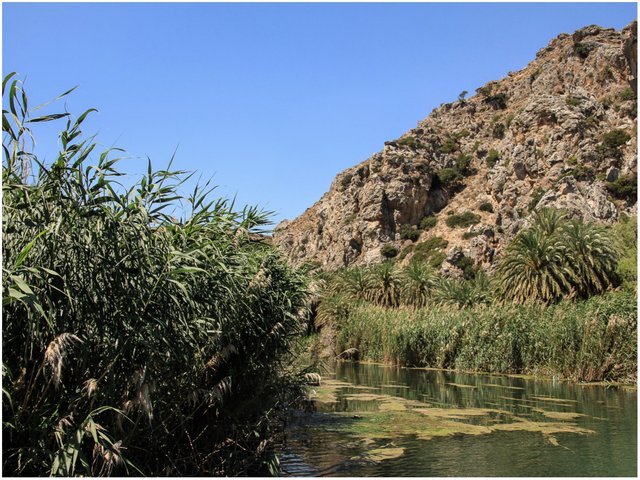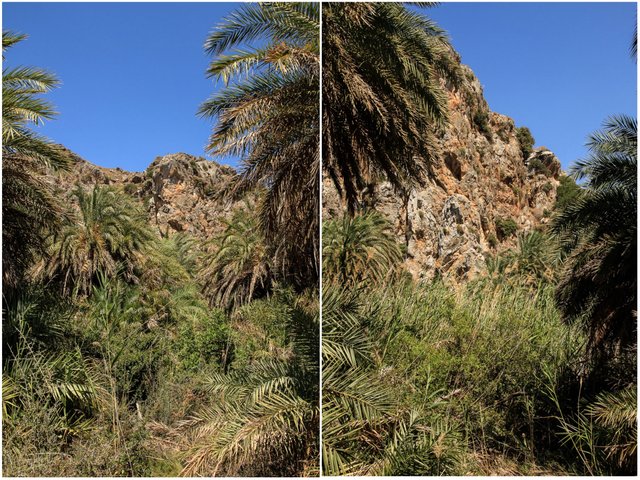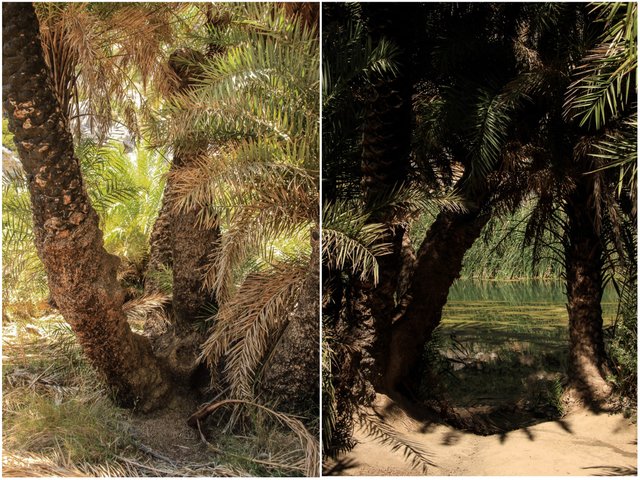 Some of the Cretan date palms (Phoenix theophrasti) are reportedly more than 200 years old! Many of them are still marked from a devastating forest fire that happened in August 2010. Large parts of the palm grove had been burned down. And yet, already one year later in 2011, the palms had recovered almost completely.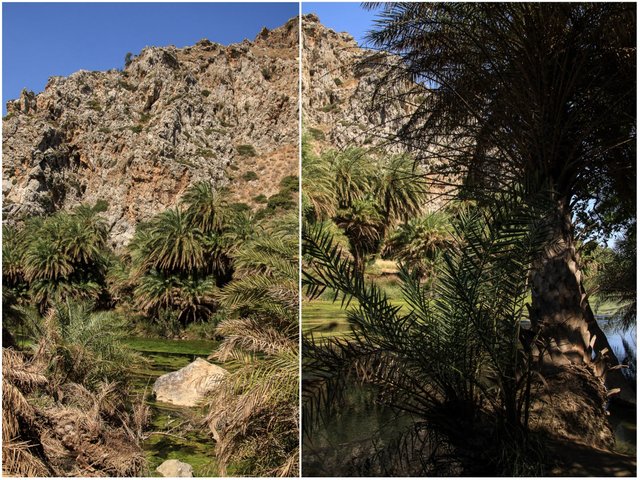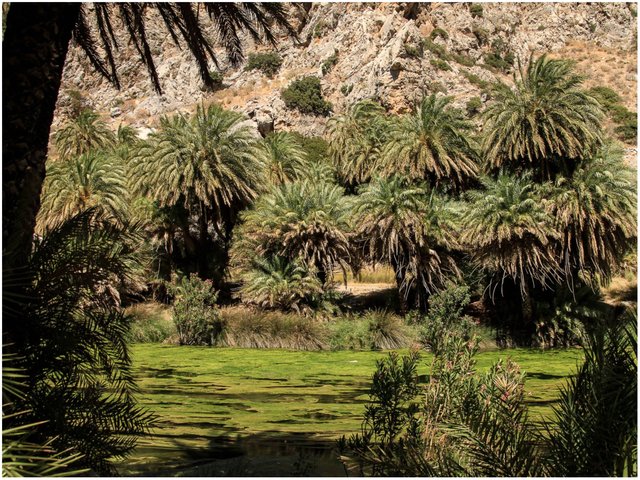 By far the most tropical appearing place I had visited on Crete. Fortunately, without alligators...
I hope you enjoyed this little trip into the palm "jungle" of Preveli and I hope to welcome you in the next and final post of my Crete discovery tour!
Thanks for watching and 'til next timet!
Shaka
---
All photos were recorded by myself with an Canon EOS 7D / Tamron 18-270 mm in Mai 2018. All rights reserved.
---
Discovering Crete - All previous posts:
| | |
| --- | --- |
| | |
| Part 1, Agiofárango I | Part 2, Agiofárango II |
| | |
| Part 3, Monastery Odigítrias I | Part 4, Monastery Odigítrias II |
| | |
| Part 5, Phaistos I | Part 6, Phaistos II |
| | |
| Part 7, Phaistos III | Part 8, Mátala I |
| | |
| Part 9, Mátala II | Part 10, Kamilari |
| | |
| Part 11, Agía Galíni I | Part 12, Agía Galíni II |
| | |
| Part 13, Zarós | Part 14, Island glow |
| | |
| Part 15, Back country trip | Part 16, Límni Préveli I |