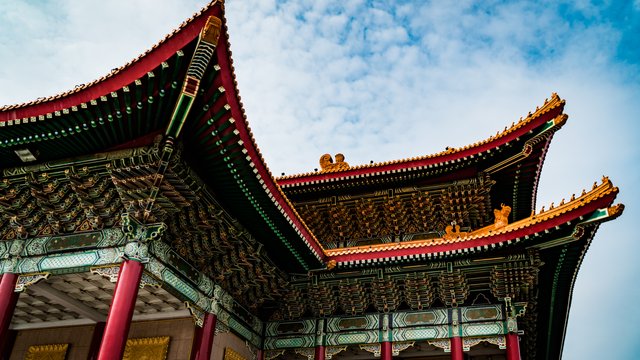 Elegant Chinese architecture with intricate details.☺
I have a few reasons why our recent trip to Taiwan was fulfilling for me. ☺
When we went to Taiwan last June, we visited Liberty Square at Taipei. It feels like a home coming for me given that I have studied at Chiang Kai Shek College at Manila, Philippines. So half of my life, I knew about Chiang Kai Shek but never have been to his birth place and his memorial. So including this to our itinerary is a no-brainer for me.
While we were wandering around, it gave me the sense of understanding on why my school was built in his name. Visiting the memorial hall and learning CKS's ideals made me realize the reason behind why he is the face of our school - his patriotism and ideals to the Chinese against the Communist.
I have part Taiwanese lineage as well.☺ I want to have a feel of the place where my grandmother was born.
And of course, food trip and shopping! ☺
We went to the Liberty Square via Tamsui-Xinyi Line MRT and alighted at Chiang Kai-Shek Memorial Hall station. After walking for a few minutes, we were greeted by this vast plaza!
Both National Theater and National Concert Hall, the two performing arts venues at Liberty Square, have external features that are almost identical. These two are two of the first major performing arts facilities to be established in Asia (completed in 1987). Both iconic facilities were designed by the well renowned Taiwanese architect Yang Cho-cheng and Architects & Engineers Associates. The facilities displays elegant Chinese classical architecture -yellow roof tiles, upturned eaves, huge crimson pillars, and multi-colored girders!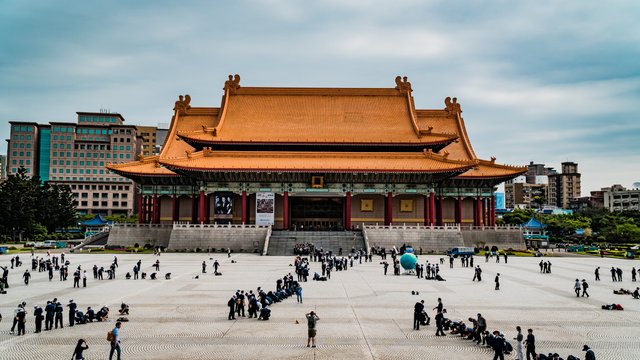 National Concert Hall and Liberty Square at the foreground, taken from the upper landing of the National Theater☺
The Liberty Square serves as a site for major gatherings in Taipei, such as outdoor festivals, ceremonies, and concerts.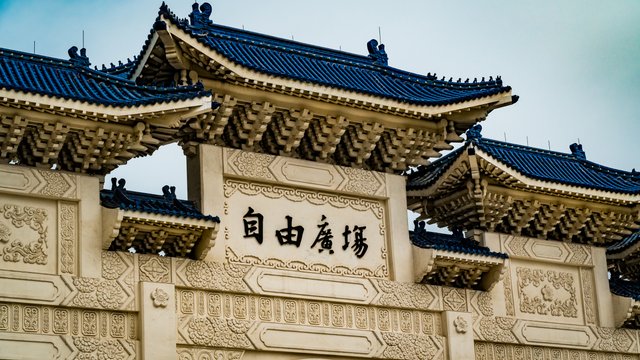 Liberty Square main gate (自由廣場)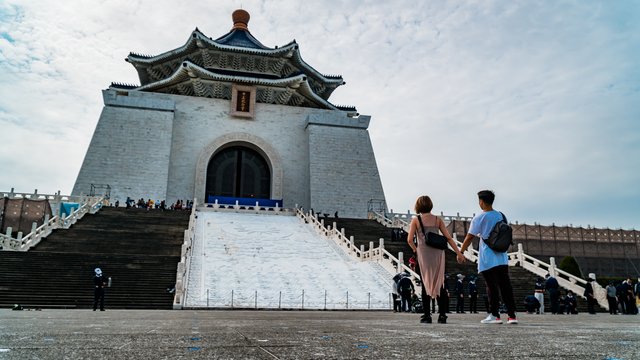 The monumental Chiang Kai-Shek Memorial Hall
This national monument was erected in memory of Chiang Kai-shek, former president of the Republic of China. Standing from the bottom of the stair could really make you feel so small hahah! We were lucky that day that the place is not too crowded. Its a good thing we went there early in the morning.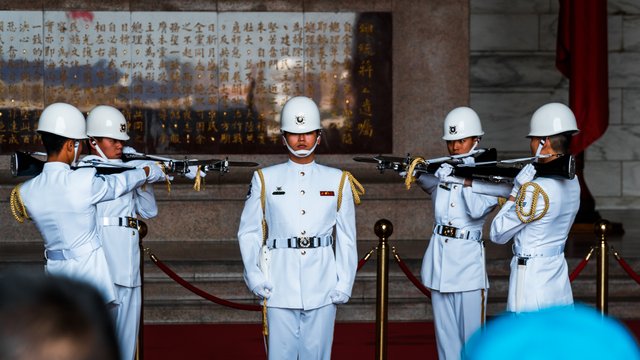 We witnessed the changing of guards inside the hall. We were informed that It happenes every hour.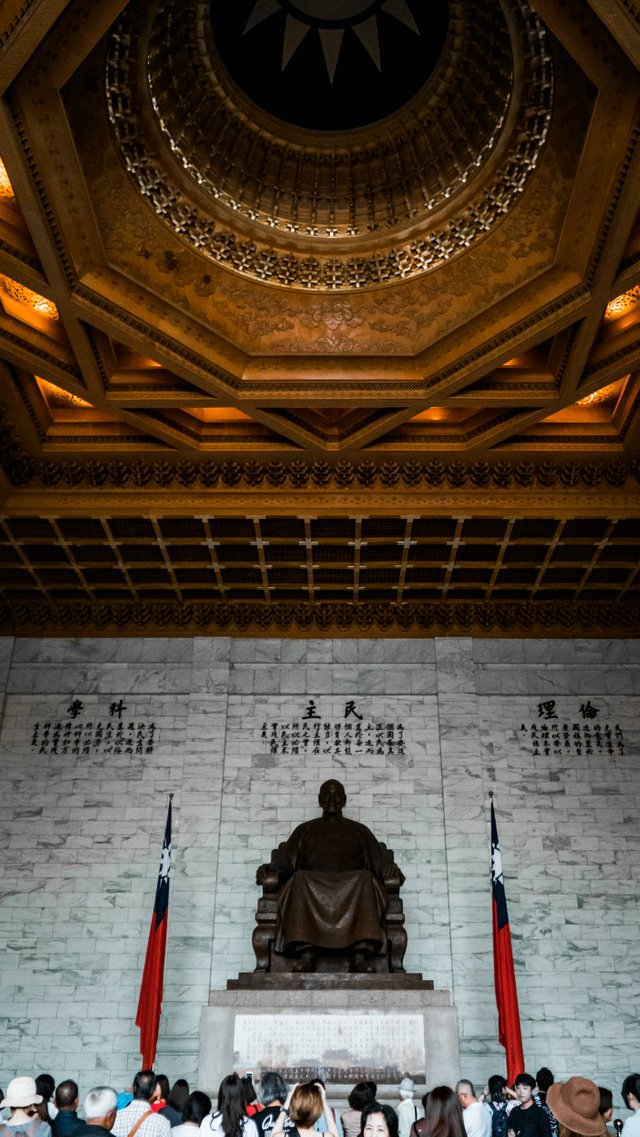 Statue of late President Chiang Kai-shek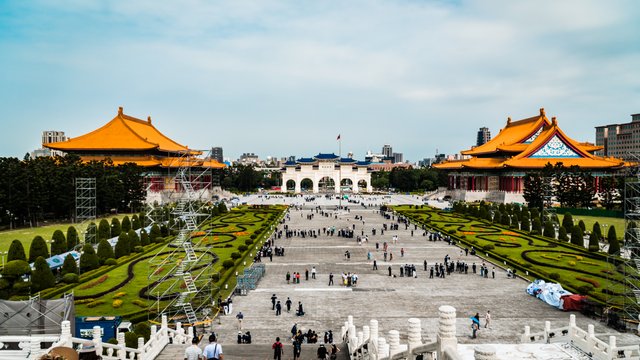 The whole memorial square with locals and tourists wandering arouond, taken from the top landing of the memorial hall stairs.
Glad to have visited this place with clear skies.♥
---
Have you seen our previous Travelogs??
Travelog 01 | Neofuturistic Masterpiece at Seoul, South Korea
Travelog 02 | Japan Series: Astonishing Arashiyama ?
Travelog 04 | Hong Kong Series: A Beacon of Art in an Urban Setting
Travelog 05 | Japan Series: Distinct and Grounded Way of Life
Travelog 06 | India Series: Majestic Amalgamation of Historical Architecture
Travelog 07 | Korea Series: Picturesque Raw Beauty of Nami Island
Travelog 08 | Hong Kong Series: Controversial Architectural Skyscraperd
Travelog 09 | Japan Series: Fun Owl Night Long!?
Travelog 10 | Taiwan Series: Quaint Antiquity of Shifen?
Travelog 11 | Korea Series: Vibrant Cultural Village in Korea!?
Travelog 12 | Japan Series: Visiting Tokyo's Oldest Temple?
Travelog 13 | Korea Series: Dummies trying Winter Sports!☺
---

Follow me as I whisk my "life brush" through my "Steemit canvass"!
Hit upvote and follow, and I'll be thankful if you support my content!:)
Instagram: @imegankylie
@steemph
#teamsingapore
@teamsingapore
#randomasia
#ocd-resteem