Perfect Carrot Cake Cupcakes + Coconut Cream Cheese Frosting - FOOD PHOTO SHOOT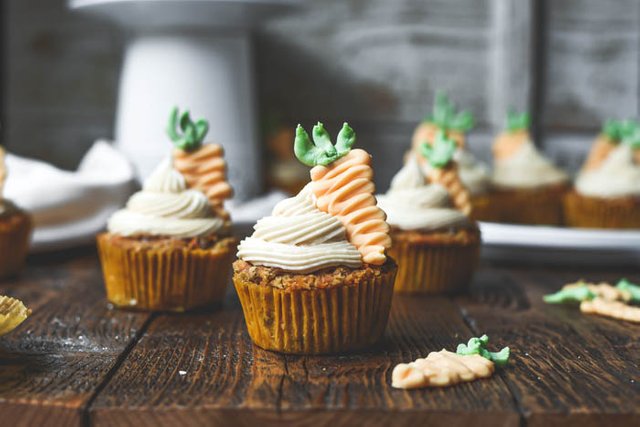 So tell me if this is just me, but I always seem to wonder about the most random things in life.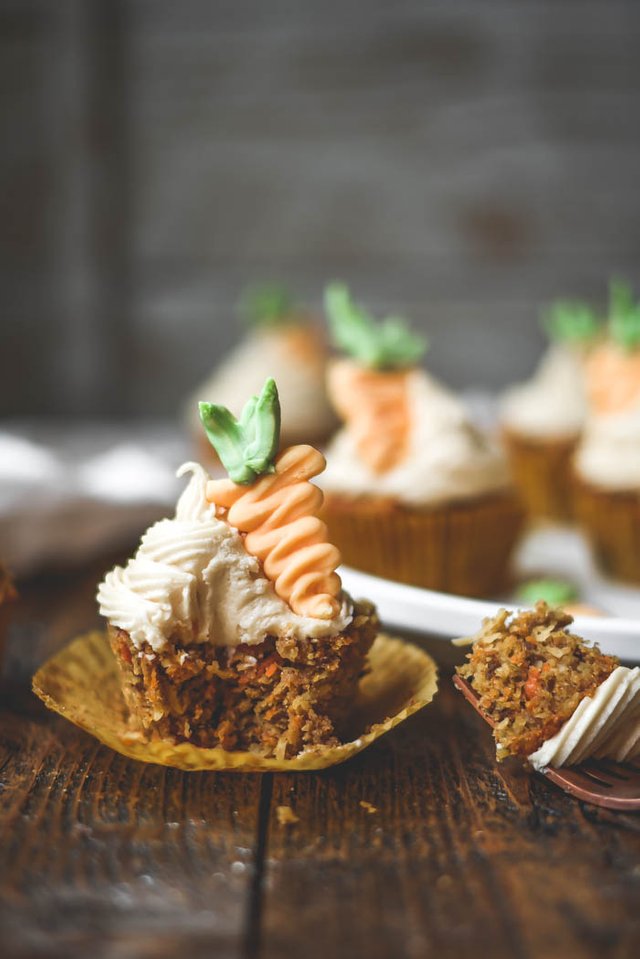 My mom used to tell me I'd ask her the deepest questions as a little kid. The kind of questions that really stump parents as there's no possible way to describe and explain the answers to a child even if they do have an answer. Questions about time, space, and concepts of fairness in life.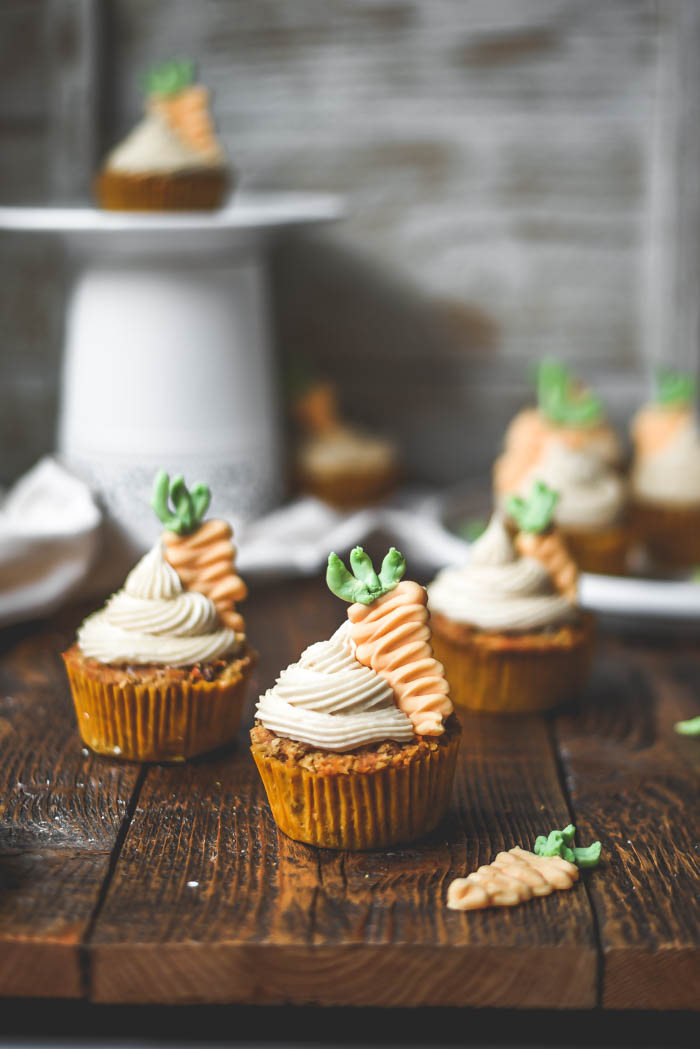 Mom was always pretty good at coming up with an answer to appease my shorter self, but looking back now I can see that I put her in some tough positions with my spontaneous inquiries. These days I'll still find myself thinking deeply about stuff, but now it's about a fifty/fifty split between meaningful things and just random trivia. For example when I'm skiing I'll end up thinking "Who in the world was the first person to decide that strapping sticks to you're feet and sliding down a mountain was a good idea?" Another example, now that I've been gaining more and more interest in photography (and possibly video soon) I'll end up paying attention to the filming in a movie and wishing I could talk to the filmmakers rather than paying attention to the plot.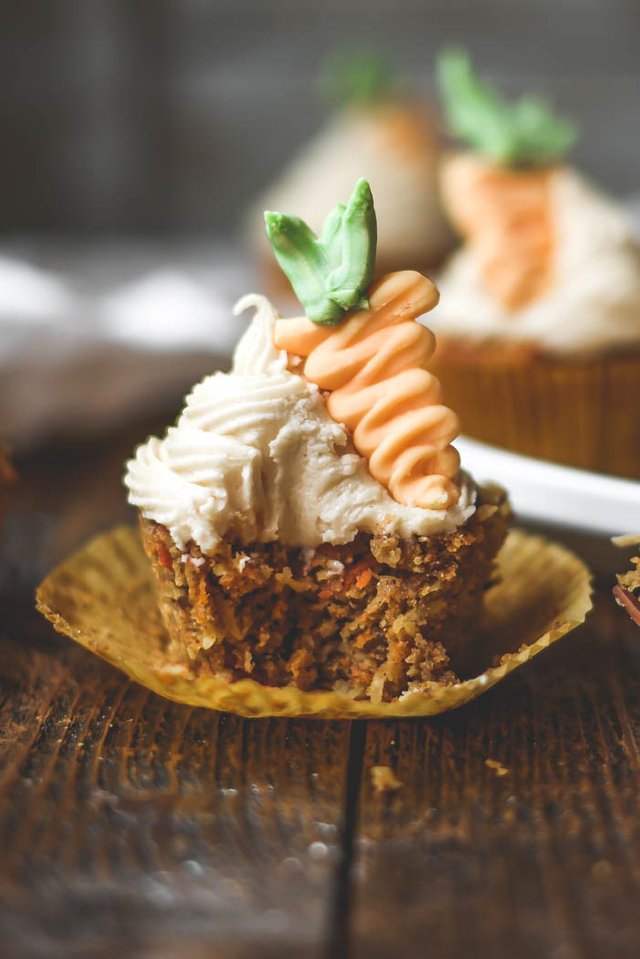 Okay, I'm getting to the point though. Not that it's even relevant, because carrot cake is amazing, but who do you think was the first person to throw carrots into they're cake? I know I could use the internet to look these things up, but who's got the time? Besides, these thoughts always pop up at the most inconvenient moments like while I am skiing down a slope, at the gym, or mid-shower when I can't get to the internet. One thing that is almost always the case though, is that most inventions were the result of a necessity.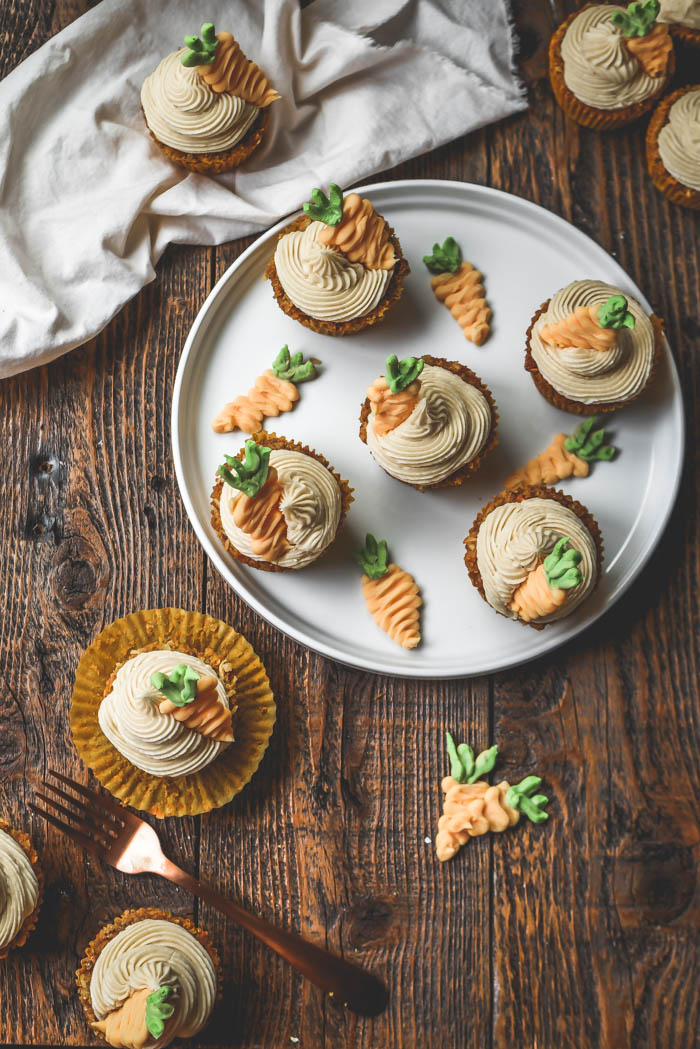 Haha, I had to look it up now to see if I was right and to prove I'm not as lazy as it sounds. As it turns out, I was right about both skiing and carrot cake. According to the web, the first recorded evidence of skiing was for utility purposes to travel in snow and only later became a recreational sport. Then carrot cake dates back to medieval times when sugar was expensive and carrots were cheap. Thanks Google!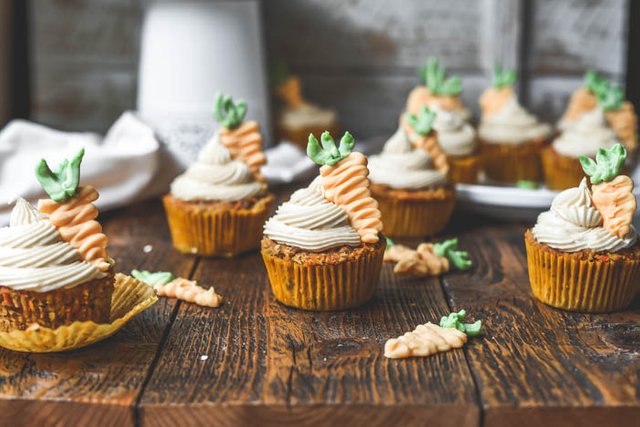 That concludes out history lesson for today, promise. Sorry you guys, I know you didn't sign up for that, you're just here for cake. So facts and questions aside, who loves carrot cake? I honestly didn't use to until I got older and realized it's divine. There's just something magical about combining all the spices, nuts, and textures and topping it all with some classic cream cheese frosting.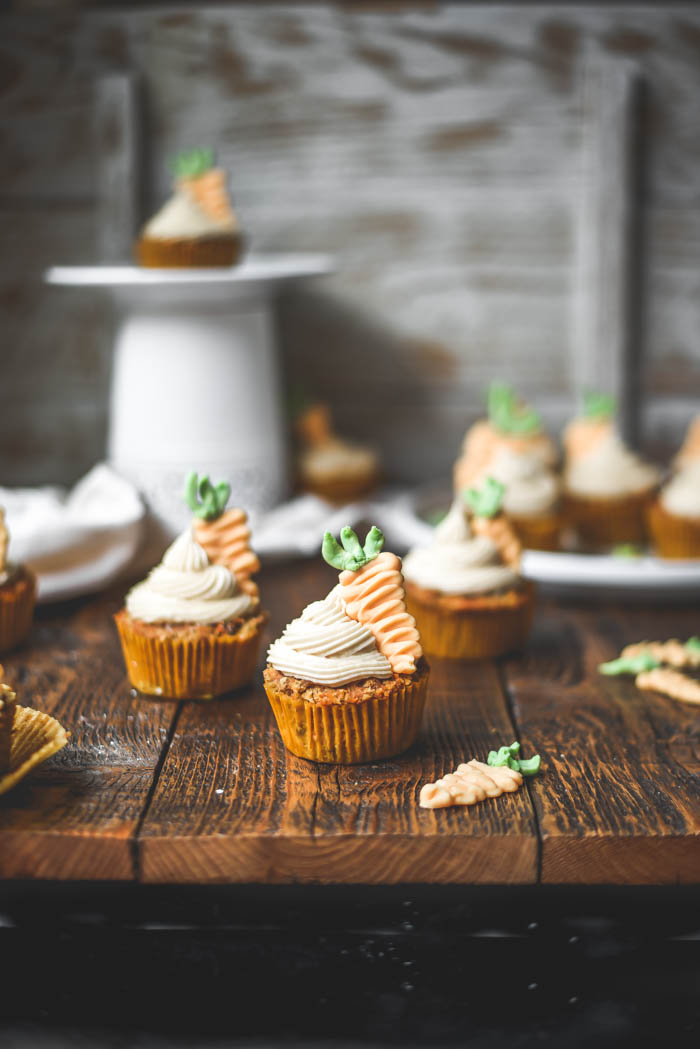 One great thing about carrot cake is that it's also pretty healthy. I know it's not winning any awards for healthiest food ever, I mean it's still cake, but comparatively to other cupcakes it's doing pretty good. This recipe is actually gluten free and I tried something new to cut down on some of the sugar in the frosting, I used coconut flour. I know it sounds a little odd but it seriously works amazing.
I guess you'll just have to try them and see for yourself though!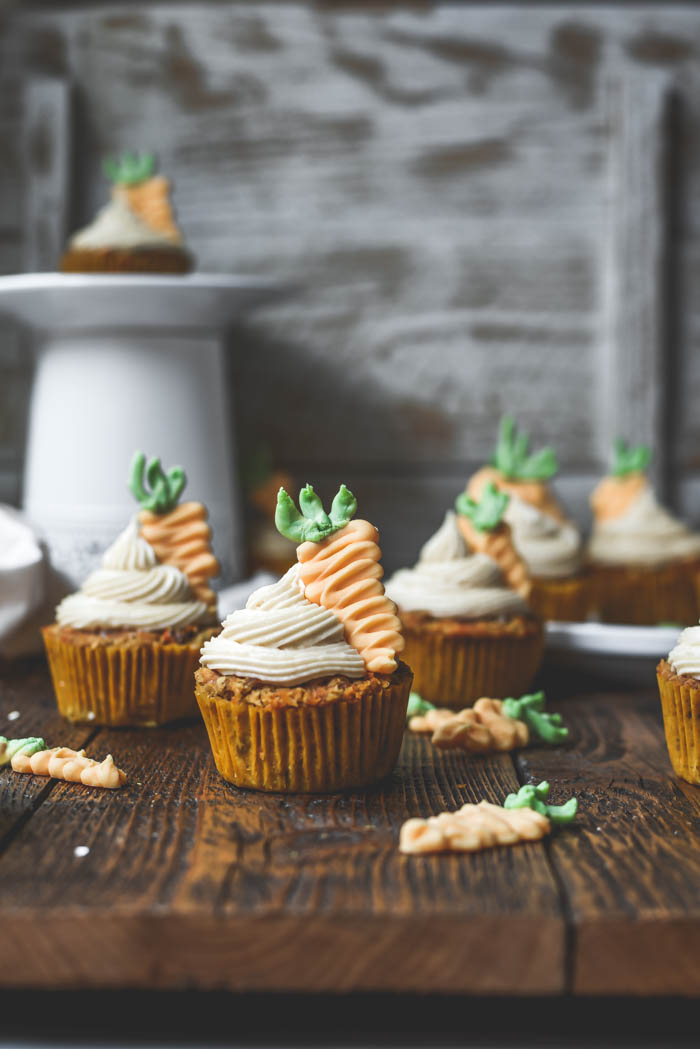 Perfect Carrot Cake Cupcakes + Coconut Cream Cheese Frosting
Ingredients
Cake:
1/2 cup oil (I use sunflower)
1/2 cup coconut milk (shake the can before opening)
2 eggs
1 cup raw (turbinado) sugar (or regular)
1 teaspoon salt
1 teaspoon vanilla extract
1 1/2 teaspoons baking powder
1 teaspoon cinnamon
1/4 teaspoon each of: cloves, allspice, ginger and nutmeg
1 cup oat flour
2 tablespoons coconut flour
1 1/4 cups grated carrots
3/4 cup chopped walnuts
1/2 cup crushed pineapple
1/2 cup unsweetened shredded coconut flakes
Coconut Frosting:
1 (4 oz) package cream cheese, softened
1/4 cup coconut oil, melted
2 tablespoons coconut flour
4 cups powdered sugar
2 teaspoons vanilla extract
1/4 teaspoon salt
Toppers:
2/3 cup white chocolate
1 teaspoon coconut oil
green and orange food coloring
Instructions
Preheat oven to 350 degrees F (180 C) and grease a 12-slot cupcake pan. Cream coconut oil, and raw sugar in a large mixing bowl until smooth. Mix in eggs and add salt, vanilla, baking powder, spices, and oat flour and coconut flour, then stir until combined. Add remaining ingredients and mix well.
Divide batter among the slots and place in oven to bake for 30 - 35 minutes or until toothpick inserted in center comes out clean.
Remove from oven and cool completely before frosting.

Frosting:
Beat cream cheese in mixer with whisk attachment until no lumps remain. Add coconut oil, and milk and beat in until smooth. Slowly add remaining ingredients and whip until light and fluffy.
Remove cupcakes from pan and fill a pastry bag fitted with a large star tip and pipe the frosting onto the cupcakes.
Toppers:
Melt the white chocolate and coconut oil in a double boiler until smooth. Add a few drops of orange food coloring and pour about half of the mixture into a plastic ziplock bag and pipe little carrot shapes onto a parchment lined pan. Add a few drops of green coloring to the remaining white chocolate and pour into a second bag. pipe the carrot leaves onto the carrots to make leaves and allow the chocolate to cool and dry. Once set, top each cupcake with a carrot and serve.

For more great food ideas, please do not forget to look at my other recent food posts
ALL CONTENT IS MINE AND ORIGINAL! All of these food photos were taken with my Nikon D750 and my favorite Lens, the Nikon AF-S FX NIKKOR 50mm f/1.8G. You can find out more in my INTRO POST.
And, by the way, to all the minnows out there, my intro post did a huge $0.21. The key to success on Steemit is to be consistent and persistent. Click on the link below for some great tutorials on how you can also succeed on the steem blockchain: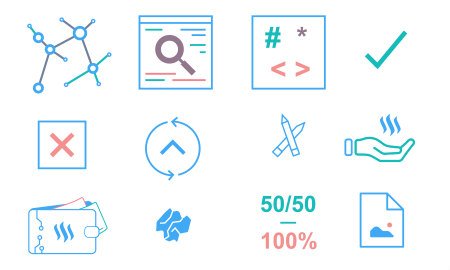 Also, a huge shoutout to @rigaronib for designing my logo!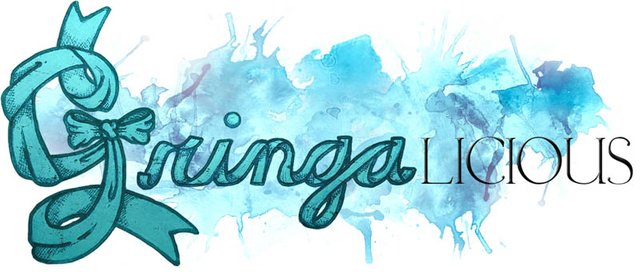 Do you want to learn more about me? Click here to see a recent @wadepaterson interview with me - 20 questions with @gringalicious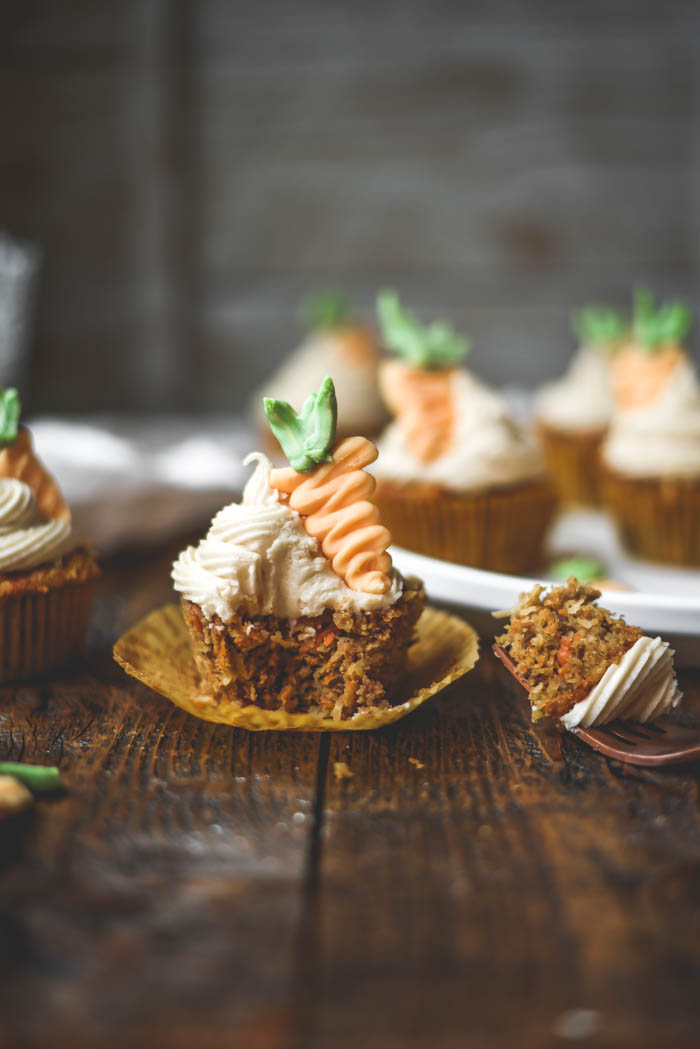 My Current Stats: 62,928 Steem Power | 12,534 Followers | 28,764 Posts | Reputation 74.684