How to give back to the dropahead Project in 15 seconds or less
UPDATED on Sep 12th, 2018.
English | Castellano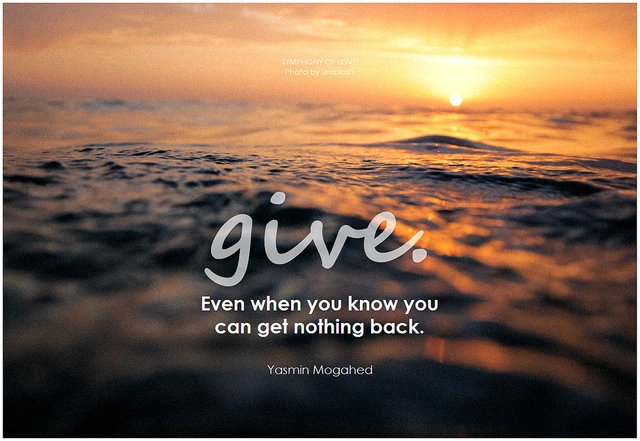 Photo: "Give. Even when you know you can get nothing back" by Yasmin Mogahed
Since July 2017 the mission of @dropahead Project is to support hardworking minnows in their early stages. The @dropahead Curation Team makes a daily selection of the best posts. Every selected post is pair reviewed and provided with an score so that the author can track progress; then, posts are promoted, upvoted and resteemed to maximize earnings and visibility of authors.
We are making a huge effort every day to support our community of fellow steemians!
In order to become part of the @dropahead Project, we require you to do the following:
Optional but very important:
Whether you did one, some or all of the things above... Much thanks! You are now making a change!
Keep steeming hard!
NOTICE: The @dropahead Project reserves the right to change above conditions at any time and without prior notice. If for any reason they are not convenient for you anymore, you are free to terminate your membership by leaving dropahead's Rewards Pool (dRP) here: https://steemconnect.com/revoke/@dropahead