Thanks to everyone who entered and supported Open Mic Week 67. Community support for Open Mic has been tremendous and is one of many projects bringing the music community together on Steemit. Merry Christmas everyone!
Open Mic Winners From Week 67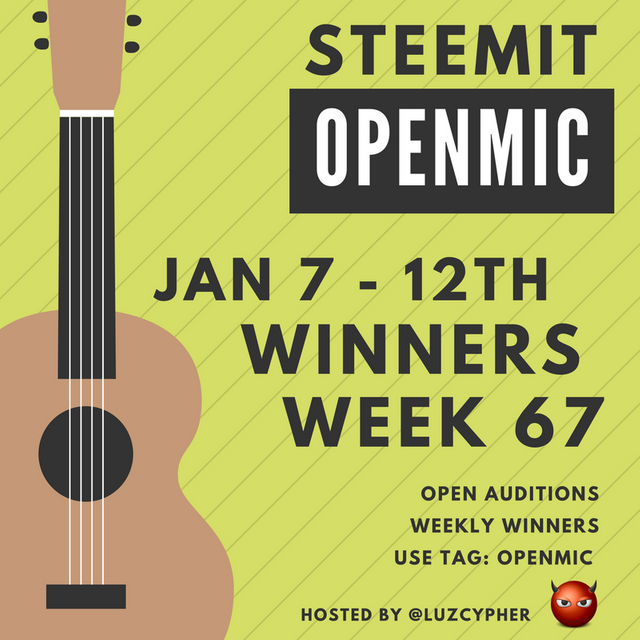 Steemit Open Mic Rules
The cutoff date for entries is Friday
Only 1 entry per person per week
"Steemit Open Mic Week 67" must the beginning of the post title.
"Steemit Open Mic Week 67" must be said at the beginning of your video
Live performances only specifically made for this contest
openmic must be the first tag
Add a link to your post in the comments of the contest post.
You must upvote this post.
If your song is an original song then add the word "Original" somewhere in your title
Entries must follow these rules to earn prizes.
Thank you SO much @ausbitbank for creating the @openmic account and helping to get it funded with 20,000 Steem Power in under 24-hours! Awesome accomplishment that really helps us reward people who enter Open Mic.
A great big thanks to @xeldal who delegated over 20,000 Steem Power to my account in support of Steemit Open Mic. Great news for people entering the contest because now an upvote rewards you more.
A big shout out to @pfunk for sponsoring Steemit Open Mic and getting the word out with his post titled, Hey Did You Know There's A Weekly Steem Open Mic Contest --- by @pfunk

Vote For Pfunk For Witness And Keep Steemit Open Mic Growing Strong We Need Your Help Now --- by @luzcypher

I just want to remind everyone that votes are only part of the selection process. Entertainment value and performance is factored in too.
To learn more about the rules to entering the contest please read What Are The Rules To Enter Steemit Open Mic And Why Do We Have Rules Anyways
The coolest thing about Open Mic is it brings the Steemit community together and that is the whole point of this project.
---
@jessamynorchard started a new Facebook page for Steemit Musicians you can read about here or go straight to the page here. A lot of players from Steemit Open Mic are there. Thanks @jessamynorchard!
You can also meet up with us on Discord at The Steemit Local Musicians Society
Steemit Open Mic Judges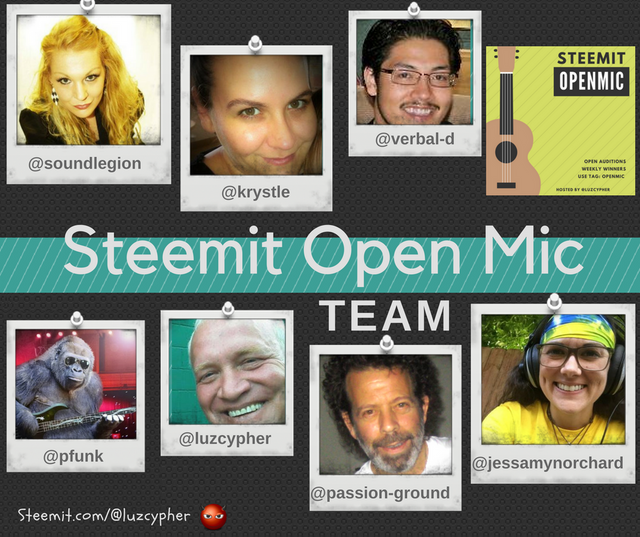 New Rule For Entering Steemit Open Mic And The Open Mic Songwriters Challenge --- by @luzcypher

Looking For Developers To Help Build A Dedicated Open Mic Website Built On The Steem Blockchain --- by @luzcypher

Official Open Mic Or Passion Ground S Top 5 Entries For Week 67 --- by @passion-ground

Open Mic Week 67 Sound Legion Judges Picks --- by @soundlegion

Open Mic Week 67 My Top 5 Judges Selection --- by @krystle

Steemit S Official Open Mic Judge Verbal D S Top 5 Entries For Week 67 Original Blog --- by @verbal-d

Special thanks to @soundlegion, @krystle, @verbal-d, and @passion-ground for help judging the contest this week. Great job guys.
Steemit Open Mic is not about winning or losing, it's about building a connection on Steemit through music. Watching the collaboration happen online between musicians who played and met on Steemit Open Mic is very rewarding and many of the people who play and post earn some nice rewards for playing a song.
For many, it's easier to get some Steem in your tip jar by playing for Steemit Open Mic than it is to play music on the street.

Steemit Open Mic Trending Posts
---
Winners from Steemit Open Mic Week 66
It was so hard picking winners every week even with 5 judges.
---
Here are the new reward changes.

and the winners are...
1st Place
---
Steemit Open Mic Week 67 Story Charlemange Take Me To Church Hozier Cover --- by @storycharlemagne

---
"I am so pleased to have got to listen to another entry with the incredible voice of @storycharlemagne. This guy is a real treat for the steemit openmic community, bringing us a awesome cover song. Take me to Church by Hozier is heavy tune and you gotta get that vocal just right to really make it come through and @charlemange knocks it out. Woo Just a sheer pleasure to hear such quality in playing and singing. Everything stands out." - @soundlegion
---
I just love the divine vocals you have weaved throughout this rendition, I don't normally go for slowed down versions but the additions and adaptations you have incorporated - highlighted the lyrics in a new way for me, it was similar to the original but it could stand alone independently.. - @krystle
---

2nd Place
---
Steemit Open Mic Week 67 Original Fireman By Me --- by @mrprecious

*This was just such a beautiful and unique sounding song, with absolutely outstanding vocals - you really blew me away and that was before, I heard the brilliant falsetto you had hidden until the end.

What an amazing song, it has a great energy and vibe and when coupled with that beautiful playing on the guitars - well it was absolutely sublime, to watch and hear.

Your composition was just perfection, I love the structure of the music the slower, staggered approach - then the beautiful full sound, when things pick up as you continue.

Those super sweet high notes, that then just get smashed by some serious power coming up after - it really was an absolute joy to hear this amazing song.

You guys have won me over, I think you have a new fan cause this was just awesome - thanks so much for such a brilliant song and entry.* - @krystle
---
*" The song is straight Fire Man!! First off I love the look and the outfit is kickin. You both play fantastic and the guitar work together build just beautifully. The lyrics were awesome in this song and you got a damn good voice coming through, wow! We are getting some pipes on openmic! Hello @mrprecious top quality live performance and original piece" * - @soundlegion
---
---

3rd Place
Steemit Open Mic Week 67 Say You Won T Let Go Cover By Me Etemi --- by @etemi

---
*Yet another amazing entry with simply outstanding vocals, the whole performance was just everything I want in a song.

The guitars are beautiful and fill the sound out perfectly, but it's the vocals I just can't get enough of - you have managed to take a rather complex song and take it up another notch, making it insanely brilliant.

Then adding the harmonies at the end was absolutely wonderful, I just loved the energy you had throughout and the clear connection to the lyrics and emotion of the song - it felt like you felt every word as you sung.

This is not an easy song, but you made it sound like it was little to no effort - I just love your sheer pure talent, you have an amazing gift and you share it with such a passion it's just wonderful to see and hear.

You not only have insane vocal range and absolutely amazing vocal control, even better still you have some serious power behind it all - when you get going and you feel it, it's simply divine to hear.

Thank you so much for joining us, I am absolutely loving what your bringing so far - can't wait to hear more from you all soon.* - @krystle
---

4th Place
Steemit Open Mic Week 66 Secret Place Original Song By Eden Michelle --- by @edenmichelle

She states within her official entry and post - that this performance of hers is far from perfect, however, I respectfully beg to differ! I think that @edenmichelle's performance here is just about as perfect as one could possibly hope for! I truly love her simple and organic engagement with "us," - the listening public. It's just her, - there alone, - all by herself – laying it all on the line – and if I say so myself, she does quite an incredible job of getting her underlying points across - along with of course, the sheer beauty, seductive simplicity, and pure unadulterated enjoyment of a damned good song by any other measure - that she has so gracefully bestowed upon us this week! This, among numerous other reasons, is why I've given @edenmichelle my number three spot this week. You go, girl! I'm lovin' this every which way from Sunday! - @passion-ground
---

5th Place
Steemit Open Mic Semana 67 Limbo Olvidar Original Patrocinado Por Pfunk Y Luzcypher --- by @juliolunar

---
Here, our esteemed "Julio" shares with us one of his very first original compositions as a solo artist. I must say that his performance here really stood out, and took me by surprise quite honestly! Straight-away, from the moment one hit's "play," Julio takes firm control of the feelings that he wishes to convey amid this awesome composition he's titled, "Olvidar!" I so appreciate as I'm sure you do as well, all of the back-tracking and instrumentation that he's provided us here in order to make his musical masterpiece truly come alive for all of us. Because he has accomplished this, and so much more, that's why I've given my first spot among this week's entrants to none other than our brother, Julio – he's clearly earned it, and it shows!. - @passion-ground
---
Here's a screenshot of the prizes transferred to the winners this week.

Here are the performers this week
This week there was a record-breaking 201 entries to Steemit Open Mic! So many we had to make 2 posts to see them all. We reached the size limit of a Steemit post!
So here is the players for week 66 broken into 3 parts which we had to do this week because there were so many entries.
---
Congratulations guys! Thanks again to everyone that entered. Thank you @pfunk for sponsoring Open Mic with 320 Steem donation for each week! Very generous of you.
Vote And Enter Open Mic Week 68 by Following This Link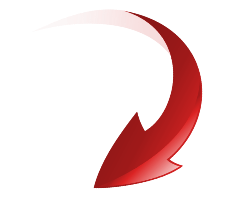 Related Posts
New Rule For Entering Steemit Open Mic And The Open Mic Songwriters Challenge --- by @luzcypher

Steemit Musicians The New Msp Waves Radio Show Featuring Open Mic Entries And A 20 Sbd Prize --- by @krystle

What Are The Rules To Enter Steemit Open Mic And Why Do We Have Rules Anyways --- by @luzcypher
Behind The Scenes Look At The Steemit Open Mic Selection Process How We Pick The Top 3 Entries --- by @luzcypher

---
Support Steemit Open Mic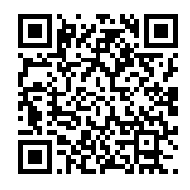 All bitcoin sent to this address will go towards rewarding musicians winning the Steemit Open Mic contest. Musicians need to eat too. You can help by sending BITCOIN ONLY to this address:
38NutykfuLJZdbv1kYrU9cRWomCDtTnsKa