THE UNMASKING, Part 5: The Sexual Assaults - The Series That Got Me Banned From YouTube
Here's the fifth and last part of THE UNMASKING, the series that got me banned from YouTube. Originally uploaded to YouTube on Narcissistic Abuse Awareness Day, June 1st, 2018.
As you know from my previous post All Bark, No Bite, my channel was suspended after Harley Johnstone attacked my channel with spam bots, so this was uploaded to my girlfriend's channel that I re-branded to look like my suspended channel, NorVegan.
As usual, Harley tried to take down the video by filing a false copyright claim: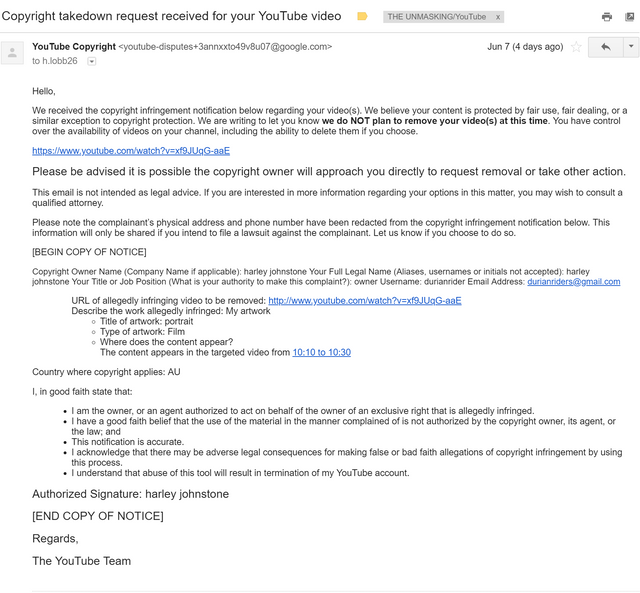 Surprisingly, this time YouTube let the video stay up!
Oh well, it's too late for that now. I don't want anything to do with YouTube anymore. They're allowing a known scammer, fraud and rapist to severely violate their Terms of Service and Community Guidelines, and they're allowing him to continue to use their platform for criminal activity. That's a platform I simply can't support.
---
Previous episodes:
---
Having trouble with playback on DTube?
As DTube is still in beta and is not always working perfectly, I'm also uploading my videos to LBRY. LBRY is also in beta, but in my experience it's more stable.
To watch on LBRY:
Download and install their app: https://lbry.io/
Open the LBRY app and put this in the address bar: lbry://theunmasking-part5-thesexualassaults
Press play.
It's also possible to watch the video through spee.ch:
https://spee.ch/theunmasking-part5-thesexualassaults
Both LBRY and Spee.ch have a download button. Feel free to re-upload on YouTube at the risk of getting yourself banned from the platform!