All Bark, No Bite - The Series That Got Me Banned From YouTube
As I showed in my previous post the narcissist, Harley Johnstone, filed a false copyright claim on my video, Harley Johnstone + Victoria Barry = Frauds, which resulted in my video being taken down and a strike put on my YouTube channel.
The thing is, the video was only showing how Harley and his girlfriend stole the intellectual property of others, and sold it as their own for a profit. Obviously he can't claim the copyright of other people's work that he has stolen!
He also tried to push this lie about how he was trying to sue me, and that I was hiding my address so his lawyer couldn't send the paperwork. Well, you can't submit a counter notification on a copyright claim without giving the claimant an address, so I called him out on that as well:
Now, filing a counter notification on a copyright claim actually starts a legal process where the claimant will have to provide proof of a court action taking place, or the video will be reinstated. As I mentioned above, obviously Harley would never go to court for material he has stolen. So what did he do instead?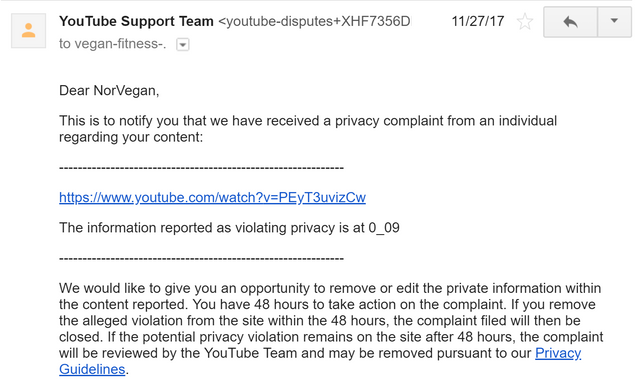 The same thing he did to my other videos, he filed a privacy complaint. As you can see in the video above I pointed out the hypocrisy of him filing a copyright claim on content that he has stolen, and in the claim his email address was shown. As I've already established in the Fighting Fire with Fire video @ 12:35, there's nothing private about his email address.
He obviously just wanted the video down as he didn't like to be called out on his BS.
Anyway, I simply used YouTube's blur tool to hide his email address, so the video wouldn't be taken down.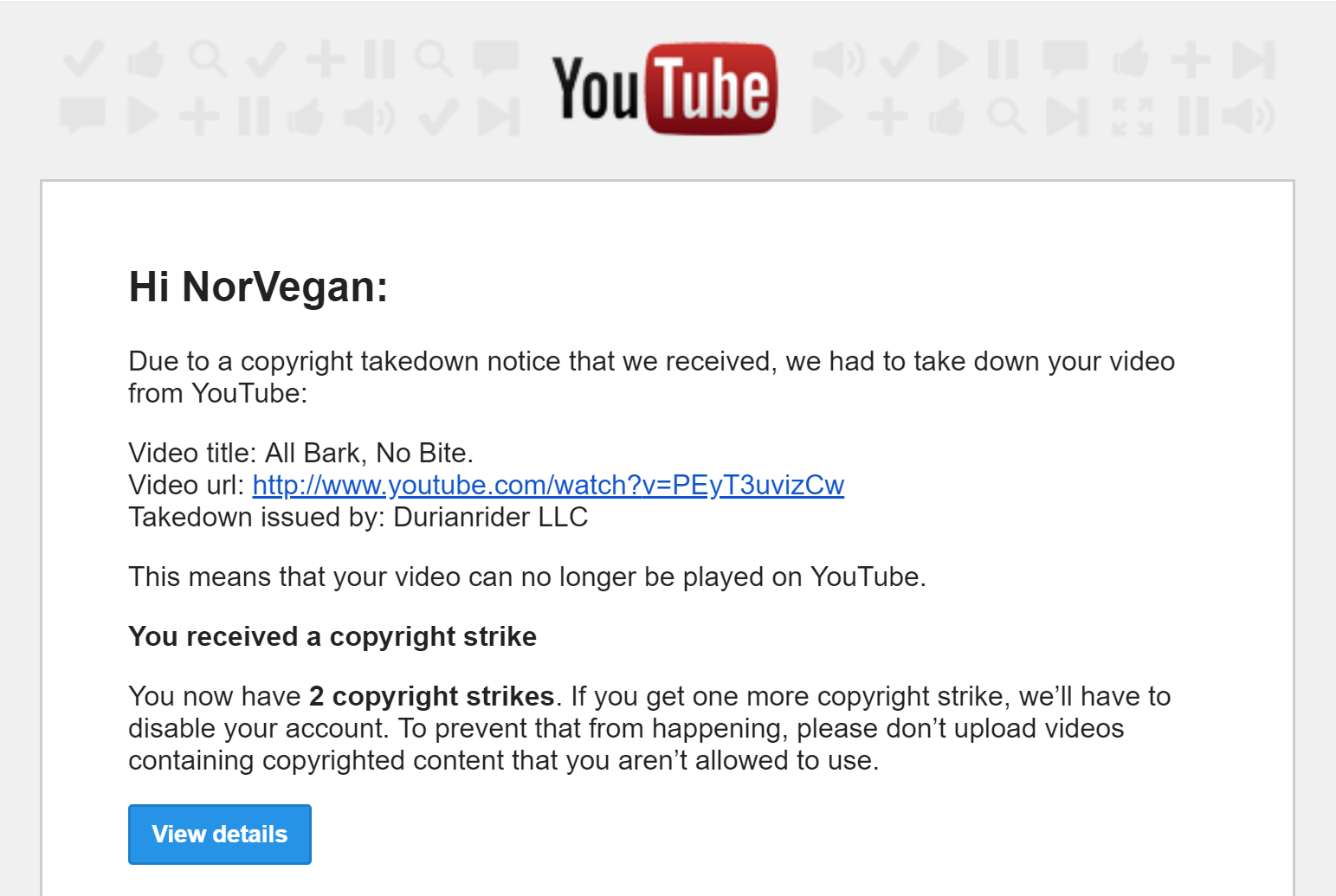 What he then did was to file a false copyright claim on the video instead. The same thing he did with Harley Johnstone + Victoria Barry = Frauds. Even though there's no content from Harley in the video, YouTube still took it down and put a second strike on my channel.
Obviously I submitted another counter notification.
As I mentioned above and as I also showed in the video, the claimant has 10 days to provide proof of a court action or the video will be reinstated.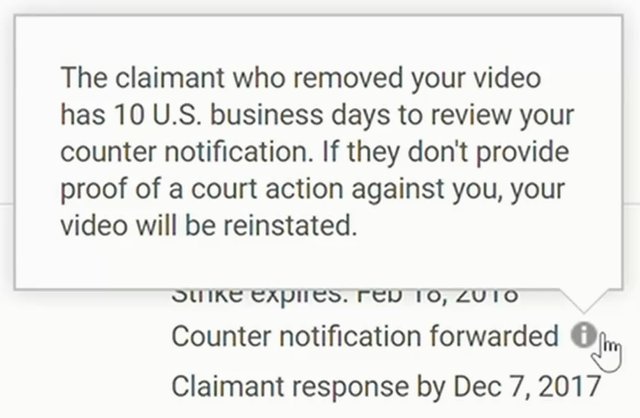 Well, 10 days passed from the first counter notification I submitted and nothing happened. I know that Harley is not going to take me to court for content that is not his, so why wasn't my video going back up?
I had two strikes on my channel and I knew Harley was doing everything he could to get my channel down, so I obviously wanted YouTube to process the counter notifications so the strikes could be removed from my channel.
Then I received this email from YouTube: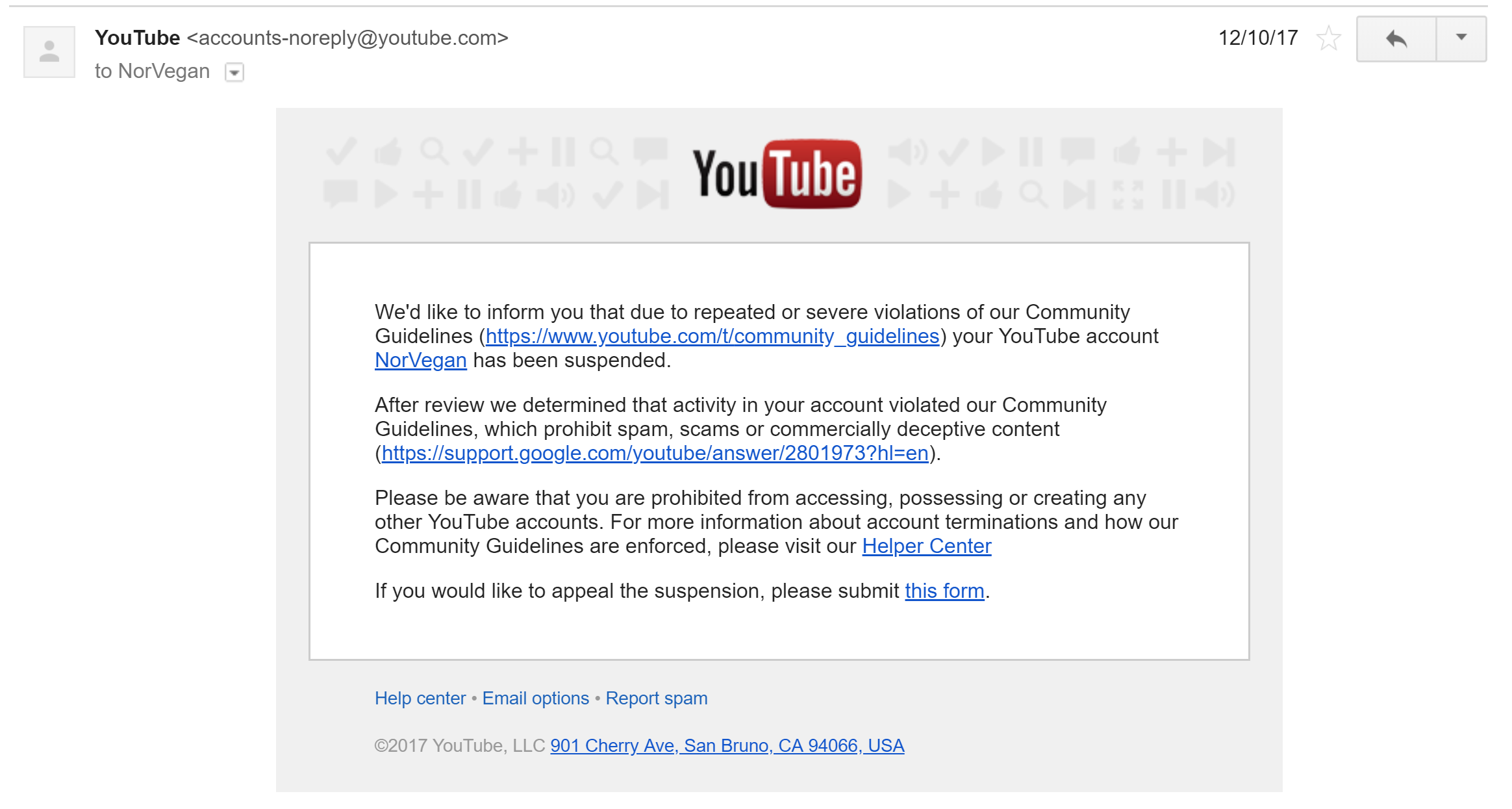 Okay? So I contacted YouTube support and asked what was going on. After multiple messages they would not give me any specifics other than that I had violated their community guidelines.

I could only assume that Harley had continued to file false copyright complaints on my other videos, so I appealed on that assumption. Well, that couldn't be it because the conclusion they came to was this:
"We have decided to keep your account suspended based on our Community Guidelines and Terms of Service."
That made absolutely no sense, so I tried to get some more information without much luck.
Then I received this email: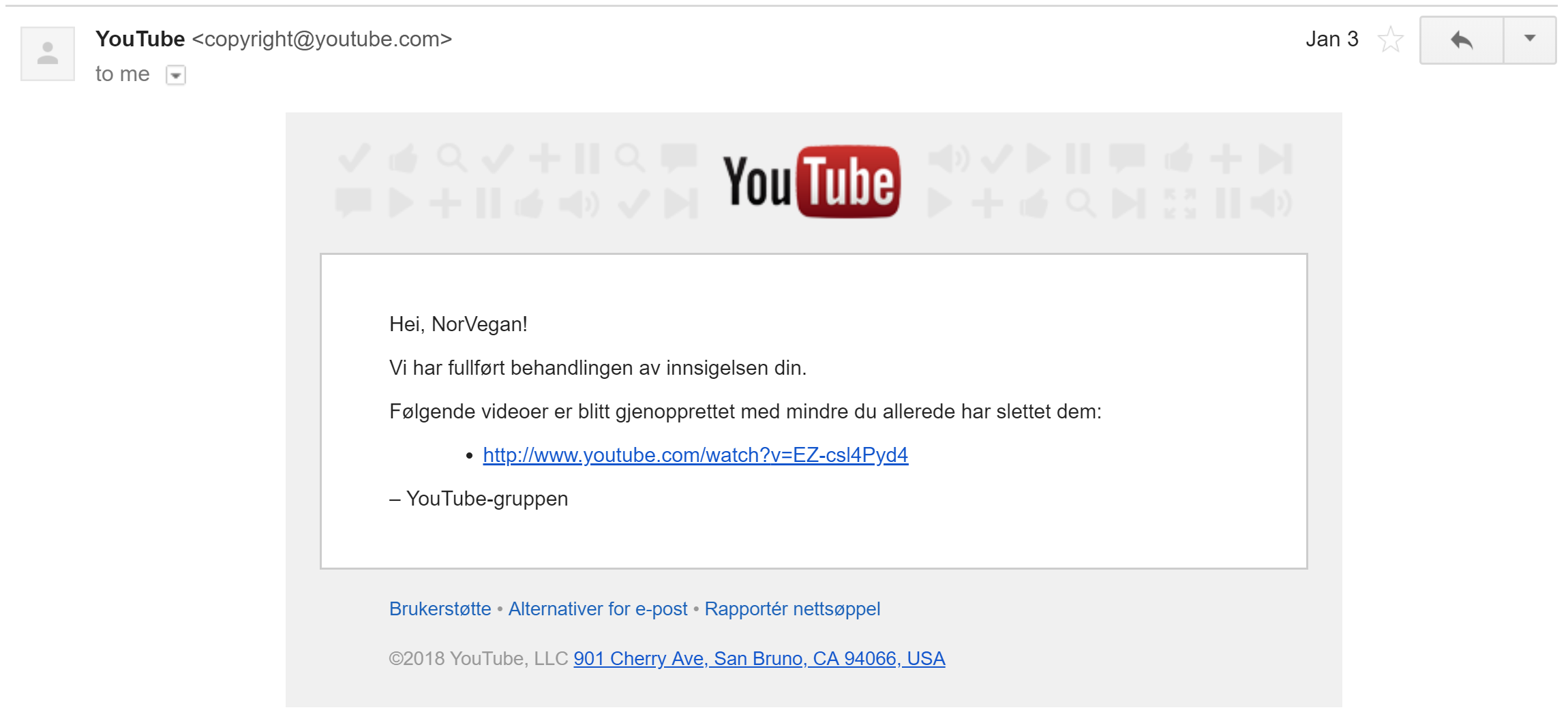 It's in Norwegian, so allow me to translate:
---
Hello NorVegan!
We have completed processing your counter notification.
The following videos have been restored unless you have already deleted them:
-The YouTube Group
---
I told you Harley wouldn't take me to court for content he has stolen, didn't I? I didn't call the video 'All Bark, No Bite' for no reason 😉
So they reinstated one of the videos that was the basis of suspending my channel... or so I thought.
Let me explain.
Naturally I contacted YouTube support yet again, and told them how I now have proof that my channel was suspended on false grounds. They reinstated my video after finalizing the review of my counter notification. That means the strikes on my channel were invalid, right?!
Well, not so fast, because then I got this reply: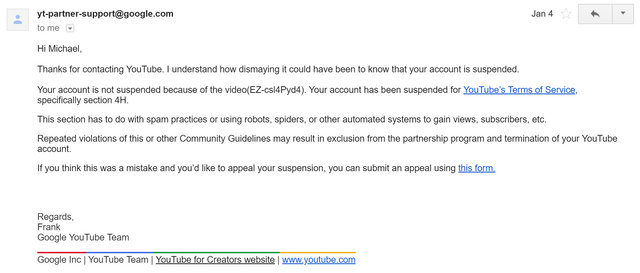 Thanks Frank! I'd asked YouTube support about five times for specifics on why my channel was suspended only to get no specifics in return.
Now it made sense that my appeal had been rejected, I had based the appeal on copyright violations, or more accurately false claims of copyright violations, but my channel had been suspended for "spam practices".
What's so ridiculous about this is that I had already notified YouTube about Harley spamming my channel with dislike bots and they did nothing, then they suspend my channel for "spam practices". It should be pretty obvious that I'm not spamming my own videos with dislike bots!
Anyway, now that I knew why my channel had been suspended I could make a proper appeal and told Frank that I would do so.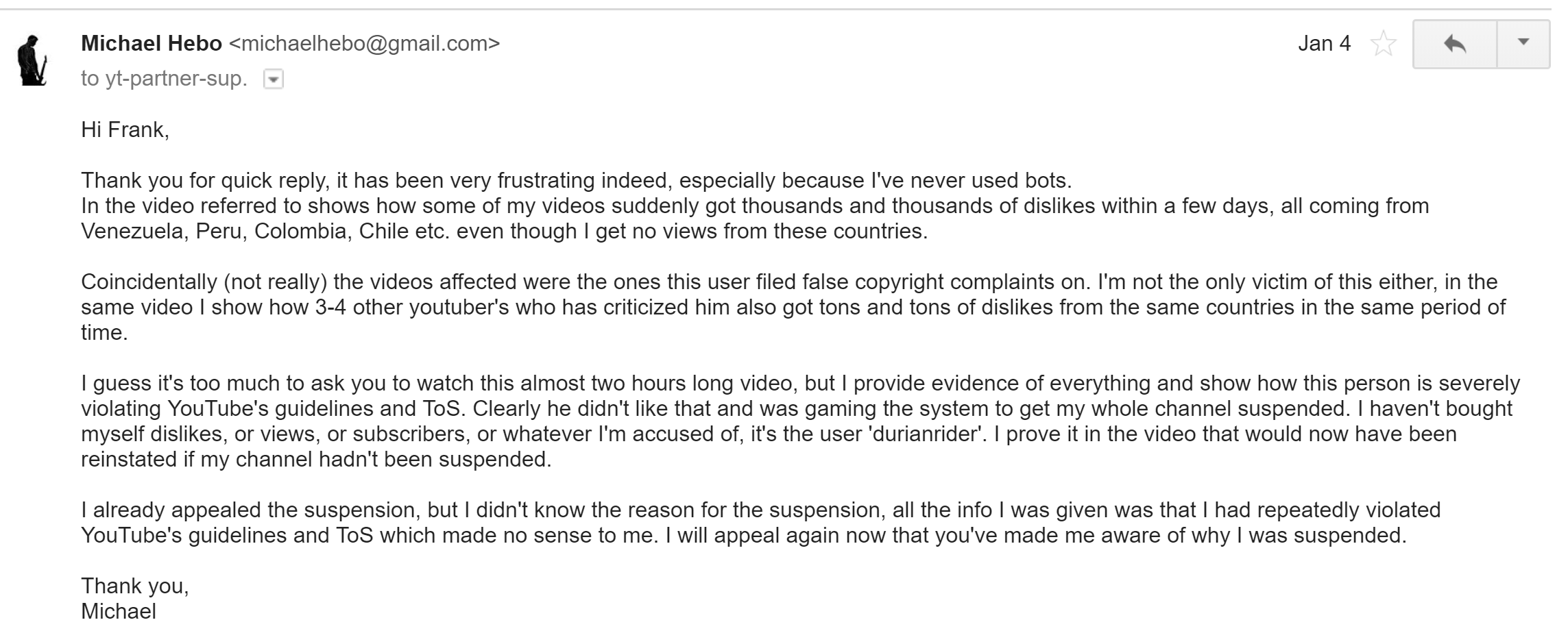 Frank replied and told me that it's not possible to appeal twice: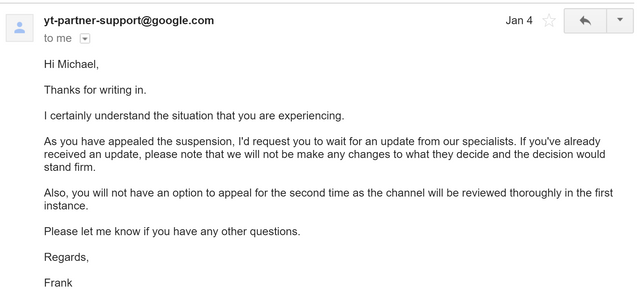 "Also, you will not have an option to appeal for the second time as the channel will be reviewed thoroughly in the first instance."
Reviewed thoroughly? What a joke.
First they refused to give me any specifics on why I got suspended, so I had to make the appeal based on my best guess. Then when they finally let me know the specifics so I could make a proper appeal, they wouldn't let me. Great.
Of course I have no specifics on what kind of spam practices I'm supposedly guilty of, so I can only assume it's the paid dislikes Harley attacked my channel with, as shown in the video Harley Johnstone + Victoria Barry = Frauds. Needless to say, I haven't used any bots or spam practices what so ever.
So I sent Mr. Frank another longer email explaining the situation. Not that I haven't tried to tell YouTube a bunch of times before, but maybe, just maybe they would listen this time... It didn't really matter at that point though, as I told my patreons at the time:
"I've come up with a new plan and I'll follow through with this plan whether my channel goes back up or not."
The plan was to move over to the decentralized and censorship resistant platforms Steemit, DTube and LBRY 😎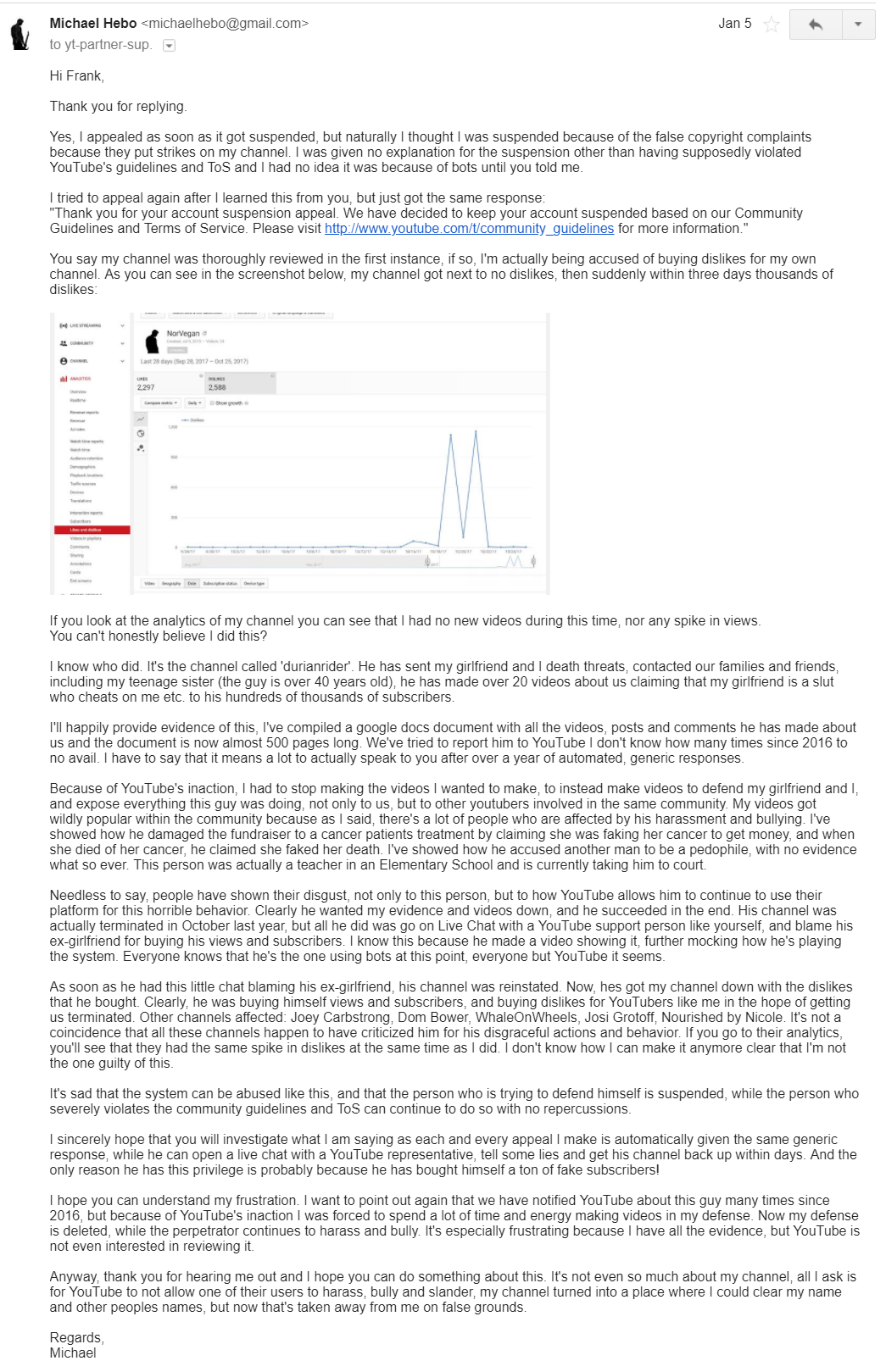 You know what Frank did? Just closed the ticket, haha. Can't do much other than laugh about the level of incompetence, especially when the automated email you get when a ticket is closed is this: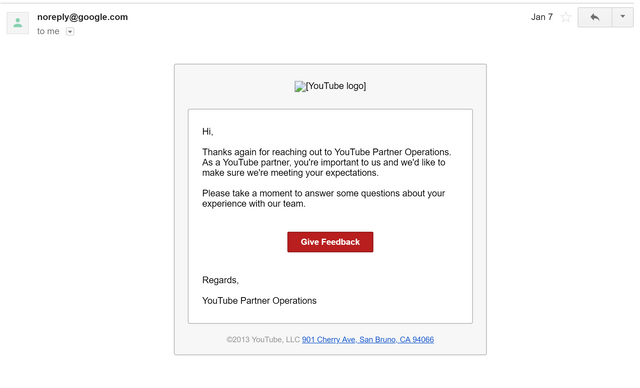 "As a YouTube partner, you're important to us and we'd like to make sure we're meeting your expectations."
Right.
So that's how I got banned from YouTube. The person who was exposed for severely violating the community guidelines, violated them even more to get the evidence of it removed.

Oh well, DTube and LBRY came just in time. Now that all the videos are back online again, I can focus on putting together the final episode in the series!
---
Previous episodes:
---
Having trouble with playback on DTube?
As DTube is still in beta and is not always working perfectly, I'm also uploading my videos to LBRY. LBRY is also in beta, but in my experience it's more stable.
To watch on LBRY:
Download and install their app: https://lbry.io/
Open the LBRY app and put this in the address bar: lbry://allbarknobite
Press play.
It's also possible to watch the video through spee.ch:
https://spee.ch/allbarknobite
Both LBRY and Spee.ch have a download button. Feel free to re-upload on YouTube at the risk of getting yourself banned from the platform!