Fitness Challenge - September Report (Never too late!)
Would you like to read my September fitness challenge report, which is my eleventh monthly report, because even if October is nearly done, it's never too late to look back at our fitness achievements?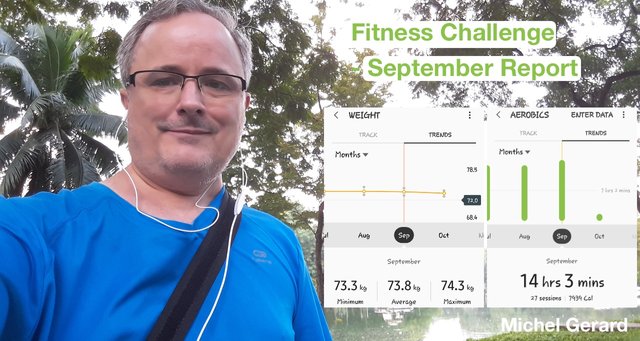 I haven't written any blog post in October due to my trip in Europe and I realized that it was important to write this September fitness report to keep track of my progress.
So here we are.
I started this personal fitness challenge on the first of November last year, and I have continued each and every month thereafter, and it's going to be a year. I do the best I can to lose weight and I feel much better in my body now than when I started, without too much effort and food restriction.
I use my Samsung smart phone and the Samsung Health app to track and record my fitness progress daily.
I started to write these fitness challenge reports on Steemit in November 2017 and I have published one each month. I document my progress, see at the end of the month my results, so I can be motivated to continue, and be accountable to you and myself.
This challenge consists in doing a 2-kilometer walk and exercising 30 minutes daily (I started with 40 minutes the first six months), I eat healthier and more balanced meals now with less meat, and drink veggie-fruit juices daily.
You may be interested to read my ten previous fitness reports:
That's the first time in my life, at 53 years old, that I exercise so consistently, and I can say that I feel great. I am looking forward to exercising every day.
If you do what I do, I believe that you will see good results for you too.
Let's see my results for this tenth month.
Fitness Challenge - September Report
I am glad to report that I have walked my daily 2 kilometers this September almost every day. In fact, I didn't walk on the first and the fourteenth of September, which is only two days missed. I don't remember now why I didn't, maybe bad weather.
I exercised every day, except for three days, the first, the fourteenth and the twenty-second of September.
Let's see what the app is saying for "Walking."
This is when I started in November 2017 and up to July 2018.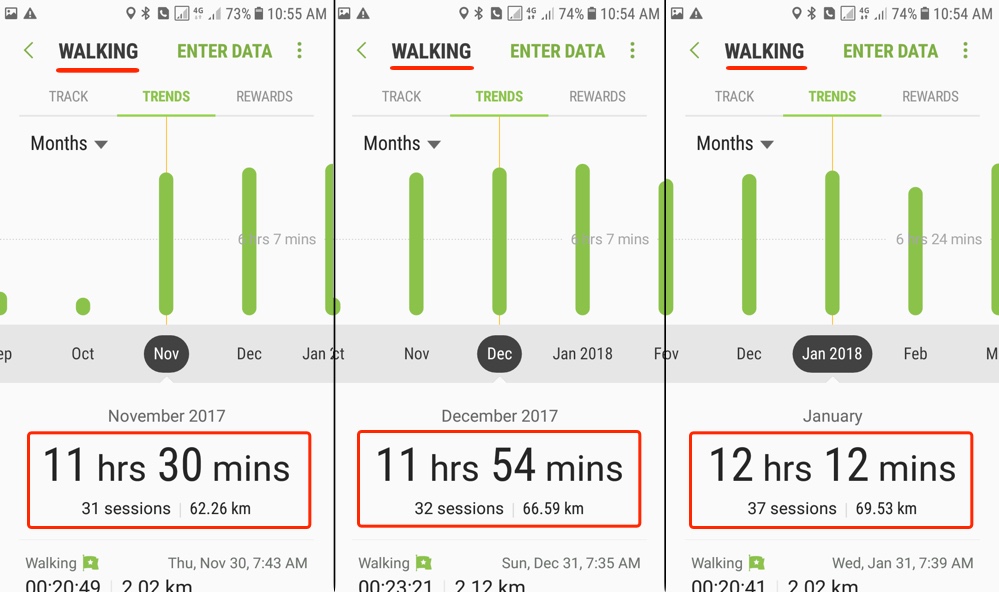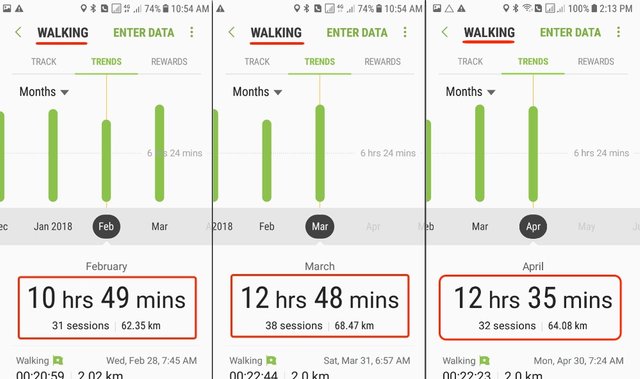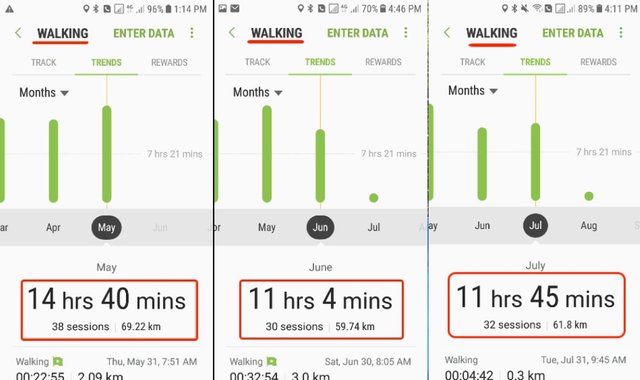 This is for August and September 2018.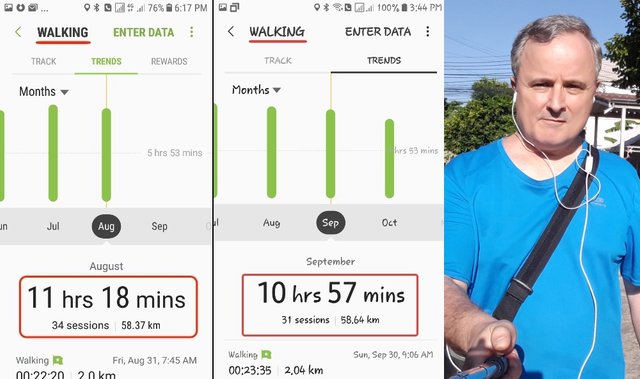 I walked 28 days in September in 31 sessions, for a total of 58.64 kilometers in 10 hours and 57 minutes.
In August I walked 58.37 kilometers, in July I walked 61.8 kilometers, in June I walked 59.74 kilometers, in May I walked 69.22 kilometers, in April I walked 64.08 kilometers, in March I walked 68.47 kilometers, in February I walked 62.35 kilometers, in January 69.53 kilometers, in December, 66.59 kilometers and in November 62.26 kilometers.
I walked the same as in August.
In 11 months I have walked 701.05 kilometers in total and I am amazed!
Let's have a look at my exercise this September.
These are for the 9 months since November 2017.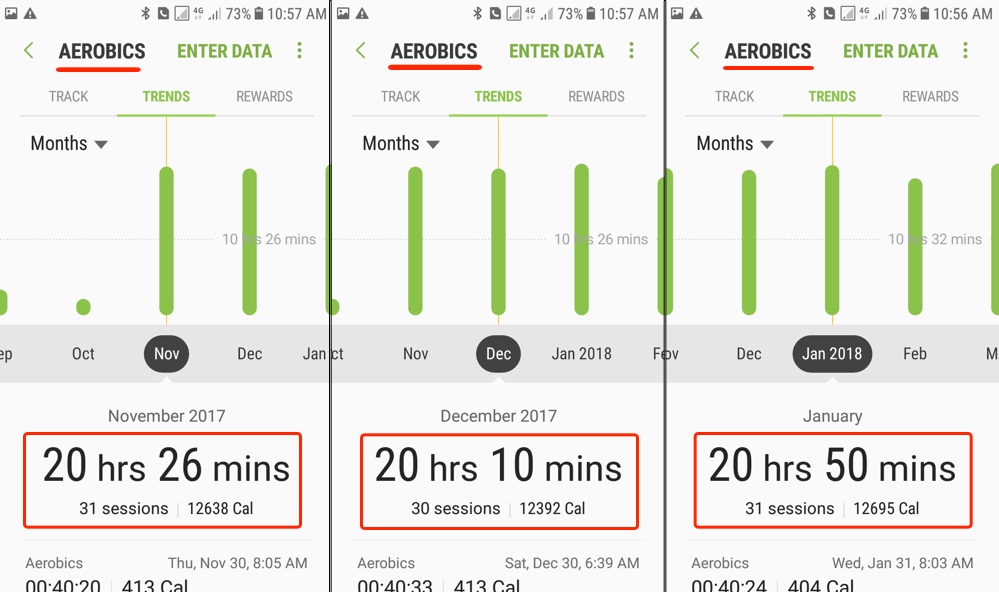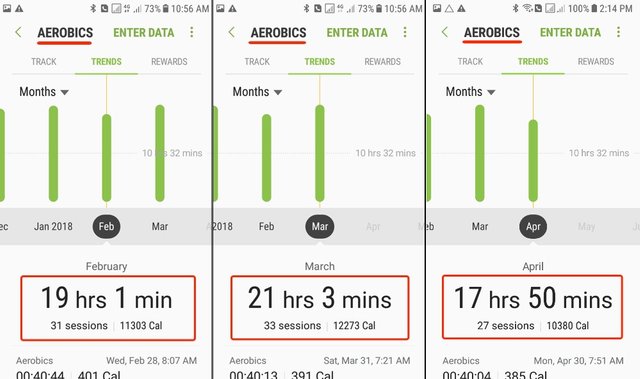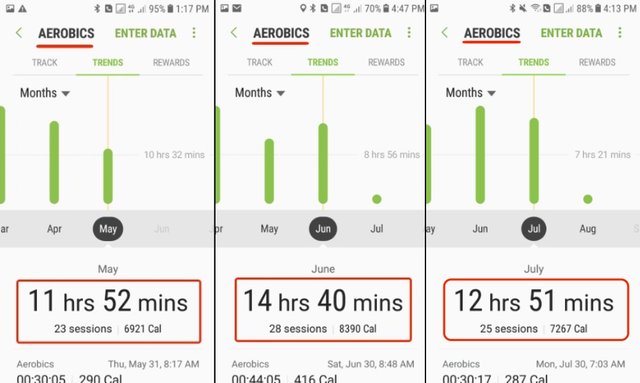 This is for August and September 2018.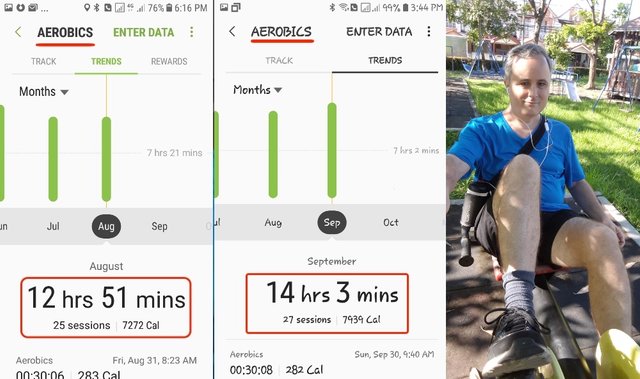 I missed 3 days of exercising this month, but I exercised longer than the previous month, when I had many more miss days.
I have exercised for 14 hours and 3 minutes in September, which is an hour more than for August.
I burned 7,939 calories according to the app.
My weight loss results.
Let's see if I successfully lost weight in September.
These are for nine months from November 2017.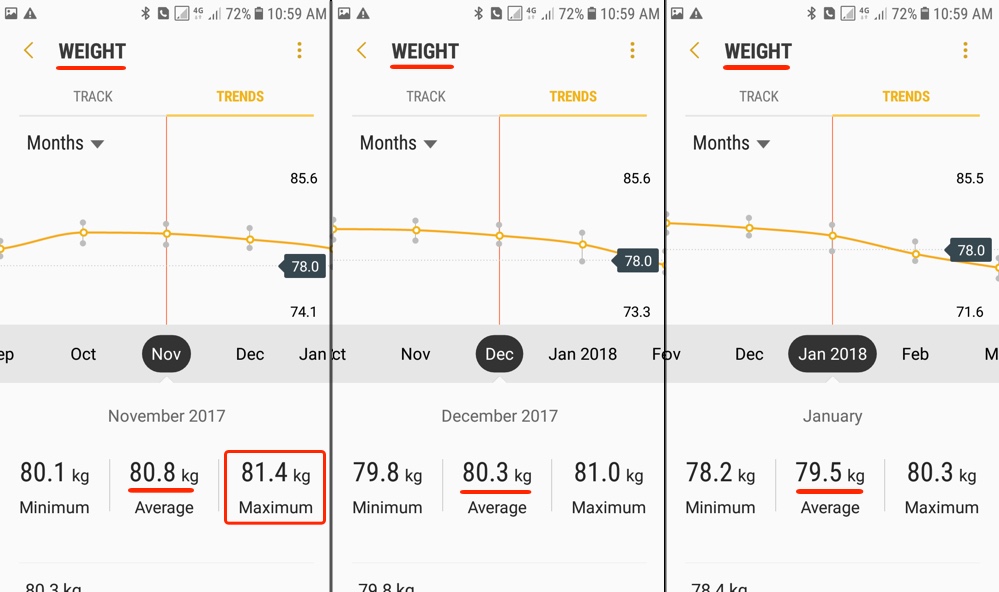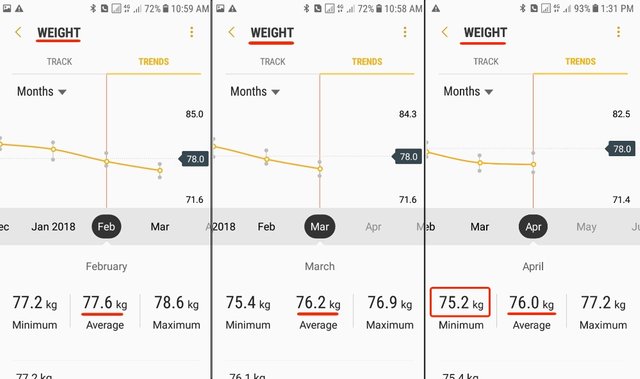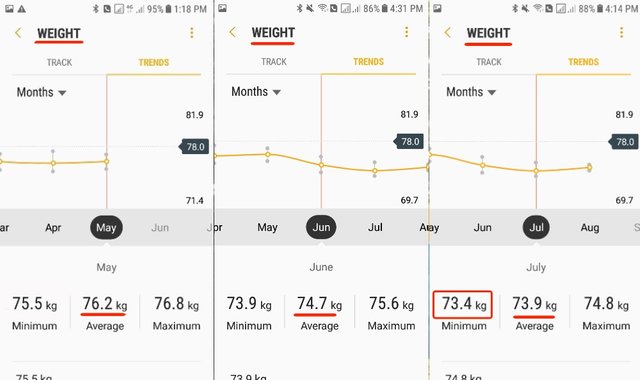 This is for August and September 2018.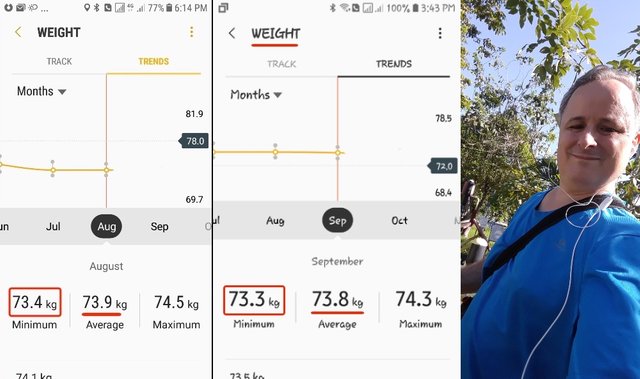 My minimum weight is nearly the same as last month, 73.3 kilograms. My average weight is also nearly the same as last month, 73.8 kilograms. In fact I successfully lost 100 grams in September, which is still better than gaining a kilogram.
At least I have successfully maintained my weight.
Now, if I look back from where I started in November.
Average weight loss: 80.8 - 73.8 = 7 kilograms
Weight loss: 81.4 (max) - 73.3 (min) = 8.10 kilograms
I am still very pleased with my results for September because I know it's difficult for most people to maintain weight after losing it.
October is over in a few days and I can't wait to see what my numbers are, with a month spent traveling in Europe, mainly walking and not exercising, except for the last week.
I hope that this September fitness report is useful for you and I welcome your feedback in the comment section below.
Would you upvote this post and follow me for more because this will encourage me to continue this challenge and the reports that go with it?
I have categorized my posts on Steemit for easy access:
Steemit tools | Steemit strategies | Steem economics | Steem on WordPress | Blogging on Steemit | Steemit posts I curated | Cryptocurrency | Cryptocurrency trading | Mac computer tutorials | WordPress & online marketing | Self-development & motivation | Travel in Thailand | Travel in Japan | Travel in Europe | Life in Thailand | Fitness challenge | Fruit-veggie juices & smoothies | Education | My answers on Quora | Fundition tutorials & projects | Miscellaneous writing
You may prefer to go to my Steemit Posts Directory.
Want to learn a new skill? Visit MG Course Discounts where I have lots of online courses you can take for only $9. Sign-up for the newsletter to get one free course and coupon codes.
The most important votes you can make on Steem are for Witnesses. The top 20 witnesses can influence the addition or removal of features in future Steem hard forks. Read my post: What is a Steem Witness, How to Vote and Why?
Michel Gerard