Fitness Challenge - June Report
Would you like to read my June fitness challenge report, which is my eighth monthly report, because seeing my results will motivate you to do the same?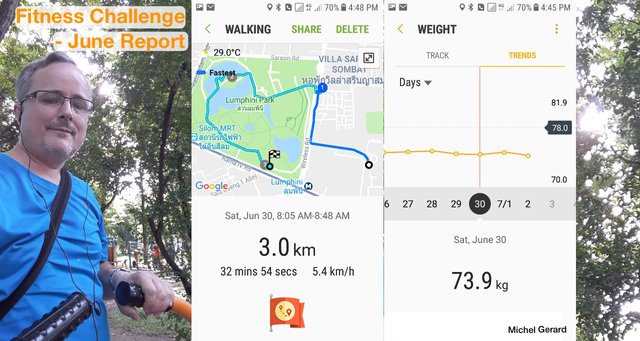 I started this personal fitness challenge on the first of November last year, and I intend each month to do my best to lose weight and feel better in my body without too much effort and food restriction.
I have been using my smart phone and the Samsung Health application to record and track my progress since day one.
I started to write these fitness challenge reports on Steemit in November and published one each month. I document my results, see that what I do works, and I am accountable to you and myself.
This challenge consists in doing a 2-kilometer walk and exercising 30 minutes daily (I started with 40 minutes for six months), I eat healthier and more balanced meals, and drink veggie-fruit juices daily.
You may be interested to read my seven previous fitness reports:
That's the first time in my life that I exercise daily for such a long period of time and after eight months, I am looking forward to it every day.
I now eat very little meat, more vegetables, and consume more veggie-fruit juices, which help a lot in getting results.
If you follow my lead, I believe that you will see good results for you too.
Let's see my results for this eighth month.
Fitness Challenge - June Report
I am glad to report that I have walked my daily 2 kilometers this month every day and also exercised every day, except for a couple of days when I had some pain in one foot, and without knowing if it was a gout flare, I preferred to rest and not make it worse.
Let's see what the app is saying for "Walking."
This is when I started in November 2017 and up to April 2018.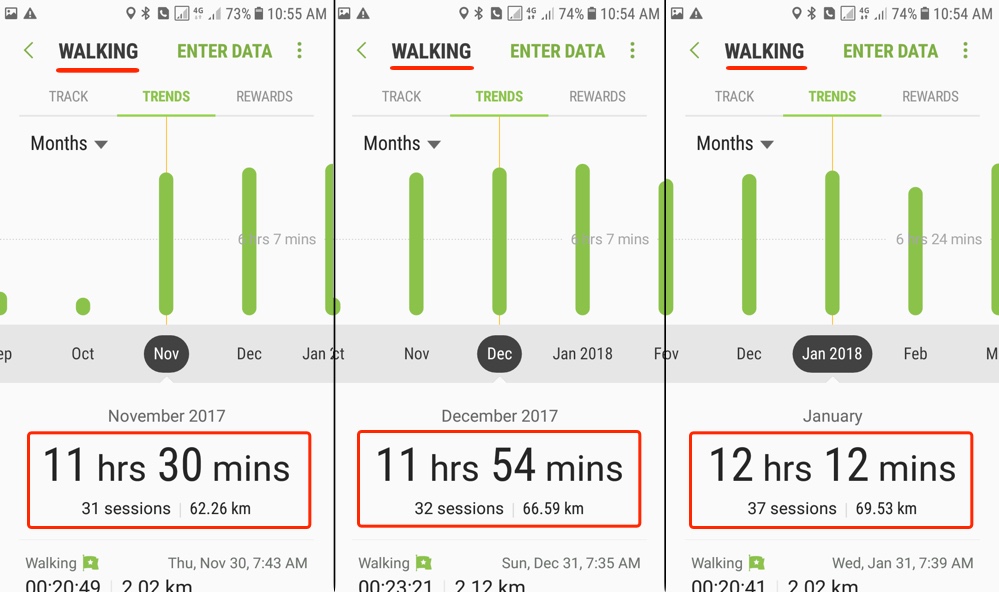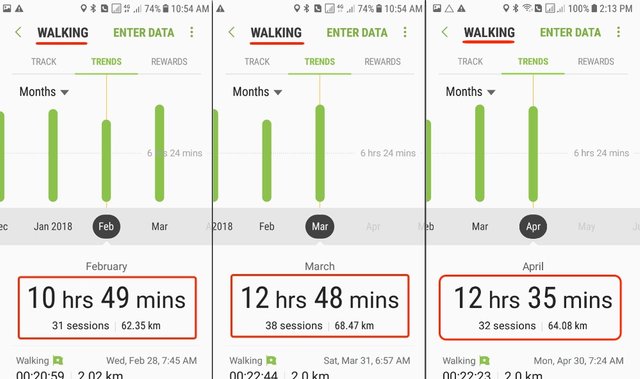 This is for May and June 2018.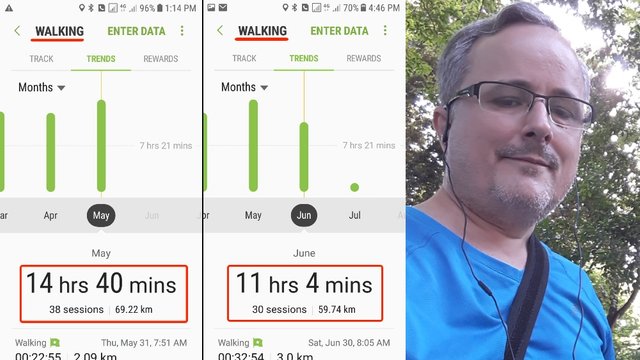 I walked 28 days in June in 30 sessions, for a total of 59.74 kilometers in 11 hours and 4 minutes.
In May I walked 69.22 kilometers, in April I walked 64.08 kilometers, in March I walked 68.47 kilometers, in February I walked 62.35 kilometers, in January 69.53 kilometers, in December, 66.59 kilometers and in November 62.26 kilometers.
I missed two days at the beginning of the month and my favorite walk when in Bangkok is at the Lumpini Park.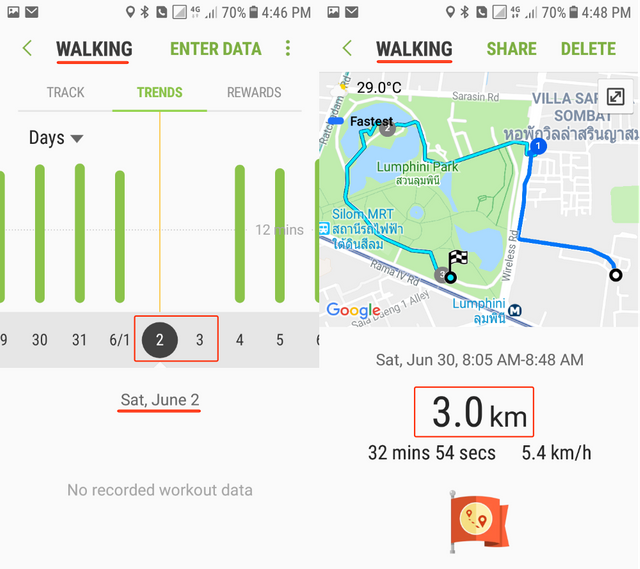 In 8 months I have walked 522.24 kilometers in total and that's amazing!
Let's have a look at my exercise this June.
These are for the 6 months since November 2017.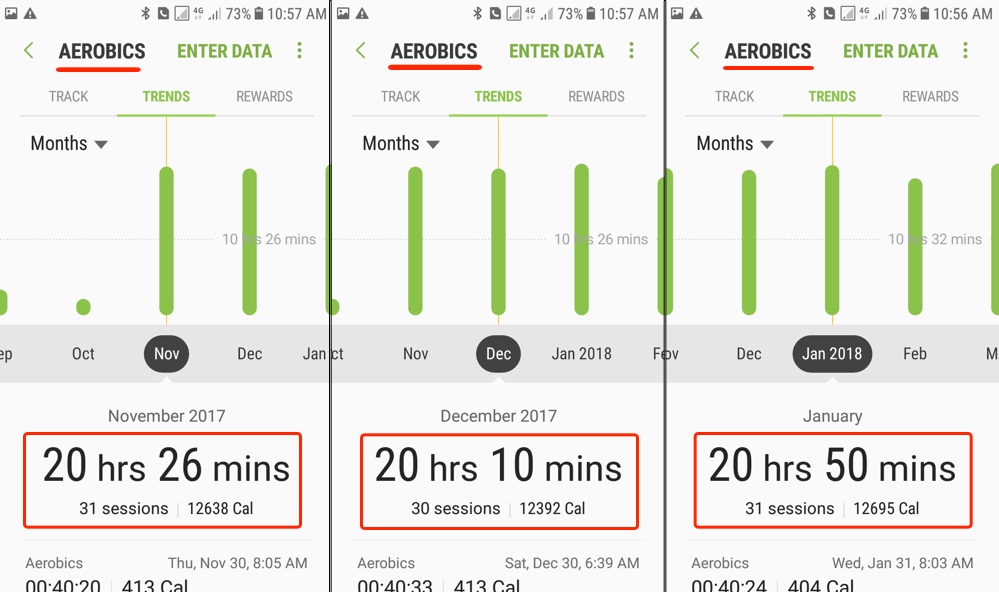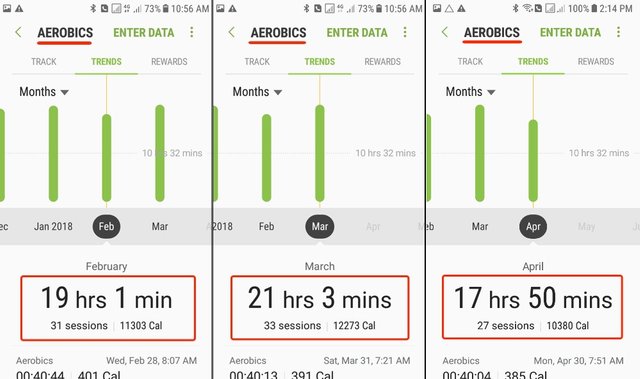 This is for May and June 2018.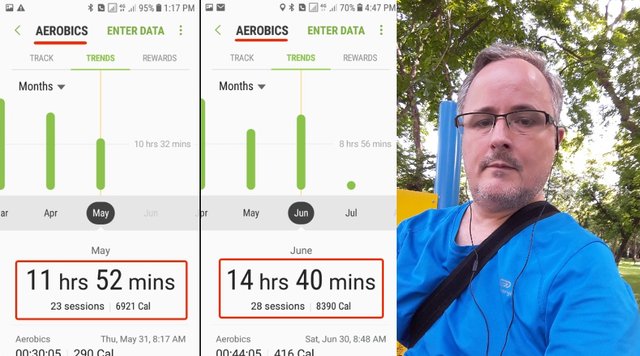 Just like walking, I didn't exercise a couple of days.
I still have exercised for 14 hours and 40 minutes in June, which is more than last month, and I burned 8,390 calories according to the app.
My weight loss results.
June is my best month because I broke a record in weight loss.
These are for six months from November 2017.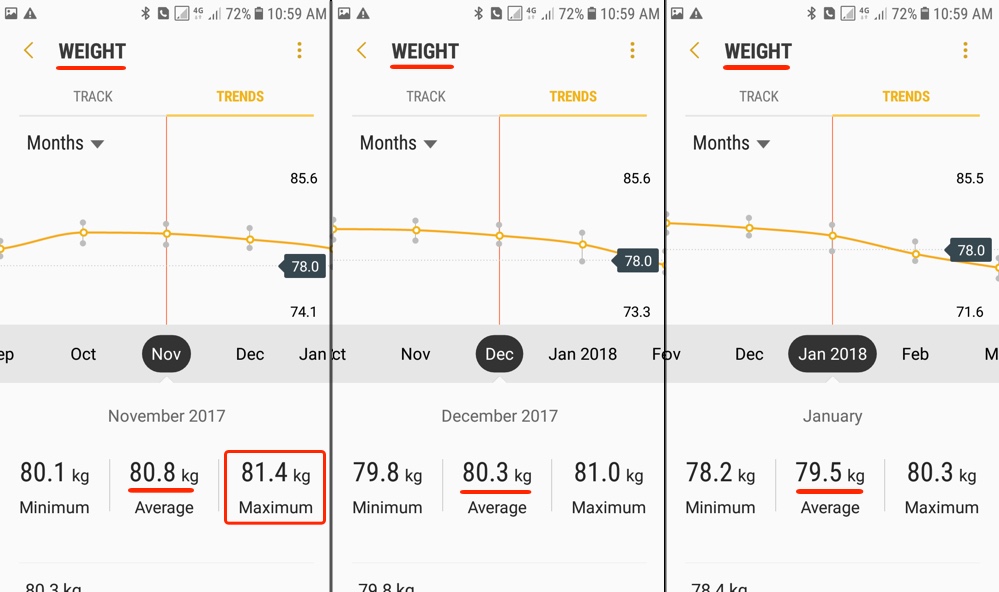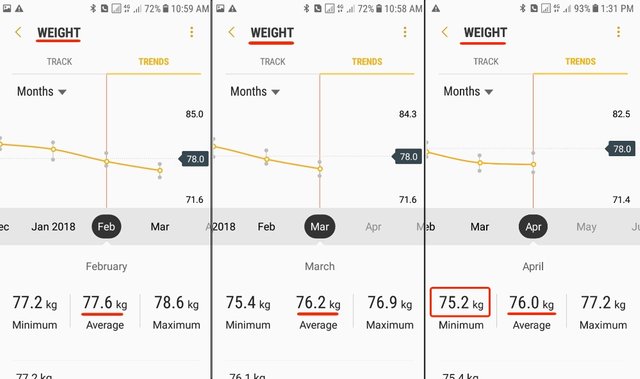 These are for May and June 2018.
Compared to last month, my minimum weight is down 1.8 kilograms and my average weight is also down 2.2 kilograms.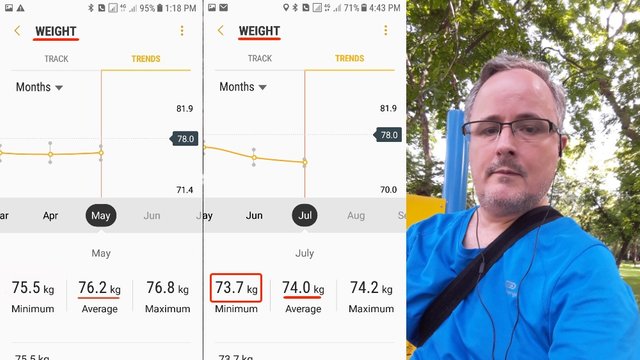 The maximum weight was 74.2 kilograms and that's very close to the average.
Now if I look back from where I started in November.
Average weight loss: 80.8 - 74.0 = 6.8 kilograms
Weight loss: 81.4 (max) - 73.7 (min) = 7.7 kilograms
I am very pleased to have finally gone down 74 kilograms in June and the next target for July is 73 kilograms or less.
I had a juice every day this June and this is what helped me drop 2 kilograms without too much effort.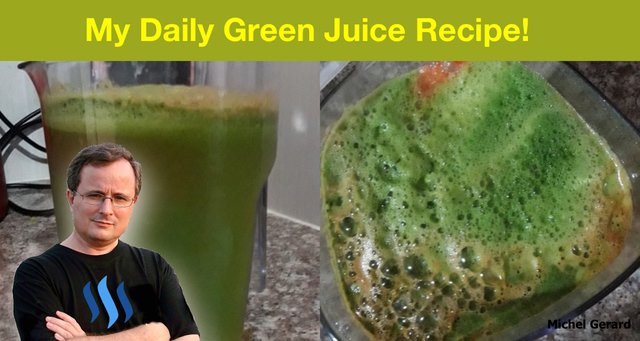 Read this post to see how I do it: My Daily Green Juice Recipe!
I'd like to be below 73 kilograms for my next fitness report in July and I believe that I will achieve that.
I hope that this June fitness report is useful for you and I welcome your feedback in the comment section below.
Would you upvote this post and follow me for more because this will encourage me to continue this challenge and the reports that go with it?
I have categorized my posts on Steemit for easy access:
Steemit tools | Steemit strategies | Steem economics | Steem on WordPress | Blogging on Steemit | Steemit posts I curated | Cryptocurrency | Cryptocurrency trading | Mac computer tutorials | WordPress & online marketing | Self-development & motivation | Travel in Thailand | Travel in Japan | Travel in France | Life in Thailand | Fitness challenge | Fruit-veggie juices & smoothies | Education | My answers on Quora | Fundition tutorials & projects | Miscellaneous writing
You may prefer to go to my Steemit Posts Directory.
The most important votes you can make on Steem are for Witnesses. The top 20 witnesses can influence the addition or removal of features in future Steem hard forks. Read my post: What is a Steem Witness, How to Vote and Why?
Michel Gerard