New features! New format! New Games! Considering fellow steemian gamers suggestions here's my revamped store!! Some games here are %80-90 cheaper than steam. Convert your steemit earnings into games!!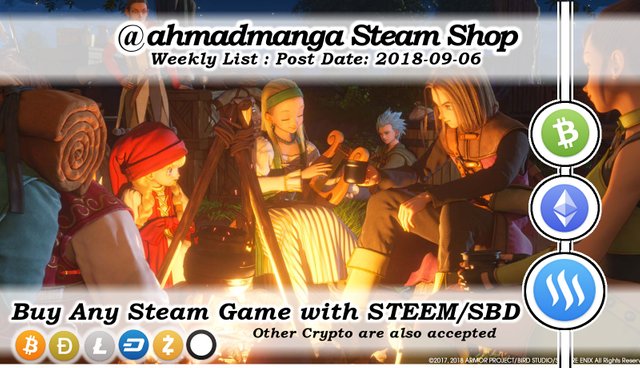 )
Hi, I'm @ahmadmanga, I write steemit posts and short stories these days. Now I also write books.. I love gaming and had some experience as a hobbyist gamedev. and published game on STEEM recently called Procrastination Simulator.
In these weekly posts I sell my leftover steam games from Bundles.
Thanks for your suggestions of the last week guys! Prizes Sent!
Table of Contents
To ease your navigation of my shop.
Buy on Demand With Discount + Humble Bundle Service!
*Featured Games This Week
Previously Bundled Games
Games I sell on @dGameShop
How Does This Work?
Now You Can Buy By SBI shares win-win for both!
The Last Five Buyers!
Your Opinion Matters
---
Main Attractions
---
Game Title -> Image and Price -> Description
Any Game On Steam Store (%12 Off Its Current Price)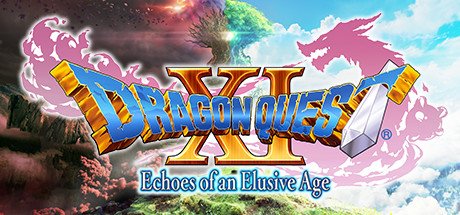 Gift Order: %12 Off
Any Steam Game
(Yes Even Pre-orders)
New feature need help testing:
I purchased gifts a couple of time especially on
/r/GiftofGames
so I', still learning how Steam gifting works. can't gift to all regions so you have to add me on Steam for some test gift first, my region is LY. There are some region restrictions. I almost certainly can gift anyone who's currency is USD or cheaper.
You get %12 off of the price & to pay with STEEM!
You have to pay first. Please wait maximum 36 hours after ordering.
If you don't get the game I'll refund you.
-
Humble Monthly Gift <- (ref link)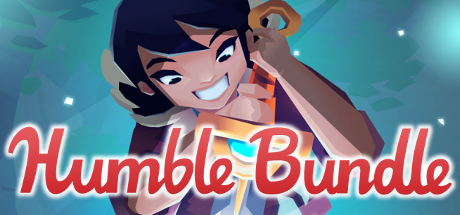 Price: $12.00 Subscription
My Price: $14.00
(Including Service Fee)
Humble Monthly is a great deal. You get to have all that month games & more. But you can't get it unless you give your Credit Card information or using verified Paypal account.
This is where I come in!
Many of us on Steemit are unbanked and can't subscribe. With Gift Monthly you'll get all the games & subscriber perks (Access to Humble Trove. %10 off Humble Store, Extra $2 on your wallet after getting some bundles.)
This is not for everyone but if it's for you contact me at Discord of @opgaming.
---
---
Featured Games This Week:
Game Title -> Image and Price -> Description
Featured
GOD EATER 2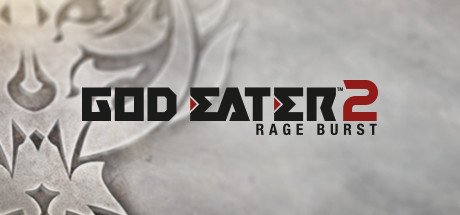 List price: $49.99
My Price: $6.99
Described by many as "Monster Hunter with a Plot." If you're into
#anime
you'll most likely love this game! Action RPG in a world with cruel monsters & weapons that manages to be even bigger than FFVII's Buster sword, which are called God Arcs. They come in three different play-styles. The game is recommended for the fans of monster hunting genre!
-
Borderlands 2 + DLC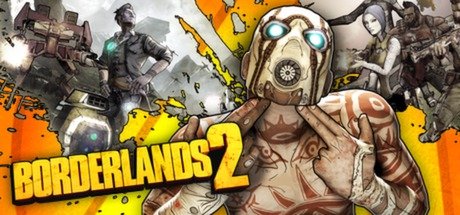 At least: $19.9+DLC
My Price: $5.00
The most quirky FPS. Borderlands series focus more on comedy than fighting. It's a fun FPS to play! In Borderlands 2 you can choose from various characters and the story follows their struggle with HANDSOME JACK the most popular man in the universe. Really recommended to shooter lovers for the price with all the included DLC.
-
Aragami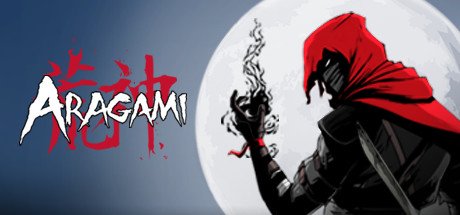 List price: $19.99
My Price: $3.50
The usual stealth game where you control a vengeful Ninja spirit. What I like about this game is the stylized graphic. So attractive! You're summoned to save some woman. Not sure about the gameplay, you can control shadows but reviewers say it focuses too much on teleportation and not having attack button.
-
Higurashi: When They Cry Ch.1 Onikakushi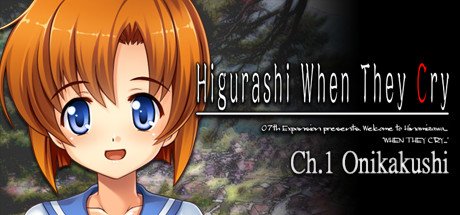 List price: $5.99
My Price: $1.00
One of the most iconic Sound Novels, which are basically a Kinetic/Visual novels without any CG or Choices.
But Higurashi series feels epic and it has unique mixture of comedy and horror that I can proudly declare this series as both.
Join the cute girls as the slice of life gets slowly and increasingly gruesome. This is the only featured title you have to register in
@dgameshop
's
Market
to buy click here to buy the featured
CH.1
and here for
Ch.2
---
Previously Bundled Games:
For these games please contact me with one of the methods below. Having a talk will help us reach understanding for the payment.
Click on the image for Store link:
| Game/USD | Game/USD |
| --- | --- |
| | |
| [$4.99] Dead Rising 4 | [$4.00] Prototype 2 |
| | |
| [$3.50] ABZU | [$3.00] Street Fighter X Tekken |
| | |
| [$2.70] Tesla Effect: A Tex Murphy Adventure | [$2.50] Day of Tentacle (Remastered) |
| | |
| [$2.50] Dead Rising 2: Off the Record | [$2.50] Mass Effect 2 |
| | |
| [$2.50] Oxenfree | [$2.50] Skyborn |
| | |
| [$2.00] Jalopy | [$2.00] Star Wars™ Knights of the Old Republic |
| | |
| [$2.00] Saints Row: Gat Out of Hell | [$0.30] Saints row 2 |
| | |
| [$1.80] Renegade Ops Collection | [$1.80] Flinthook |
| | |
| [$1.50] NBA Playground | [$1.50] Crazy Machines 3 |
| | |
| [$1.50] Lost Horizon | [$1.50] Ultimate Chicken Horse |
| | |
| [$1.50] Wurm Unlimited | [$1.30] The Bard's Tale |
| | |
| [$1.00] Toybox Turbos | [$0.70] Deponia Doomsday |
| | |
| [$0.70] Tempest: Pirate Action RPG | [$0.70] Fallen Enchantress |
| | |
| [$0.70] Galactic Missile Defense | [$0.70] Deadlight: Director's Cut |
| - | - |
| | |
| [$0.60] Secret Files: Tunguska | [$0.60] Bionic Commando |
| - | - |
| | |
| [$0.50] F1 Race Stars | [$0.50] Cook, Serve, Delicious! |
Anime Games
| Game/USD | Game/USD |
| --- | --- |
| | |
| [$2.50] Go Go Nippon + 2015+2016 DLCs | [$1.50] Japanese School Life |
| | |
| [$1.50] Idol Magical Girl Chiru Chiru Michiru Part 1 | [$2.00] Idol Magical Girl Chiru Chiru Michiru Part 2 |
| | |
| [$0.50] LiEat | [$0.35] Akihabara - Feel the Rhythm |
Software
| Program/USD | Program/USD |
| --- | --- |
| | |
| [$6.00] Axis Game Factory: AGFPRO v3.0 + DLC | [$6.00] Game Guru + 6 DLC |
---
@dgameshop is a new steemit service I'm testing right now. Here I feature some of the games I've put there. Here's my review of the website. Click on the image to go to the buy link, you have to pay using SteemConnect though.
I have other games on it's website check it out!
---
---
How does it work?
Check the games I have above. (All prices are in USD.)
Contact me. You can comment below on Steemit/busy. Send me a tweet @ahmadmanga. Chat on OPGaming Discord or Telegram if we met there.
Add me on steam. My Steam Profile Link We can talk on another platform but I need to know your Steam name!
We have a chat and decide on the price of the game for your preferred Cryptocurrency/Token.
There we will make our deal, don't pay before we both agree on the price.
I take Steem & SBD and most of the CryptoCurrencies including as payment:
#BCH. #ETH. #BTC. #DOGE. #LTC. #DASH #ZEC. #GByte. Most #E20 Tokens.
Finally I take #steembasicincome shares
You can read the full rules here. Basically you can make half of the payment of most games I have here with SBI shares, but you must pay at least half the price with Steem!!
---
---
The Last 5 Buys/Buyer(s):
---
Your Opinion Matters
Like the last week. There's a contest for giving your opinion on the shop.
Read the rules and comment below. #Upvote the contest post or #Buy a game from me to increase reward!
---
---
OP Gaming is an awesome group of awesome people, too OP to be put down! If you'd like to contact me on discord you'll most likely find me there! Click the image below to join!
---
---
Cover image is made using promo image from DQIX. All the games images are from taken directly Steam Store of their respective games, except the Humble Monthly One I created by editing a screenshot & the site logo.