Just this week I added Buy on Demand: "Any game" or Humble Monthly" options to my recurring "weekly list" of Games I sell. So I want opinions on my new revamped shop!!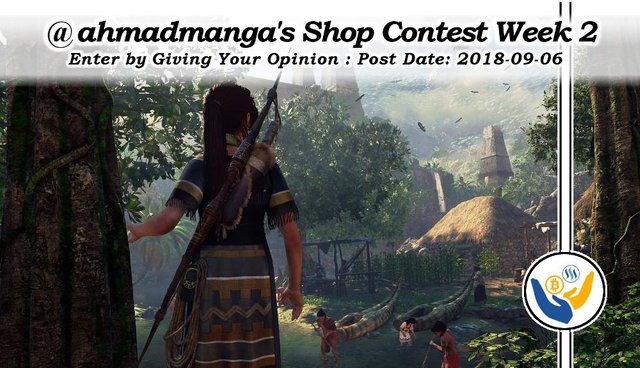 ---
Rules:
To be added as an entrant: Buy something or Just write your opinion on this week's Shop, please think on how I could make it even better than this.
Make sure you comment on THAT POST not on this!
Other Rules:
The opinions I'm looking for are comparing this week's shop to the one before. If you want to help me answer as much as you can of these questions:
How do you feel about the number of games in the list? Should I add more?

What do you think about me selling the Humble Monthly Gift?"

Your opinion on buying steam gifts discounted on demand. Do you think you'll use it in the future?

What about the number of weekly featured titles? Should it stay the same?

Is there a game from the previous list you & missing here, you want it back?

Everything can help. Tell me what you think even if you believe it's unnecessary.
You can suggest for a game to feature next week!
Upvote/Resteem is highly welcome but not necessary to enter!
---
Deadline: 10 September 2018. 11:59PM EET (UTC +2)
Approx. five/six days after the start of the contest!.
---
---
Prizes
**Anyone who puts their opinion that wasn't put before him will get a place in the poll.

All the SBD/STEEM rewards from this post (not the shop.) I will use the reward. Everyone who qualifies will get the same amount of reward.

What are your most wanted games not in my list, even if not released yet!
Example: if the payout was 2 STEEM and two 1$ games are bought, the reward poll will be 2.2 STEEM. Everyone confirmed entrants an equal share of that reward.
How to Contribute to the Prize:
℅10 of the price of all games bought by entrants will be added to the prize pool. (Including the buy on-demand ones. But excluding parts paid with SBI.)

For every entrant spending 5 STEEM/SBD or more on my shop: I'll add 1 SBI share to the prize.

For every 5 in the payout by the sixth day, I'll add 1 SBI share to the prize.

For every Resteem I'll add to the prize poll 0.01-1.00 STEEM. Depending on the Resteemer (Their rep, activity, and recent posts.) Please tell me that you resteemed!
Every commentator with a personal opinion will count as an entrant. Every buyer will count as an entrant. Every Steemian should take part!
Steam Power rewards won't be calculated in the prize.
---
Contest Stats
| Day | Entrants | Games Bought |
| --- | --- | --- |
| 06th | 1 | 0 |
| 07st | 2 | 1 |
| 08nd | 3 | 0 |
| 09rd | 1 | 2 |
| 10th | TBA | TBA |
| 10th | TBA | TBA |
Those Who Entered
Current Reward Poll : "0.650 STEEM + Payout" (by 6th September)
Current SBI shares: 1
---
I believe if my shop took off by the word of mouth. Steem adoption and trading will increase. Gaming community will be more active and we all win.
---
---
This is my first post using the @eSteem desktop app,
Thanks @good-karma!
---