@Climbing-Trail: Follows now more than 100 Steemians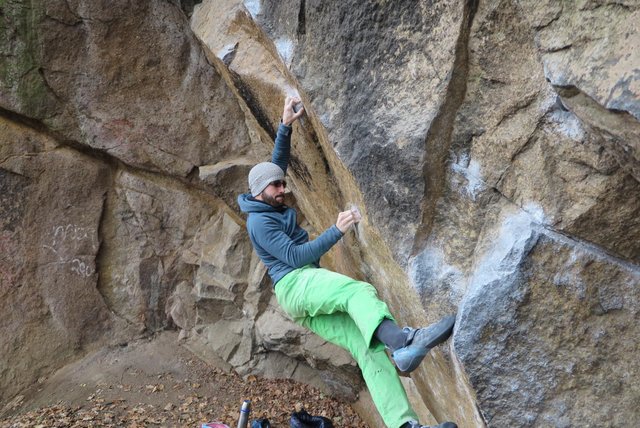 Me on my latest project (Rapanui, fb7b).
When I came to Steemit, I set up my personal account @HaTo which I use to write articles about my passions, hiking, and climbing. Then I saw that there are others with the same interests. But what was missing was a platform to share exceptional hiking and climbing content.
This was why I founded the @Climbing-Trail!
After about 100 days the @Climbing-Trail is following more than 100 Steemians posting regularly about climbing and hiking! In turn, almost 100 Steemians decided to follow back. Since inception the @Climbing-Trail resteemed 67 posts by 44 unique authors. That is amazing and only possible because of you!
There is a wide range of posts that have been considered. Posts by people getting out for the first time or professional mountain guides. Posts writing about simple Sunday walks, going for a relaxed hike, serious multi-day hikes in the desert, rock- and ice climbing or mountaineering in the Alps and climbing Matterhorn.
Fun facts
The average payout of a resteemed post is: $22.71 (Min: 0.06, Max: 141,75)
The average number of votes of a resteemed post is: 47.19 (Min: 5, Max: 234)
The average number of comments of a resteemed post is: 17.21 (Min: 0, Max: 69)
Sometimes I was able to beat @curie in curating a post! ;-)
Giving and getting back
I myself read a lot of stories from professional climbers, watch videos of their trips and follow their journies on Instagram. Those stories are super impressive, touching and well told, but often so far away from my own reality that it's hard to see more in them than stories.
On the other hand, reading your stories I can relate to. It's impressive to see what is possible if you love what you do. For example, I love the posts by @derekrichardson, describing his hikes in every detail and remembering all the names of the valleys, creeks, and mountains around him. Or @tateshep describing his impressive ice-climbs or solo climbs of El Cap with his own humor. All the stories I shared are unique in their own right and worth a read. This is why I attached all of them at the end of the post.
What is most rewarding is getting in touch with you!
Reading stories or watching videos about professional climber is often a one-way channel - you read/watch their stuff and off you go! But here on Steemit everything just starts: for example a day ago I read the article about ice climbing by @markpu and was wondering how long it would take to set an ice drill, et-voilà an hour later I had the answer (It takes between 30 seconds and two minutes! ;-)).
In sharing the posts with you I want to embrace the beautiful nature we see around us. I want to show you how important it is to protect. And I want to show you that we are all united in this beauty.
Improving and questioning the channel
Tell me if you want to write about hiking or climbing, it is highly likely that I'm going to follow you! If I like your posts you may find yourself resteemed to more than 100 Steemians interested in hiking and climbing in all its various facets.
What do you think? Did the @Climbing-Trail have an impact on you? Do you think it adds some value to the community? Do you have ideas how to grow the channel or improve the work it's doing?
Do you know of a tool that is automatically and reliably inform you about a used tag?
Drop a comment, I can't wait to get in touch with you!
Thank you for your support!
---
First post about what I do and offer.
Second post about how I do it.
Summary of all the unique authors resteemed by the @Climbing-Trail: @bar0nsamedi, @bestitineraries, @bobbyboe, @brixter, @cesarvalencia, @cookingwithzumi, @dabeckster, @dacinka, @derekrichardson, @doverland, @dragonslayer109, @extremeromance, @forbesi, @freiheit50, @hato, @icountedzero, @islandfood, @itsparthhi, @josiahthomas, @katecloud, @kkaos, @kristinbr, @lovejoy, @markangeltrueman, @markpu, @markus.hiesmair, @maticpecovnik, @matthewshaw, @nikkicole, @nofatnowhip, @realtom, @ricjames, @saper, @silasdavid, @sniffbiff, @strongbow, @tateshep, @theaustrianguy, @therightduke, @toocurious, @trakulja666, @travelstheworld, @unipsycho, @zalb.
Below you find a complete list of resteems in reversed order of appearance: