A Lots Changed Since Then
Last month, I put this article together featuring my buddy, Ed Privat. I told you I'd do a follow up article in the near future where I'd explain the techniques and tricks I use to draw these portraits and do a comparison between the first portrait I did for Ed and the last one—welcome! Do you see a difference?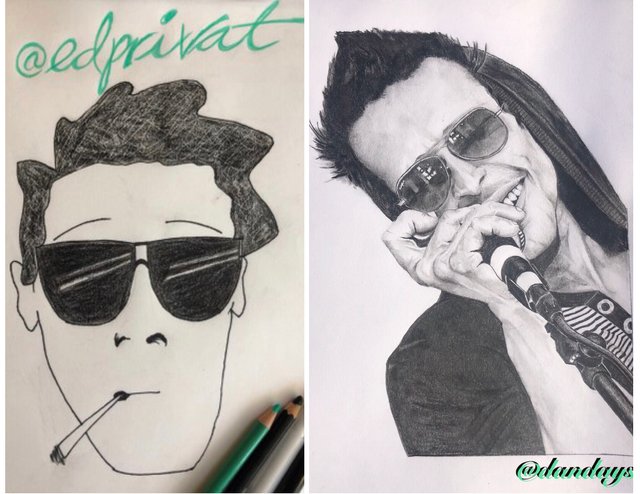 I was just checking out the first one I did for him—dang! A lots changed since then.
Fact: before joining #steemit in September, 2017, the last time I drew something was in 1990, 9th grade—a portrait. I hadn't drawn anything since I was a freshman in high school when I saw @vaansteam draw a $1 bill. I wanted to try it. I went down to the local Rite-Aid and bought the cheapest set of colored pencils they had and posted my first drawing on Steemit—a $20 bill. The only pencil I had at the time was in my toolbox, a mechanical, 0.7mm lead: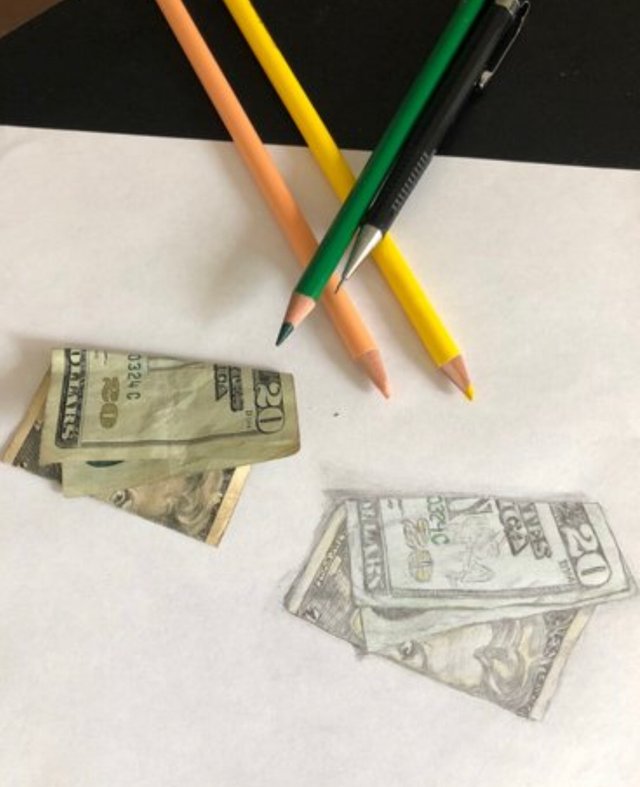 That's when @adelepazani told me about lighter and darker colored pencils called graphite's, I had no idea—I thought all pencils were either a No. 2 or a mechanical. Thanks, Adele! I learned some graphite's have really light lead, even lighter than a No. 2 lead and, some have lead so dark, the greatest erasers in the world can't touch it. Before I looked for a set of graphite's, I posted two more colored-pencil drawings, this is the second one I posted: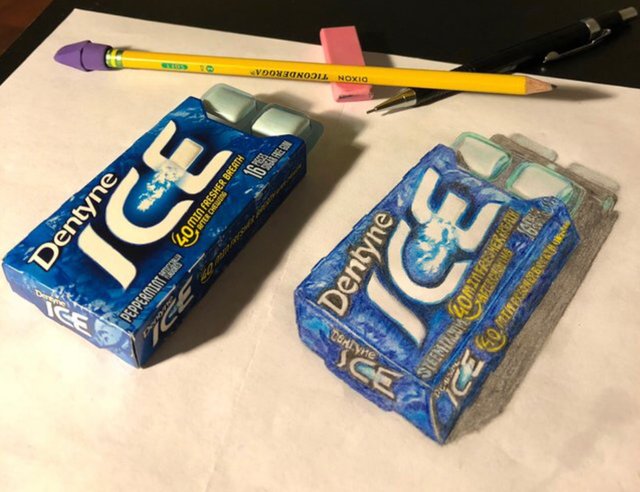 This is the third drawing I released on #steemit. I used a No. 2 pencil and that cheap pack of colored pencils from Rite-aid—what a difference a set of graphite's make: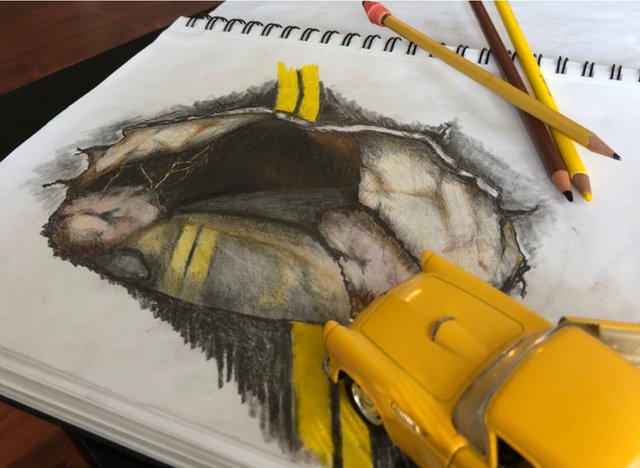 This is the fourth drawing I released on #steemit—it was done entirely with a No. 2 pencil, even the blending, I didn't know what a paper stump was yet—thanks, @sunnymalkani: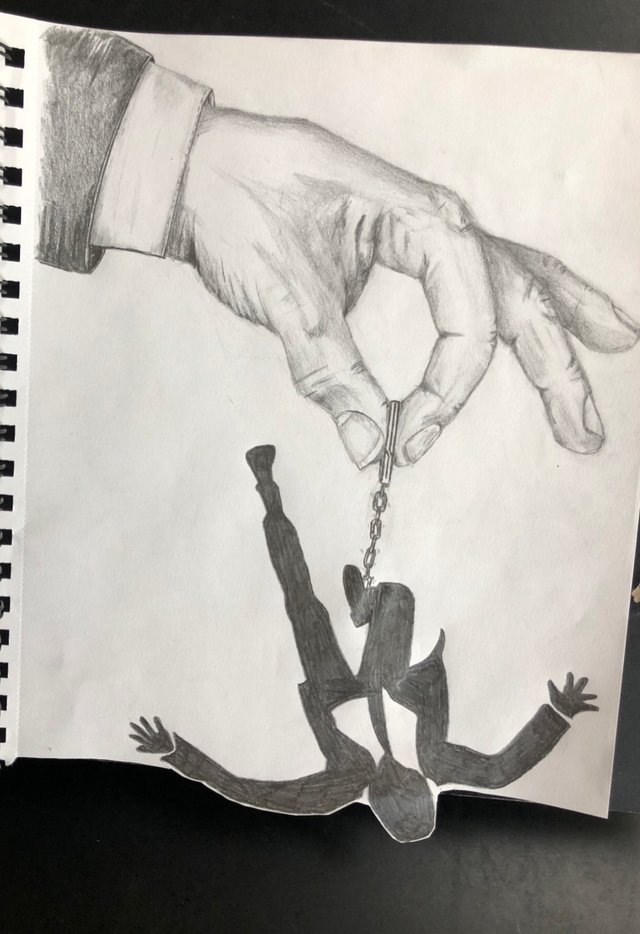 This is my first attempt at using graphite's, see all of those rough scribble lines? Paper stumps for blending was my next discovery—thanks, @chaitanya.mhatre: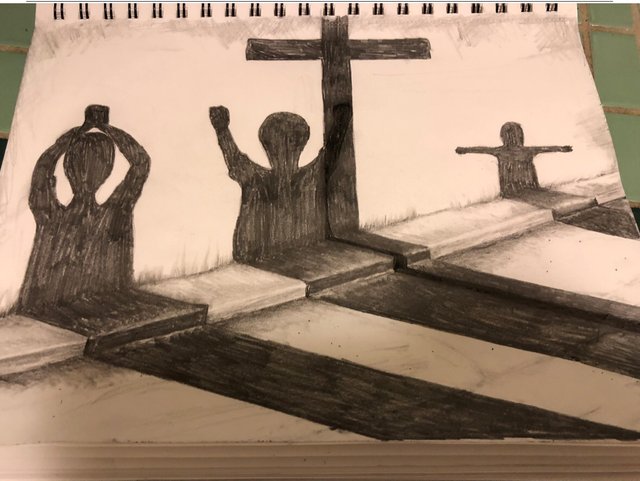 This is when Ed and I crossed paths. Actually, my wife discovered him for us, he had just released Spanish Joint, a D'Angelo cover. Pura Vida was listening to it in the other room and the track caught my attention. I checked him out and learned we have several things in common—I could relate with him. His dad is a void—I don't know mine. He creates original music—I love #music. We both love surrealism #art. Each of us were new to the platform, too, and I knew exactly what he was talking about when he said:
...I've been working hard on this one, probably for 10 years, so It doesn't matter if I don't get any upvote, It's an achievement in itself to be able to play this song and sing all at once.
Did you feel that?! That's called Ed Privat's passion. I knew what he meant, I knew how he felt, I may not have had 10 years vested in the pencils but that didn't change the fact I devoted many hours to those drawings. I didn't even know what a graphite was and, although I still don't own a set of prismacolors, I'd never even heard of them—I received zero #love for my efforts from the platform. My response to him consisted of some other things but the extent of it was: "I know exactly what you mean!" That's how I met Ed—we've been appreciating each others craft and challenging each other since.
The next day, he did what he always does—challenged me. He said he would cover my song request: Spirit in The Sky by Norman Greenbaum and, in return, I would draw draw a portrait of him. My first thought was, "I think you got the wrong guy" but he sent me this link with art work of a Jason Mraz album cover and said he was looking for something similar. Click on that link and you'll see why my thought changed to "got this!!" I paused whatever article I was working on at the time and put this together for him—my first portrait on #steemit: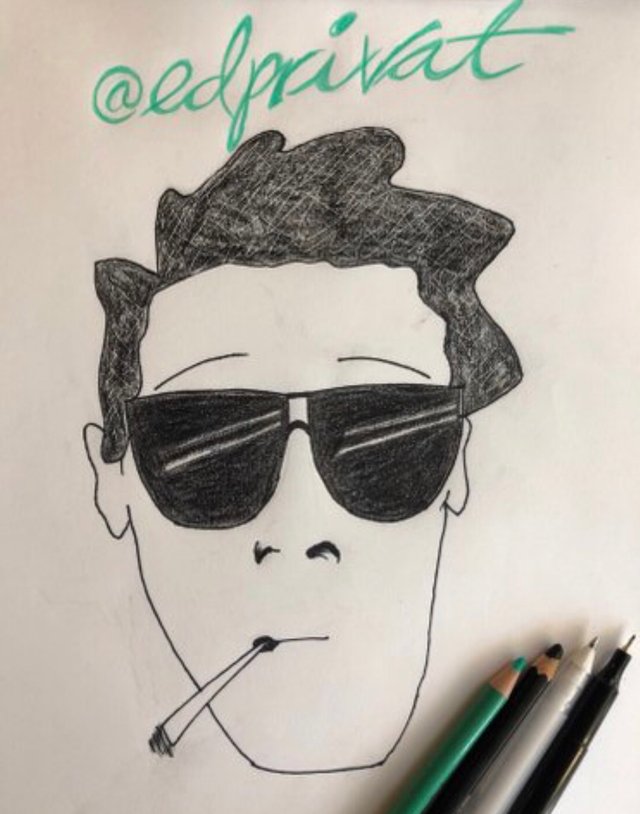 A little over a year passed between the first one and that really nice one I did for Ed, in that year, I did two other portraits for practice. The first one was requested by my wife, @puravidaville, she wanted me to draw Yelawolf—her other husband: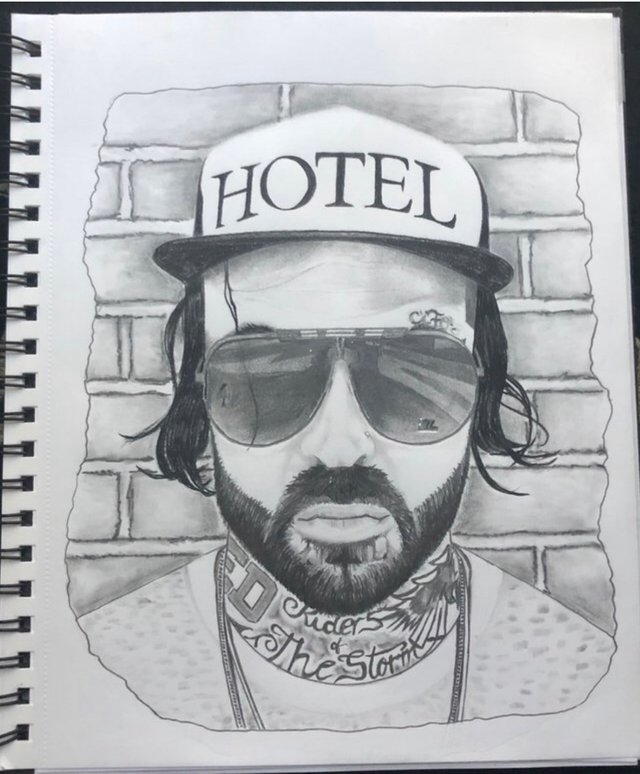 One month later I did this one as a surprise gift for my buddy Thyle—a portrait of his deceased mother I copied from a 30 year old picture and then I customized a frame to put it in: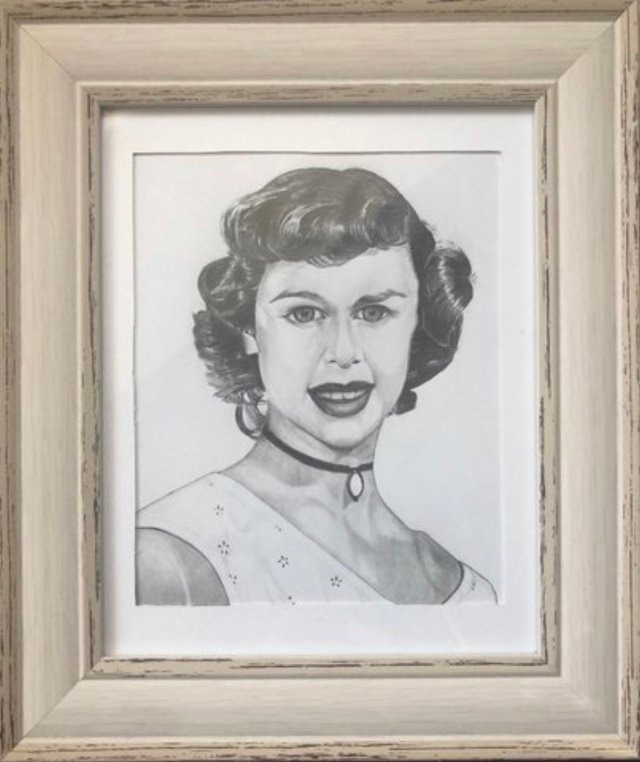 Alright, now you're all caught up! That was the extent of my portrait training when I accepted the challenge of drawing this portrait for Ed—my fourth portrait ever. Fifth if you count that cartoony one I did for him. This is how I did that portrait last month.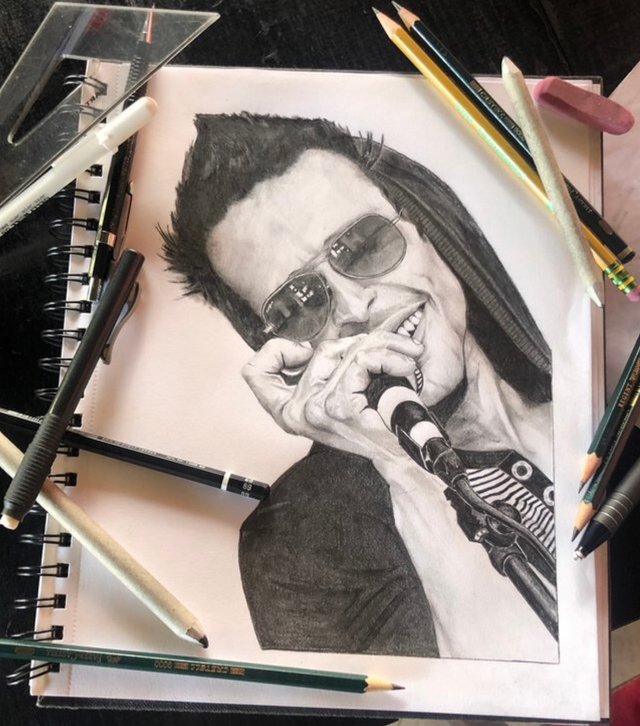 First things first—find new pencils. Remember that set of graphite's I was telling you about, the first set I owned that Adele turned me onto? Well, they didn't make it to Central America—I have no idea what happened to them, it's still a mystery. I was all set up to draw, I even sent Ed a teaser on discord telling him how 'I just started drawing you' and, shortly after I sent that teaser, I realized my graphite's didn't make the trip from the U.S., great, I just told Ed I started the drawing—danget! I needed #new pencils—stat.
Our fourth host in Costa Rica told me about a joint nearby called Libreria, which is Spanish for "bookstore," a produce market where you can also recharge your cellular minutes—he said they have some miscellaneous art/crafts stuff too. Street addresses don't matter around here, we use GPS coordinates and/or landmarks to get where we're going, our host said it's right across the street from the big Catholic Church in the middle of town—this one: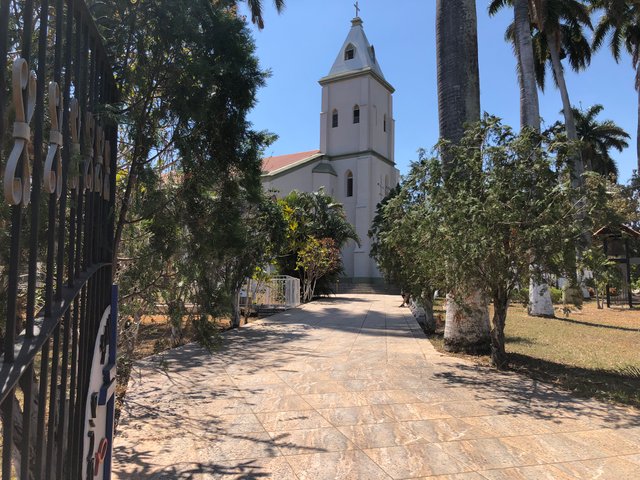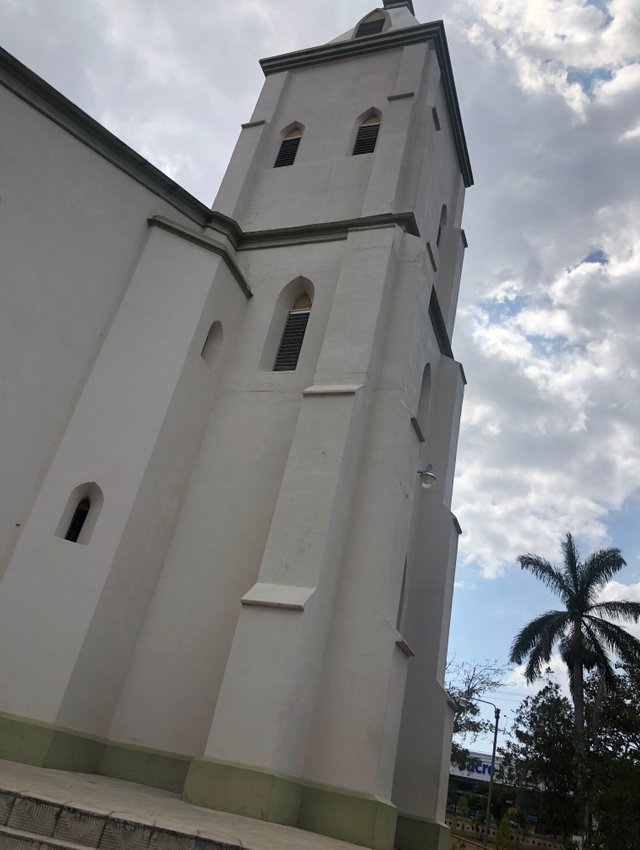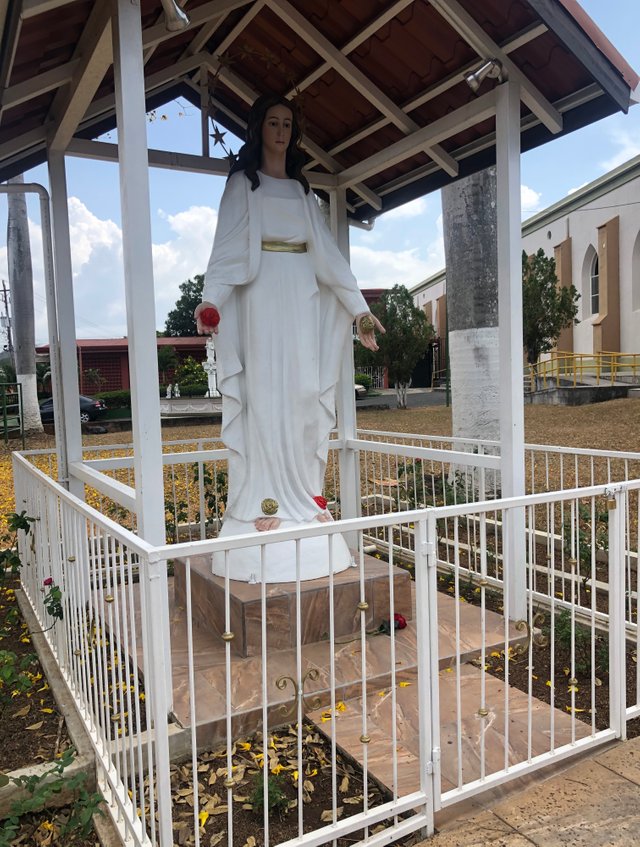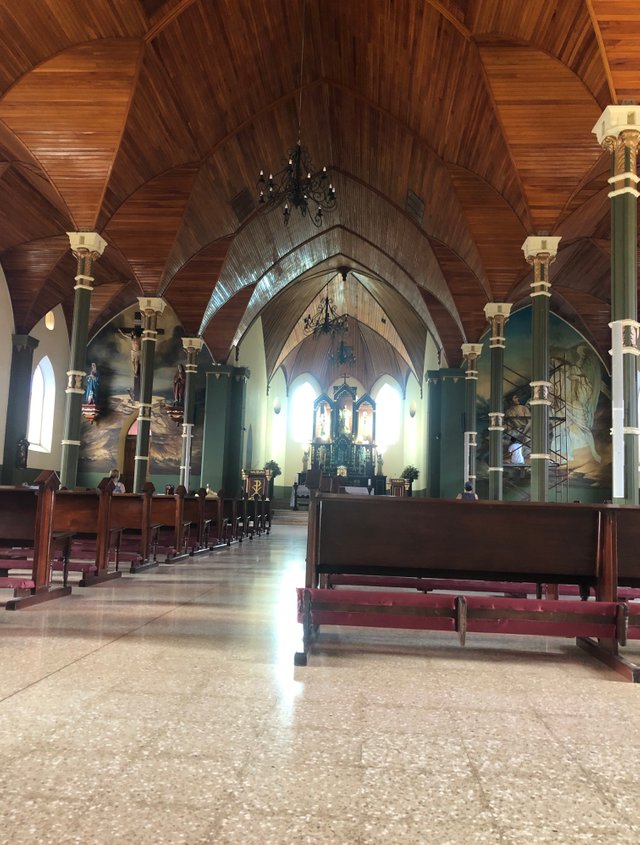 Libreria had exactly what I was looking for and I got my cell phone minutes recharged, too. This is the wall opposite the freezers, see that rack on the top shelf? It's full of graphite's—all of the shades I was missing plus some shades I didn't know existed: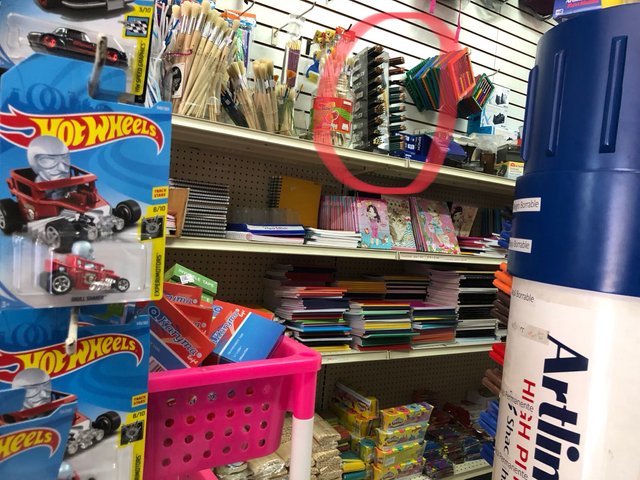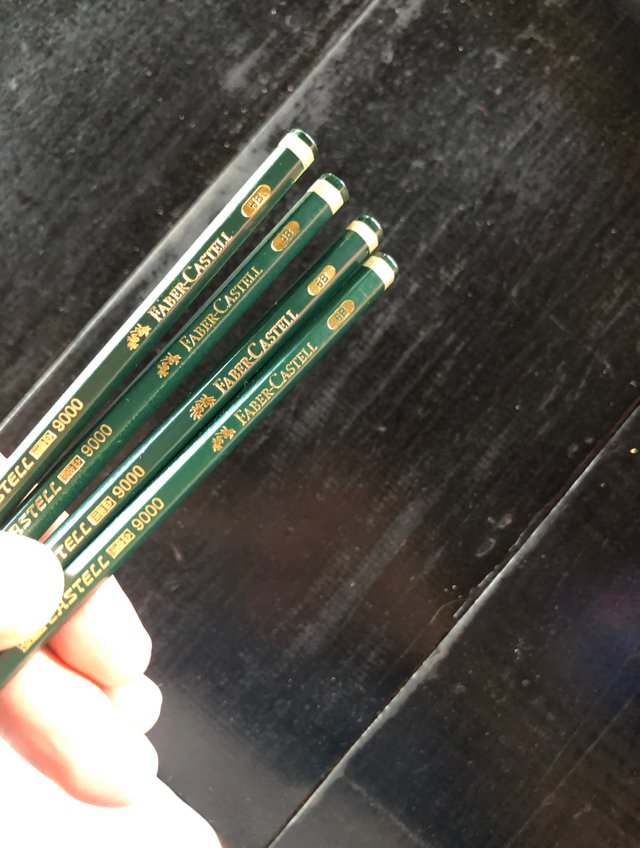 Once I had all of my pencils back, it was time to draw Ed. This is the original picture he sent me, way back when I first said I'd draw him: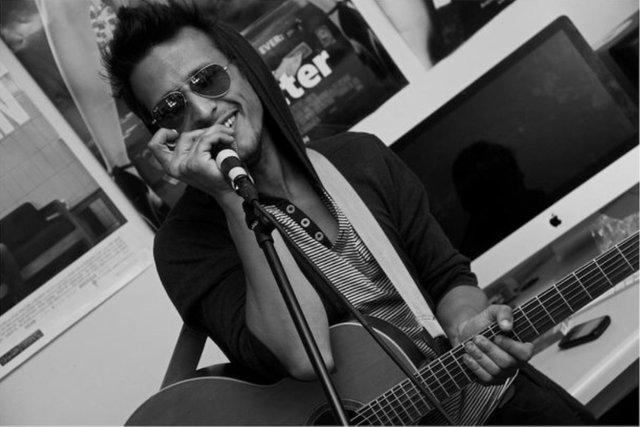 From that photo, I zoomed in on his face and captured this screen shot: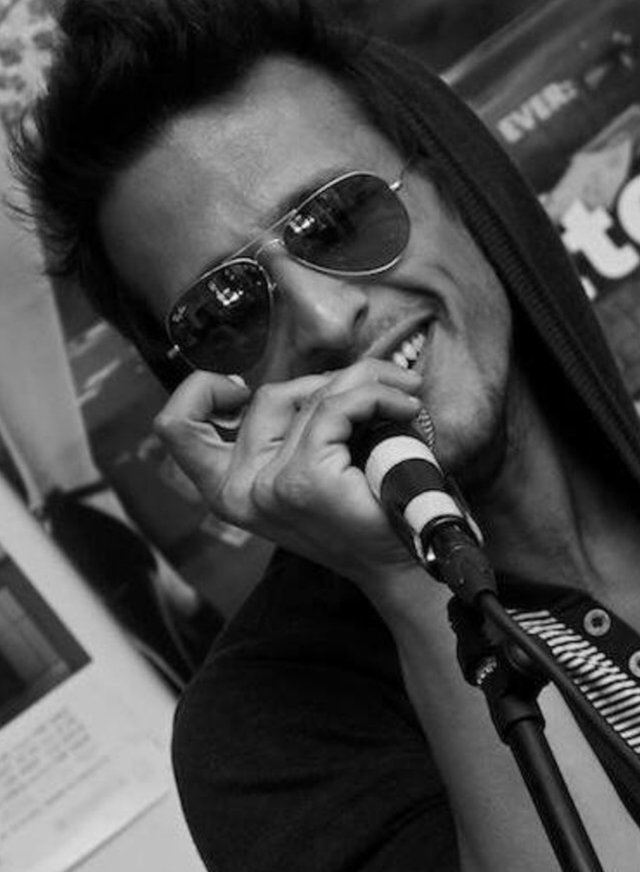 After I did that Yelawolf drawing but prior to drawing my buddy's mother, I searched DuckDuckGo for the best method to draw a portrait and I found this website that explained "grid drawing:"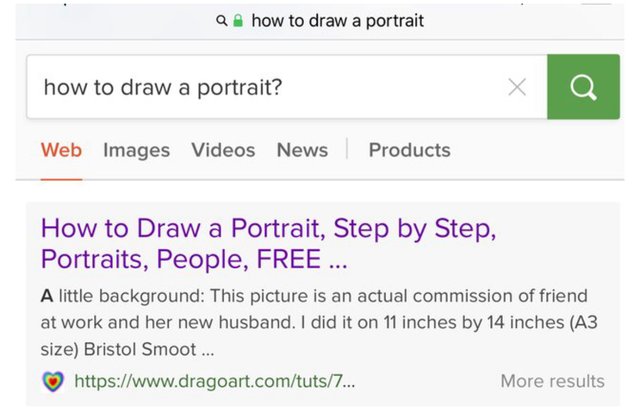 I read that article and a few others that coincided with it, downloaded the following grid drawing app and put a grid on Ed's screen shot: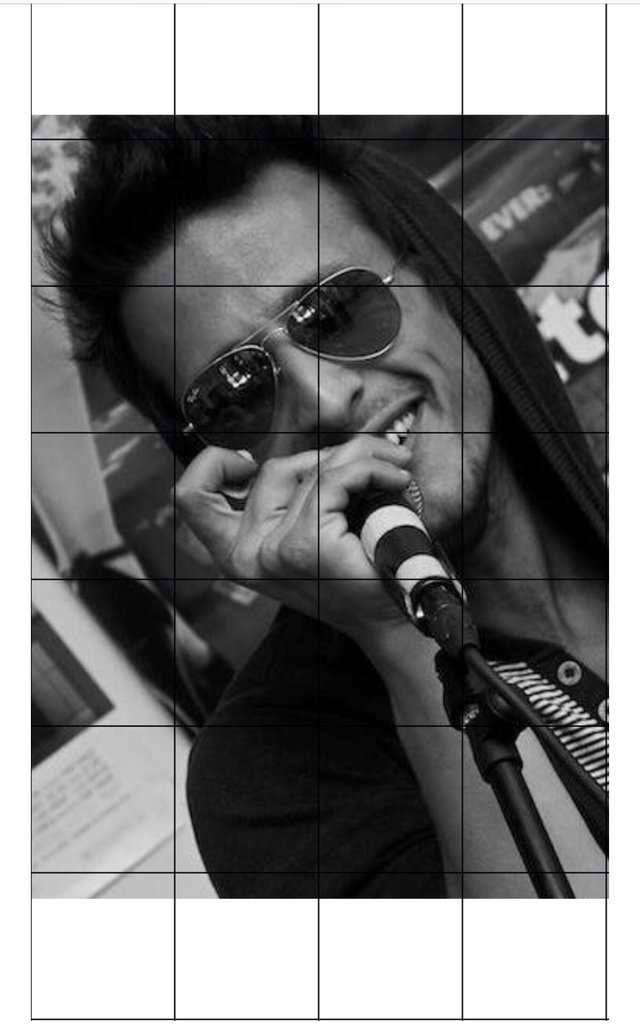 With a No. 2 pencil, a ruler, and a straight edge, I transferred the grid from my phone to the A2 notebook page and drew in all of the outside lines so I could see my bordering space: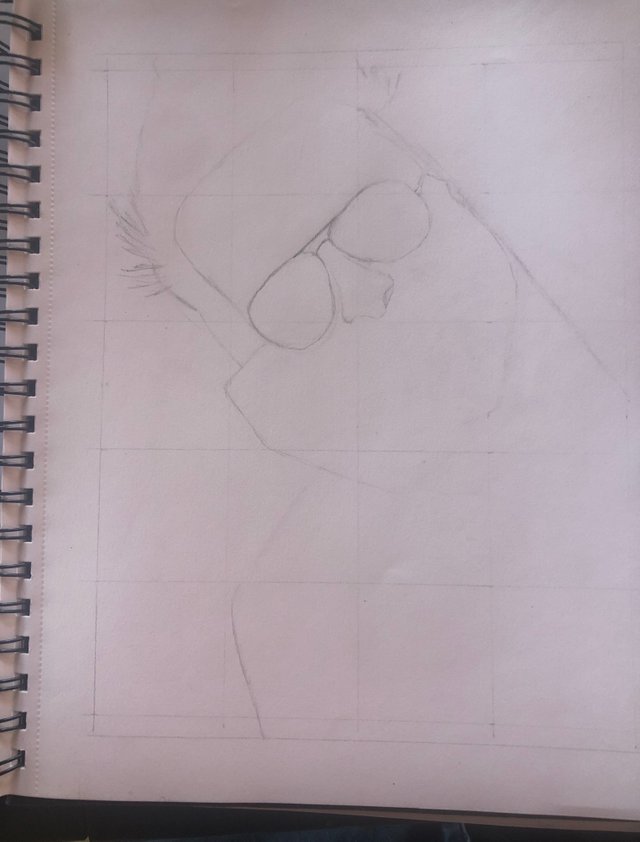 Once my edges are complete, I continue transferring one square at a time, from my phone to my sketchbook page, left to right because I'm right handed and keeping the page clean is a challenge—you want to drag your hand away from your work, not across it. Now there's a constant prayer going through my head, "God, control my senses." That alternates with my own confidence reminder—"just draw what you see." That prayer and my own thought, 'God, control my senses—just draw what you see. God control my senses—just draw what you see" (repeat) back and forth to myself, and the grid app are my tricks. My techniques are a No. 2 pencil for the majority of the line work, a mechanical pencil for the sharp line work, two different sized paper stumps for blending—3/8" for small blends and 1/2" for the larger ones, a lot of erasing, HB-6B graphite's for all of the shading and a white gel pen for repairs, texture and highlight details.
All of the progress pictures can be found here in the original piece. I'll attach a few images but you've already seen them when you caught the interview. What I wanted to share with you this time is the techniques I use to draw these portraits and the past year and a half of my progression on this platform, thank you, #you! Thanks for hangin' out with me this whole time, you got me to make shapes again with pencils after about 28 years of no #drawing, I don't know how you did it but I'm impressed—thank you! Let me know if there's something I left out.