iTalent Round 9: "Junebug" Feb. 22, 1933 - Nov. 1, 1996
What's up Steemit?! Thanks for having me, iTalent! Welcome to the second portrait I've ever drawn. Meet Helen June aka Junebug, my buddy Thyles mother. When I entered my first portrait in the iTalent Round 8 challenge, I told you I would draw my wife next. Well... I like to say "judge my intentions" because I did intend to draw @puravidaville but even she understands why I compromised. I'll explain in just a minute.
This is my entry for the iTalent Round 9 challenge hosted by @ivan.atman and sponsored by @curie and @gtg. Since this is my second attempt at a portrait, it only made sense to enter it into my second iTalent challenge. Thanks for extending the due date Ivan!
For this one I used only Graphite's: HB-8B. White Gel-Pen (both iris's & bottom lip). 8.5 x 11 sketchbook paper. Paper Stump for blending: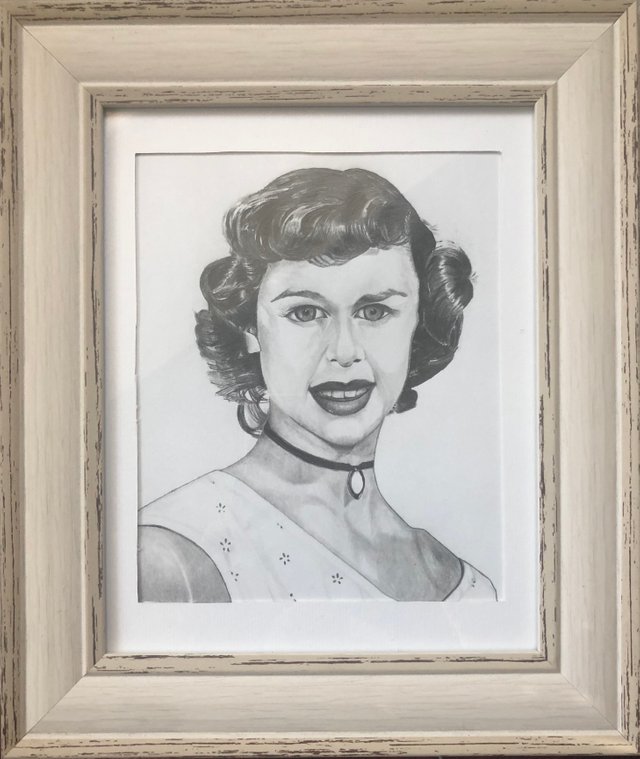 After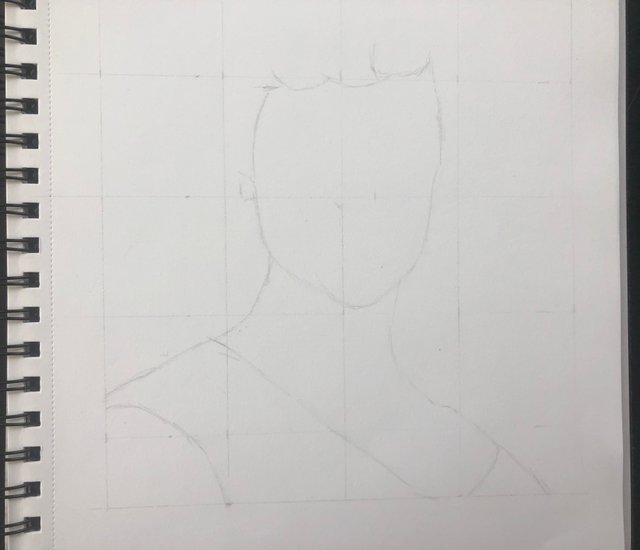 Before
First I need to tell you who Junebug is and then I'll explain exactly how this drawing ended up in a frame. Last week, my buddy @carklevicci organized a little bon voyage party for my wife and I. Only a handful of our closest friends were there - Perfect! The older I get the more introverted I'm becoming but he assured me there would not be a 'party.' Hey Vicci, thank you! You created a cool memory brother!
He got us all together at Mr. and Mrs. Thyle's place. Thanks again T and C, I really appreciate the hospitality! Wherever we're positioned on this globe, just shoot me an email or contact me on this Steemit account and I'll meet you at the runway. 👍🏿
It was cool! A handful of my childhood friends, a few of my retired brothers and the food - Oh man!! I wish I would've taken pictures! Mr. Thyle ran the grill. He and another retired brother of mine, Dregor, had just landed some yellowtail five days prior and they have a gorgeous garden on their property. Fresh fish out of the ocean plus fresh vegetables right out of the dirt equals delectable!
At one point, Mrs. Thyle, a friend and retired sister of mine, told me to check out their upstairs. When I got up there, all I saw was a large (9x11), black/white photo of a woman hanging on their bedroom wall - This one: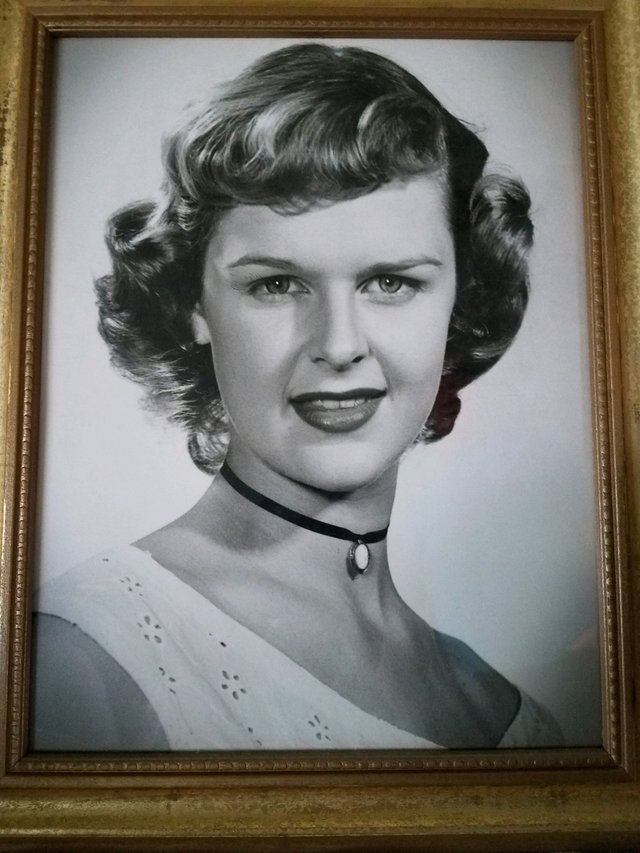 Helen June aka Junebug. 02.22.33 - 11.01.96
I went downstairs and Mr. Thyle was in the kitchen putting cherry tomato and jalapeño pepper orderves together, I asked "who's the woman in the picture upstairs?" He told me that's his mom and she's been gone for 22 years. The artist in me instinctually asked a few undetected questions.
He told me she left when she was only 63, "her heart just gave out one day." He told me she was born on February 22, 1933, he smiled and said "same birthday as George Washington, it's the only reason I know when George Washington's birthday is." She left in 1996, on November first and now here I am, dedicating a portion of the Steemit blockchain to her.
How? Now that I've introduced you to 'who' and 'why' let's get to the 'how.' I received a lot of positive feedback on my first iTalent challenge, thank you all, immensely! One fella in particular, @gustavoadolfodca, said:

Dear Gustavoadolfodca: Deal! This is for you and anyone else interested in my advice. I've shown 'steps' before but check these out - 'Tip-toe' steps. If there's something I didn't cover, please ask me in the comments section and I'll adjust my transparency settings. 👍🏿
It starts like this: My wife and I are big Yelawolf fans. She's a little more into him than I am as I've previously mentioned. I had never drawn a portrait but I wanted to give it a shot and that's who she wanted me to draw, she even picked out the picture. "You got it!" So I did what I'm accustomed to and asked DuckDuckGo: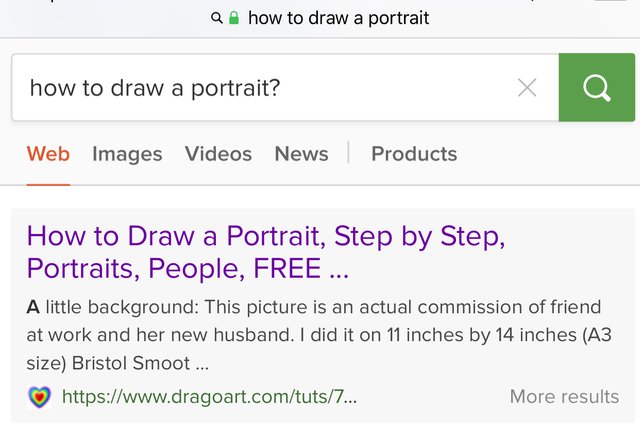 I scrolled down a couple articles, clicked on this one, read through to the third page and discovered Grid Drawing. According to my search, a grid is the 'easiest' way to draw a portrait. "Thanks, DuckDuckGo!"
I had my iPhone 8 take me over to the App Store and I typed in "grid drawing." This free app popped up:

I read the tutorial and it didn't confuse me too much so I downloaded it. The app is real easy to use. As soon as I opened it, it asked permission to access my photos. I clicked 'allow' and I was able to view my photos. This time I clicked on Mrs. Helen June, adjusted my dimensions and Ta-da! "Grid Drawing:"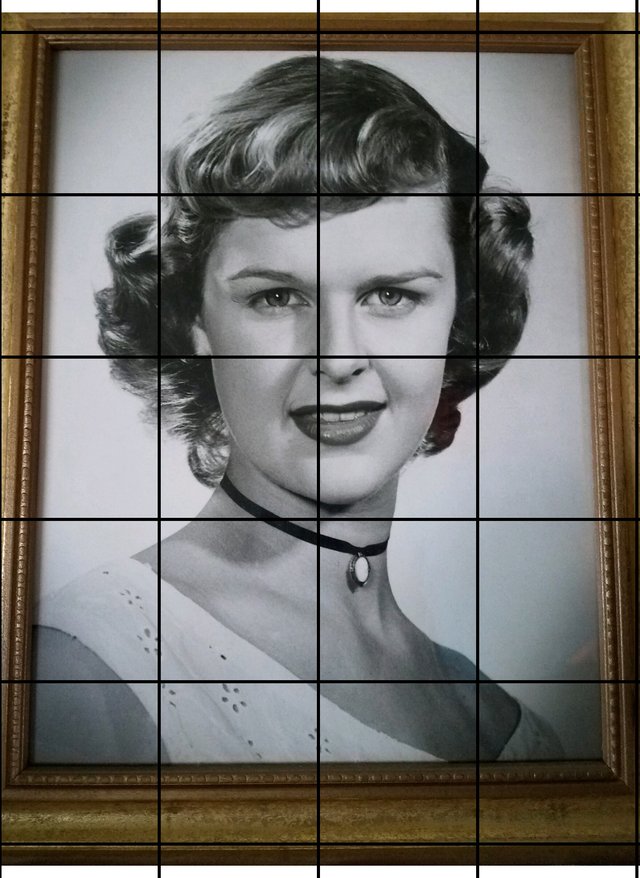 iPhone 8+, Drawing Grid app
Now just duplicate the image - Before you scroll through the progress pictures :cough: Thank you for continuing to support what I'm doing around here, really, your support means a lot to me! And thanks again for having us at your place Mr. and Mrs. Thyle, I hope I captured your mother/mother in-law properly: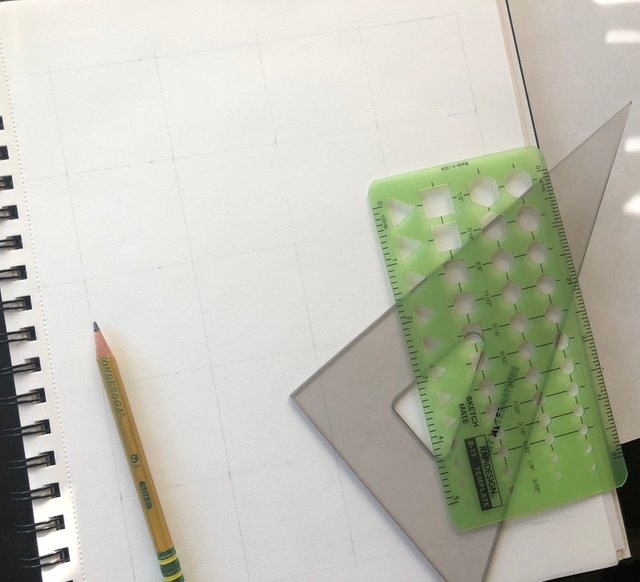 A2 paper, Yellow No.2 for lines only, measuring tool and a straight-edge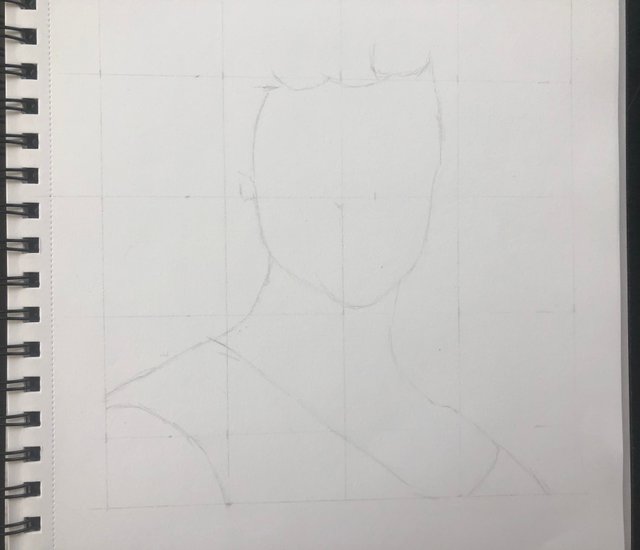 HB Graphite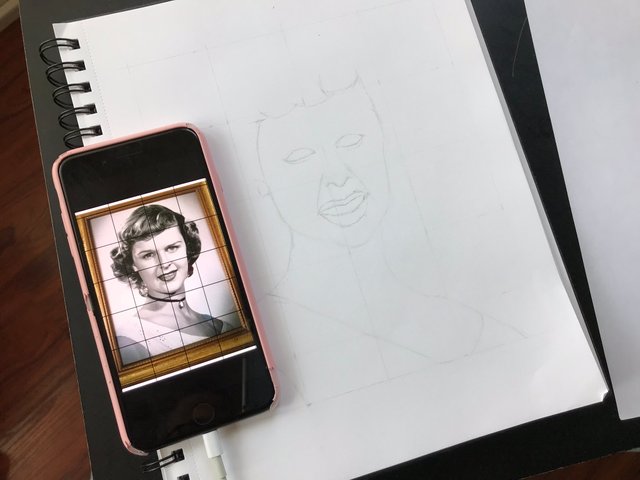 HB Graphite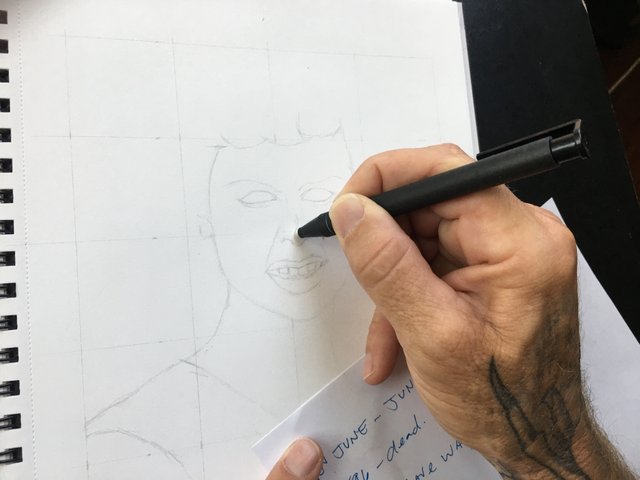 3.0 adjustable eraser. I call it my 'white-lead'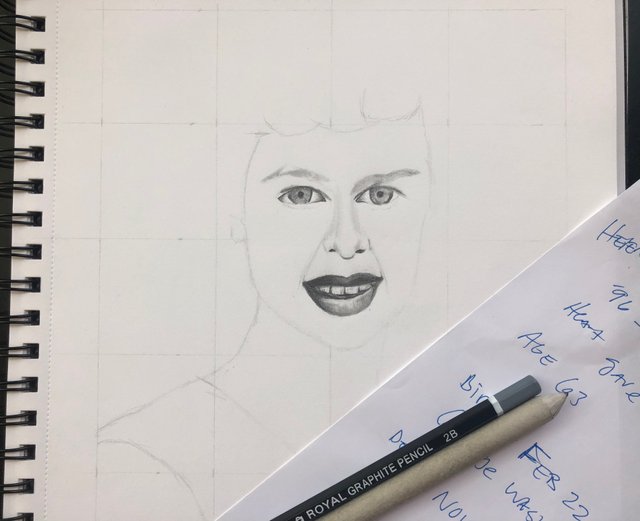 2B Graphite and Paper Stump
See that sheet of paper with writing on it? I used that paper to shield my hand from smearing lead on the drawing. Those are the notes I took about Helen June; her age, birthday, etc. I used that paper throughout this drawing as a reminder of who I'm attempting to portray. If I could enlist anyone's guidance on this one, it's Mrs. Helen June's: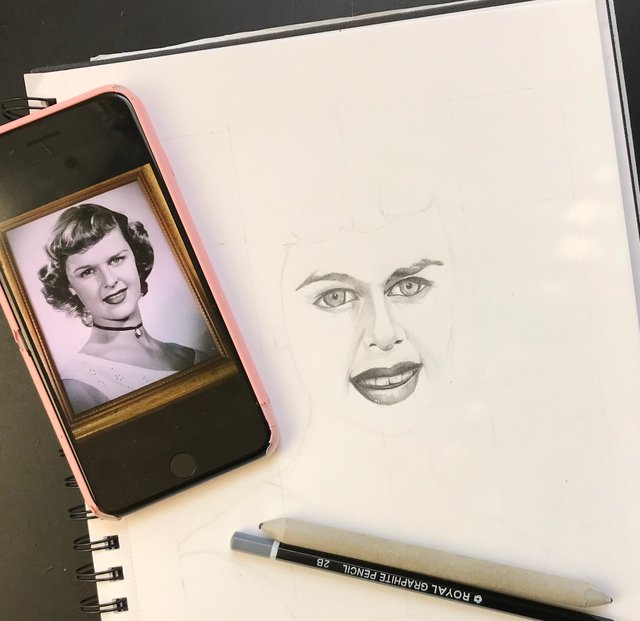 2B Graphite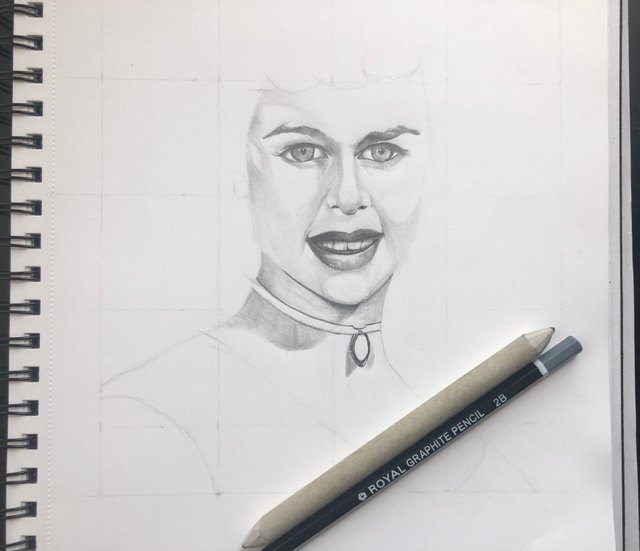 2B Graphite, Paper stump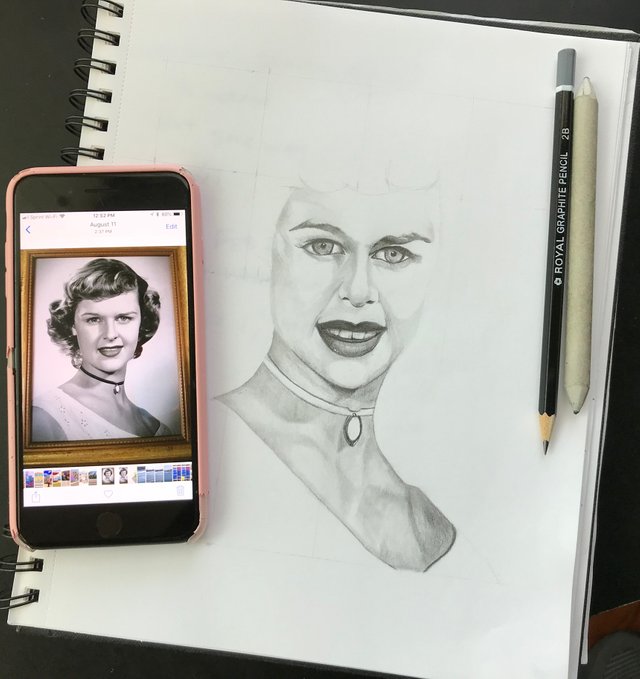 2B Graphite, Paper stump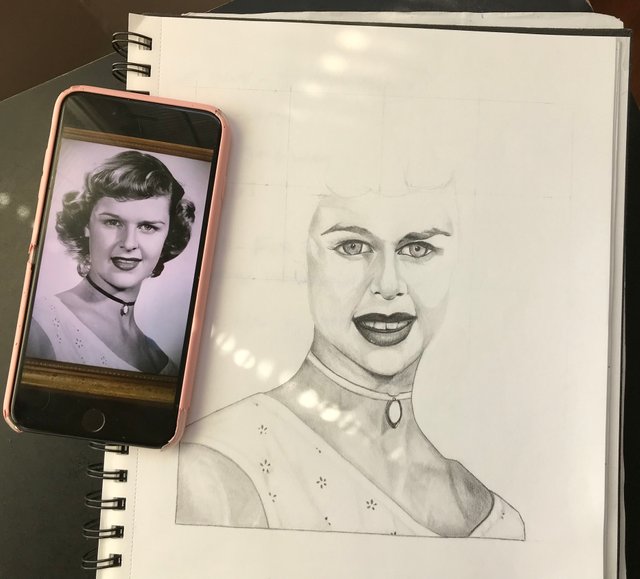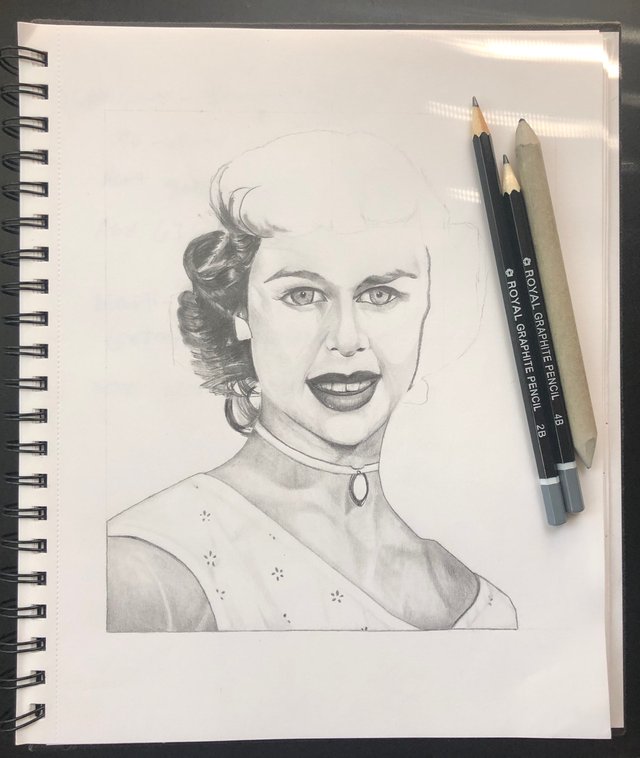 2B, 4B Graphite, Paper stump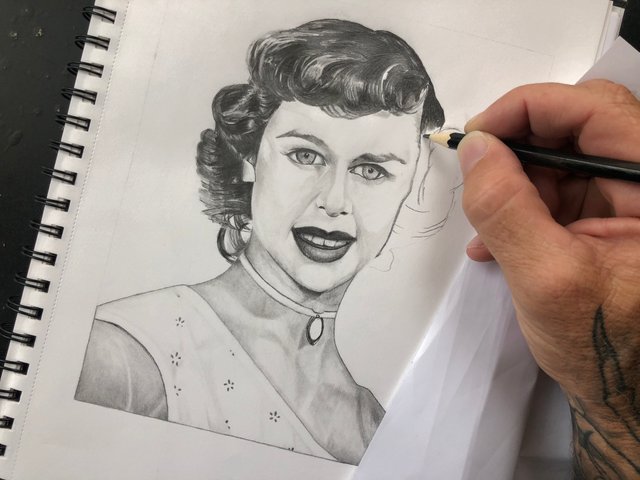 4B Graphite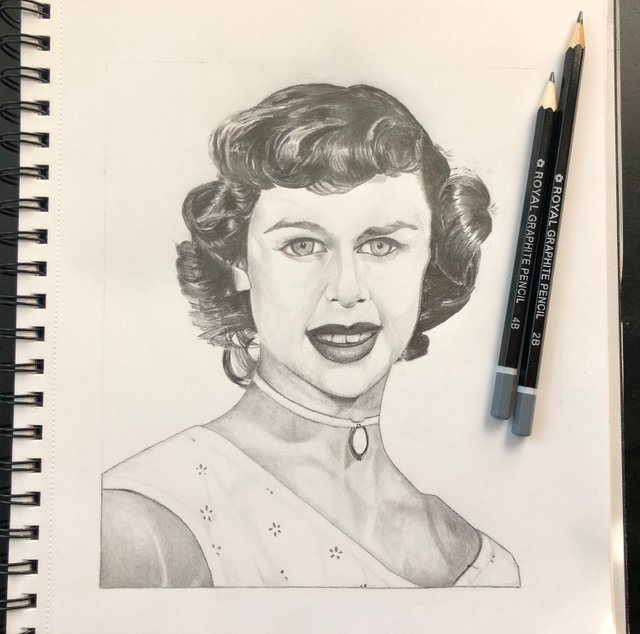 2B, 4B Graphite*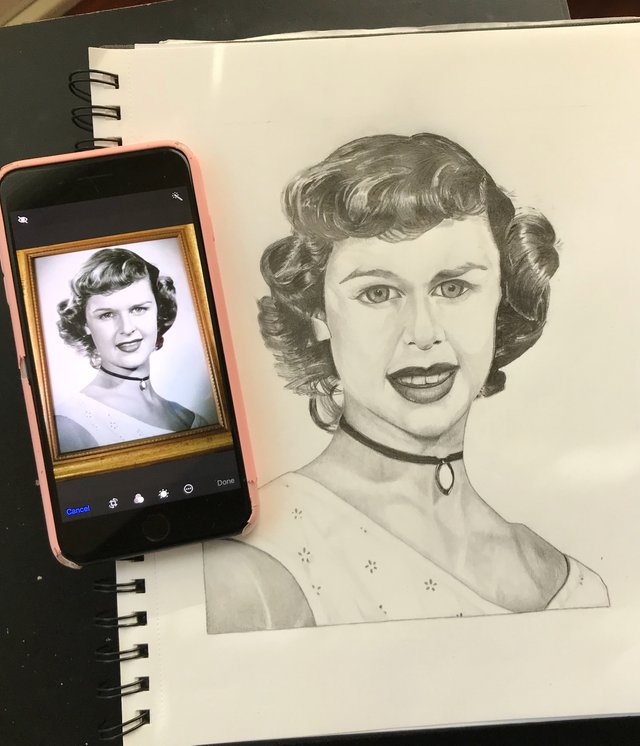 Graphites: HB, 2B, and 4B. 6B around the eyes and many sections of her hair for depth. 8B (necklace only) and a Paper stump.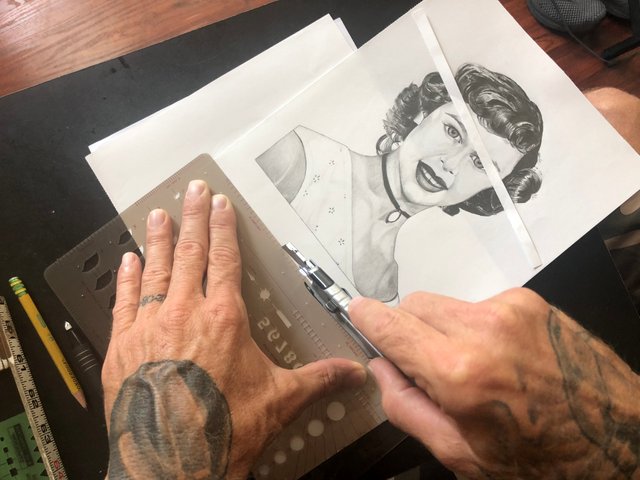 Modifying a 5x7-10x8 frame to 7n3/4 x 9n1/2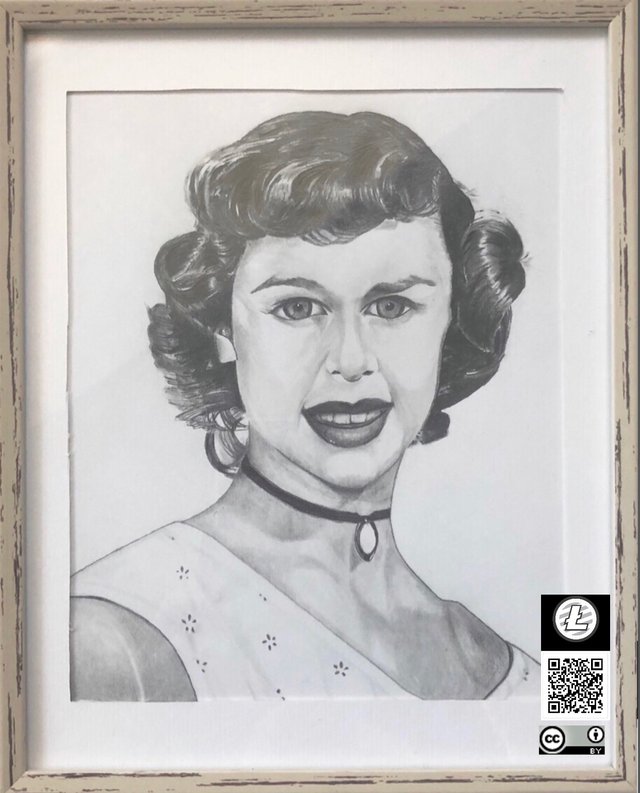 Finished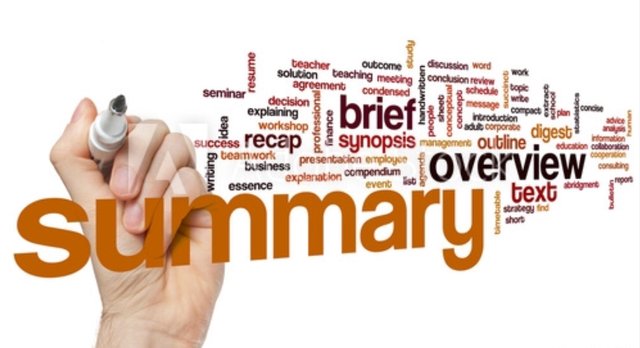 My Conclusion
I don't like drawing portraits - They're too critical. I can't fudge anything or just go off on a freestyle tangent because I'm actually attempting to replicate a living/breathing thing, it's difficult. For me anyway! I applaud all of you artists consistently drawing portraits around here, I'm in awe of your work.
On that note, I have two obligations left to fulfill. Well three counting the snail @markangeltrueman gave me the green light to draw - It's coming Mark! While you're here, I believe congratulations is well deserved! I still need to draw my wife and I decided to save her for last. "Save the best for last" is cliche but my wife is the best and she's the last portrait I'm going to do so... Cliche it is! You know what that means, Ed.
"@edprivat! C'mon down! You're the next contestant on the pri.... iTalent 10
(Or 11 or 12'ish) Challenge!" I'll try my hand at you next, deal? Do me a favor, please, shoot me the black/white image you'd like me to draw and I'll create whatever was destined to happen. No deadlines though, cool? I suck at hard bids! Until then...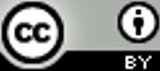 Creative Commons License 4.0
Click Here for Monday: