We had a record number of 23 participants this time!!!! Actually we had 24 participants and 26 interpretations. Unfortunately, 2 entries were a bit late.
I don't know what played the main role: the judge @ezzy or inspiring painting. But I am very happy! And some entries showed up within the first hour and almost a half of within 1 day. And what fantastic entries!!! I am going to use some in my love letters to my husband with your permission hahahaha)))))))))))))
My special thanks to the people who are constant participants of this challenge. I highly appreciate your being with me! And I am always happy to new people. Join us! We have a little family here.))
For the second time we have a judge @ezzy and it is really big pleasure for me to communicate with this person. Thank you, dear @ezzy, for the delight of "working" with you!!!!!!!!!!!!!!!!!!! I don't want to annoy but I will be always happy to see you as a judge! And participant. But I am afraid I will not be able to be objective if you take part here hahahaha But we will have an invited judge.)))
The task for ARTquest#14 was to give the interpretation to a surreal painting of the Vladimir Kush.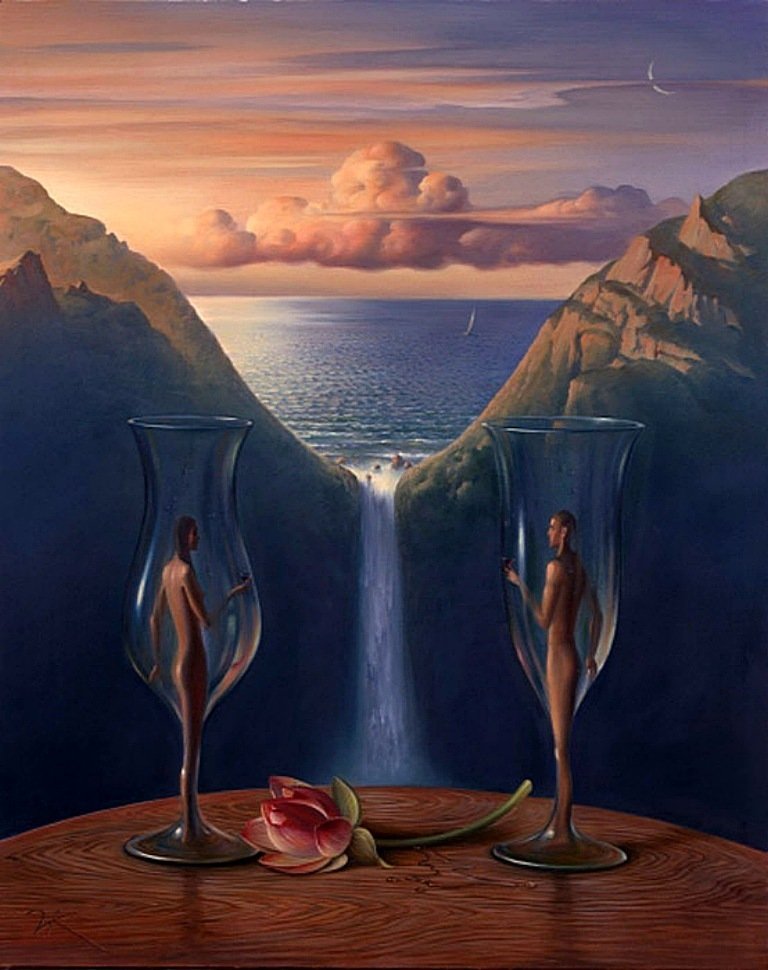 Vladimir Kush
@ezzy was so kind that gave comments to the winners' works!
AND THE WINNERS ARE:
THE THIRD PRIZE (150 TRAIL + 3 SBD) GOES TO:@mindfreak
Great little poem creating a sentimental tale regarding the painting. Beautifully constructed and aptly chosen. Very good job.
Unbreakable Love

We stood our ground
when world tried to drop it,
Our love grew more
profound When world wanted to swap it

Like the glass of wine,
The love become better and faith stronger
Driven by society as sour as brine,
Purity of our love need not to be
explained any longer

We are standing as strong as mountains
We never changed our mind
Even though everyone closed their doors and curtains
The smell of our love will be all over wind.
THE SECOND PRIZE (250 TRAIL + 7 SBD) GOES TO:@goldenroom
The ying and yang balance is a great way to view it. Again, a keen eye for the visuals. The converging waterfall and ocean of opportunity observation I thought were interesting takes. Well done.
I get a strong sense of balance, yin yang, female/male from this
painting. I see the representation of balance with the dichotomy of
day and night in the sky, the shape of the glasses, with man and woman
in the glasses on the table, the grain of the wood, and the difference
in topography of the mountains. Each side of the painting is similar
yet not an exact mirror representing the push and pull of what can
happen in life. We wouldn't be able to have one without the other.

Both the lotus flower and the waterfall/ocean help tie the sides
together by crossing over the boundary between each side. Lotus
flowers usually represent life and the layers of life. It wouldn't be
able to thrive without day and night or without water to nourish it.
Yet, in itself, it's representing both life and death as it looks like
it's been cut and plucked from its watery home before coming to full
bloom and placed on the table between them (you can even see the small
puddle of water left next to it).

The waterfall is also at the convergence of the two sides suggesting
that it is the point at which the two can come together and fill their
glasses and to thrive together. If they do this, an ocean of
opportunity awaits them and if they miss their chance, it's okay
because the ocean is large and there is always another opportunity as
the waterfall will always keep flowing.

The two sides may be different but require the same source of balance
for survival. The man and woman are already toasting each other in
acknowledgement of their existence and importance to the balance. The
glasses seem to be a part of the man and woman which I take to mean
each glass is more of a representation of their life and the need to
fill themselves up with life and the balance that comes with it rather
than acting a glassy prison BUT, life can be a type of prison if you
are unable to find the balance. You'll end up looking out into the
world from an empty cup. The waterfall of balance can seem far away
but maybe it's only an illusion. Maybe it's right there and all you
need to do is stretch your glass and and catch it in your cup.
THE FIRST PRIZE (300 TRAIL + 10 SBD) GOES TO:@snooway
I loved the descriptions and detailed interpretations offered. The man and woman reaching out to each other, the lotus symbolisation. It was great.
Artchallenge #14 entry: Pure Love
Pure Love
At first glance the painting hints at a romantic scene with the wine
glasses, the warm pinkish sunset with a thin crescent moon, the yacht
sailing on the water, and the waterfall. However, instead of a red
rose that symbolizes passionate love, the flower on the table is a
lotus flower. The lotus has various meanings, including purity and the
sense of transcendent beauty because the lotus flower grows out of mud
but isn't tainted by the wet dirt. The man and the woman are trying to
reach each other but are confined in the glasses. However they are not
wearing clothes which means they are not trying to hide behind a
facade but willing to show their true selves. They are holding up wine
glasses themselves to toast their relationship. The lotus set between
them is a sign of their purity. Once they get to know each other more
they will be able to break out of the glass that separates them. The
waterfall that features prominently symbolizes rejuvenation and
spiritual cleansing so it suggests a hopeful future for the man and
woman.
CONGRATULATIONS TO THE WINNERS!!!
THANKS TO EVERYBODY FOR PARTICIPATING!!!
SPECIAL THANKS TO OUR JUDGE @ezzy!!!!!
And I have a surprise for you for next challenge! 15th challenge!!
All the information about TRAIL and how to claim it you can find here.
If you have never dealt with SteemTrail Discord , you can go and check what it is here.

To claim TRAIL you need to open an account. Just go to Open Ledger Account and follow the instructions. Then submit your Open Ledger account info (OL account "my-username" and Steem account "my-username") in the #open-ledger-account-add channel or to me.
If you want to open Streemian account, just go here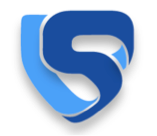 THEME FOR ARTCHALLENGE #15 will be announced tomorrow, the 26th of June.
You can see the previous artchallenges here:
Winners of ARTquest#13 10 participants
Winners of Artquest#12 10 participants
Winners of Artquest#11 9 participants
Winners of Artquest#10 13 participants
Winners of Artquest#9 10 participants
Winners of Artquest#8 10 participants
Winners of Artchallenge#7 6 participants
Winners of Artchallenge#6 7 participants
Winners of Artchallenge#5 8 participants
Winners of Artchallenge#4 9 participants
Winners of Artchallnege#3 11 participants
Winners of Artchallenge#2 6 participants
Winners of ARTchallenge#1 14 participants
EVERYBODY IS WELCOME!
I would like to THANK again those who supported this challenge, all the participants, @steem-trail (STEEM TRAIL Team), our invited judges @looftee, @paolobeneforti, @silviabeneforti, @surpassinggoogle, @ezzy, @lpfaust and our sponsors @ogochukwu and @looftee.
Please FOLLOW, VOTE and RESTEEM this post.
I will be also very happy to any support of the artchallenge! If you want to be a judge or a sponsor, you are very welcome!
Join me on a quest to discover the treasures of beautiful artworks!
Sorry for not answering your comments (due to my travelling) in time. But I try to resteem and upvote with my both accounts all your posts and comments with interpretations.
Always yours, @aksinya.