My humble thanks to all the artists who have participated in these collaborations.  

I find it truly amazing that you all continue to play, even though I offer no incentive/financial reward that often comes with this type of a collaborative initiative.  

I am most inspired that this is not a competition,
but instead a collaborative effort,
and not based on "what can I get out of this",
but "what I can give".  

Those of you who play have incredibly big hearts, are over-the-top supportive of this artist's community, and I am honored to be a part of your lives.
~*~*~*~*~
Enjoy the final results  of Collaboration No. 14
~**~**~ " O N    T H E    B A L L " ~**~**~
I offered up an Invitation to collaborate on this photograph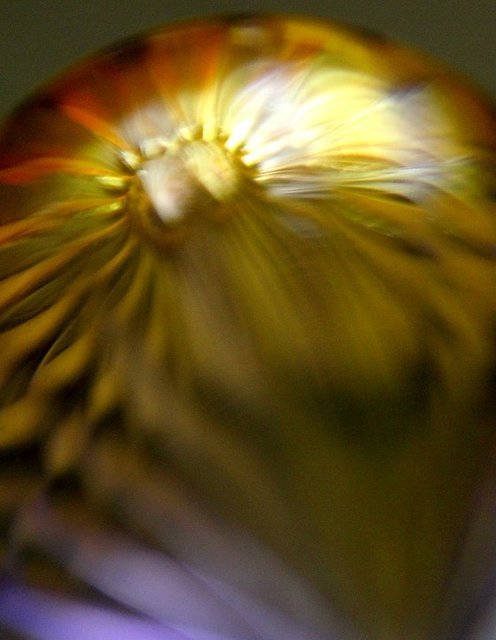 This is a spinning Christmas tree ornament with little flickering Christmas lights catching the shine as they dance upon the ball. I decided not to reveal exactly what this image was BEFORE the collaboration began, to see how artists may/may not create their art influenced by the knowledge of the image, or the lack thereof. I don't feel that in this particular case it made much of a difference, as it perhaps could have on our last collaboration "Wisdom of the Ancients".
Then, 8 more artists took my image and did their thing 
to produce 10 Collaborative Masterpieces 
from my one photograph and their imaginations.  
LISTEN TO THIS  BEAUTY WHILE ENJOYING THE
OTHER ARTISTIC EXPRESSIONS AND TRANSFORMATIONS:
 "M.M.M. #25: On The Ball" by @verbal-d

<iframe width="100%" height="450" scrolling="no" frameborder="no" src="https://w.soundcloud.com/player/?url=https%3A//api.soundcloud.com/tracks/307491223&amp;auto_play=false&amp;hide_related=false&amp;show_comments=true&amp;show_user=true&amp;show_reposts=false&amp;visual=true"></iframe>
You've done it again verbal-d!!! I too find this a very hypnotic piece, left me full, yet still the desire for another taste lingers. I just keep hitting the play button!! I wonder how long I can hang out here on your post without it resembling stalking! LOL!! Your sound always moves me and I am grateful that you are inspired to create such good-feeling vibrations. Thanks for being you and for sharing yourself with the Steemit community. We are blessed!
"Life On the Ball" by @yadamianiart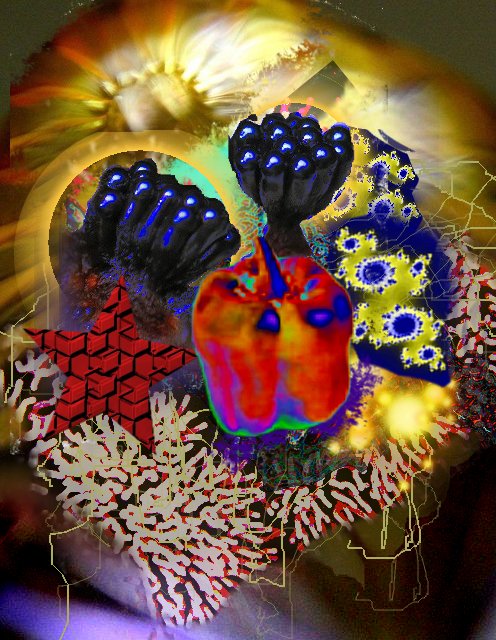 That's an intriguing selection of pieces for this image -- it's so vibrant and the textures are really interesting. A very high catching transformation @yadamaniart!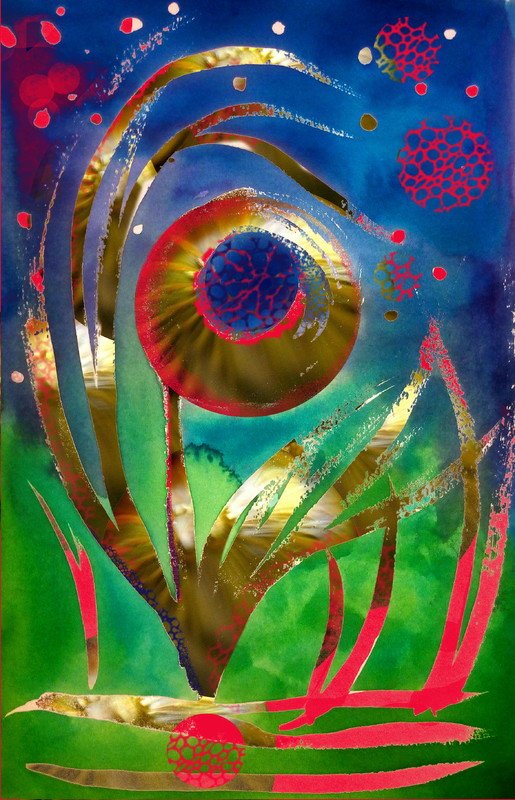 Such vibrant colors--I love the way the gold metallic is great contrast. I'm a spiral girl, so that's another element that is a great draw for me. This may be one of my favorites of your pieces. Great job @opheliafu! Again!
"To Be On The Ball... O Ya Han Llegado Los Extraterrestres" by @soyjoseluis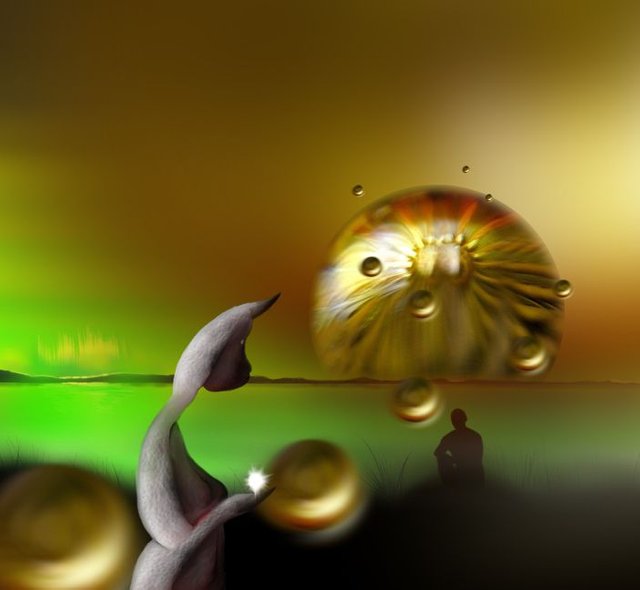 @soyjoseluis that was awesome. I love the way you play with your posts and always offer up such a grand story as well. You post in itself is a piece of art. Thank you for bringing yourself to this collaboration!
"On the Ball" Transformation and Poem by @pryowngs

Ooooooo--that is inspiring!!! What a beautiful duet of expression!! So glad to have you play with us @pyrowngs.
Also by @pyrowngs: "On the Ball" Collaboration No. 2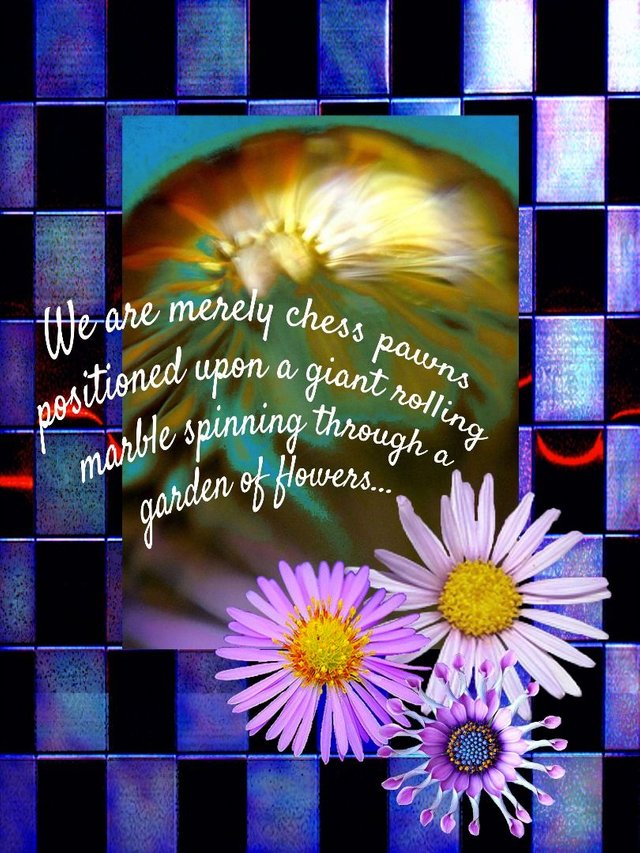 Wow!!! I'm really impressed that you are just learning photoshop and did this already!! PS has been on my list of tools to utilize, but alas, I keep opting for playing outside instead of on the computer. A very fun piece @pyrowng. Grateful for this second piece of AWESOMENESS!
"Steembug Greets the Sun" by @meesterboom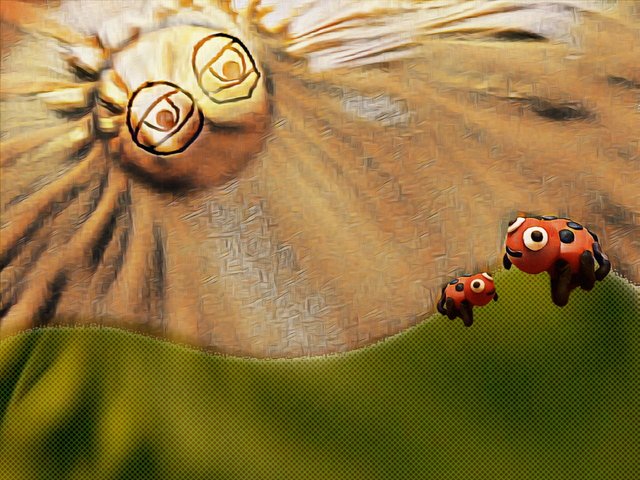 Oh @meesterboom--you never cease to amaze me. There is always a surprise flowing through you. I love it that you made those little bugs. That makes this image all that much sweeter!!!! So glad you play this game with us!
"On The Ball - Or Hopeful of Being So Anyway" by @girlbeforemirror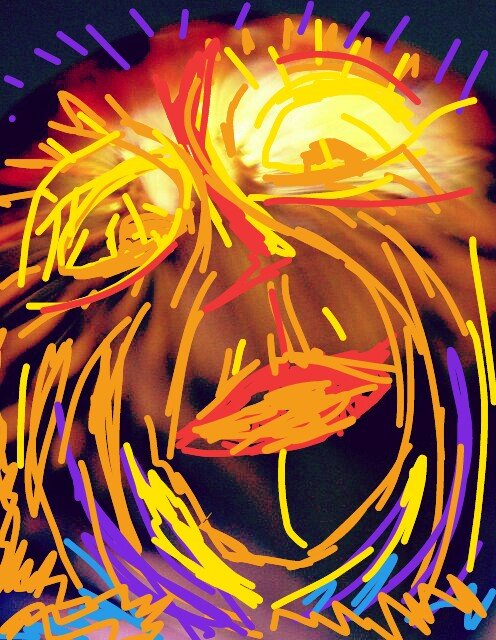 Abstractly search obscure moments,
Weary as the night laments.
Seeking to survive transition,
Discover growth not ammunition.
Embrace the pain then let it go,
Resist the sensual undertow.
Fall then stand then fall again,
Resist ego's desire to defend.
What's past can never be retrieved,
Attempting to won't bring reprieve.
Everloving healing powers,
I'm silent yet my heart it howls.
In the hopes that I am on the ball,
Not teetering until I fall.
Trust the ID to guide the way,
The guise of faith to face the day.
This is quite the post @girlbeforemirror--and quite the piece of art! It is so expressive with the vibrant foreground contrasting with the darkness in the background. It feels like the light inside being released to overcome the darkness. Transformation comes, one little stroke at a time! Art heals. I love that we are doing it together!!!And your poem is AWESOME!!!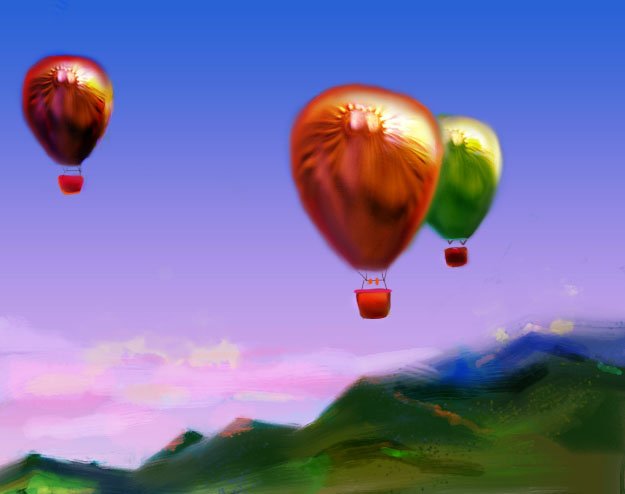 Oh YES! This is fun and a great use of my image @aksinya. I'm always excited to see your posts and the creations you come up with. A beautiful expression comes through you. So grateful to receive your blessings!
"On the Ball" - Inspired by Picasso's Girl on the Ball also by @aksinya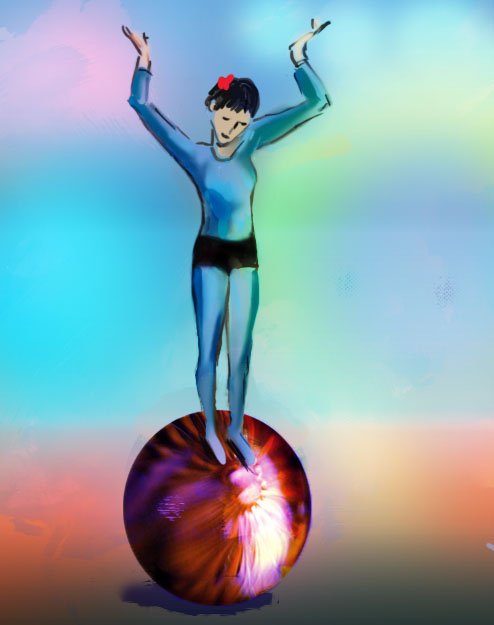 Hehehehe---clever!!! Great interpretation @aksinya. All-ways such a pleasure!
Everyday I count my blessings for all of the
beautiful people in this community.  
I feel great love and inspiration from
far corners of the earth.  
I appreciate you all.  
Thank you for showing up in my world.


TUNE IN:  Another opportunity to create together,
build community and
add to our fabulous gallery of collaborative works
is coming soon.
Please resteem to share the magnificence or our masterpieces,
and expand our artists community.  
Invite your friends to join our next transformation.
CHECK OUT THIS ASTOUNDING GALLERY OF OUR COLLABORATIVE ART JOURNEY
Finale of Wisdom of the Ancients- 17 artists creating 36 masterpieces
Finale of Rejuvenation- 20 artists creating 27 masterpieces
Finale of Do You See What I See - 14 artists creating 19 masterpieces
Finale of Shattered Rainbows - 17 artists creating 31 masterpieces
Finale of All Fired Up - 18 artists creating 19 masterpieces
Finale of No Strings Attached - 17 artists creating 29 masterpieces
Finale of Artist's Eye - 16 artists creating 21 masterpieces
Finale of Midnight Sky - 7 artists  creating 8 masterpieces
Zentangle Art Collaboration - 4 artists creating 3 masterpieces
Building community through Art Collaboration - 2 artists creating 1 masterpiece
Collaboration using Ned's Head - 5 artists creating 4 masterpieces
Collaborating with @opheliafu:  Madam Kali - 2 artists creating 1 masterpiece
Collaborating with @opheliafu: Bird on a Wing - 2 artists creating 1 masterpiece