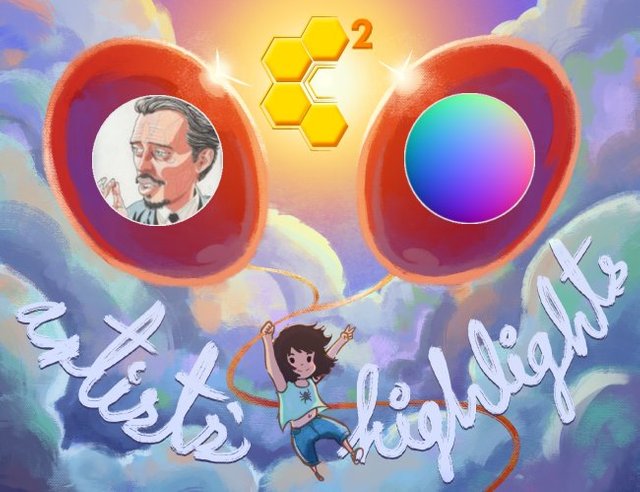 Artists' Highlights at C-squared
Hi everyone !
I've been spidering around Steemit's visual art spheres for a while now and it has always been a passion of mine to support, recognize, and highlight artists and their works :D
I bring these highlights via C-Squared's platform, so you can browse and enjoy these beautiful talents we have on Steemit :)
Note: if you have an artist that you think should be appreciated more, let me know at any time :> You can leave a comment on these posts, and I will try to pick them up in future editions

Issue 10 Artists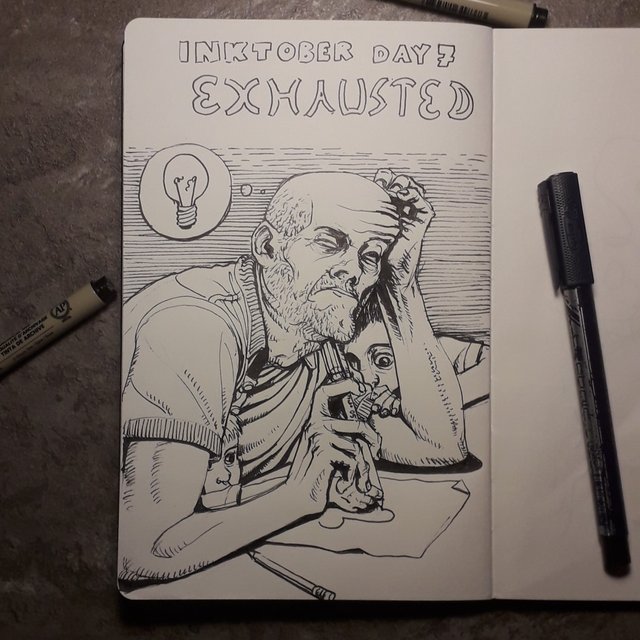 @longer joined Steemit on 24 April 2018! ... that was freaky, I checked my previous post and @longer joined one day after Armando Sodano did, so @longer has just passed his 12 months' anniversary 3 months ago now :D Happy Steemit First Anniversary, David!
@longer is a wonderful and talented person :D He's always ready to talk and make friends and his skills with the inkpen is absolute amazeballs * ___ *
To quote from his introductory post:
My name's David, happy father of three, halfway beetween my 30 and 40 birthday ;) . Some time ago i've decided that my path of career is wrong, and I should be doing what i wanted since I was a child - drawing. That's a hard case with three little kids and a full time job, but... screw this, it's now or never. I'm using this little free time that i have on becoming a better artist and changing my life on the right track. Hope to invite you all along this trip.
I, for one, has been enjoying watching and following David along, so far :D ! But, without further ado, let us appreciate a few artworks from @longer's gallery: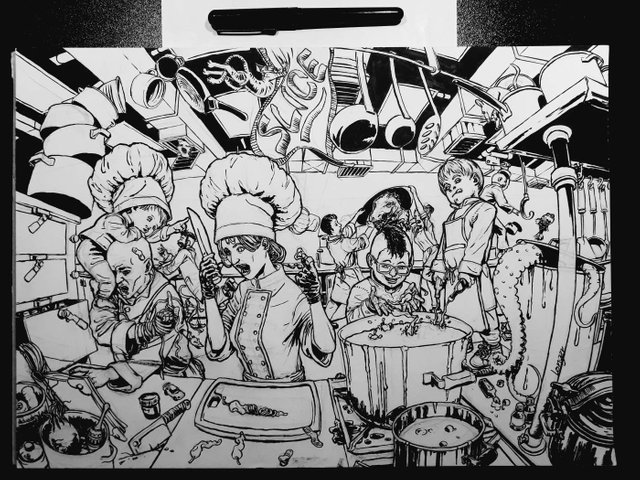 Slice – Come #Inktober this year, you would want to follow @longer's account to witness his glorious inktober pieces. We missed out on his 2017 series since he had not yet discovered Steemit but I was on board with his 2018 inktober run and it was glorious! This was one of my favourites from his 2018 Inktober pictures, but you should check out his Steemit for the others because they are all AMAZING :D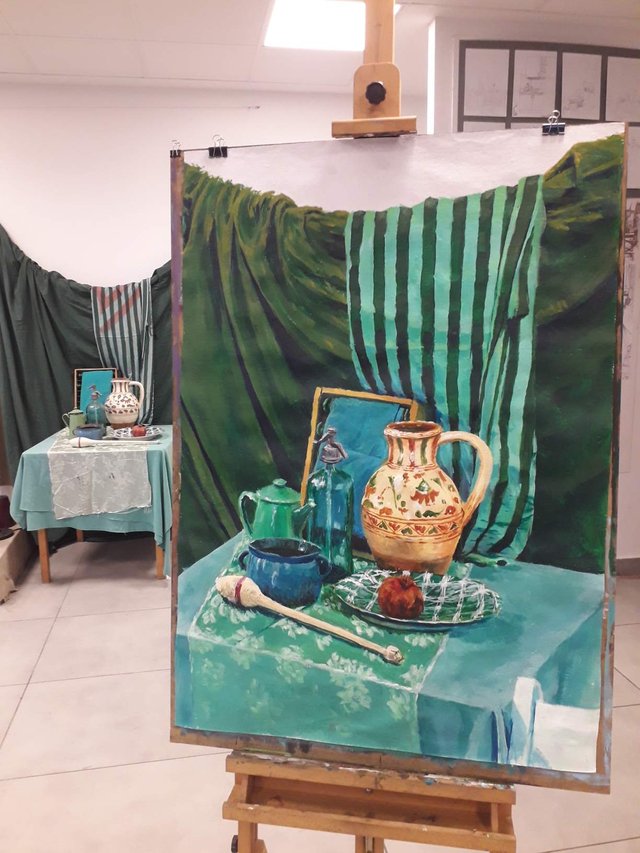 Acrylic Still Life – He is NOT just a super talented sketch artist, but David also is an amazing acrylic painter. The way he understands colours and lighting is just delightful. Check out the actual post for the step by step progress shots for this piece :)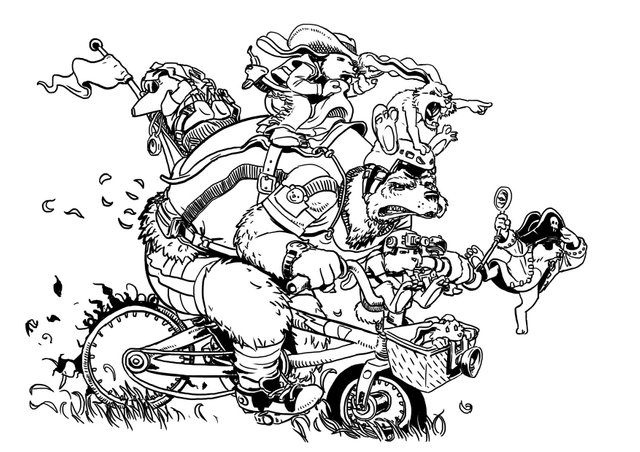 Team Bear – Coming back into his gorgeous inking master pieces, this one and the one below forms a pair of illustrations ready to be coloured. He did them for free, to be donated to @creativestreet's colouring book. It was part of their charity initiatives to provide opportunity to lesser privileged children to do art through their sponsored workshops. @creativestreet would print these linearts on colouring books and they will also provide the arting tools and then they will hold free art workshops around their locality.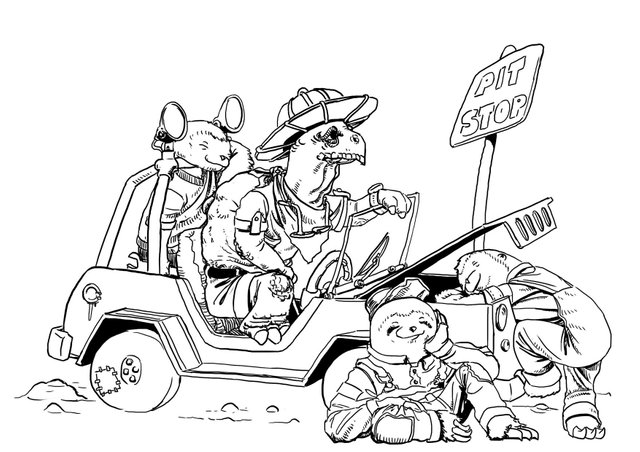 Team Turtle – This is the accompanying piece to Team Bear illustration above. Team Turtle! I love how @longer captures both team's .... spirits, for lack of better words. Team Bear is all GO-GO-GO, shouting and full with energy, and Team Turtle is very relaxed and happy to check if everything's okay before they make their move.... XD Absolutely gorgeous, how David can convey personalities so well in his pieces, don't you think?
I know I'm already over the three-pictures-per-featured-artist threshold but I will just leave this one for last: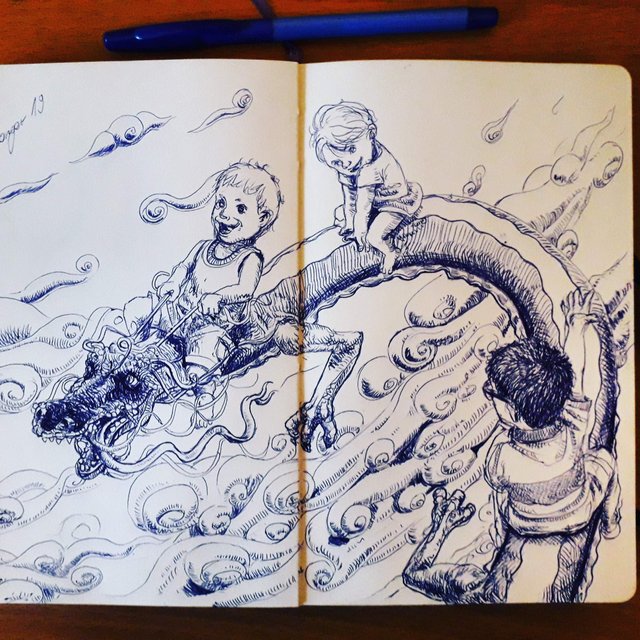 As you probably can tell, this was done by the basic ball point and yet with such a common tool, David is able to create expressive crosshatching and beautiful shading and definition that carries his style very well. I think, David's strength lies in his ability to tell stories from his compositions :D And I also find his habit of drawing his family, specially his three children, absolutely endearing. If you browse through his gallery, you will see that his three sons are featured very often in his artworks, and really, his bond and his appreciation of fatherhood through his drawings are just...... heart-warming * ___ *
I can go on forever about @longer :D But you should totally go and follow him now. He's an absolute delight to watch :D !!!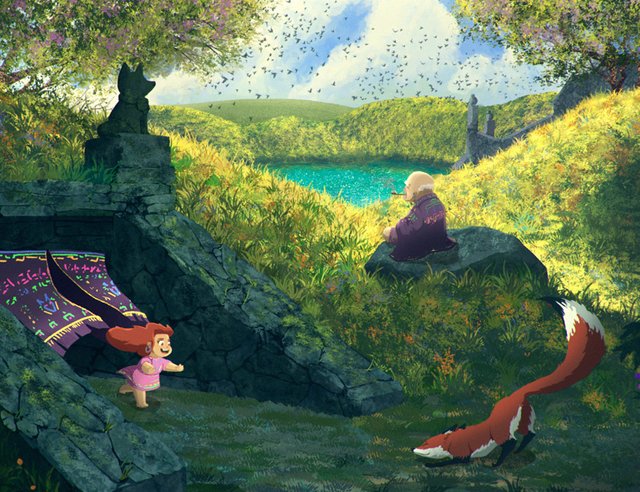 @znkd joined Steemit this year in 2019, on 21 January :D So he has just passed his 6th month anniversary like... days ago! I was lucky, super super lucky to have been online when zeen had just made his first post. We hooked up straightaway at Discord and zeen's one of my most favourite persons ever now :D :D :D
I think his nick is supposed to be pronounced "Zonked" but as usual, I am weird and peculiar, so I call @znkd "Zeen" because I thought his nick sounds like znnn-kd so if you see me littering in the comments section calling him ZEEN, now you know why... XD
Zeen is SUPER, super nice, and super, SUPER talented. It is very rare to find both qualities in one person so I celebrate Zeen all day erryday cuz he's awesome :D He is a professional illustrator and he also animates! AMAZEBALLS! I love the way Zeen design and illustrate and animate and I can go on forever and a half about how he is fabulous but I will shut up now and showcases his posts instead :D
So let us appreciate a few examples of @znkd's awesomeness: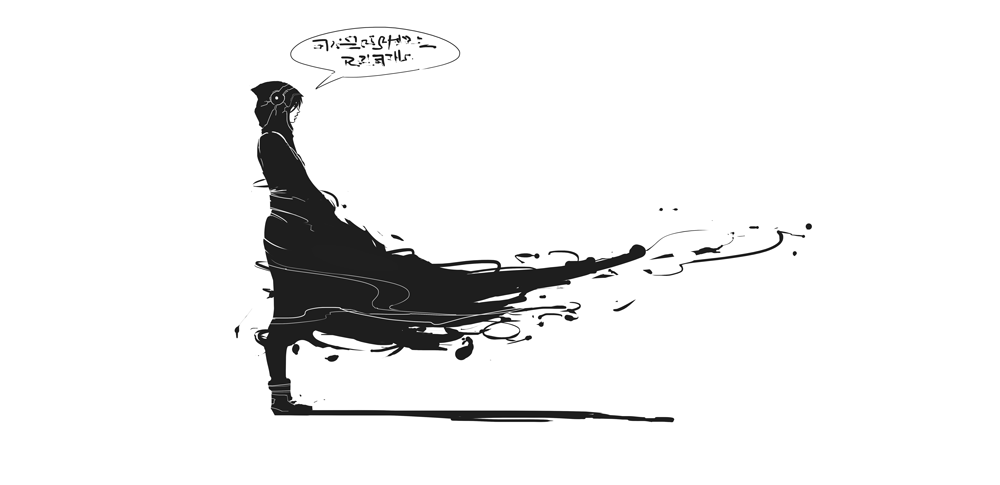 Hi First Post – You can tell from this animated image that @znkd really understands how to animate. His timing, poses, and story telling ability all shine very wonderfully here ! But the post itself is EVEN MORE MAGICAL SUPER AWESOME. Click it and see more information on his thought processes, his conceptual stages and sketches, and the break down of the animation's states * ___ * AMAZEEN~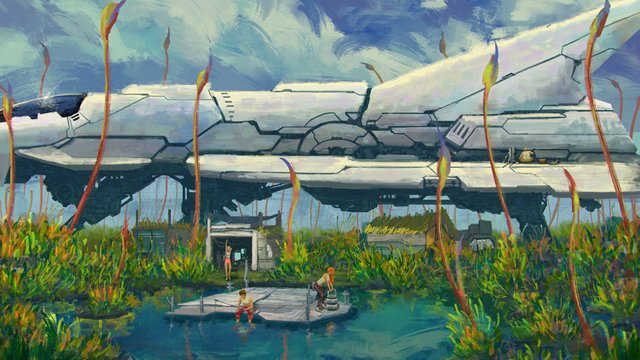 Full resolution here
Where I started arting and where I think I'll go – If you ever want to see an honest and true journey of an artist from their humble beginnings to where they are at the moment, check this post out. @znkd unveiled his earlier pieces, showing us that there is a lot that is not readily visible from an artist. The pieces you think that looks so easy to do, has taken an artist years to cultivate. Whenever you see an artist draw and it seems 'simple', be assured that there are more than meets the eye. Understanding of anatomy, of design, of composition, of light and shadows, of perspective and foreshortening, of colours and values, of tonality, of emotional contents, etc. take years and years and years and years to hone.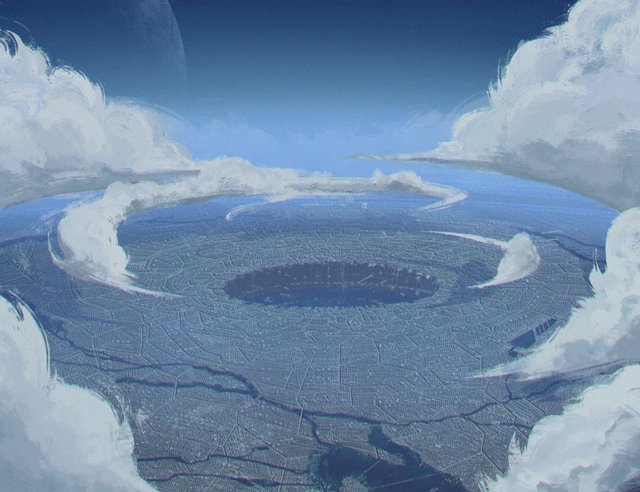 Full Resolution here
Spaceship City Launch – This is, hands down, one of my favourite pieces from Zeen :D It is a commissioned piece, and it was ordered to be vertical US letter half-page size, in dimension. That's a tall and narrow canvas, you see? I can't capture the process here, but click the link and see the thought that goes behind putting this beautiful illustration together from the scratch! @znkd explains each stage so well that you can understand and appreciate the process ! Also the close ups are IN-CRE-DI-BLE * ___ *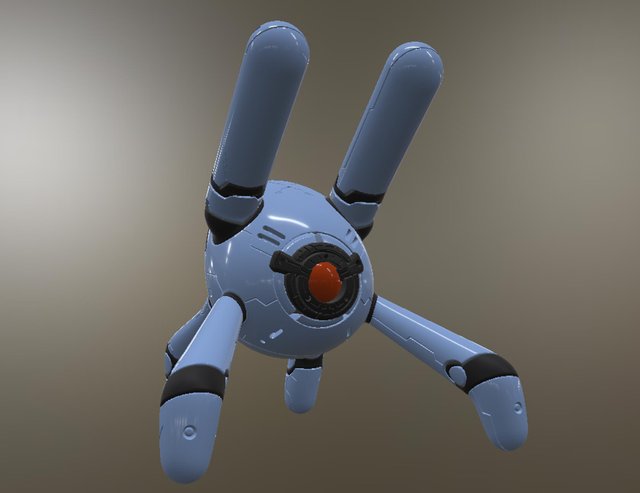 Bot Series: BugBot – So, I said before that @znkd is multi-talented, and really, he isn't just an illustrator and animator, but his skills with 3D modelling is also super! Check out this link to see him building this bug-inspired robots! There is an animated gif showing the build being put together in the post, showing off his mecha-design skills as well as his 3D sculpting skills * ___ *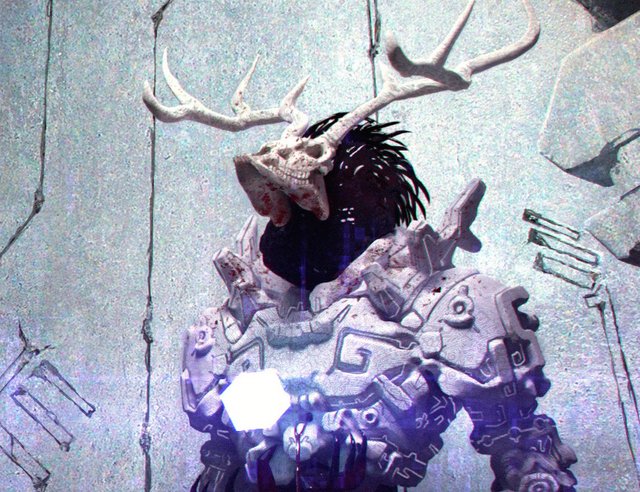 Full Resolution here
Wendigod & the Hovering Cube It's hard to showcase this calibre of talents only with a few highlights, so I'm squeezing one last piece. In this post you can see the marriage between 3D and 2D as both tools to a talented artist. He built the Wendigod through 3D sculpting and later he incorporated the creature into his finished 2D illustration, tweaking colours, composition, and lighting with such a great care so as to deliver a piece with chilling and foreboding atmosphere as ordered by his clients. Really Ama-Zeen~ :D
Go and follow his account, if you haven't! Each of @znkd post is a marvel and a delight, and he's only going places, so this is a perfect time for us to get on board the ride and witness his awesomeness * ___ *
one final fun fact, the current @c-cubed's banner for these artists' highlights? that's a @znkd original work :D.... isn't it so wonderful? :D we used to use the hexagonal @c-cubed logo, and i think zeen's artwork really has brightened up these articles very well!

So that's the tenth pair for these periodical highlights from C-squared featured artists :D
If you have been living under a rock, @c-squared is a group launched to promote manual curations of quality contents off Steemit. We browse all genres and categories and we welcome everyone to contribute and highlight underrated posts through manual curations. Join the discord ! Join the appreciation of others ! Anyone can curate \o/
The format of this thing might change in the future since I am very new at this so let me know any tips for improvements !
Much love,
@veryspider
Copyright of @longer and @znkd.
Banner is copyright @znkd.
All Rights Reserved.
Do not reproduce or use without written permission.

Log of previous issues
Issue 1: @Arrr and @thilah
Issue 2: @EdgarUVM and @Zsolt.Vidak
Issue 3: @chrisdyer and @sanderjansenart
Issue 4: @elenasteem and @patschwork
Issue 5: @nyarlathotep and @carlgnash
Issue 6: @mikkolyytinen and @nekromarinist
Issue 7: @azbeen and @barbara-orenya
Issue 8: @rachelsvparry and @jankasparec
Issue 9: @armandosodano and @shibasaki

@c-squared runs a community witness. Please consider using one of your witness votes on us here

All proceeds from this post will go to the artists featured in this article.