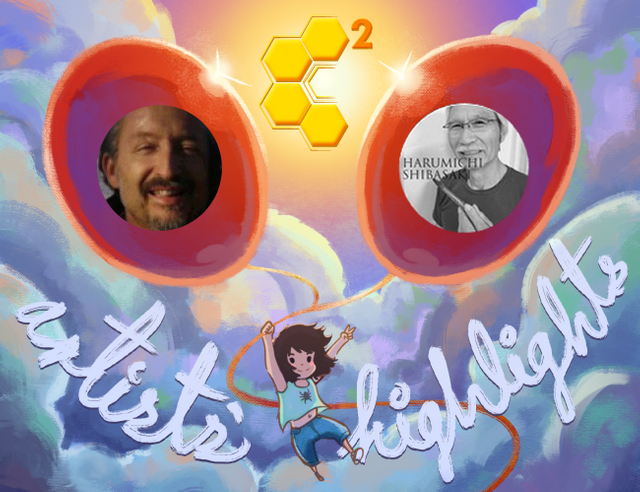 Artists' Highlights at C-squared
Hi everyone !
I've been spidering around Steemit's visual art spheres for a while now and it has always been a passion of mine to support, recognize, and highlight artists and their works :D
I bring these highlights via C-Squared's platform, so you can browse and enjoy these beautiful talents we have on Steemit :)
Note: if you have an artist that you think should be appreciated more, let me know at any time :> You can leave a comment on these posts, and I will try to pick them up in future editions

Issue 9 Artists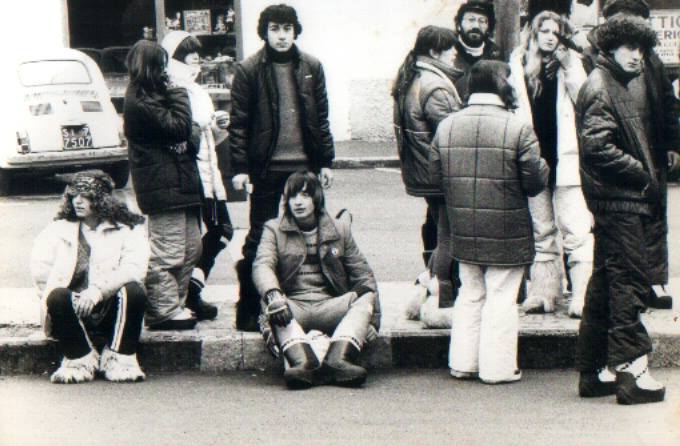 @ArmandoSodano joined Steemit on 23 April 2018! So, Armando has just passed his 12 months' anniversary 2 months ago now :D Happy Steemit First Anniversary, Armando!
I think Steemit has been enriched and made better by Armando Sodano's joining it :) He is super, super, super nice – super, super, super talented – and super, super, super wise! Basically, he is super :D
Armando is one of my favourite Steemians, because he brings so much value with his presence on the platform :D In real, Armando is an art teacher, hailing from Terracina, Italy, where he has been instructing art to his students for over 25 years!
To quote from his website:
Armando Sodano was born in 1963 in Naples. He attended the Art School of Latina, is a graduate of the Academy of Fine Arts in Rome in the scenography. His first exhibition was in 1990 with the participation in the Painting Prize of the City of Latina, at the Palace of Culture. Later, Armando Sodano mature various experiences in the field of art, and in parallel in the field of teaching. He currently lives in Terracina (LT) and teaches Art Education at the Institute Comprehensive "M. Montessori" di Terracina
Clearly, we have a master artist here in Armando Sodano and if you'd like to find out more about Signore Sodano, I recommend you check his website at https://www.armandosodano.com/ or read his introduction post :D … but as for this post, let us appreciate a few paintings from @ArmandoSodano's gallery: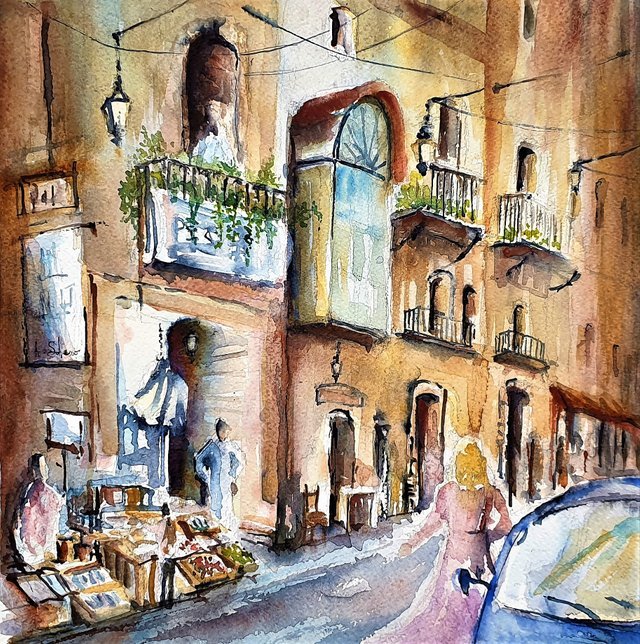 Life of Naples – We begin with this incredible post titled "Life of Naples" where Armando presents a beautiful drawing of a street of Naples. The artwork captured the iconic life style of the city and the post itself contains many gorgeous photographs of various different aspects of life in this old city. There are no words that I can place here to do the post justice. All I can say is that if you ever are curious to find out more about Naples seen through the eyes of a local who can showcase the beauty, history, and depth of this city,……….. this is the post to check out.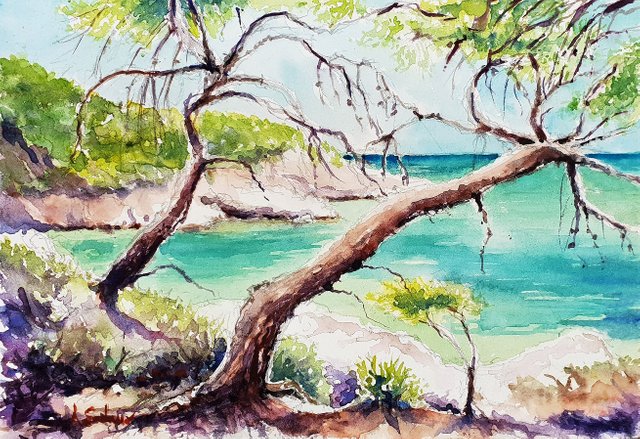 Sunny Day on San Domino – Here we can see the artistry of plein air creation of a watercolour painting! The artwork in this post was made on site as Armando enjoyed a summer day at San Domino, in Tremiti Islands, part of the Ionian Sea. The step by step process is shown with the post, so you may understand the stages of how the painting was created :) Beautiful and delicate colours captured the perfect summer day at this gorgeous Italian island!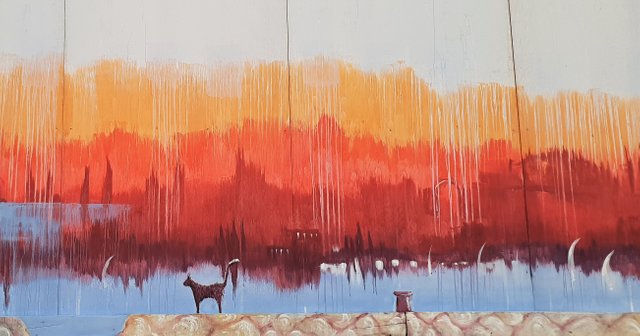 Beauty and Cats will save the World !! – Here we have a wall painting project that Armando Sodano had completed, with the theme of Beauty and Cats will save the World! :D The canvas is over 80 square meters of panelling, and Armando and his friend was only given three days to paint it to the finish! A video is included here, which is a treat to see, of how Armando painted this large piece of artwork :D !!!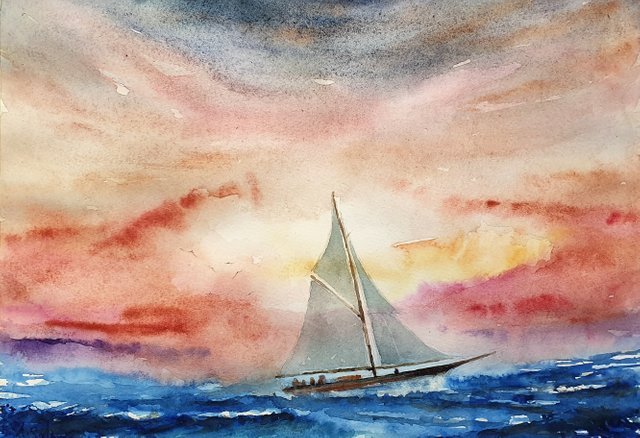 Rules for sailing in the sea – It is impossible to only choose four out of Armando's body of work, since there are so many beautiful posts in his gallery, but this one was a natural pick. The topic is important and coming from a teacher of the arts, who's not only passionate about earning at the platform but more so, to teach and cultivate an art community in Steemit that is robust, that is educated, that understands the rules in the art world well. In this post Armando speaks about the rules that will keep everyone honest and the basic tenets that would make Steemit a respectable art forum.
And finally, I felt compelled to include this beautiful photo: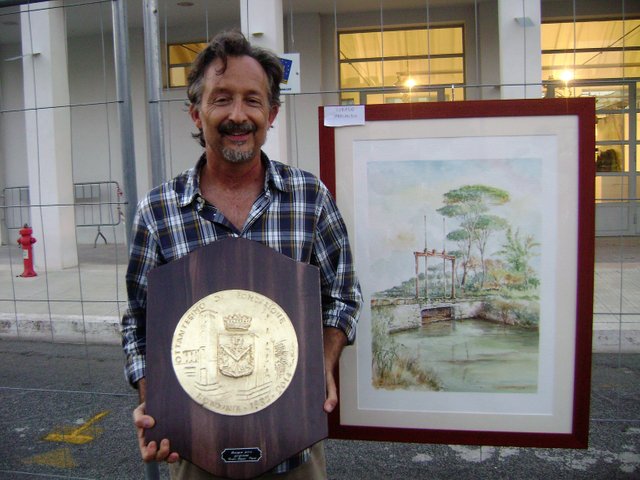 In this photo, Armando won a prize for participation in a live painting competition that span 8 hours. His artwork (which you can see below) is now owned by the bank who sponsored the competition, and he was also rewarded with 700 Euros for placing second in the competition :) Armando also won the Special Critics Award for this beautiful piece below: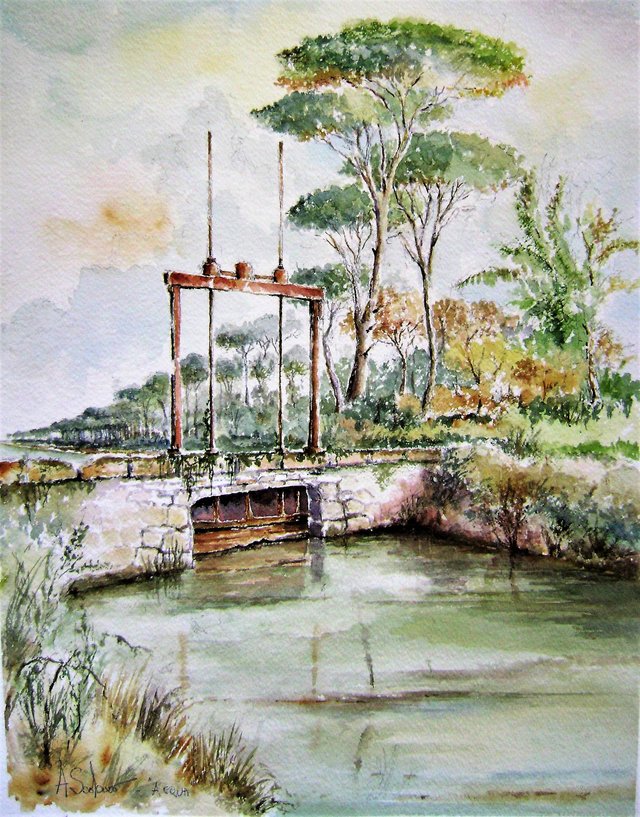 I can say so, so, so much more about this incredible art teacher and accomplished artist, but why get to know him only through me? Check out his Steemit now and add him to your follows if you have not, because you'd only treat yourself to future marvels in your feed :)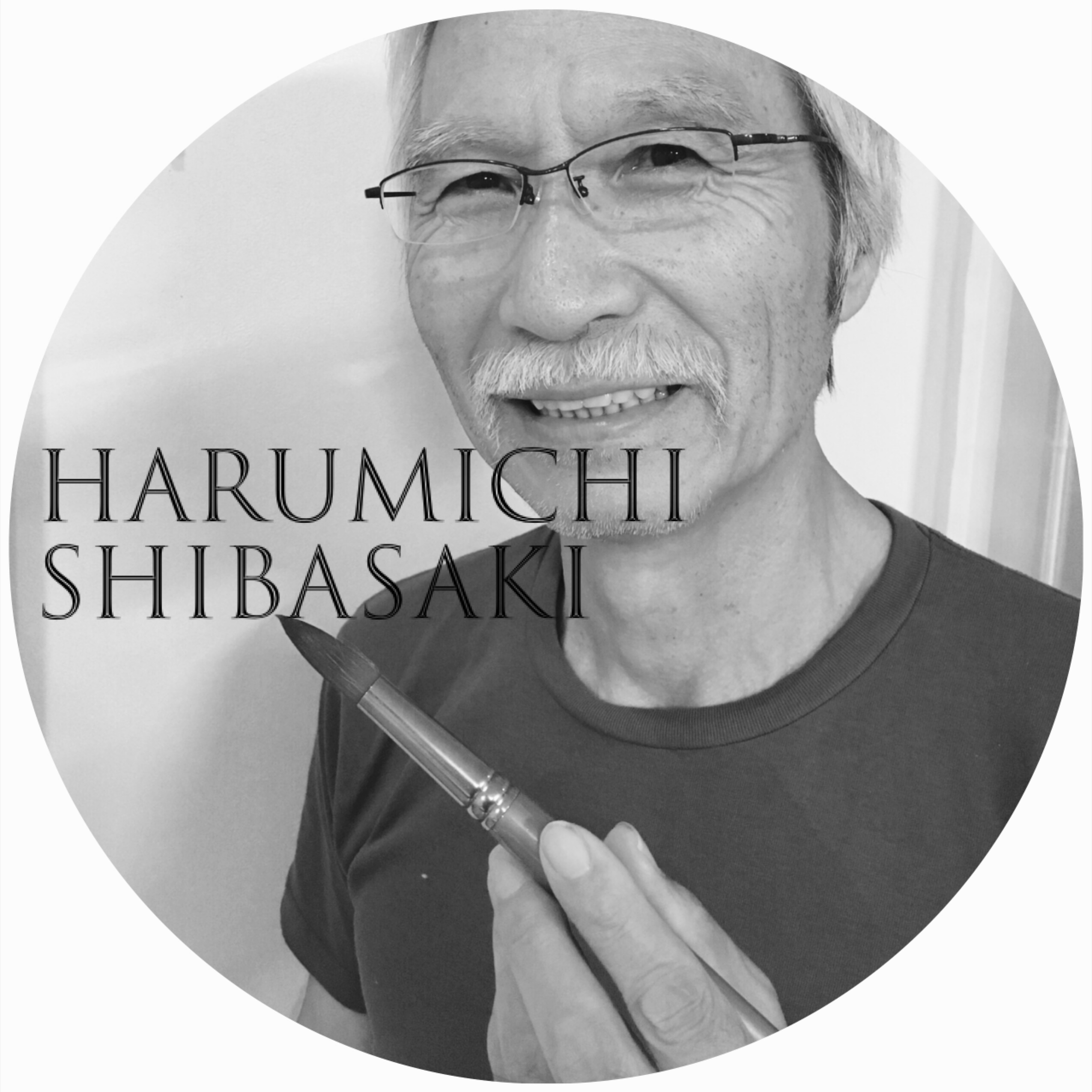 Shibasaki-sensei joined Steemit on 11 November 2017 and Steemit was made all the better for it :D I have to confess that Shibasaki-sensei is, without doubt, a very dear person to me, he is as inspiring as he is kind, as warm as he is patient, and as funny as he is wise. To me, he is the best grandfather ever! BUT! Bias aside, you will see with your own eyes that he is indeed a phenomenal talent and an immense person, and a crazy good cook, to boot :)
Harumichi Shibasaki is a watercolour artist and, like Armando Sodano, he is an art teacher :D You can check out his YouTube channel (linked here, where he has more than 340,000 subscribers, which is only rising day by day! For one, this is not surprising to me, since his videos and contents are incredible ! His tutorials are easy to follow, his paintings are spectacular, and he is ALWAYS very friendly and very approachable !
I think I can try to introduce him with my inadequate words, but why would I do that when there is a perfectly awesome video where Shibasaki-sensei introduces himself, here :D
So let us appreciate a few examples of @Shibasaki's awesomeness: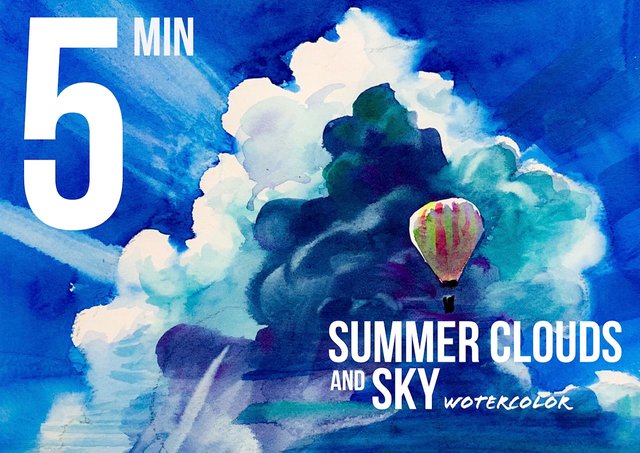 Summer Clouds and Sky – We begin with one of Shibasaki's tutorials, which are specifically tailored to help beginner artists to explore the medium of watercolours! They are always wonderfully simple, easy to follow, and the results are very motivating ! Each of these posts are accompanied by well narrated step by step process pictures, AND a video ! I've certainly started to learn watercolours through these videos myself, and I can tell you that they are a lot of help * ___ *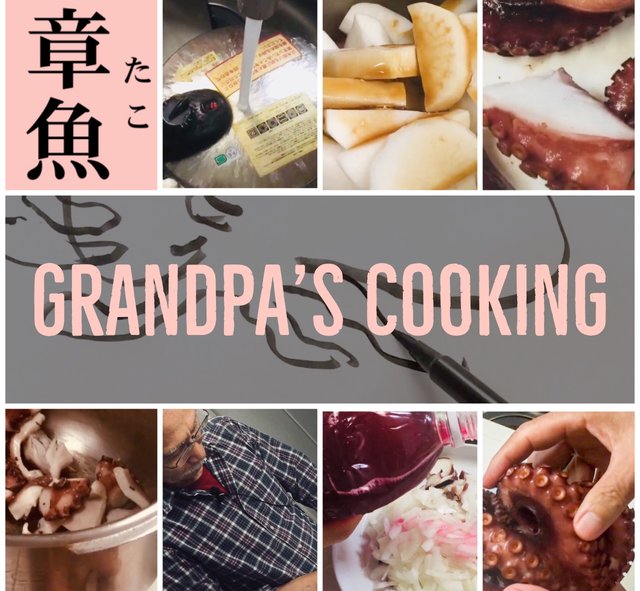 Grandpa's Cooking – Octopus – Here we can see that Shibasaki-sensei is not only a talented artist but also an incredible cook! He has a passion to appreciate Japanese food and cooking :D In this post, the process of cooking octopus is displayed well, complete with really charming photos of Shibasaki-sensei at the kitchen, preparing each ingredients and narrating each photo with great enthusiasm and beautiful happiness :D But that's not all! He also include an adorable artwork of an octopus and a video at the end :D !!!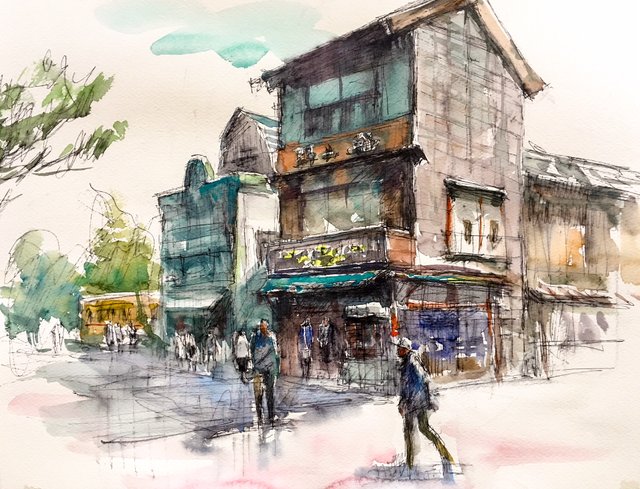 Old Buildings – When not conducting his basic tutorials, Shibasaki-sensei is exploring more complex structures, compositions, colour balance, and ideas! In this post, we can see a slightly more advanced level of artwork, of old buildings in Edo-Tokyo open air architectural museum, which utilized the two-point vantage points expertly, as well as higher level understanding of tonality and values in its colours. The post also include photos of Shibasaki-sensei's visit to the location as well as step by step of the creation of the artwork! Amazing post!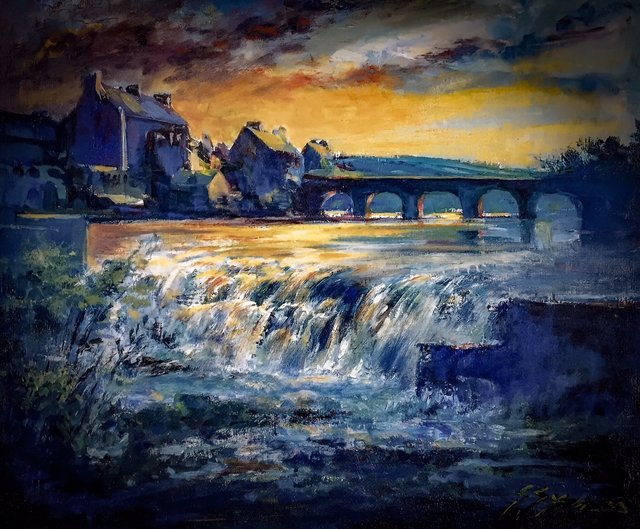 The River – I could not stop at three, it was impossible, since I must also show that Shibasaki-sensei's talents do not only stop at watercolours and cooking, but he is also wonderful at oils, as you can see from the image of the river on top of this paragraph. He is also great with various subject matters, from landscape, to people, to animals, to still life…. Really, this article only hits the very tip of the iceberg that his Shibasaki-sensei's immense value. Check out @shibasaki –sensei's Steemit blog when you have the time, and you won't find anything there but inspiration and delight!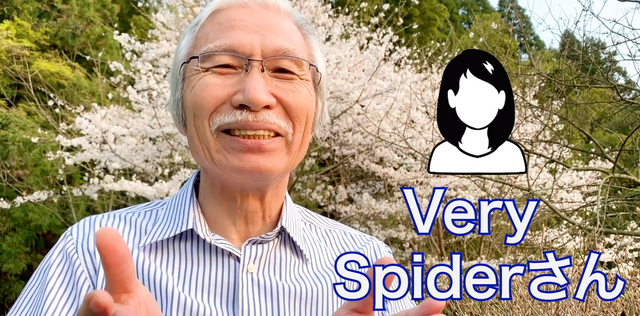 Thank You – To close, I just want to shout out for @shibasaki –sensei's beautiful spirit ❤ He is one of the warmest persons you can ever run to, and his great soul is infectious across all the places that he touches. To illustrate, I was made one of @shibasaki –sensei's comment moderator at YouTube in April 2019 (two months ago), where he is celebrating going over 245,000 followers and within that span of 2 months, he is now at 340,000+ subscribers at YouTube (June 2019)! @shibasaki is only going from strength to strength, and he is right here with us at Steemit to share his precious time and talent with the rest of us, so I encourage you to follow him, and drop a comment or two to engage with the amazing Harumichi Shibasaki !

So that's the ninth pair for these periodical highlights from C-squared featured artists :D
If you have been living under a rock, @c-squared is a group launched to promote manual curations of quality contents off Steemit. We browse all genres and categories and we welcome everyone to contribute and highlight underrated posts through manual curations. Join the discord ! Join the appreciation of others ! Anyone can curate \o/
The format of this thing might change in the future since I am very new at this so let me know any tips for improvements !
Much love,
@veryspider
Copyright of @ArmandoSodano and @Shibasaki.
Banner is copyright @znkd.
All Rights Reserved.
Do not reproduce or use without written permission.

Log of previous issues
Issue 1: @Arrr and @thilah
Issue 2: @EdgarUVM and @Zsolt.Vidak
Issue 3: @chrisdyer and @sanderjansenart
Issue 4: @elenasteem and @patschwork
Issue 5: @nyarlathotep and @carlgnash
Issue 6: @mikkolyytinen and @nekromarinist
Issue 7: @azbeen and @barbara-orenya
Issue 8: @rachelsvparry and @jankasparec

@c-squared runs a community witness. Please consider using one of your witness votes on us here

All proceeds from this post will go to the artists featured in this article.