Hello, I'm an artist/illustrator. Self taught. I like to paint and draw sci-fi and fantasy imagery. Nature is what inspires me the most I could say but narrative too. And games and comix and animation.
I'll share some pieces I painted in the past - hopefully some that I just recently painted too. Along my thought during the process.
During last year's first quarter I started releasing the personal illustrations I made as cc-0 public-domain in opengameart.org so if you want you can grab the source, mix it or print it or whatever you feel like.
Anyway. Second week of January I created this animated GIF.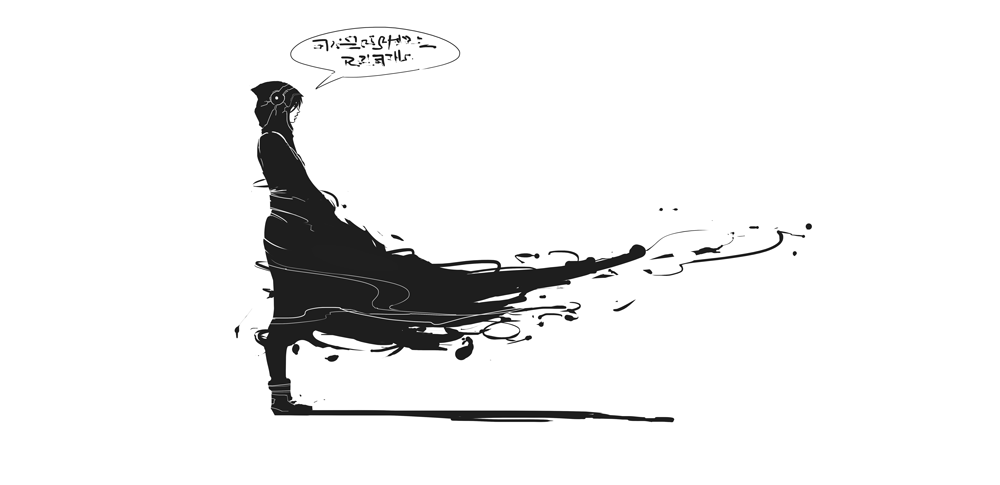 I called it demise because... well it says demise at some point.
It all began with a naive sketch I made while working on a commission for @loreshapergames. While I was laying out some rough ideas for the commission I started a sketch, just to clear the mind. It was just the face of a girl or woman, with a hood and a robe. Nothing fancy. It looked like this: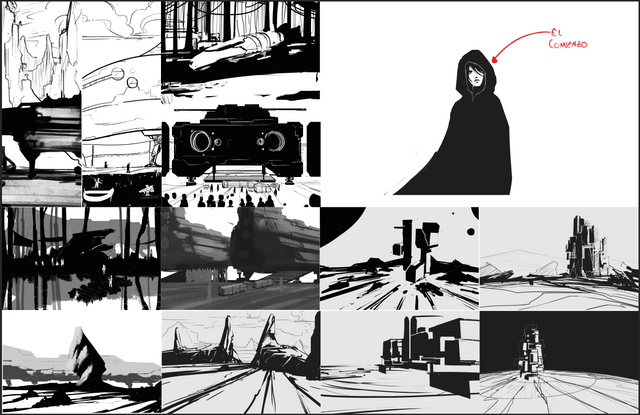 You can see all the rough ideas for the commission too.
I was working in hi res, so it was easy to make fine details, although I was aiming for simplicity.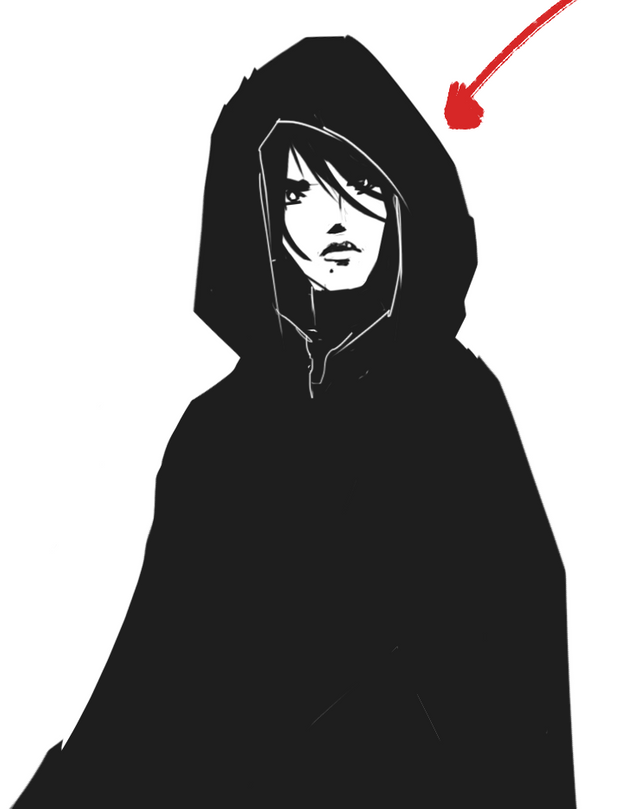 Actual resolution. Around 5000 x 3000 pixels whole document.
The sketch remained dusting until I came and decided to do something about it. I made this other sketch some time ago.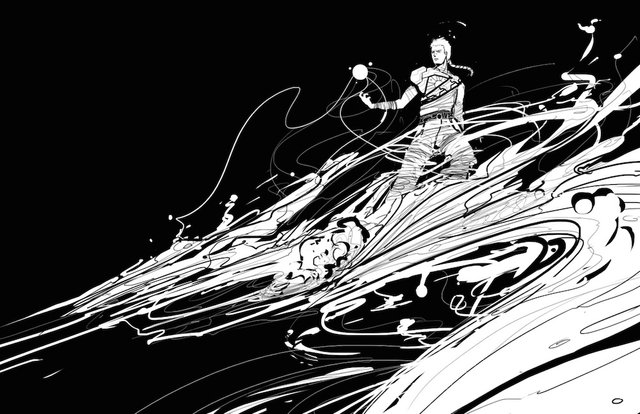 I posted it to opengameart (it is also published as public-domain so you can grab the source too). A user made a comment implying it would be cool to have a kind-of-storyboard in this style.
So at first I just wanted to do an action pose, like if she was using telekinesis or some kind of hex or dark sorcery.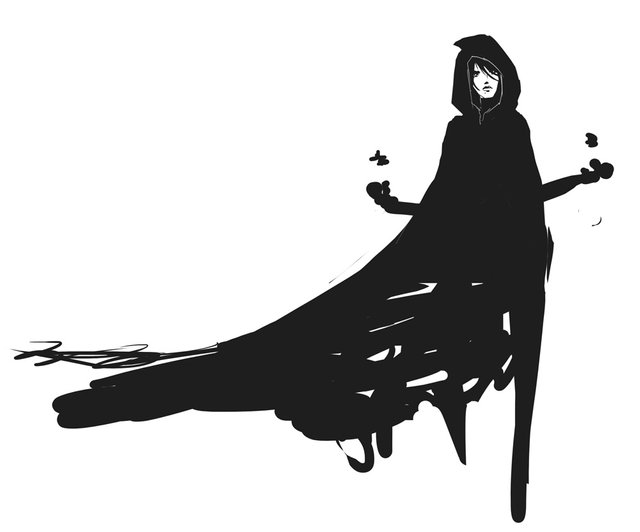 Then I remembered about the storyboard the opengameart user suggested. And started sketching.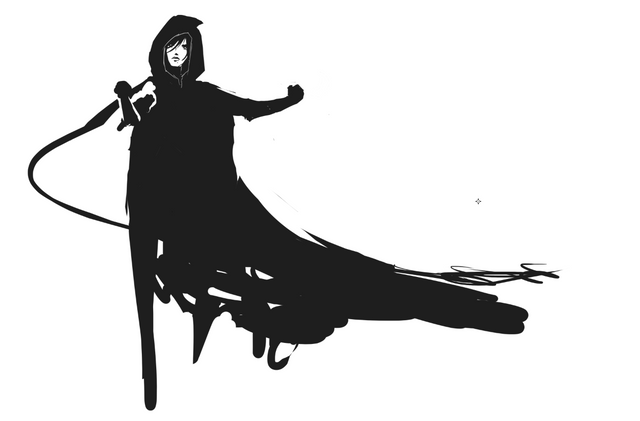 Here I wanted her to be like grabbing the viewer and someone or something out of the field of view... like a boulder... if that makes any sense.
The guys that know what they do (call them consecrated artists) suggest to flip the canvas to have a 'new' view of the composition, layout, silhouette, etc... of your drawing or painting so you can easily correct "errors" that are not easily spotted. I find it pretty useful.
Then, following the storyboard idea, I thought of some kind of story where she was first in a friendly but melancholic mood. As if she was remembering good old times with the viewer (or player if this was a game) or 1st person character prior attacking him/her - not much to her liking. I imagined the robe to be some sort of magical entity so I wanted it to look fluid and alive. Thus first frame.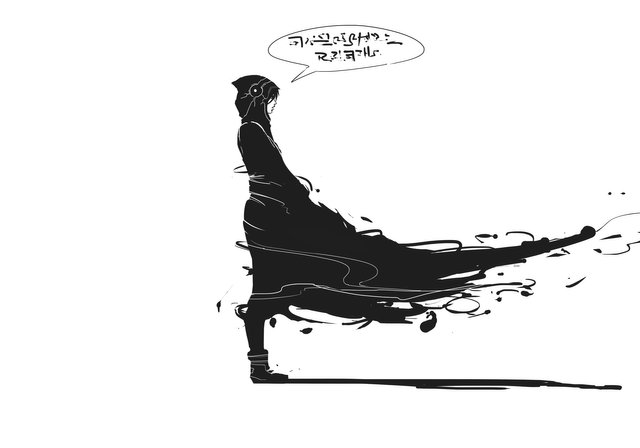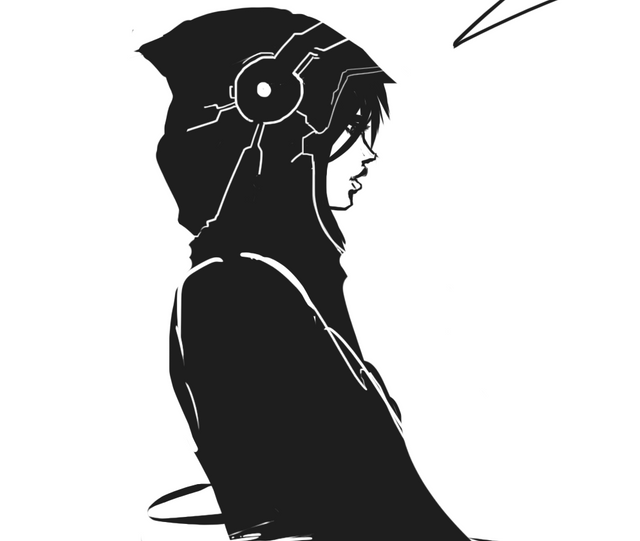 Watching the horizon with a happy remembrance gesture.
I thought of writing some lines, a dialogue. Or monologue? In the bubbles. But I'm a crap of a writer so I left it like a weird alien, foreign or ancient writing. Then I thought it would be nice to have some captions in the lower section but again... I'm crappy with words.
Second frame. She just stares at viewer with mild anger.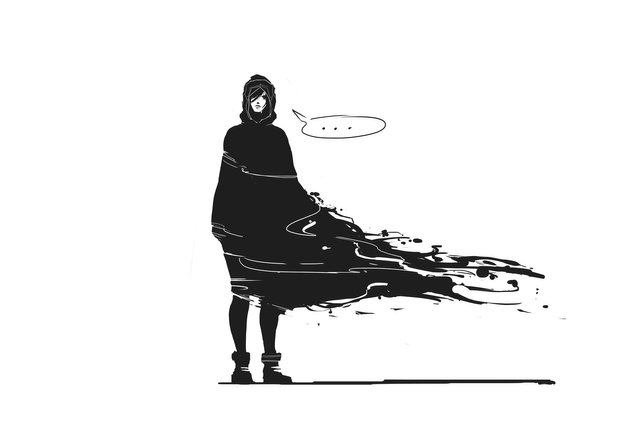 Keeping silence.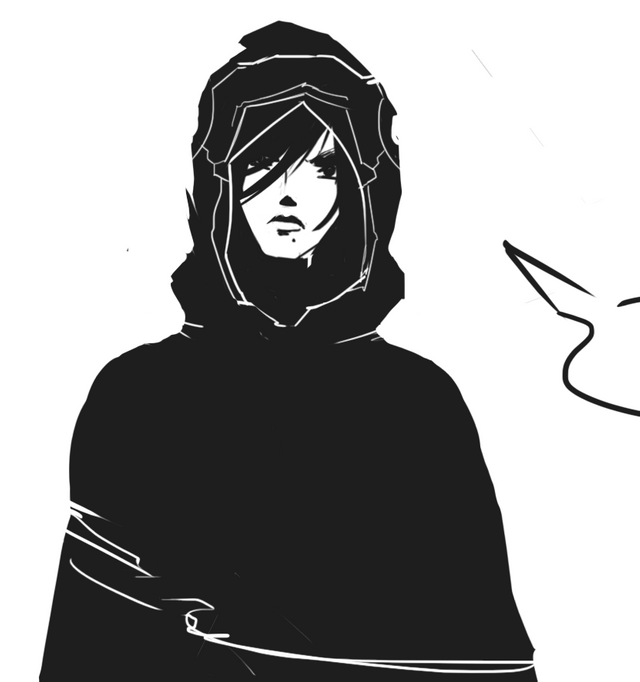 More of a reproach look.
It occurred to me that the robe was influenced by her feelings. So 'it should depict some of her emotions' I said to myself.
Frame three. She is reluctant to battle. She has to nevertheless.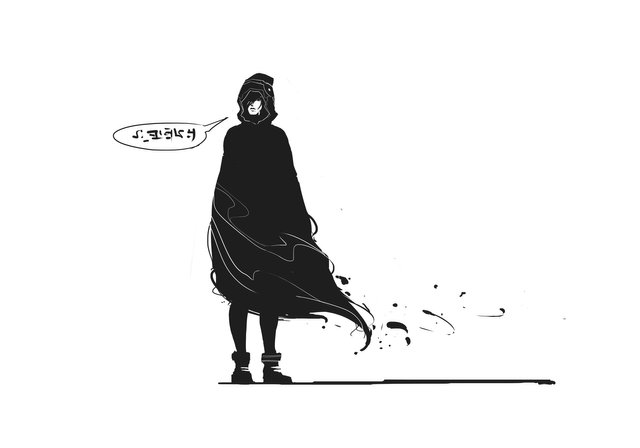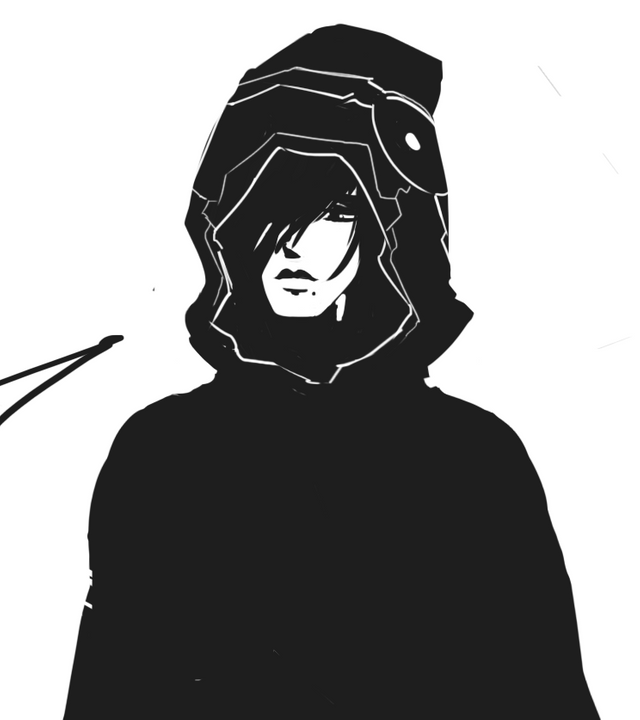 We catch the last glimpse of good will in her face.
Frame four. Attack pose! I imagined this frame to be in slow/suspended motion.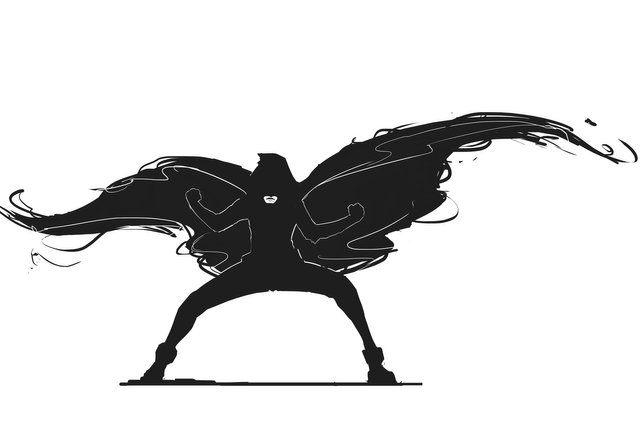 There's no clear semblance in her face.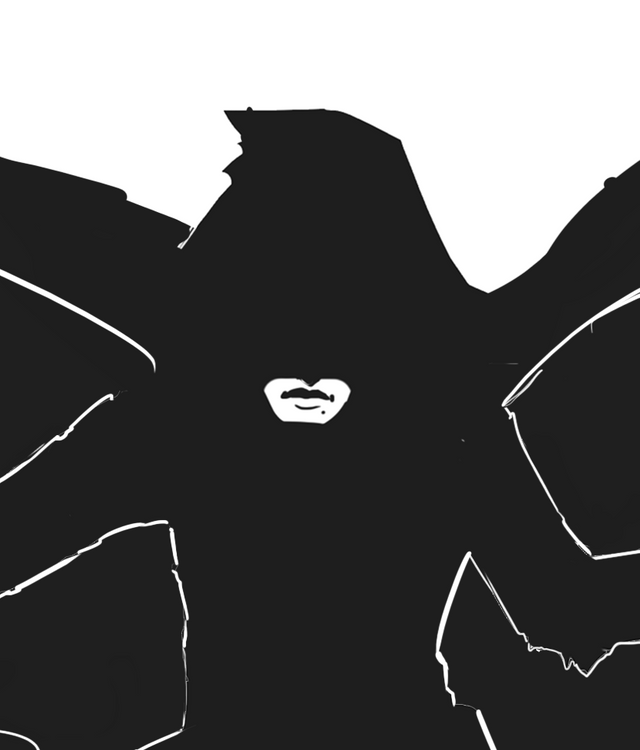 Because is being swallowed by darkness.
Five. Commencing attack.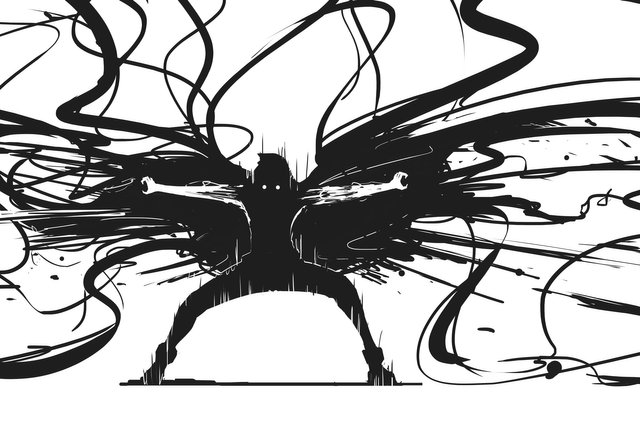 Attack mode on.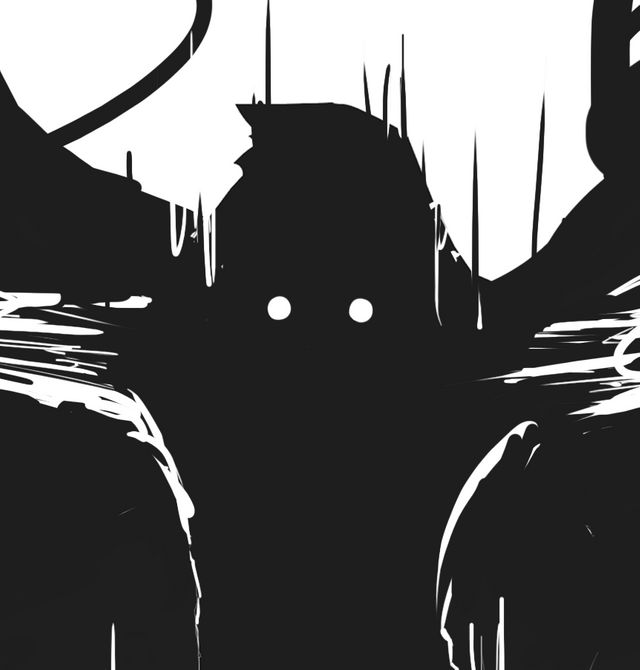 Aggression. Darkness.
Six. Finishing it.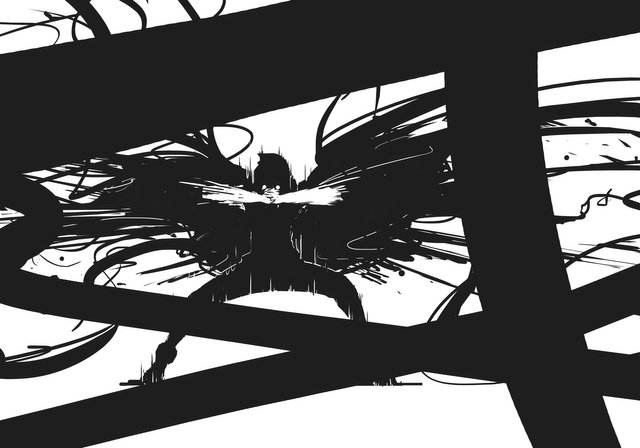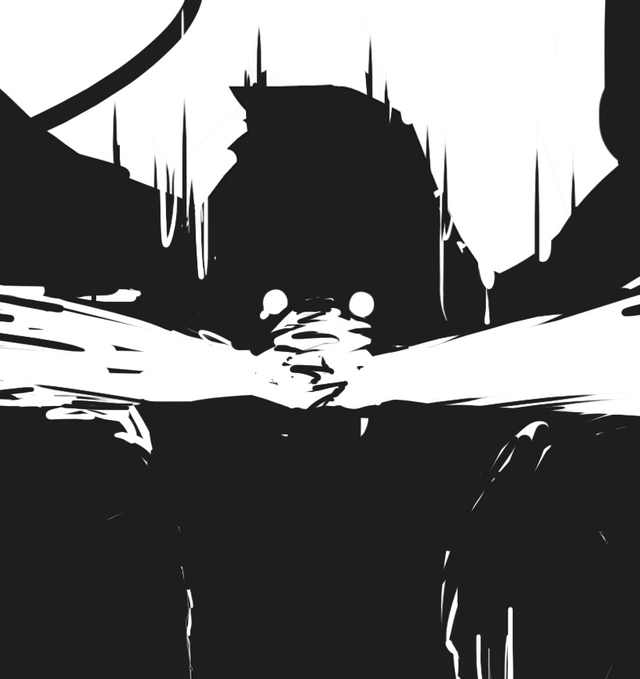 Rest is just some frames showing a splash of blood and a game continue screen. I opted to write demise instead of "you died".
So that's it. It's good to try to explain your thought behind the art you produce - although I don't know if I made a good job. Nice exercise. I'll be posting things like this. This was long because of several frames, but almost anything I do is just one frame so future posts should be easier and faster.
También hablo español. Así que haré un post en inglés y otro en español. O quizás posts bilingues. Ya veremos.
Abrazos! Hugs!