Hello Steemians, how are you? Most people on steemit know that @smooth is a famous steem-whale, but a Smooth-Hound (Gatuzo) in this case is a small shark. Smooth-hounds feed on crabs and their habitat are the continental shelves of the subtropical southwest Atlantic, from southern Brazil to central Argentina.
I have drawn one so that you have an idea of how it looks like, hope you like my art: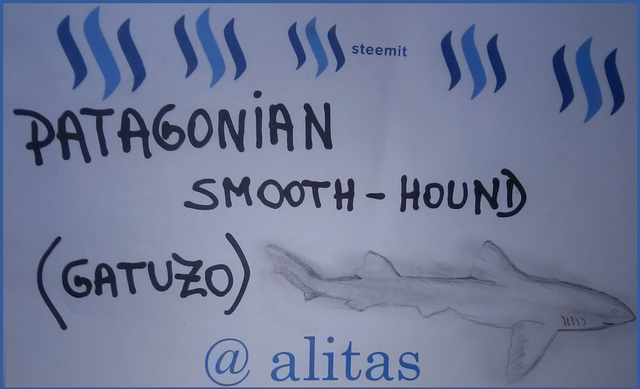 We are going to cook one, as well...
You will need: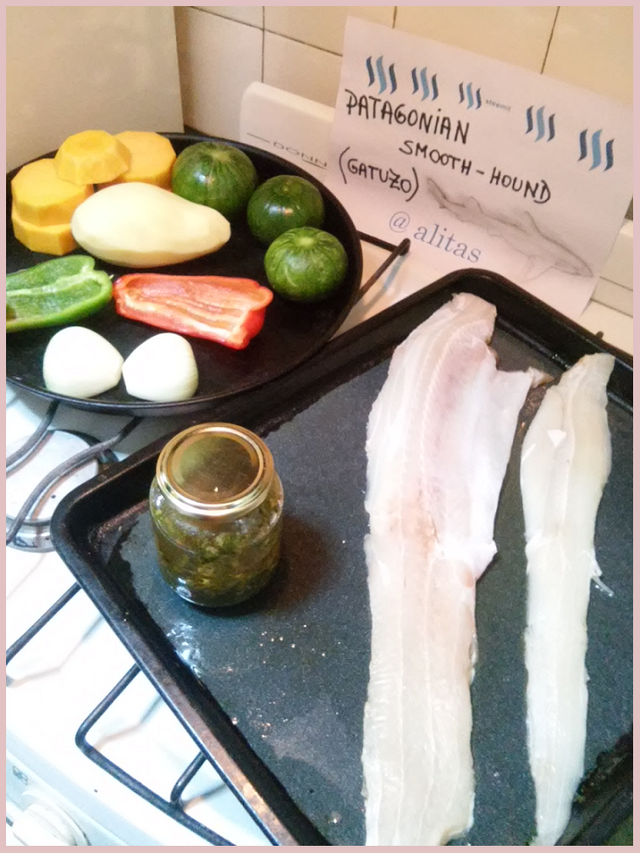 | 2 Gatuzo fillets | 5 tablespoons Chimichurri Sauce |
| --- | --- |
| 5 Pumpkin slices | 3 Green Zucchinis |
| 1 Potato | 1 White Onion |
| 1/4 Red Bell Pepper | 1/4 Green Bell Pepper |
| Dill | Olive Oil |
| Salt | Pepper |
Elaboration:
Preheat your oven to medium temperature.
Cut the vegetables and put them on a sheet pan with a bit of olive oil. Add dill, salt & pepper.
Cook for 25 minutes.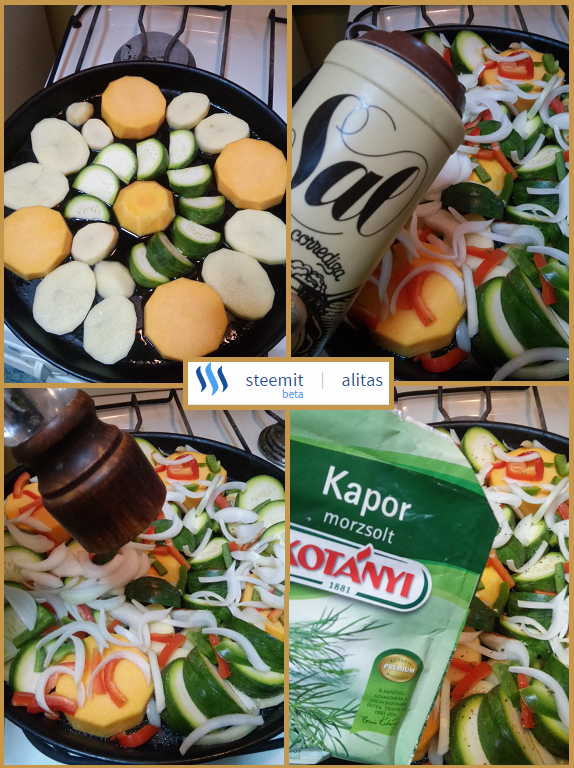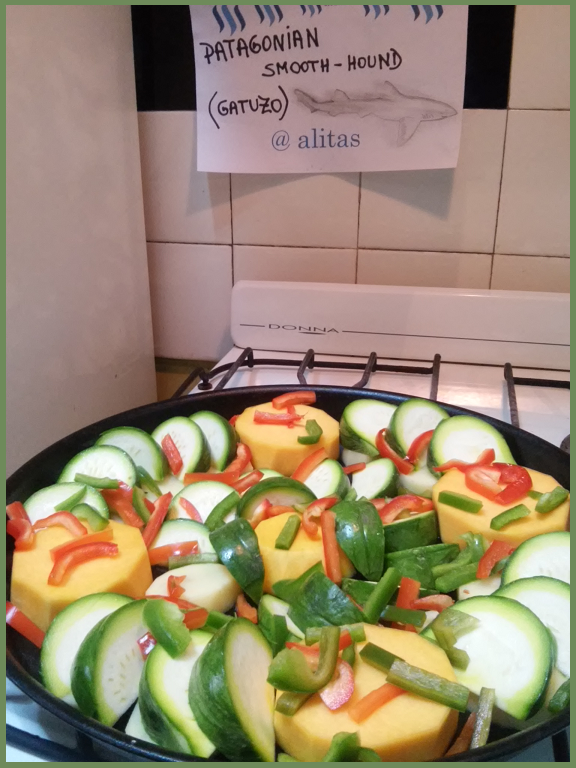 Take another sheet pan, put some olive oil in it and the gatuzo fillets with 5 tablespoons Chimichurri Sauce.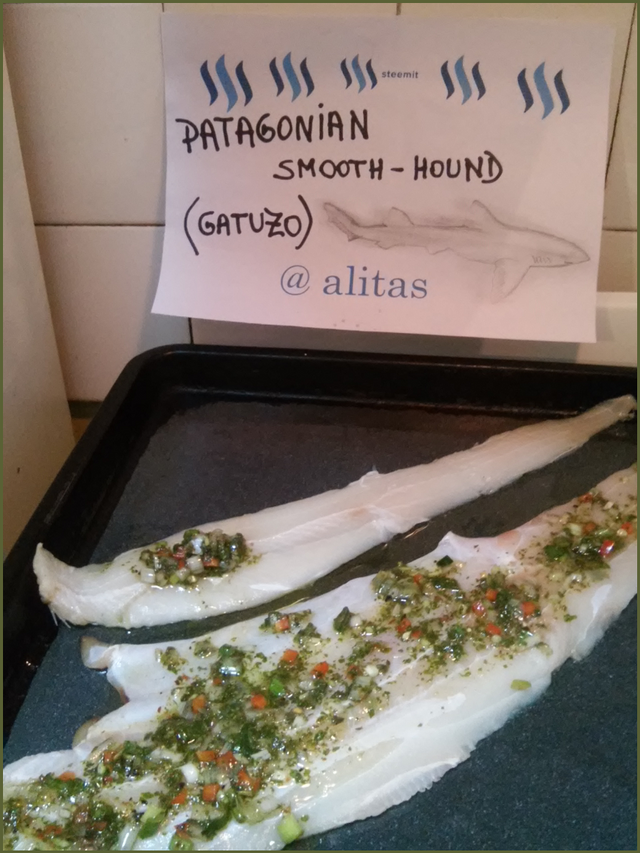 Cook your vegetables and fish for another 15 minutes and you're done!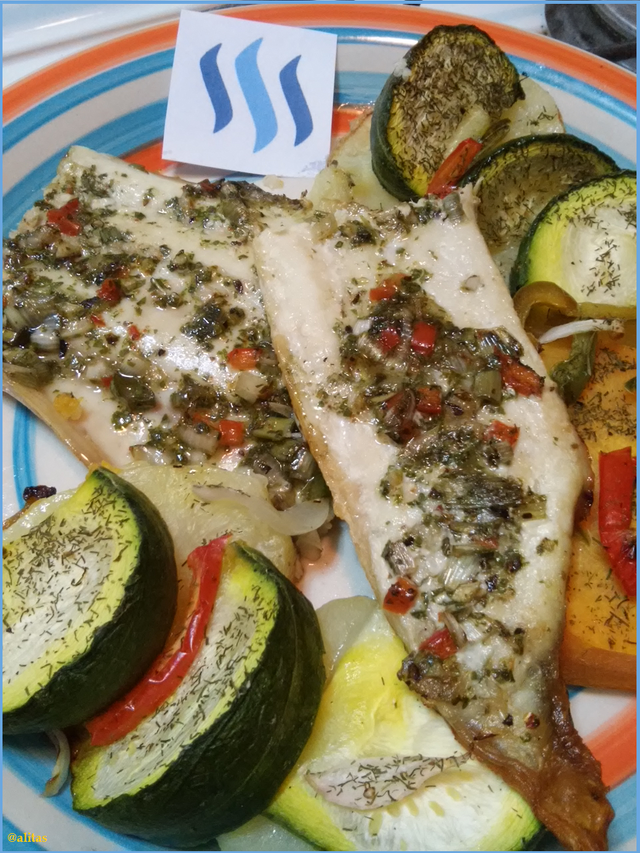 Bon Appétit!
•♥•☆ Follow me @alitas! •☆•♥•
If you liked this recipe, please reblog it. Also check my other recipes on Steemit:
Wholemeal Banana Cupcake
Bittersweet Pork Tenderloin
My Strawberry Pie!
My Cheese Stuffed Artichokes!
Crème caramel (flan) alla steemit!
Hungarian Stuffed Bell Peppers (Töltött Paprika)
Grilled Norway Lobster (Cigalas) with Saffron Rice
Arugula Gnocchi Soufflé in 15 minutes!
My Chicken Thigh Katsu (Torikatsu チキンカツ ) with Carrot Cream
My Veal Chop Suey (杂碎)
Delicious and Moist Banana Cake
How to prepare an Argentinean Chimichurri sauce
My Spanish Tortilla (Omelette)!
How to prepare Argentinean 'Pastelitos Criollos' with quince cheese!
Pascualina Tart
My Organic Marmalade Crêpes!
Let's prepare a Guacamole!
My Vegetable Soup
How to prepare a Squid Cazuela with waffle fries!
Hi Steemit, I'm Alejandra! Let's prepare some argentinean 'tortas fritas'
Also you may want to read:
Thank you @blueorgy for your SteemIMG service!
New Steemit Ambassador Invites you to a City Tour through Buenos Aires, Argentina!
If
Gyuri and Mariska (my parents)