Today I'm going to prepare a crème caramel with a steemit touch!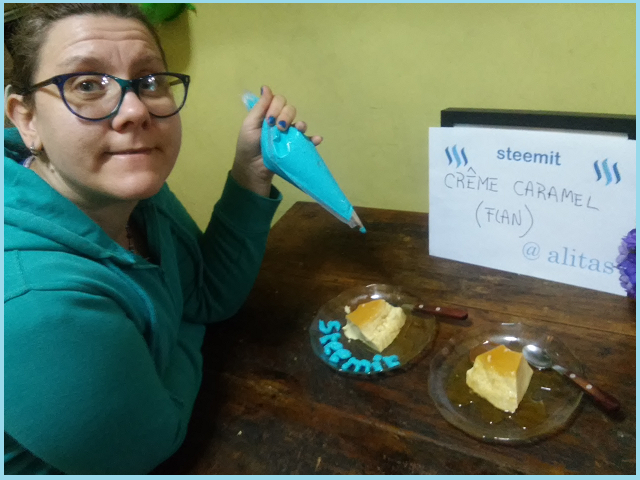 You will need: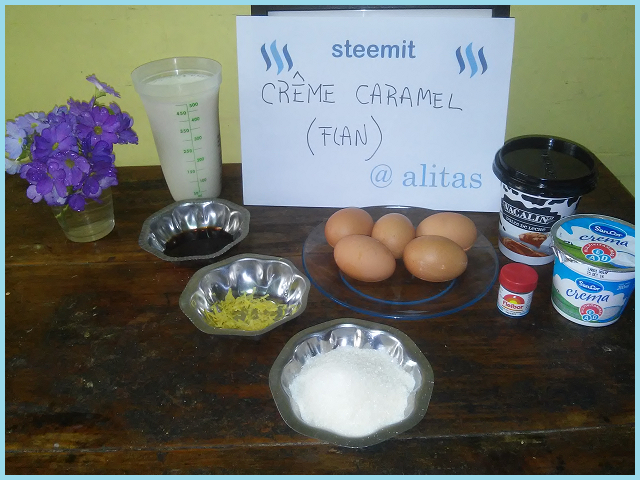 For the Flan:
| 5 eggs | ½ litre (500 oz) milk |
| --- | --- |
| 100 gr. Sugar | vanilla extract |
| lemon zest | paper towel |
| aluminium foil | Bundt-style mold |
| sheet pan (for the bain-marie) | water |
For the Caramel:
As Accompaniment:
Elaboration:
Caramel:
Put the sugar in the bundt-style mold at medium heat. When the sugar turns to an amber color and starts to dissolve, add 5 spoons of hot water. Stir the mold (be carefull, use some protective kitchen mittens, as it is hot), until all the inner side of the mold is covered in caramel. Set aside.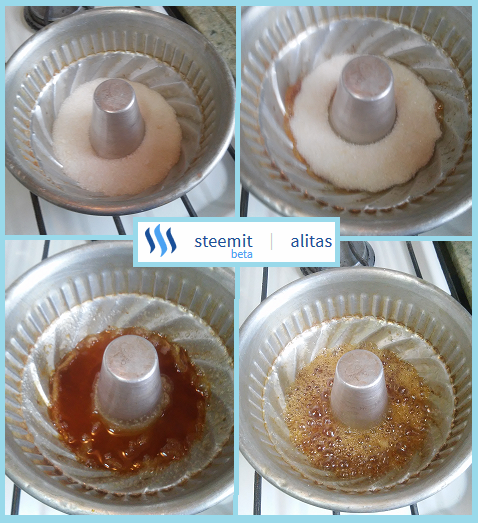 Flan:
Turn the oven to 150 degrees Celsius.
Put the eggs, vanilla extract, lemon zest, milk and sugar together in a bowl. Mix it very softly, wait until the sugar dissolves.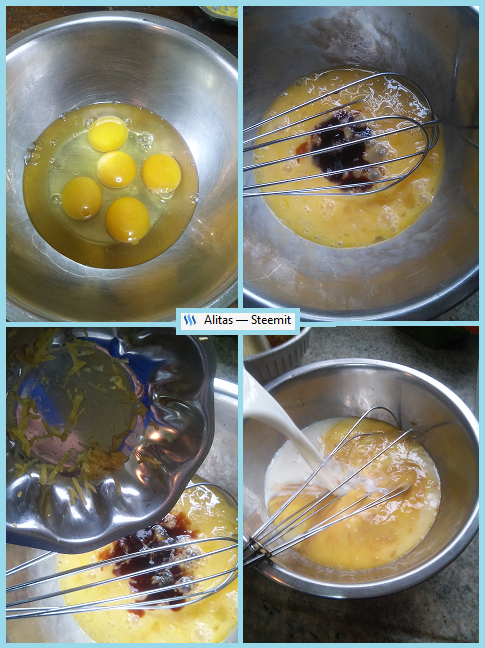 Pour the mix into the mold using a strainer.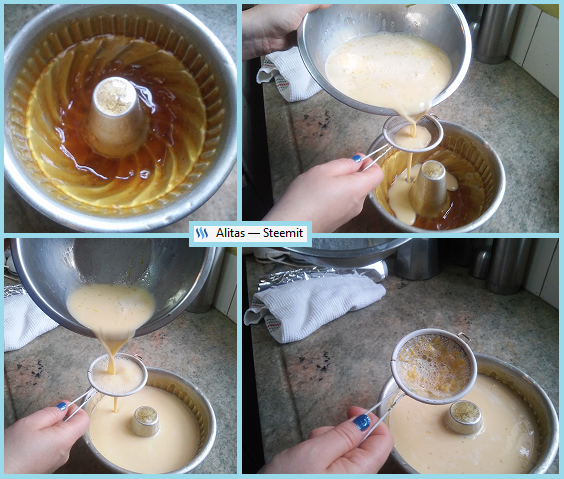 On a sheet pan, put 3 sheets of absorbent paper (this will help avoiding the flan to burn on its base). Cover the mold with aluminum foil and then put the mold over the absorbent paper. Put the sheet pan on the oven and add water until it covers half the mold.

Cook for about 60 minutes.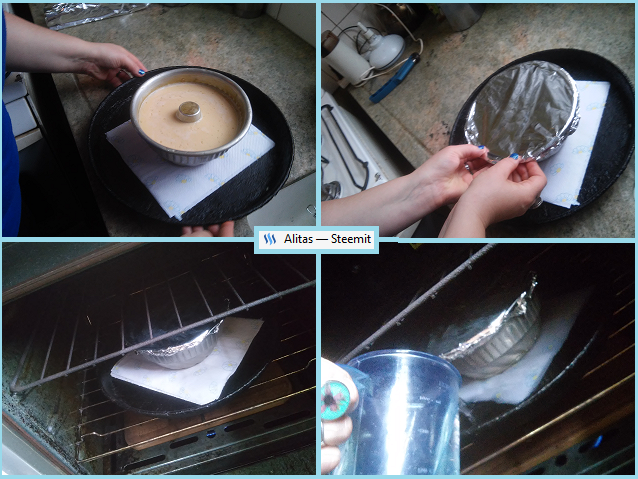 I prepared the chantilly cream using a blue food coloring, for the steemit touch!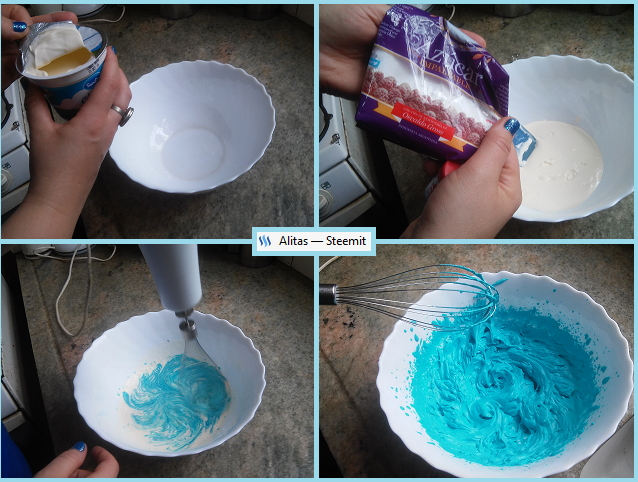 You can check if your flan is ready when you prick it with a knife and your knife remains clean. When it is ready put it on the fridge for about 6 hours. Unmold it on a deep plate to avoid that your liquid caramel floods your kitchen!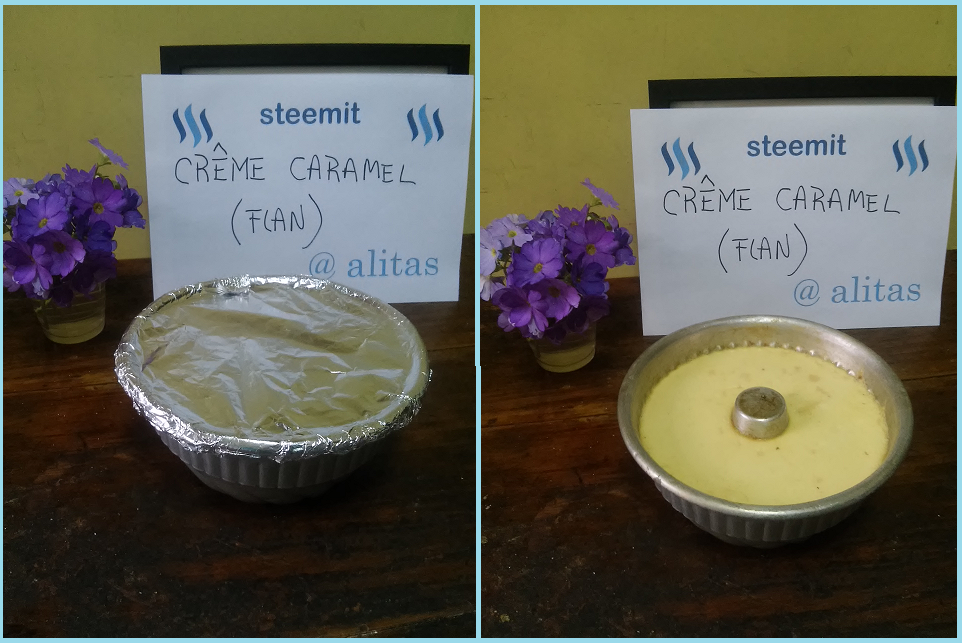 When served with Chantilly cream and dulce de leche we call it "flan mixto" in Argentina. So this is my "flan mixto alla steemit":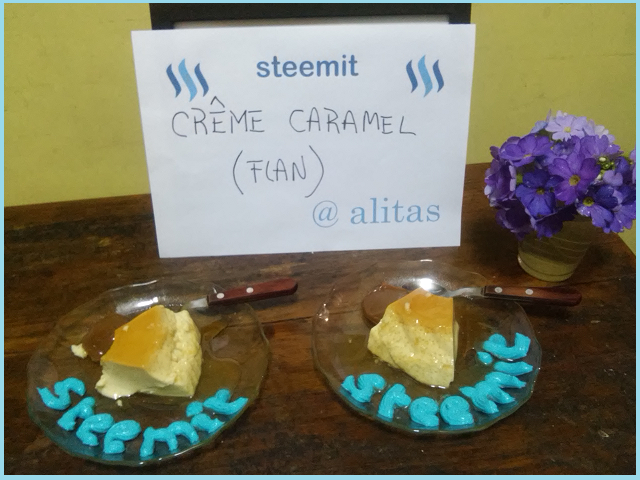 Bon Appétit!
•♥•☆ Follow me @alitas! •☆•♥•
If you liked this recipe, please reblog it. Also check my other recipes on Steemit:
Hungarian Stuffed Bell Peppers (Töltött Paprika)
Grilled Norway Lobster (Cigalas) with Saffron Rice
Arugula Gnocchi Soufflé in 15 minutes!
My Chicken Thigh Katsu (Torikatsu チキンカツ ) with Carrot Cream
My Veal Chop Suey (杂碎)
Delicious and Moist Banana Cake
How to prepare an Argentinean Chimichurri sauce
My Spanish Tortilla (Omelette)!
How to prepare Argentinean 'Pastelitos Criollos' with quince cheese!
Pascualina Tart
My Organic Marmalade Crêpes!
Let's prepare a Guacamole!
My Vegetable Soup
How to prepare a Squid Cazuela with waffle fries!
Hi Steemit, I'm Alejandra! Let's prepare some argentinean 'tortas fritas'
Also you may want to read:
Thank you @blueorgy for your SteemIMG service!
New Steemit Ambassador Invites you to a City Tour through Buenos Aires, Argentina!
If
Gyuri and Mariska (my parents)