Mrs. Magdalena Thornton bumps into a major player in the case Captain Lee is investigating ... and sees the ghost-maker in the man...
To get totally caught up on The Posture of Innocence, here are the prologue, day 1, day 2, day 3, day 3.5, day 4, day 4.5, day 5, day 5.5, day 6, day 7, day 7.5, day 8, day 9, day 9.5, day 10, day 10.5, day 11, day 11.5, day 12, day 12.5, day 13, day 13.5, day 14, day 15, day 16, day 16.5, day 17, day 18, day 19, day 19.5, day 20, day 20.5, day 21, day 22, day 22.5, day 23, day 23.5, day 24, day 24.5, day 25, day 25.5, day 26, day 26.5, day 27, day 27.5, day 28, day 28.5, day 29, day 29.5, day 30, day 30.5, day 31, day 31.5, day 32, day 32.5, day 33, day 33.5, day 34, day 34.5, day 35, day 35.5, day 36, day 36.5, day 37, and day 37.5!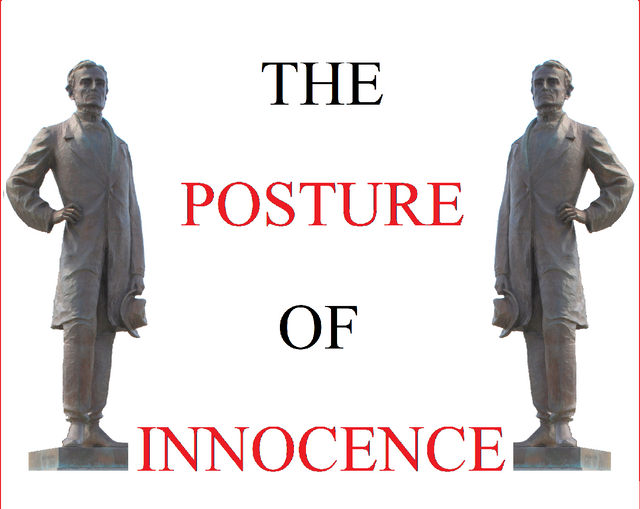 On Sunday, after worshiping at the Sunday service at the Church in the Midst of Life, Mrs. Magdalena Thornton went shopping … the church served the community in downtown Big Loft every day, and, three times a week, she brought home-cooked meals for the church's ministry to battered women.
So, at Big Loft's Kroger's, Mrs. Thornton was minding her own business shopping when she was literally bumped into by someone she knew from work: Lieutenant Bruce Deadwood, who came through police headquarters several times a week. He and Mrs. Thornton usually interacted when Mrs. Scott brought organic heirloom produce to headquarters for all officers and staff. Mrs. Thornton's gut reaction had always been: "Danger, danger, Maggie Thornton, danger, danger!" Thus, it was, at last, that Lieutenant Deadwood confirmed her impression … .
"I wish we didn't have to go back to work tomorrow," he said to Mrs. Thornton after the general pleasantries.
"Things have been rough," she said, "but, thank God we have a job in times like these!"
"Yeah, but if you weren't working there, I could date you."
"Oh, but alas, we do work there!"
Mrs. Thornton kept smiling, but she slowly and carefully was making moves to flee or fight …
"Come on, Ms. Thornton – it's just a secretarial job, and you can't be enjoying it, what with our Lee wrecking ball having been left loose to wreck five men in a row."
"It's a living – and you think I should give it up, my sole source of income, just to date you."
Lieutenant Deadwood drew back, surprised.
"I didn't mean it quite like that."
"Yes, you did. You have not said a word about provide, protect, courtship, marriage – you want me to leave my job for the privilege of dating you. How am I supposed to stay looking cute with no money?"
Lieutenant Deadwood chuckled, and Mrs. Thornton kept smiling … she was trying to let him down easy, not to unnecessarily offend him, not to be present long enough for him do or say something that was going to cause repercussions that she could deal with but that he couldn't... such as having Commissioner Scott be after his job and his employment chances ever after … and, perhaps, the man who had destroyed five commissioners after his blood...
Mrs. Thornton also sensed who Lieutenant Deadwood was … the replacement for Officer Cadbury, the new in-house police assassin.
"All right, Ms. Thornton, I guess my approach wasn't well thought out," said the new in-house police assassin after he finished laughing. "What I was really trying to say is that I know we can't get together now, but if either one of us changes careers, I'm going to be at your doorstep with flowers and chocolates and a settled will to take you to the finest restaurants and best times in Lofton County and show you: you belong with me, Mrs. Deadwood-to-be."
"Oh, Lieutenant, you just know how to make a girl's liver quiver..."
But with what money? I know how much you make, more or less, Lieutenant. Don't tell me you're another one of those who has one of these extra salaries folks get when they are deeply involved in corruption – and you must be deep indeed not to have already been caught up ... .
Now, Mrs. Thornton was actually afraid, and that was why she was quivering, but she kept on smiling and graciously made her escape. With an effort, she finished her shopping and loaded up her car and took the long way home... roundabout the ridge roads, making sure she wasn't followed, before coming home to the Rosewood Apartments. The ten-minute drive had become an hour, and still, she was still shaken enough so that her cousin Mrs. Bell was concerned.
"You look like you saw a ghost at the store," Mrs. Bell said as she came to get some bags out of the car.
"Something like that," Mrs. Thornton said. "Some people just don't know their limits, and some people just reveal too much."
They got on to dinner and their cooking for the next day, but quietly, Mrs. Thornton counted the minutes of the hours until she heard footsteps above her in apartment 413...
Hurry home, Harry Lee, hurry home!