Captain Lee makes his report ... and takes a brief trip to the night shift of his mind ...
To get totally caught up on The Posture of Innocence, here are the prologue, day 1, day 2, day 3, day 3.5, day 4, day 4.5, day 5, day 5.5, day 6, day 7, day 7.5, day 8, day 9, day 9.5, day 10, day 10.5, day 11, day 11.5, day 12, day 12.5, day 13, day 13.5, day 14, day 15, day 16, day 16.5, day 17, day 18, day 19, day 19.5, day 20, day 20.5, day 21, day 22, day 22.5, day 23, day 23.5, day 24, day 24.5, day 25, day 25.5, day 26, day 26.5, day 27, day 27.5, day 28, day 28.5, day 29, day 29.5, day 30, day 30.5, day 31, day 31.5, day 32, day 32.5, day 33, day 33.5, day 34, and day 34.5!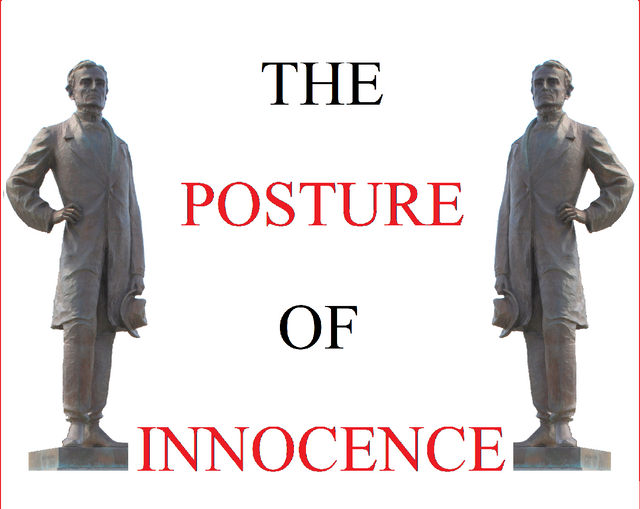 When the commissioner spotted Captain Lee, he calmed down and then sighed.
"I need some good news, Captain," he said. "I need to hear that we are going to be able to get all this stuff out and done before too far into the fall."
"Mr. Black has brought a great deal of new information that is very helpful. Lieutenants Carter and Anderson will complete entering all of that today, and Lieutenants Lightfoot and Jackson are monitoring the bail and other related situations. My division has pulled up a quarter of its night shift reserve and half its available day shift reserve in case of weekend breaks, and I will be only an hour away all weekend."
Captain Lee paused for a moment.
"My great data bolt is straightening out," he said. "I myself will be contemplating the eventual captures, and how they might best be done."
"The chief side of my office needs to know, four days ahead of anything you're thinking of," the commissioner said.
"I'm giving you a week, starting Monday," Captain Lee said. "I think we will be able to force the whole issue by Monday next."
"Ain't gonna wreck a weekend, this time?" the commissioner said.
"Not wrecking our weekends, no," said Captain Lee, "but I guarantee you next weekend will not be as pleasant as this one, for some."
Into the office, where Captain Lee presented his official report of the work of the previous three days and made commentary while the commissioner absorbed the detail. He sighed at the end.
"Captain, the work you are doing is amazing," he said. "I'm glad and sad at the same time. Glad because if this breaks the way it should, a whole bunch of cold cases will be solved, and the remaining ones should be garden-variety – not that they aren't important, but, they won't be as complex as all the ones in this mess. Do what you can before the end of the year, because the numbers are getting so big that even if that silly lawyer has sense enough to settle, we're still going to have to make devastating cuts to the department, and non-essentials are going to have to go. Your division will go first – cold cases are a luxury to solve, and we're not going to be able to afford any luxuries."
"Do me this favor, for the sake of my lieutenants," Captain Lee said. "I ask for nothing for myself for I need nothing, but for their sake, please do not let that be put out in advance. They will be devastated."
"I know – it is for your ears only, and I hate to tell you, but, you need to know so you can schedule what you'll need to schedule, and the success can get them set up to continue in other divisions or whatever they choose to do. I expect that we are going to lose a lot of young people who can find other jobs in the private sector, and yours will be well-equipped – keep equipping them."
"I will," Captain Lee said. "Yet I think that we ought to fight for the division."
And Captain Lee's mind went on the night shift, down those dark alleys lit up with those neon signs that flashed: "PTSD."
Cut my division? When we are what is holding this department up? What is HR thinking? Or, is it just the same old revenge play? We have a ton of enemies high up – will they scatter my men and pick them off, one by one? Or, is this PTSD, playing with my mind again? Lord, I need You, right now.
"I agree, quiet as that has to be kept," Commissioner Scott said. "Everything positive in this effort to clean up and right the ship is coming from y'all – I need y'all here because I need y'all here, and maybe there is a way that y'all can stay."
The commissioner smiled wolfishly.
"If we can get enough corrupt folks off the retirement rolls in addition to off the payroll, maybe we can restructure well enough to retain more people."
"Now that sounds like a good plan," Captain Lee said, and literally felt his blood pressure going right back down.
It was PTSD. Commissioner Scott is a good general. He's not going to throw me and my men to the wolves. That's not him. He's a good commander, who has earned my trust and loyalty. He needs the corrupt folks out of here by the end of the year. I'll give it to him. I surely will. Starting next Monday through the Monday after, we will get that restructuring well-begun.