Black tea and boredom is what it looks like for Captain Lee after his lieutenants have gone to other tasks, but Mr. Black isn't fooled or bothered!
To get totally caught up on The Posture of Innocence, here are the prologue, day 1, day 2, day 3, day 3.5, day 4, day 4.5, day 5, day 5.5, day 6, day 7, day 7.5, day 8, day 9, day 9.5, day 10, day 10.5, day 11, day 11.5, day 12, day 12.5, day 13, day 13.5, day 14, day 15, day 16, day 16.5, day 17, day 18, day 19, day 19.5, day 20, day 20.5, day 21, day 22, day 22.5, day 23, day 23.5, day 24, day 24.5, day 25, day 25.5, day 26, and day 26.5!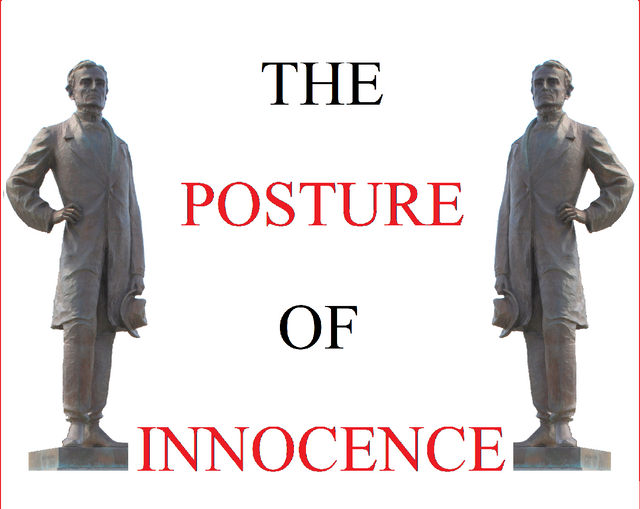 When the lieutenants had gone, Captain Lee heaved a great sigh.
"I relish such days as this," he said, "for I know they are rare. As soon as tomorrow, we shall be in the storm again."
"I was about to tell you that your division is just about ready for the real work," Mr. Black said.
"I know," Captain Lee said. "I know."
Captain Lee took a few minutes to brew some strong black tea for himself and his guest, a quiet interlude Mr. Black saw as the captain silently gathering his strength and getting his mind right for a different kind of work.
When the tea was done and the captain had served Mr. Black and himself, he went to his computer and opened up Morton Data Master 5.0.
"The Soames case true set," he said, "is now just one of set of nested true sets. This is another way to unlock Speculative Mode –."
And Mr. Black, looking over the captain's shoulder, saw in Speculative Mode a great forked thing looking like a lightning bolt positioned horizontally.
" – because there is just too much information to compress to one solution. 25 years of crimes, at least, done by multiple actors – each of these branches indicates just one, and one possible set of solutions. But you see, the more information I enter into my true set, the more this thing straightens out."
Captain Lee heaved another large sigh.
"The thing is, we're in Virginia, in the United States of America. Nothing moves without profit for somebody. 25 years of crimes and Officer Cadbury and others living the good life all along indicates that big money had to come from somewhere. Right now, I have Speculative Mode running just to show the probabilities from the available data and so I can play with other possibilities – like you and the Innocence Project, I do use speculation as a tool to find avenues to find other evidence, and with a data set this huge, it is easier for the computer to reshuffle everything than it is for my mind to do it. What I am after, in using Speculative Mode, is not the resolution of this bolt; it can't be done. What I am after is that main branch straightening out, and pointing me to who I really want – the master funders of all this nonsense."
Captain Lee reopened the file cabinet, and pulled out some folders.
"At this point, Mr. Black, things get boring. I am, in the end, just a glorified data input specialist."
"I don't bore easily, Captain, especially since I have data that might be helpful to you, and plenty of it."
"Good to know," Captain Lee said. "We may need every particle of it, if that bolt straightens the way I think it will."
"Oh, I rather think it will," Mr. Black said.