Commissioner Scott finishes his long day of work and finally gets to his home, a home now full of love, faith, and the smell of the commissioner's favorite light dinner...
(@wakeupkitty, the answer to the question you asked me is here in this installment)
To get totally caught up on The Posture of Innocence, here are the prologue, day 1, day 2, day 3, day 3.5, day 4, day 4.5, day 5, day 5.5, day 6, day 7, day 7.5, day 8, day 9, day 9.5, day 10, day 10.5, day 11, day 11.5, day 12, day 12.5, day 13, day 13.5, day 14, day 15, day 16, day 16.5, day 17, day 18, day 19, day 19.5, day 20, day 20.5, day 21, day 22, and day 22.5!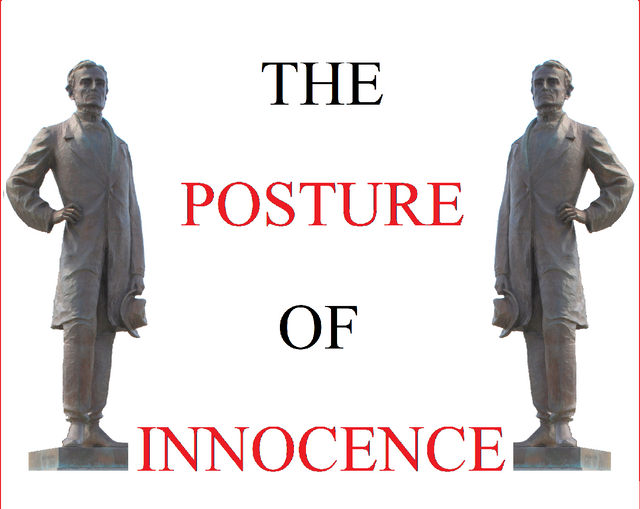 Captain Lee and Mr. Black completed their draft the same day as Commissioner Scott ordered it, and after reviewing it, the commissioner signed off and went home into the arms of his wife, who gladly received him.
"I've seen everything I needed to see, Della. I'm convinced this Christianity thing is real now. Our Lord smoothed everything out. Mr. Black is really a swell fellow; I didn't feel threatened by his bigness or Blackness any more, or even about the future for our grandchildren if resources have to be shared out differently in future. I just knew the Lord was going to take care of everything, and all I had to do was to do what I knew was right. There's going to be blowback, and quite a lot of it, but I can take it with God showing me how.
"I don't have to be afraid any more, Della. The Lord just took all of that – a lifetime of operating out of a tangle of needless prejudices and fears – away from me. I still have them, of course. I've been a Christian just 24 hours, just now. But I also know now what it is to walk by faith, in the Spirit – so much better! I see how you have been putting up with me all this time!"
"Winfred, I love you," she said. "It has never been about just putting up with you. I love you, and I've been looking forward by faith to this day, when you too would know what I have known for 15 years, walking with the Lord."
"You were a good wife before you were saved, and even though I didn't understand why you changed your outlook on life 15 years ago, you have always been a good wife to me – the one and only love of my life," the commissioner said. "Now I see you really were chosen for me, to show me the love of God so that when the time came, I could understand because of your example of holiness and sacrifice and forgiveness."
"You've always been a good and faithful husband," Mrs. Scott said, "and I always have appreciated how you didn't try to squash my faith. You were chosen for me and my knowing that didn't change, so I never worried … I knew you were coming to the Lord, although I didn't know when. My job was to share the Gospel with you, and then show you what that all meant by how I lived, and you didn't make it hard for me. I knew you were coming, and now you are here, and we are here in Christ together."
"Yes," he said. "I have so much to learn about being a Christian husband, and a Christian boss – shoot, I'd like to shadow Captain Lee myself, what with those lieutenants he has and how he keeps them on track! Now that's a Christian boss right there! He's got five of them now and I would have pulled my hair out on everybody but Carter and Longstreet!"
Mrs. Scott stroked her husband's head gently.
"Is that what happened?" she said, and he laughed, remembering that he was bald.
"Basically," he said. "I guess God meant for us to come all the way from Maryland for me to be chief and first work to retain some of these youngsters, and now as commissioner to rebuild the department in a way that we can all be proud to work in, and then I'll retire and start counting seeds, I suppose!"
"Speaking of seeds and what they do: I've got your lentil soup with our native ramps and mountain peppers and your fruit salad ready."
"Oh, talk about a miracle at the end of the day – I'm glad I'm a Christian now so I can thank God for you and that soup and that salad!"