Sci-Fi Novel, Origin Andromeda - Part 19 - Satisfied Nakamoto!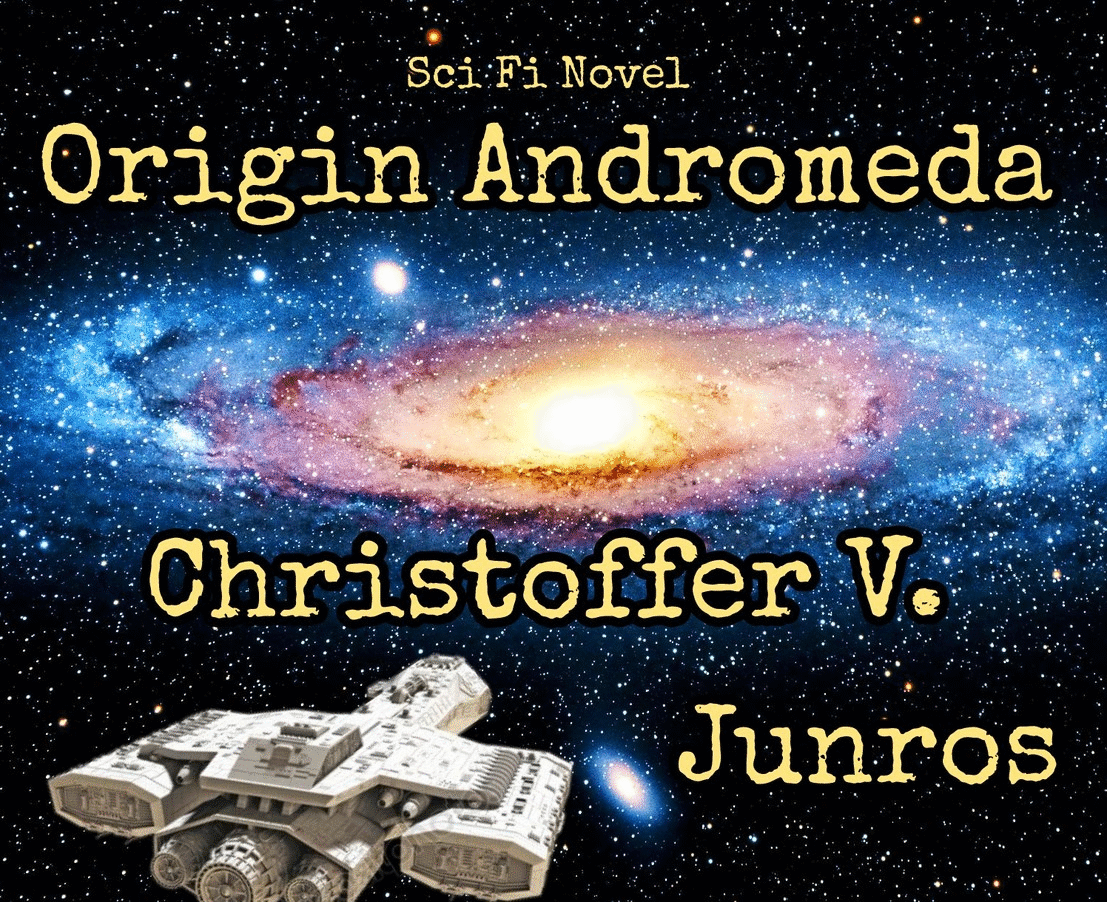 Part 19
After traveling on eclipse for a long time, even with the artificial gravity engaged more or less the entire time, Henrik thought that the sensation of actually standing on solid ground once more was refreshing for the legs.
He sees the stairs leeding up to the ground floor of the building, and with one arm filled with cameras he walks up the stairs.
"We really need to get the rest of the crew down here to help out, this facility is huge" he thinks for himself as he leaves the stairs behind him, "It looks to be abandoned for some time, maybe a couple of years or less, how come no one else has bothered to take over the place and establish some kind of business inside?" his thought gets distrupted when he remembers the cameras in his hand. "Right lets get these mounted!", there isn't much more to see other then a lot of empty warehouse shelfs and one or two boxes containing dust. he takes a stroll at this level, making sure to mount the cameras in good locations, covering more or less the entire floor, before going back down.
Joanna who has been helping with the unpacking sees henrik coming down the stairs, she moves swiftly towards him "How are you my love?" she says with a bright smile as her shining crowblack hair slowly dances when she stops next to him, her smile makes his heart skip a beat. "Now it's amazing my love, you give me hope and renewed spirit, how are you dear? How are we doing with the base?"
"You sweet man" she says with all love in her eyes "The makeshift controll room is starting to take shape now, I'm very impressed but not surprised in the swift and well organized way they had prepared everything, all the monitors and computers, proud of our team dear"
"Glad to hear that you sounds very optimistic about our endevour, I've been thinking and I want you to be in charge over R.T.T, the Responsible Task Team, you will be amazing at that my love"
"The Responsible Task Team dear?" she curioussly asks
"Your mission is to give advice and follow the voice of the people, making sure that we are on track with the people and continues to be favored, your biggest task will be to secure and prevent any smear and dirty tricks from ZOP when they begin to come for us in a not so distant future" Henrik explains.
"I see, that makes sense" she says.
"My heart is yours and you are the best suited for this, I trust you more then I trust the air to provide my lungs with oxygen"
"Thanks honey, I will begin the preperations immedietly" Joanna gives him one last seductive smile as she begins to walk over to the controldesk, Henrik takes a deep breath and lets it out in a jearning sound.
Bjorn comes over.
"We have been in contact with one of the old AA generals, still loyal to the cause, Roukia, we will meet her later today when we move out to the Kio square but first lets discuss something else"
"Great news, what is it that you want to talk about my friend"
"I have heard some rumors regarding an anomaly in the asteroid belts in the outskirts of the system, something about asteroids that have begun to move at their own accord, very interesting"
"Asteroids that moves by themself, that's a new one, but what about it right now, what can we do today? I want to explore it, but how should we?"
"No need for us to do anything about it right now, but I found it very interesting, I've sent a shuttle out to report their sightings"
Henrik nods to show his approval .
"Now let's gather everyone and get a well deserved lunch break before we meet up with Roukia"
Bjorn places two of his fingers in a v-shape between his lips and whistles loudly to get everyones attention.
"Lunchbreak everyone, to celebrate that we finally have arrived to Zouud there is a feast prepared, not that extravagant perhaps but it's something"
Near the shuttle Henrik sees two large containers, he opens one of them and finds a selection of different meats and two fragrant stews, in the other container they find bewerages, fine wine and some kind of dessert.
Henrik sits down beside a heavy built man named Serge, whom he recently became acquainted with, he is a resourceful man with an energy that makes it easy to befriend him. Serge is also known to have a deeply guttural voice that echoes respect, but at the same time he always talks with a gentle touch on his tongue even when he is noticeably upset and agitated, it sometimes can make people feel odly confused, but mostly understood.
"Whats your opinion on our location Serge?" henriks says as he take a spoon full of the hot and tasty stew.
"It is as good as any facility I suppose, we are quite close to the false government house" he clenches his fist and slowly says "damn those bastards…"
"And we have a good start point for our operation, when we are finished with setting up the mock factory upstairs we are good to go"
"I hear, I find this place fitting as well, we only have one problem that I believe that you can help me with Serge, could you?
"What ever you need, I will find a way"
"Good, I need you to prepare as many exit points as possible from this basement, preferably one of them should be a hidden tunnel that leads to an adjacent building that can act as a last line of defence in case we need to swiftly get out of here"
"I will make that happen sir, one suggestion…when we get reinforcement from Eclipse we let one of the shuttles be hidden and ready at the adjacent building so that we can jump away with it if it gets really nasty"
"Great idea Serge, I trust you on this" Henrik finishes his stew, stands up and gives Serge a friendly pat on the shoulder before he gathers desserts for both of them.
Joanna who's been sitting with her new team comes over.
"Hello gentleman, this lunch was most satisfactory, but what is this dessert called? its delicous" she says with delight and happiness in her eyes.
"It's a local dessert called Dejou, a sort of cheesecake you might say, we often eat it when there is something to celebrate" Serge explains before he eats the whole thing with one full spoon.
"It really is a great tasting dessert, loving it" her mouth forms a wide and happy smile as she locks eyes with Henrik.
A couple of minutes later Bjorn reminds Henrik that it is time to leave for the meeting with Roukia.
"Let's get going my friend, time waits for no one" he says excitingly, he has changed his outfit to a black polo shirt, in an effort to better blend in Henrik notices.
He gives Joanna a kiss and leaves together with Bjorn, they move rapidly out of the building, taking a pulsegun with them just before they leave, just in case.
"How will we travel to the city square and locate Roukia?" Henrik asks.
"That's the easy part my friend, despite Kionidoo being controlled through fear, the ease of transportation is simply astonishing, we already have a transport waiting for us around the next corner"
"Great, and do you know the where abouts of Roukia?"
"Of course I do my friend! She is waiting for us inside the Satisfied Nakamoto, one of the few authentic bistros that is left in Kionidoo, they serve the most delicious food you can imagine, one of my favorites" Bjorn answers before they arrive to a pod like vessel that will take them to the square.
It begins to travel autonomously as soon as they both are seated, the ride is short and after a few minutes they arrive at the square.
As he leaves the vehicle, the first thing Henrik notices is the remarkable resemblance the Kio square has with every other square he has been at back on Earth.
"Exactly the same old feeling when entering a square as you would expect to feel at any , only difference I see is the non existent road" he says as they look around and see all the differently lit ground floor shops all around the square, how they struggle to fit between the various restaurants and bars.
"Take the lead my friend" Henrik says as they leave the pod behind them.
Bjorn quickly locates the bistro, it's easy to spot as there's a large sign that rises vertically from the corner infront of them.
With fast pace and determination they walk to the bistro, it only takes a couple of minutes for them to reach the entrance and once inside Bjorn sees Roukia sitting in one of the booths at the rear wall, she has become quite elderly by now, but by the look of it she could still give of a hell of a punch if the need for it came.
Bjorn waits until she notices him, then he gives her a small sign to trust them by holding his hands together infront of him.
"Remember this sign my friend, it will be usefull in the future" Bjorn whispers to Henrik as they slowly approach the booth, as they come closer Henrik notices how her eyes are cold and calculating towards them.
"Welcome to Kionidoo my friends, I hope that you aren't hungry, I've already eaten, but please order a drink so we don't just sit here looking awkward" she says without a smile.
"Thank you general" Henrik says.
"No need to be that formal Henrik, Heir of Andromeda, I want to go straight to the point of our meeting if that is ok for you, I have a couple of questions for you and I have limited time" she quickly replies.
"That is of no problem for us Roukia, ask your questions and I will answer as best as I can"
"How come you haven't been informed from when you were young about your position and role in zouud, Im aware of that you have lived for the most part on a different planet, how can we trust that your understanding and knowledge of how to rule is up to the standards that it must be meet in our society?" she begins.
"I understand your concern and doubt, but I must ask you to understand something about me, I've lived my entire life up until recently unaware that there is something that I was missing, and now I have found it, my new mission in life is to restore the peace and prosperity of my people" Henrik says.
"So you say Henrik, but how will you prove it for the rest of us?" She remarks.
Bjorn tries to get in to the conversation.
"Roukia, are you familiar with the madreaki test? Let Henrik undergo it and let their be no doubt in the future, we assess his quality best this way"
"Madreaki test?"Henrik wonders silently.
"I'm familiar with it, I believe we have all the necessary equipment to perform such a test in our camp" Roukia answers with a slightly questioning look on her face. "And I do believe in its worth as a way to assess the ability of a leader" she adds.
"What is this so called Madreaki test that you two talk about?"
"It's quite simple my friend, you will be faced with different tasks in a VR environment that will challenge your ability of making swift decisions and test your judgement, your actions will be performed through your thoughts, you will have sensors connected on your neck and forehead, and the visual will be given to you through a similar cube that you have used before" Bjorn explains.
"I understand, sounds simple enough" Henrik replies.
"Don't be fooled, it isn't as easy as you might believe, no matter who you are, and no matter what kind of person you think you are" Roukia remarks, her voice dry and harsh.
Henrik raises his brows before he says "What are we waiting for, let's prepare for my test".
Next Part
Part 20, Intergrity and hard choices
Prevoius parts:
Synopsis
Part 1, The Cube!
Part 2, Run!
Part 3, E.B.A.A.T!
Part 4, The Awakening
Part 5, Kionidoo
Part 6, The Tour
Part7, The Pick Up
Part 8, Lift off!
Part 9, Sabotage!
Part 10, Rescue mission
Part 11, Belly of the beast!
Part 12, Loukh!
Part 13, Halfway there!
Part 14, Odyssey station!
Part 15, Gox!
Part 16, Answers!
Part 17, One step closer!
Part 18, Arrival!
thank you for reading this, hope that you find my story interesting and exciting.
Dedicated to my lovely wife who gives me inspiration to write.
Hope that you like it and will continue to read.
Any feedback or editing suggestions regarding this series is very appreciated
---