Sci-Fi Novel, Origin Andromeda - Part 17 - One step closer!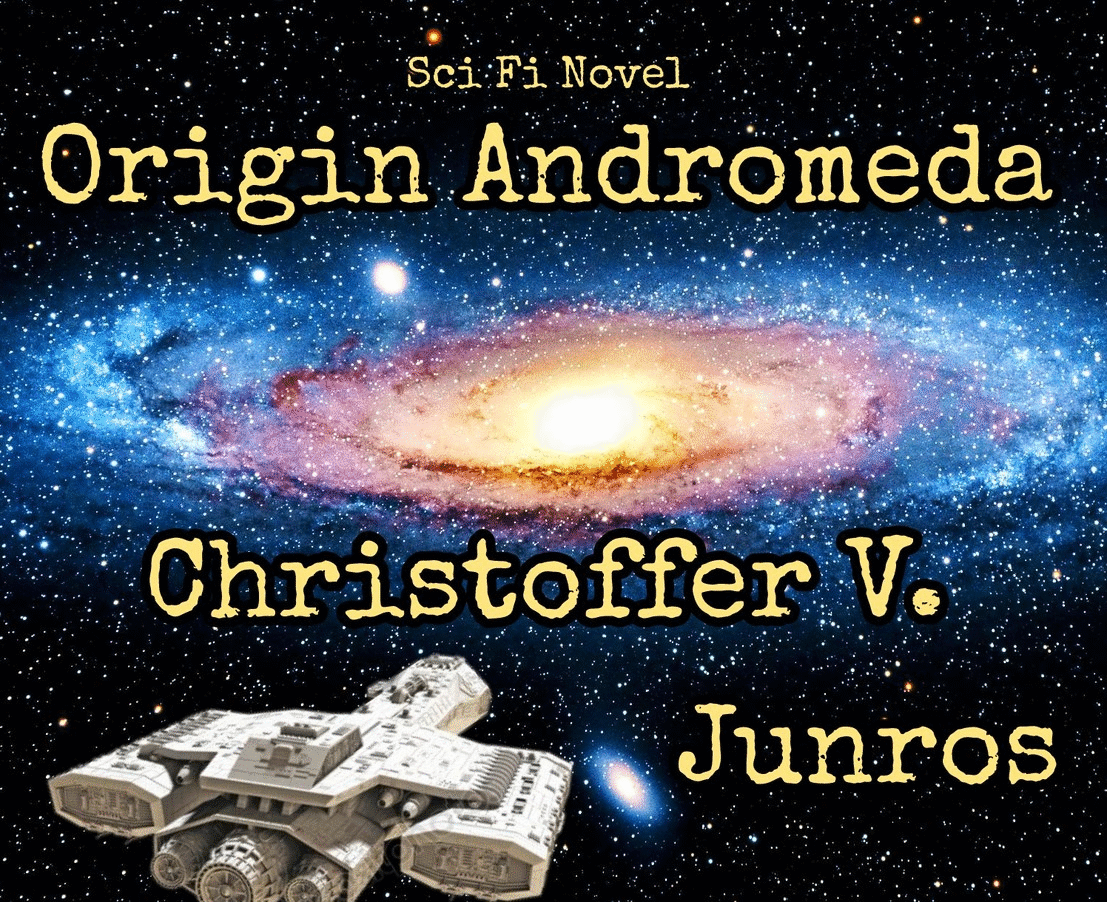 Part 17
Henrik is relieved when he sees Joanna standing near the gate, he walk to her and holds his arms tight against her in an warm embrace, senses the sweet scent of her hair rushing into his nostrils.
"My love. I hope that you didn't have to wait long for us"
She just shakes her head and smiles.
"Just got here sweetheart, we thought that you would be standing here, waiting for us when we arrived, but it looked like we both got occupied in something more time consuming then we thought at first"
Henrik raises his eyebrows and just nods for a while, taking in her beuty before he continues.
"So what did you two got involved in my love?"
"It was a bit frustrating and heartbreaking but perhaps I should let Sofia explain, it was she who needed the help, she's been through a lot this day"
Sofia hugs her dad and starts to explain what has happened, when she is done she says.
"I will stay here on Odyssey for a while, I have accomodations that our new friend Hudseon has prepared for me, I will come as soon as possible to Zouud to join once again"
Bjorn looks with the concerned eyes of a father at Sofia, reflecting over what he should say for a second or two.
"I understand that you feel the need to make sure that justice is served and that your late friend Gox was very important to you, I will send over one of our guards to aid you and hope that you will be able to leave this place soon"
Sofia hugs Bjorn again and they say goodbye.
Once back in the shuttle Henrik says.
"A good shower, some fresh clothes and dinner, that's what I see when I close my eyes now"
Bjorn chuckles quietly, Joanna leans back and against Henriks shoulders.
"Let's get back to our ship now"
The man at the control room gives them clearing to leave the station, after a few seconds the bay is depressurised and the doors are opening, Bjorn starts the shuttle and exits the bay.
When they are out he contacts Rob who is in the other shuttle.
"Rob, when you get back to Eclipse, find the best guard we have and assign him to Sofia as her private bodyguard and escort him to the station, wouldn't let my only child go unprotected in there for a longer time than neccecary, especially now when she is on a mission"
"I know exactly who should get the assignment captain" Rob answers.
"Good, get back to me when you have returned after escorting him down, we need to sit down and discuss how to implement our plan"
"Yes captain, see you soon"
The rest of the short trip is spent in silence, they are all quite tired after spending several hours on the station.
Once they are back at Eclipse they move up to the bridge, Henrik and Joanna want to be there when they take contact with Zouud, even if it's only a control center they will contact, they both want to hear the voice from someone who is living and breathing on their new home world.
The mood in the bridge is relaxed, Bjorn has sent most of the crew to take care of their belongings and to prepare the supply and equipment needed when building up their base on the ground.
Bjorn seats himself down on the captains chair and adds the adress he got from Rahu into the ships logs, making sure to double check everything against the ledger before he contacts Z.O.B.C, when he is done he opens up the channel to report.
"This is Captain Bjorn on the trade vessel Eclipse with crew, requests permissions to begin approach to Zouud orbit, signing transaction now, over"
A few minutes later they receive a reply.
"This is Zouuds Orbital Border Control, the transaction is confirmed Eclipse, begin approach and immediately report when you're in orbit, until then await further orders"
Bjorn turns around to talk to Henrik
"This will be a short trip, but Zouud is still to far away for us to just travel without the hyperdrive, during this last trip we need to discuss our plan Henrik"
"I understand, let's take the ship into hyperspace and prepare our personal belongings first, then we sit down" Bjorn nods and begins to fire up the hyper drive once again.
Henrik turns his attention over to Joanna, taking her hand into his.
"Quite soon we will set our feet's down on a completely different planet together my love, let's go to our quarter and prepare everything we need to take with us after a nice and refreshing shower"
"It's like you can read my mind sweetheart, this has been an intense day so far"
They begin to move away from the bridge.
"See you in the dinning room later Bjorn, we all need to eat something"
Bjorn smiles and blows some air out through his nostrils in amuzement.
"Haven't even thought about food until now my friend, see you soon"
A while later they all meet up Bjorn and Rob has been sitting there for some time, they have plates that was once filled with food infront of them.
"We have come this far now, let's finish it so we can get the crew involved in it also" Henriks begins to say
"Where did we stop last time? I think that we were going through the current governments system of surveilence, I believe that in order to awaken and unite the AA we first need to find a way to get their attention and to show them that ZOP is vulnerable " Bjorn comments, looking at both Henrik and Rob for confirmation before he continues.
"should we go through the plan from start again?"
Henrik has taken his time to get into his role, and knows the plan like the back of his hand by now, so he starts from the top, saying.
"Sounds like a good idea, our first tasks before we can re-establish AA power, is to find a suitable location to use as our HQ, it needs to be well hidden since we don't want ZOP to find out that we have arrived just yet, second we need to establish contact with the old AA members and regain their trust by sabotaging the survailance system, but before that we will send our best agents to infiltrate the government building and report Kloons movements"
Henrik looks at his fellow
"When we have succeeded in all of these areas then we can begin to truly challenge ZOP and to unite the people against Kloons empire"
Bjorn breathes in and positions his hand on Henriks left shoulder before he gently breathes out as he lifts his brows, his voice is filled with pride as he starts to speak
"You will represent the future and be the figure of hope to the people, are you ready for this?"
Henrik sees just how proud Bjorn is, he says.
"I might never have been in a situation like this before, but with you and our competent crew at our side I am ready!" Henrik answers filled with confidence.
They are all standing on the bridge, looking anticipatingly on the view of the rythmic visual of the hyperspace out through the window, as it suddenly shifts in the blink of an eye to present the view over a big blue planet in front of them in the distance, Henrik and Joanna breathes out when they see Zooud.
The first thing they see is that one of the planets moons have been completely occupied and altered into a very large station, it is surrounded by ships ranging from small cargo ships to huge destroyers and everything in between.
"It has definitely changed since I was last here, this station wasn't here the last time we where in the neighborhood" Bjorn says to Rob without trying to hide his surprise, Rob only nods as answer.
Rob points towards the side of the moon
"Can you all see the shipbuilding platform they have connected to the moonstation?"
"Yeah, what about it?" Henrik curiously asks.
"Don't you see that the ship that is being built is of the same model as the Man of war ship that we encountered before? let me show you on the holo screen"
Henrik and Bjorn turns around and faces the holo screen, what they see is most definitely the same model if not the same ship as it is being built.
"How long does it take to build a ship of that size?" Henrik says.
"It depends on many variations, but I would say around ten years more or less, I believe that this ship is a predeccesor to the one we found and there might be more that is being built on different locations"
They are slowly moving into a closer orbit before they report to Z.O.B.C, Bjorn is careful to not do anything that would be out of the ordinary for a cargo crew like going to close or staying too far away and to not report their arrival.
"This is captain Bjorn on trade ship Eclipse, reporting arrival to Zouud orbit"
"This is Zouuds Orbital Border Control, your arrival is noted, state your purpose of visit? "
Bjorn straightens his shoulders and answers confidentely.
"We are here to conduct trade with local partners, we need permission to land two shuttles near Kionidoo"
"Permission granted, your shuttles need to complete the scanning procedures on the station before entering Zoud airspace, after approved scan you are free to land"
"Affirmative"
End of part 17
Next Part
Part 18, Arrival!
Prevoius parts:
Synopsis
Part 1, The Cube!
Part 2, Run!
Part 3, E.B.A.A.T!
Part 4, The Awakening
Part 5, Kionidoo
Part 6, The Tour
Part7, The Pick Up
Part 8, Lift off!
Part 9, Sabotage!
Part 10, Rescue mission
Part 11, Belly of the beast!
Part 12, Loukh!
Part 13, Halfway there!
Part 14, Odyssey station!
Part 15, Gox!
Part 16, Answers!
Thank you for reading this, hope that you find my story interesting and exciting.
Dedicated to my lovely wife who gives me inspiration to write.
Hope that you like it and will continue to read.
Any feedback or editing suggestions regarding this series is very appreciated
---