Sci-Fi Novel, Origin Andromeda - Part 9 - Sabotage!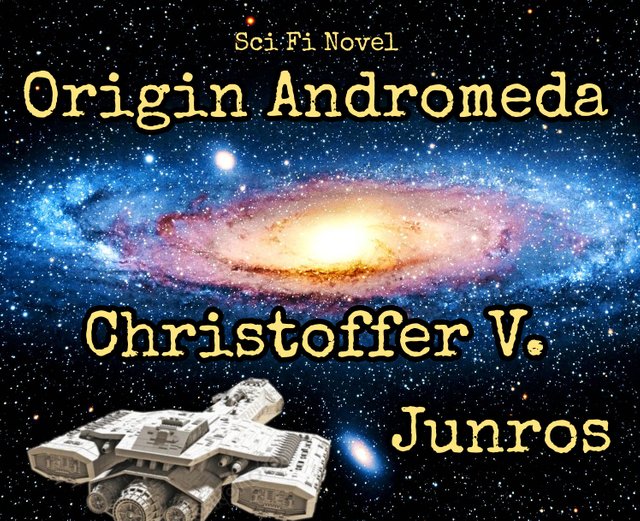 Part 9 Sabotage
They have been traveling for a almost two weeks now, Henrik and Joanna is beginning to truly settle down in their new way of living, every morning begins in the same way, it starts with a breakfast in the dining room together with everyone else, there is a choice between a variety of fruits and breads.
After breakfast they sit together with Bjorn as he describes the culture in Zuood, certain customs that are good to know to gain the populations trust and votes, after that they work out, spending some quality time on the treadmill.
They shower and then it is time for lunch, some days they volunteer to help one of the crew members with various tasks, to learn a bit about what the duties for the crew involves.
Today there isn't that much to do so they walk up to the bridge to see Bjorn, when they arrive they see that he is standing in front of the holoship, with a restless voice he explains that he has just received an urgent message from Davood and that he need to go down there.
"We're going to drop out of hyperdrive for a few hours, I have to go down to Davood to see what is going on, but please take this chance to admire the view if you want to, it's not often you get to see the universe from the middle of nowhere, we'll be able to jump into hyper drive again in a few hours or so I hope, I have to go now, sorry my friends "
With that Bjorn starts to walk away from the bridge, Joanna and Henrik looks at each other.
"Wonder what that was all about?"
"I'm not sure dear, let's take a look at the view, he will let us know if he needs us"
Bjorn goes through the door of the hyperdrive room where Davood works intensively with one of the modules for the hyperdrive.
"Davood, what's wrong with the system?"
"Unfortunately, I have to announce that we might have a saboteur on board, the system has been tampered with and without leaving any clear proof on who might have done it, the saboteur have managed to rig the system to crash three modules in the drive a week into our journey, luckily, I noticed that something was not right and decided to control it all"
"A saboteur, who in their right mind could do such a thing !?" Bjorn furiously says.
"Can you fix the problem?"
"It will take time, I was able to locate the tampered modules and took the system offline before the entire drive crashed and burned" sighs Davood while he thumbs on one of the modules.
"The person who did this seems to have profound knowledge of the system and has done their utmost to conceal any traces"
"Is it possible to reset the modules to full use? "
"Do not know, it will take time, we don't have all the components needed for such extensive repair, so I might need to manufacture most of them"
"Okay, do what you can, we must find the saboteur before anything else happens, meanwhile I will search for.." Bjorn gets interrupted by a call from Rob.
"We need you on the bridge captain, as soon as possible"
"This is going to be a strange day…" Bjorn thinks for himself.
"On my way"
Rob has discovered an approaching ship, on the hologram a man o' war ship is seen, data visualizing that it is over a mile long and fully armed.
"They send out an automatic emergency signal, code Alpha-45, deadlock, what's your order Bjorn?"
"Try to contact them, but first put us in a cloaked state, shields at highest strength and shut down the fusion engines, but have them ready, our hyperdrive is currently out of order and this hardly feels like a coincidence, we are in the middle of nowhere and this ship appears...something isnt right"
"Yes sir." answers Rob
"Also, do a full external scan against them and alert the crew to get into battle positions"
Red lights starts to flash all aboard the ship and an message alerting everyone about the situation is heard.
Henrik, who has observed Bjorn's upset behavior, decides to see what's going on, he approaches Rob and Bjorn who is going through the data show on the hologram.
"The scan shows that the hull appears to be intact and no major external damage is seen, the scanning of the ship also shows that they are equipped with PDS capable weapons", said Rob.
"PDS?" Asks Henrik
"Planet Desynchronizer, it fires very powerful X-ray pulses that blow away all but some electrons from all atoms of a planet's core from the inside, leaving a void that begins to drain electrons from the rest of the molecules, essentially, quick starts a black hole in the middle of the planet, causes them to implode, nasty bastards"
"Shall we send a probe?"
"Do it, if the ship is abandoned we can board, there may be parts onboard that we need to restore our hyperdrive"
Henrik accompanies Bjorn and Rob to a console for sending out and steering the probe, to the right of the console, through a window down the floor he sees it, it looks more or less like an arrowhead, approximately the same size as a small car, it's painted black, really black, so even in this light it's hard for Henrik to see any details, it perceived more as an shadow.
"You call the material vantablack, it absorbs almost all incoming radiation, light, micro and radio waves, made by nanotubes," Bjorn points out.
"The probe sensors can detect life signs and capture data transmitted on the ships internal system, the color is actually unnecessarily discreet, but the design team decided it would stand out by not standing out" explains Rob.
A cloud of dust and a swoosh sound is heard as the probes airlock is opened, and Rob maneuvers it towards the ship.
"Approach carefully and land on the hull, see if we can link ourselves to the ship's system and then show us the status on the hologram" Bjorn
On a screen they follow the path of the probe, the screen creates a floating hologram that displays nearby objects in real time.
"Now we should be past their shield, we are thirty yards from the hull ... ten ... five ... landed, starting up and scanning"
The probe tries to connect wirelessly and at the same time drills through the hull and connect itself to the ship's internal cabling system.
"No contact so far, no sign of life yet, residues of biological material, probably the crew, are spread in lumps throughout the ship, it probably isn't a pleasant smell on board if you say so, no idea what could have caused it"
"Report the status when the scan is complete, we prepare a shuttle in the meantime, there might be parts we can use or we can help so we should take the risk of boarding the ship," says Bjorn, observing the curious look in Joanna's eyes
"Joanna and Henrik, you're staying here this time, the risk is too great and there is no direct need for you to be on this mission"
They agree, even though their own curiosity wants them to insist that they should join.
"Sofia ... Teem, I'll take you with me this time, take three pulse guns from the armory, just in case"
Rob reminds them of the need for components.
"I'll ask Davood to send you the list captain, I think that you should try to board near their dock, I have studied a similar ship's drawings and with a little luck this one is similar, there should be almost direct access to the hyperdrive room from there "
"Good luck, and be careful," says Henrik
"You can be calm, with Teem on my side nothing can go wrong, Teem comes from a long line of professional soldiers, and she is the most reliable we have on board, hopefully no violence will be needed , but one should always be prepared for the possibility" Björn, Sofia and Teem turn to the shuttle.
Rob just received the results from the probe responding.
"Obviously, the scan showed that the life-sustaining system is reduced to a minimum, only emergency systems are running, we can confirm the presence of robots, however, could not determine whether service or combat type... sending coordinates as well as a visualization of the appropriate place to board, be careful now"
Sofia sits at the control panel and starts the shuttle, a quick check of the system is made before departure, they depart and carefully moves towards the large ship.
"It's an impressive ship this one, it looks angry and full of confidence, built to intimidate" Bjorn comments on their way towards the dark and very large war ship, with an experienced and calm voice Sofia replies.
"It's not intimidating me at least! I get us close to the hull before I activate the magnetic feet, we should be in the correct position in 10 seconds, prepare for the boarding" Teem sits at the shuttle's airlock, with a pressure suit on and a plasma weld in hand, ready to immediately go out and try to get up one of the ship airlocks opened.
"Just let me know when we are ready, I will do some magic on the hull" Just before the shuttle nudges the hull, Sofia activates the feet, a loud noise is heard when metal hits metal while the shuttle is secured to the hull.
"Everything looks good, I activated drilling of explosion bolts against the hull so we are firmly stuck in case something unexpected would happen ... Teem, you can open the lock, be careful"
"always" Teem closes and locks the upper airlock door, she empties the small amount of oxygen contained in the cylinder and opens the door below her.
"Towards infinity and beyond…" she says as she pushes herself out of the shuttle.
"You do not have to be so dramatic Teem, it's just another day on the job" laughs Sofia.
"Little drama has nobody died from… any information about when the ship could have been built? So I know how complex the system I'm going to work my way around is"
A short silence before Rob answers
"This cannot be correct, wait a minute I have to double check, the ship is at least from Andromeda that I am sure of, it is timestamped with the same blockchain as we use in our system, but the height of the blockchain is way too high, according to the timestamp it suggest that..." short inhalation is heard from Rob as he gasps for new air to fill his lungs.
"...If the scan is correct and the height of the blockchain is correct, it will be built in about two hundred years from today, and in addition, the decay seems to indicate that it's at least fifty years since it left the dock. "
another inhalation is heard, deeper this time.
"...So everything seems to point out that ... the ship we're facing ... that you stand on Teem...is... " Bjorn interrupts Rob.
"Be extremely careful, it seems like we have something completely unknown to us, and everything seems to point out that the ship in some way can not only travel in space, but also in time, this fact feels very worrying and ... exciting, but we continue our mission, Sofia, you stay on the shuttle and make sure we can hurry away from here, blow the bolts now just in case "
"Ok Captain, I put all systems in standby, a jerk on the controls and the shuttle accelerates with full force away from the ship"
"Good... Henrik .."
"Hear you loud and clear"
"If, for some reason, I'm not coming back, I trust you to ensure stability in our system, you have the people behind you"
Henrik feels the responsibility weighing on his shoulders, he does not know what or how he will stabilize an entire galaxy, but he put the thoughts behind them at the moment and answers
"I will not let you down"
Teem is heard over the radio, with a sarcastic tone she says.
"Can I do my job now… or are you going to continue your emotional conversation? You'll get tears in my eyes."
The Man o war ship's hull has probably seen its better days, she notices while she is navigating to the airlock she will try to open, Sofia and Bjorn observe her progress.
"Be careful Teem, we do not know if the Androids inside are a threat, if they are aware of our presence or not."
"Perceived, almost there now, keep you updated, this will be a big challenge"
"barely taking into account the fact that the ship is both old and not even built yet, so the system will probably be different from all the other systems that I worked with during my days... this will take time" Suddenly she sees how something moves to the right in her field of vision, far away, gas explodes out of several gaps in the hull.
"Do you see that? the oxygen is being dumped from the ship! I suspect our presence is known, we must be extremely careful when we enter, Rob, have we received any response from our attempts to communicate with any intelligence on the inside? "
" Nothing new yet, we repeat our call every ten seconds"
Teem is almost thrown out from the hull when a gap suddenly opens just infront of her.
"That was a close one! I'm at the airlock now, beginning to work my way in"
She begins to cut through the airlock plates, once she is finished she carefully enters.
"I'm in! I can report that the ship's artificial gravity is out of order, what are your…" Before Teem finishes her sentence a muffled sound is heard over the radio
*hrz hra hrz borgh"
End of part 9
Prevoius parts:
Synopsis
Part 1, The Cube!
Part 2, Run!
Part 3, E.B.A.A.T!
Part 4, The Awakening
Part 5, Kionidoo
Part 6, The Tour
Part7, The Pick Up
Part 8, Lift off!
---
Thank you for reading this, hope that you find my story interesting and exciting.
Going to release this novel on Steemit, in parts with a few days between each part, need to work on translating the next part before I post it. I have been writing on it for a few years but never getting it out before, originally written in Swedish.
Dedicated to my lovely wife who gives me inspiration to write.
Hope that you like it.